Moncada earns Red Sox Minor League honors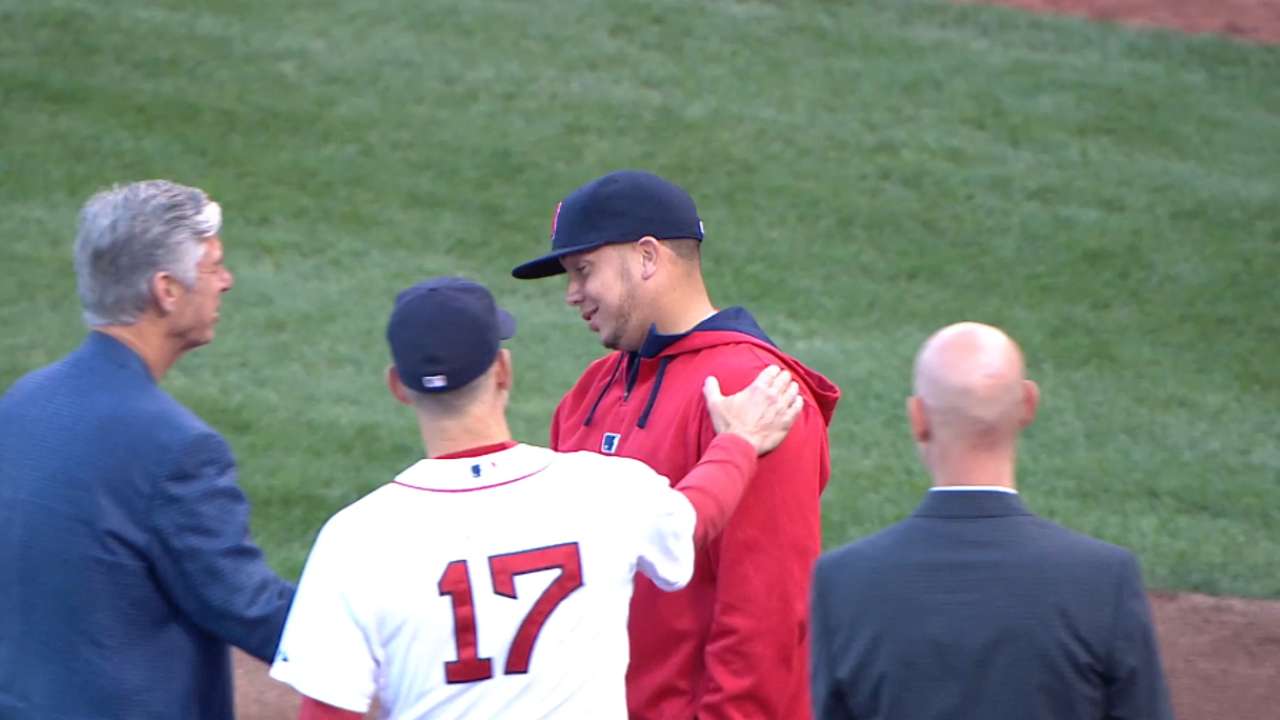 BOSTON -- Yoan Moncada stood on hallowed ground of Fenway Park on a crisp, autumn Saturday afternoon and visualized his future.
"I'm extremely excited and happy to be here," said Moncada, ranked as the Red Sox No. 1 prospect by MLBPipeline.com. "It's my first time here, obviously, and to see these guys, hopefully these will be some of my teammates in two or three years. Being here makes me extremely happy. It's quite a feeling."
Moncada was one of several Red Sox prospects to receive an organizational award for the season before Saturday's game against the Orioles.
"It's been a crazy year," Moncada said. "It's been one full of a lot of hard work, a lot of sacrifice and getting used to a lot of different things. Right now when I'm on the field and I see this stadium here, it makes it all worth it and hopefully I can be here soon."
It was just over six months ago that the Red Sox won the sweepstakes for the ultra-talented infielder from Cuba, who was recognized as the Baserunner of the Year in the farm system. Moncada led the organization with 49 steals in 81 games for Class A Greenville after stealing just once in the first 20 games.
"The baseball wasn't that different for me. It's the same game," Moncada said. "I think here requires a little bit more focus and day to day energy at the ballpark. As for the slow start, I think it was just a product of getting used to everything here and starting to feel comfortable in a completely different place. Once I was able to do that I think was when I was able to relax and play a little better."
Sam Travis, drafted by the Red Sox in 2014, was recognized as the club's Minor League Offensive Player of the Year. Lefty William Jerez (Pitcher of the Year), Javier Guerra (Defensive Player of the Year), Lorenzo Cedrola (Latin Program Player of the Year) and Denyi Reyes (Latin Program Pitcher of the Year) were also recognized.
Ian Browne is a reporter for MLB.com. Read his blog, Brownie Points, follow him on Twitter @IanMBrowne and listen to his podcast. This story was not subject to the approval of Major League Baseball or its clubs.