Kiermaier's game blossoming before Rays' eyes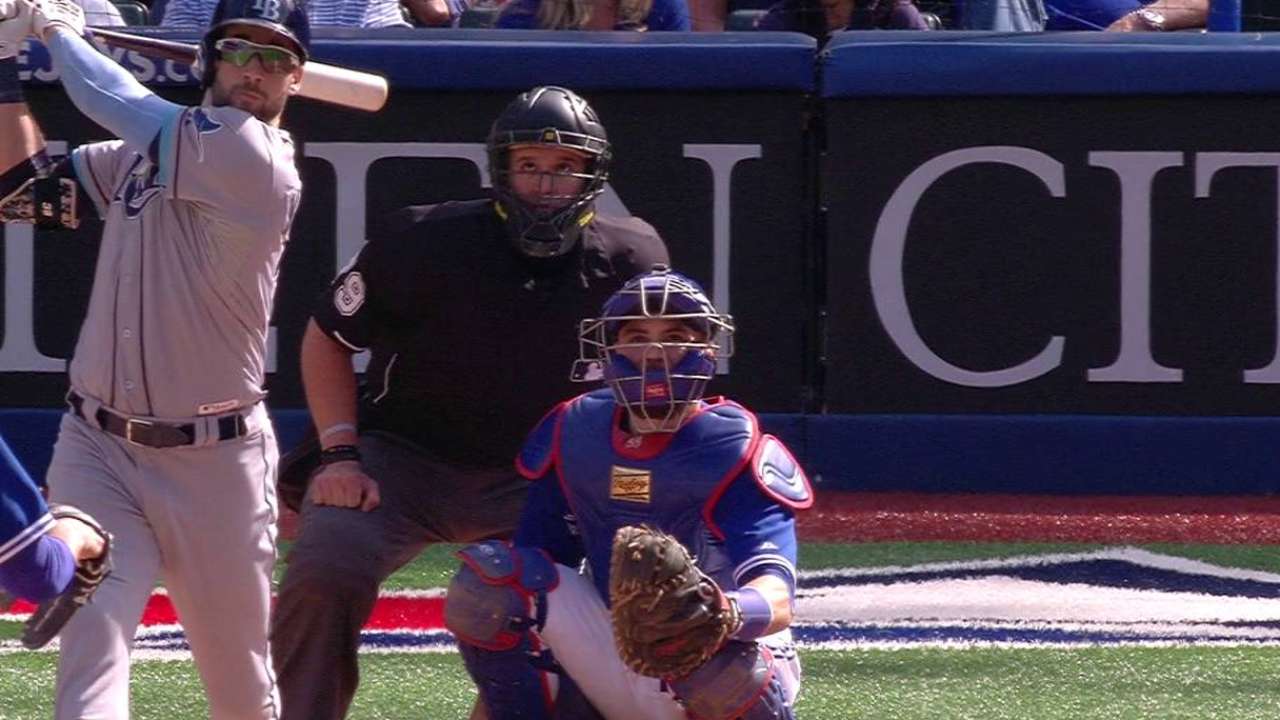 TORONTO -- Kevin Kiermaier is in bloom. The Rays' center fielder seems to become a better player every day.
While the Rays took a 10-8 loss to the Blue Jays on Saturday, Kiermaier showed why he's one of the most exciting defensive players in baseball -- and an emerging offensive talent, as well.
First, the ho-hum part of the equation. Ben Revere hit a ball to deep center field to lead off the fifth. Kiermaier broke into full stride, as if he was Willie Mays chasing down Vic Wertz's drive at the Polo Grounds back in 1954. After accelerating, Kiermaier hauled in the drive over his shoulder for the first out.
"I was playing in on Revere, and it was a 1-0 count and he barreled it up really good -- and I just put my head down for a minute and just kind of saw the flight of the ball and [said to myself], 'I need to get going, right now,'" Kiermaier said. "Timed it up. I always work on catches like that in BP, so it was nothing new for me."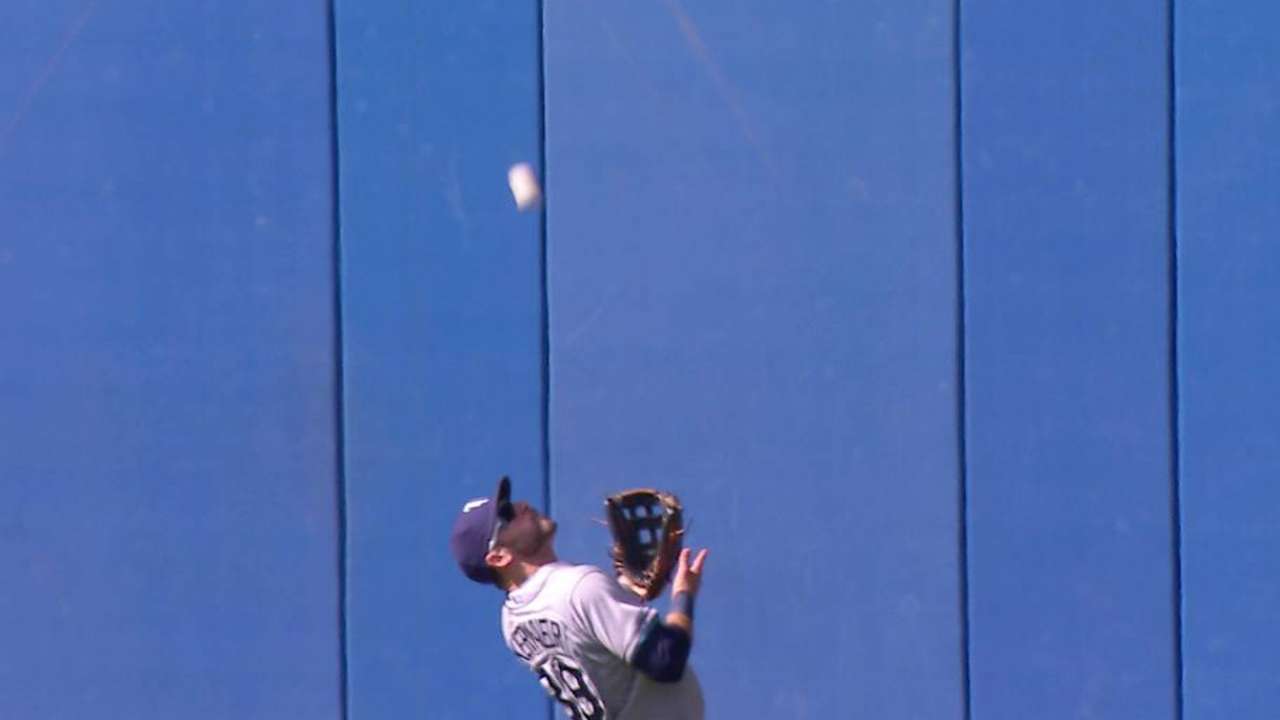 On most teams, such a play of the day might have brought an emotional jumping-up-and-down display. For the Rays, they've seen such plays from Kiermaier almost every game, so they shrug.
"Yeah, that was like no big deal to us," Rays manager Kevin Cash said. "Twenty-nine other center-fielders, it is."
The rub against Kiermaier heading into the season was he couldn't hit left-handers. Of course that's always the Catch-22 situation. How does one find out if one can hit lefties if one never has the opportunity to hit against southpaws?
Kiermaier has seemingly won over the Rays. He entered Saturday's game with a .242 average (32-for-132) against left-handers and a .262 mark overall. Where he made strides this week was the power he demonstrated against tough lefties.
When the Rays faced tough left-hander Wade Miley on Thursday night, Kiermaier was in the starting lineup. After drawing a walk and lining out, he led off the seventh with a home run to right -- his first of the season against a left-hander.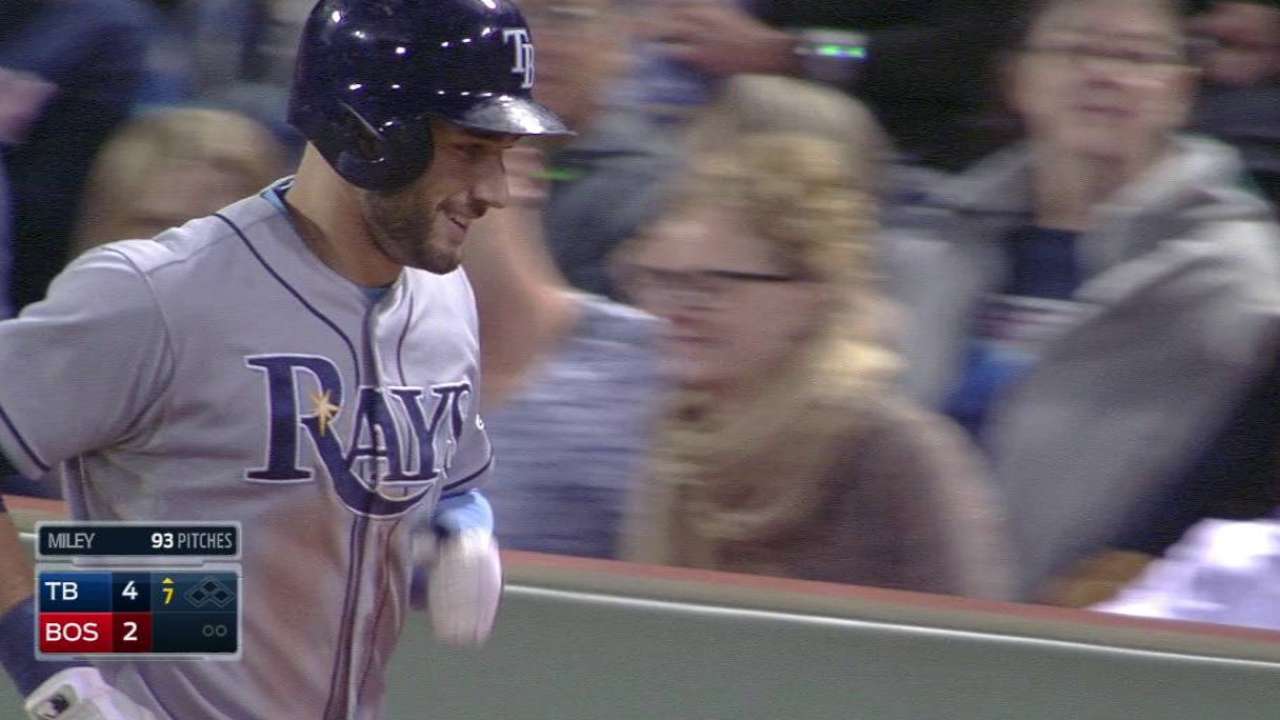 Kiermaier faced another tough lefty on Saturday in Toronto's David Price. He fought Price for seven pitches before jumping on an 89-mph cutter and driving the ball over the center-field wall for his 10th homer of the season.
"David just throws a bunch of strikes, and I figured he was either going to throw me a fastball or a cutter right there," Kiermaier said.
He explained his improvement against lefties.
"It's all about getting ready early," Kiermaier said. "If you get your foot down and your hands back in good hitting position, you just have to see it from there. I knew I had my hands full today with David. But I did a good job of slowing the game down and battled to put myself in good hitters' counts and took advantage of a couple of pitches there."
Cash has noticed a difference.
"There's no doubt his approach is better," Cash said. "The home runs are one thing, but the way he got to that at-bat off Price. ... Fouled off a couple of tough pitches to hang in there the way he did and then put enough behind it to get it out to dead center ..."
Cash paused. "K.K. is a special player, and he's going to continue learning and he's made huge strides this year."
Bill Chastain is a reporter for MLB.com. This story was not subject to the approval of Major League Baseball or its clubs.