Fielding drills present Tanaka's last hurdle
Right-hander could be slotted to start Monday or Tuesday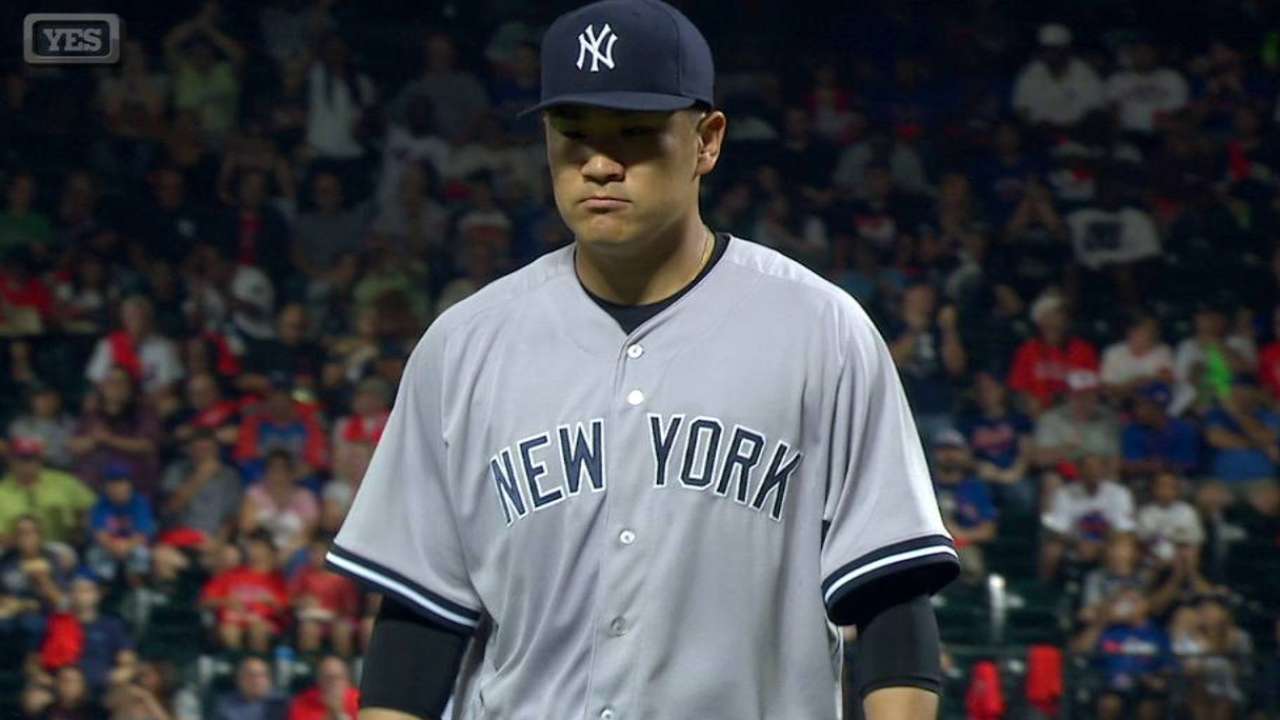 NEW YORK -- The Yankees have not yet decided when they will slot right-hander Masahiro Tanaka back into the rotation, according to manager Joe Girardi, but they do expect he will return to the mound this season.
"I think he'll pitch. I'm pretty confident in that," Girardi said on Saturday. "But as I've said, we've got to make sure that he's where he needs to be before we put him out there."
Tanaka tested his strained right hamstring with a 31-pitch bullpen session on Friday at Yankee Stadium and went through treatment on Saturday afternoon.
The Yankees would like to start Tanaka either on Monday or Tuesday against the Red Sox. Tanaka said that he still feels some discomfort in the hamstring and may for the rest of the season.
"I haven't done all the motion," he said through an interpreter. "I haven't run at full speed or anything like that, so I can't really give you an answer. We're kind of in the stage of checking if this is OK or that's OK, so right now I can't give you a good answer."
Girardi said that Tanaka has not yet attempted fielding drills or covering first base.
"I think he has to," Girardi said. "I think he has to be able to know that he can go through everything before we can put him on the mound."
Restoring Tanaka to the rotation during this homestand would provide an additional option in the event that the Yankees participate in the American League Wild Card Game presented by Budweiser on Oct. 6.
In addition, the Yankees received encouraging news regarding right-hander Nathan Eovaldi, who played catch on Friday for the first time since being sidelined by inflammation in his right elbow. If Eovaldi is able to return during the postseason, it would be as a reliever.
"I think it's hard for him to be a starter," Girardi said. "We'll see where he's at after playing catch and doing some things for a week and then make a determination."
Worth noting
• Rob Refsnyder's playing time had been sparse since being called up from Triple-A Scranton/Wilkes-Barre when rosters expanded, but the Yankees have started the 24-year-old in three straight games against White Sox left-handed pitchers. Girardi said that there's a chance Refsnyder could continue to face lefties.
"He's swung the bat pretty well in the two games that he's been in there," Girardi said. "I'm putting him back out there."
• The Yankees' earliest possible clinch date for a Wild Card berth is Monday, and should they accomplish that goal, Girardi said that he would expect his players to have a bubbly celebration in their clubhouse.
• Standings: Division | Wild Card
"It's an accomplishment," Girardi said. "When you go to work after the season and you do your offseason training and your offseason moves are made and Spring Training and the grind, of course it's a celebration. It should be a celebration."
Bryan Hoch is a reporter for MLB.com. Follow him on Twitter @bryanhoch, on Facebook and read his MLBlog, Bombers Beat. This story was not subject to the approval of Major League Baseball or its clubs.