Bailey feeling good during throwing program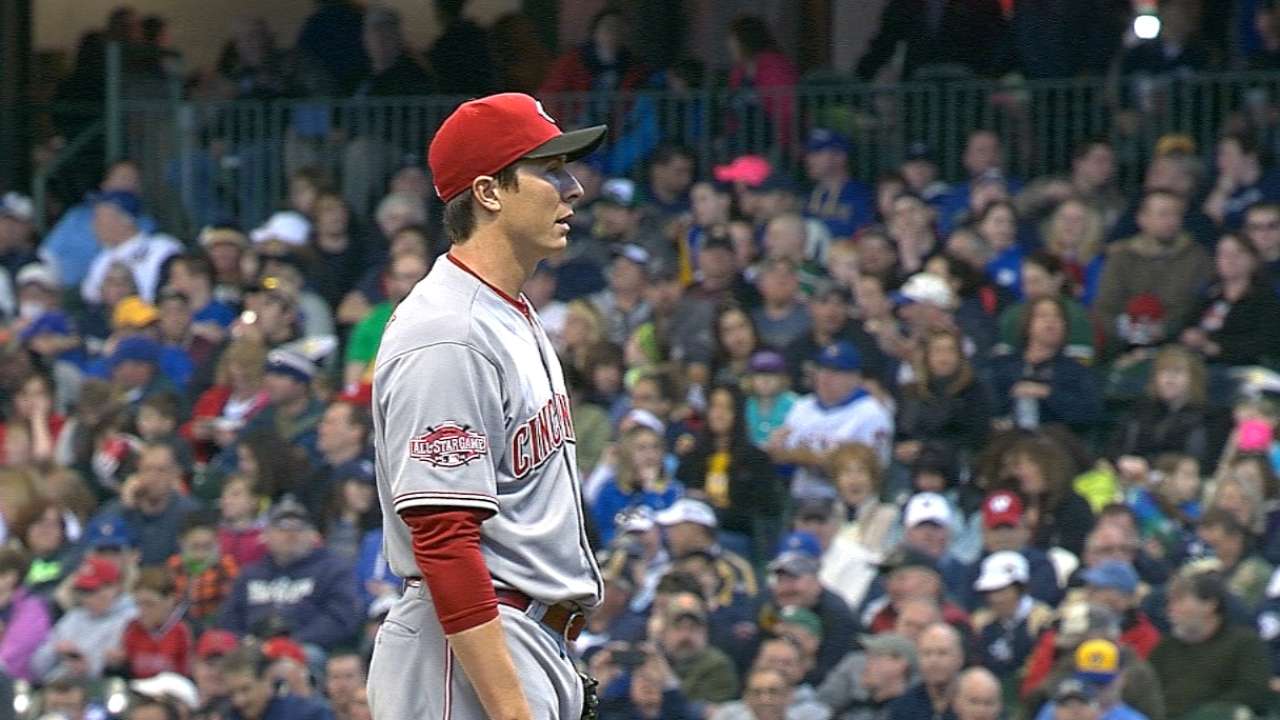 CINCINNATI -- As he works his way back from Tommy John surgery, Reds pitcher Homer Bailey has been throwing for the past few weeks. Not only does his right elbow feel good, it just feels good, in general, for him just to be throwing again.
"You have no idea," Bailey said on Saturday. "There were a couple of weeks right before I started throwing that I could do anything and everything I wanted to, except for throwing. We always want what we can't have, right?"
Bailey, 29, made his only two starts this season in April after he worked his way back from a September surgery that repaired a torn flexor mass tendon near the same right elbow. At some point, he suffered a torn ulnar collateral ligament in his elbow, which was repaired by surgery in early May.
The throwing program began earlier this month at Beacon Orthopedic before recently moving to the field at Great American Ball Park. Bailey, who is making 75 throws per session from a distance of 75 feet, says he's not babying the throws and can throw with a little zip. Of course, breaking pitches are not permitted yet.
There has only been the usual post-throwing soreness thus far.
"Every now and again, for no particular reason, some days I will feel more sore that afternoon or the next day," Bailey said. "That could be normal pain, because it happens like that if I were healthy and throwing again before a season."
If Bailey can return to form next season, he would be the veteran needed to bolster what will be a very young rotation. Two 2015 rookies -- Anthony DeSclafani and Raisel Iglesias, are likely for spots, while a cavalcade of young pitchers will compete for the remaining spots.
"Having an experienced veteran starting pitcher -- we have to have that," Reds manager Bryan Price said. "We have to have somebody with these guys in the clubhouse who can give them some direction, that can create a connectivity in the group, and who can be the loudest voice in a group of five starters. [Bronson Arroyo] was able to do it with a softer voice. Homer can do that. It's a lot easier to do it when you're alongside them instead of being in the training room or in rehab."
The conservative estimate is that Bailey won't be ready to join the 2016 rotation until after Opening Day. It will be his third season since he signed a six-year, $105 million contract just after camp opened in 2014.
"I will already be off a mound right before Spring Training," Bailey said. "But I think the mound progressions coming back from a surgery, vs. going into a season, are a lot different. That's why we're still shooting for early-to-mid May, barring any setbacks."
Mark Sheldon is a reporter for MLB.com. Read his blog, Mark My Word, follow him on Twitter @m_sheldon and Facebook and listen to his podcast. This story was not subject to the approval of Major League Baseball or its clubs.