Blue Jays celebrate, look forward to more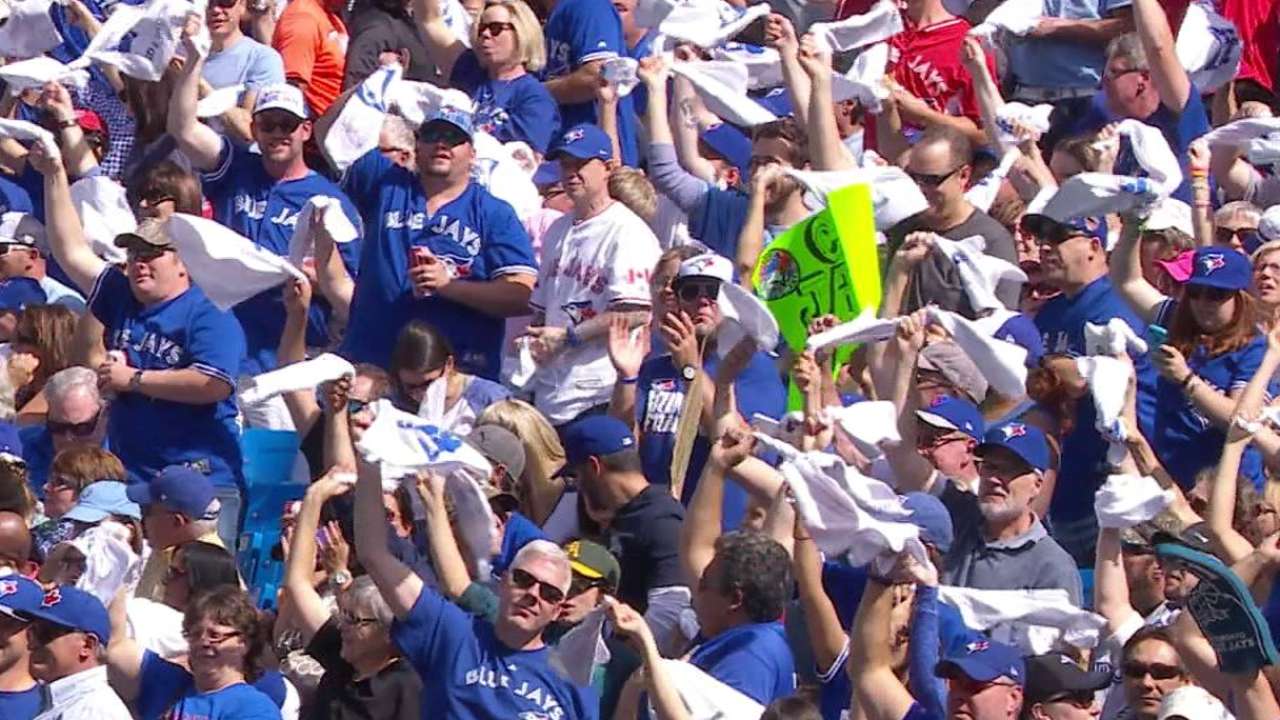 TORONTO --The Blue Jays didn't plan to celebrate their clinching of a playoff spot for the first time in 22 years, but when they arrived in the locker room following Saturday's win over the Rays, they couldn't resist.
Champagne and cigars were in almost every hand and mouth as the Blue Jays belatedly -- and exuberantly -- acknowledged the end of the longest active postseason drought in North American pro sports.
Gear up for Blue Jays' postseason
"We just got in here, the emotion, the excitement, everything took over," said slugger Jose Bautista, who swatted a pair of homers in Saturday's 10-8 win over Tampa Bay. "I don't know where they were hiding the champagne, but someone went and got it and it got a little crazy. We expect to have another one of these when we win the division, that's our goal, and we're going to get it done."
Sporting a pair of goggles and a camera strapped to a postseason hat, Bautista appeared to be the ringleader of the team's celebration, which included loud music, beer showers and a lot of dancing.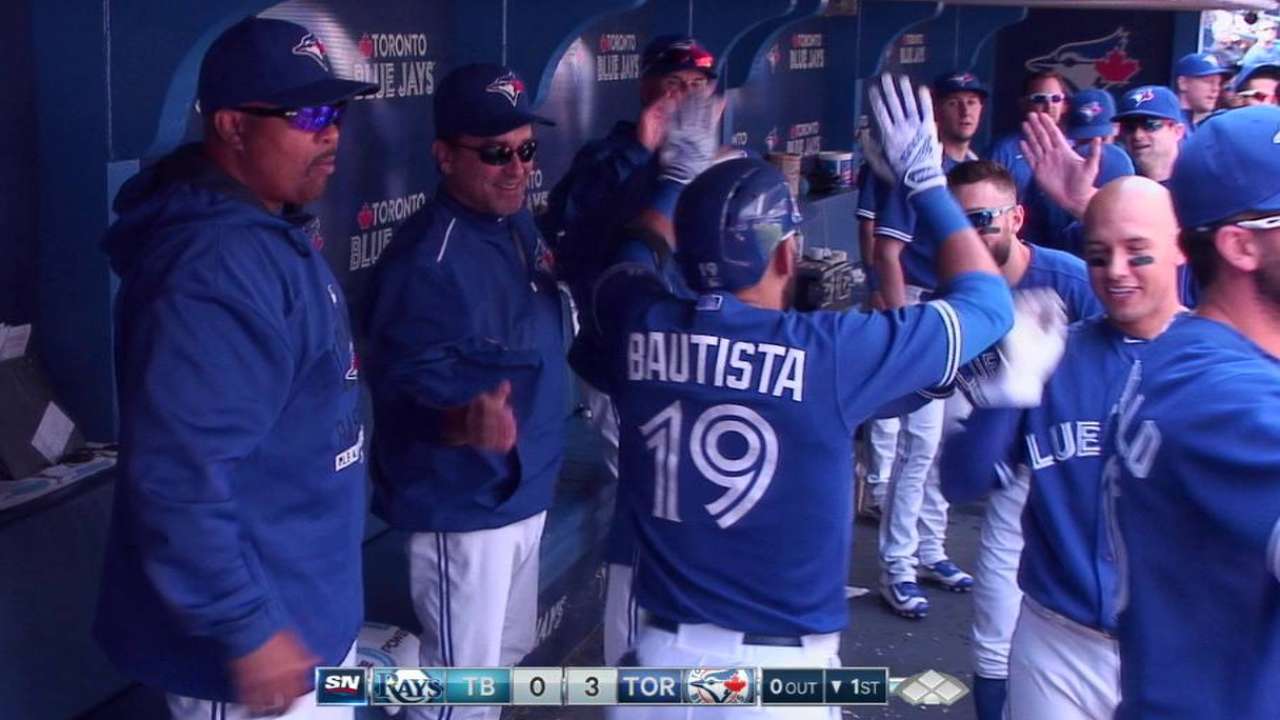 Standing on the party's perimetre was Monday's starter Marco Estrada, who said he was abstaining from the adult beverages to stay fresh for his upcoming outing. But Estrada still grinned wide when he he considered his team's feat.
"Incredible," Estrada said, before foreshadowing a possible division crown. "But they'll get a lot crazier when we win it all."
Centre fielder Kevin Pillar was also adamant the more it wins, the more boisterous the team will get.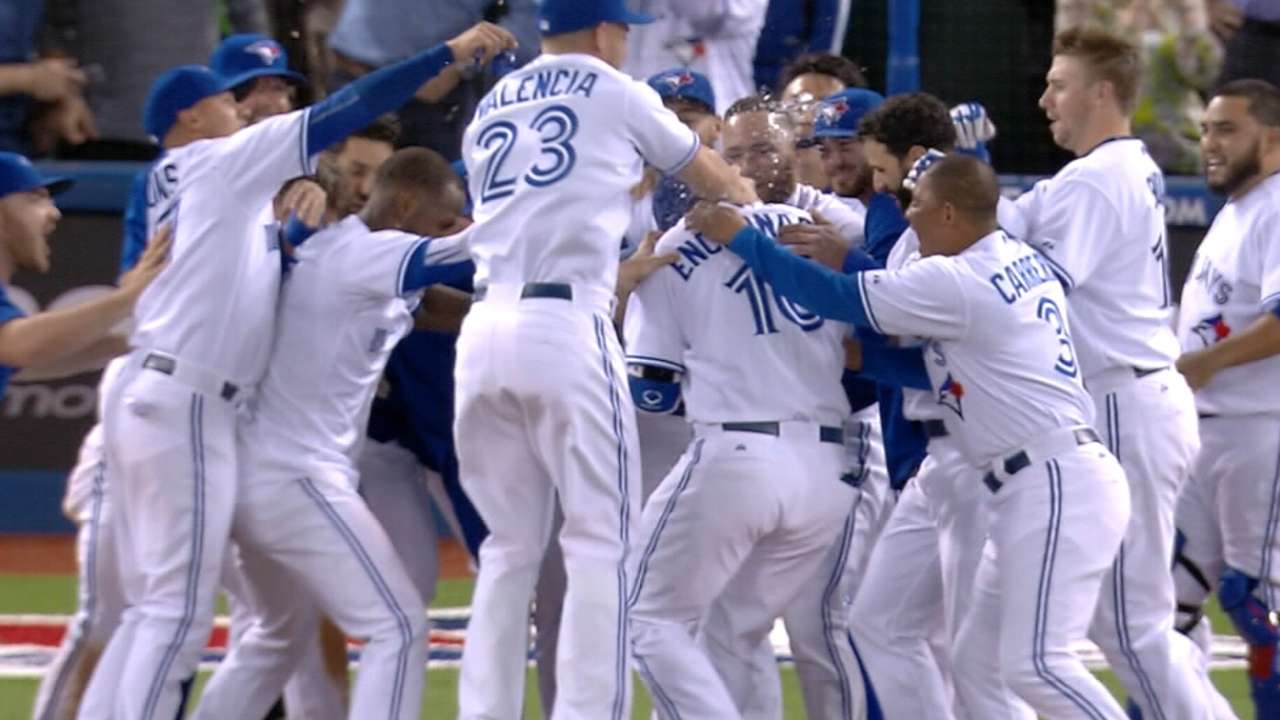 "It's worth some sort of celebration. If you think this is crazy, wait until we clinch the division," Pillar said. "This is more for the franchise, this is more for the city. We haven't lost track of our goals, we want to win the American League East. That was our goal from Day 1 and it feels good, putting this shirt on and putting this hat on, knowing we're going to the postseason."
The Blue Jays didn't do much celebrating on the field after their win, but they plan to acknowledge the fan base at some point during Sunday's series finale, which is also their final home game of the regular season.
"Win or lose, we have to do something for these fans," said David Price, who joined the Blue Jays at the non-waiver Trade Deadline. "The way they've rallied around us for the past 60-70 games, it has been unreal. I don't know the numbers, but I'll go out on a limb and say nobody has the attendance that we've had the past 60-70 games. What they've done for us has been very big, and we have to acknowledge those guys in the stands."
Jamie Ross is an associate reporter for MLB.com. This story was not subject to the approval of Major League Baseball or its clubs.