Cubs OK with belated postseason celebration
Late Giants loss to the Athletics clinched a berth for Chicago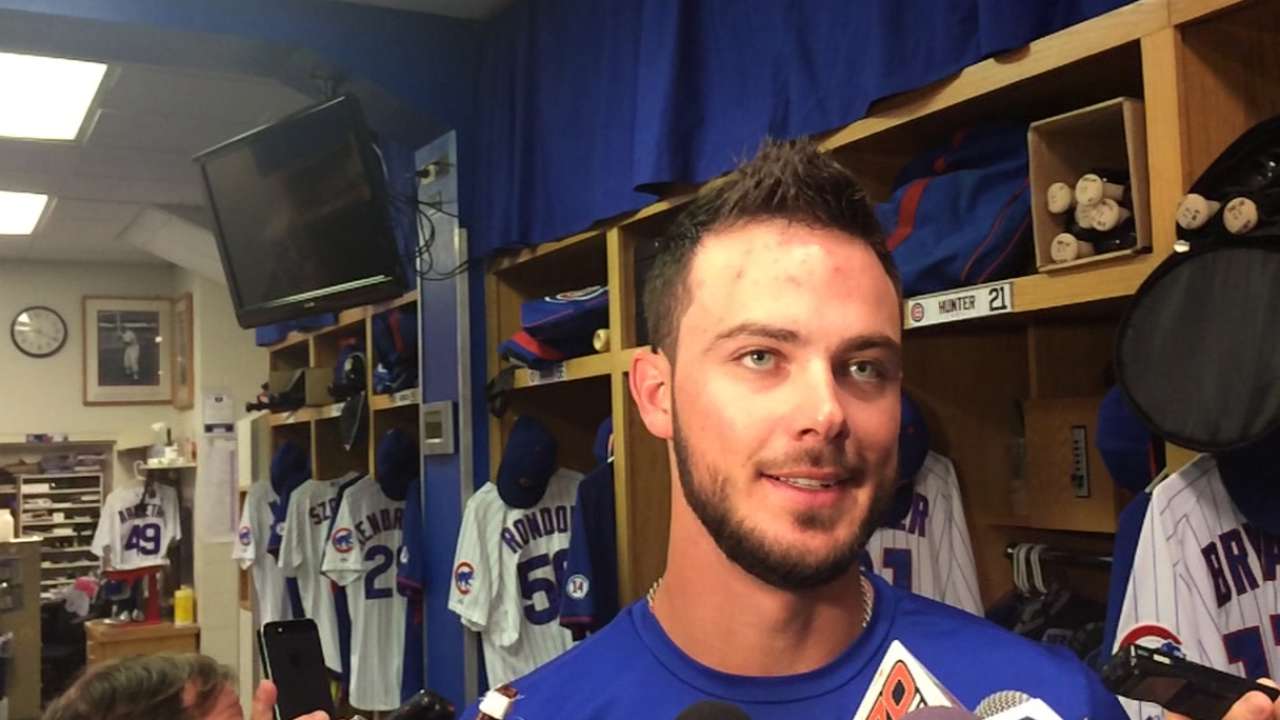 CHICAGO -- Joe Maddon was watching the movie "Jersey Boys" and trying not to peek at his iPad to see the score of the Giants-Athletics game late Friday.
"I just wanted to wait until the game was over to actually look," Maddon said Saturday. "I didn't want to go through the angst of watching inning by inning, so I got to the last scene of the "Jersey Boys" and couldn't stand it any more, so I leaned over and grabbed it. It was 5-4 [Athletics] in the top of the ninth. I put it down and picked it back up and the game was over."
And with the Giants loss to the A's, Maddon and the Cubs were in the postseason.
Chicago secured a berth because San Francisco was mathematically eliminated. Who the Cubs will play is still to be determined, although if the season ended today, they would play the Pirates in the National League Wild Card Game presented by Budweiser at PNC Park on Oct. 7.
The Cubs could've clinched a postseason spot with a win Friday over the Pirates, but their 3-2 loss meant they had to wait. Kris Bryant slept rather than check the score. Jake Arrieta, Dexter Fowler and their wives watched the game together. Before he went to sleep, Anthony Rizzo saw that the Giants were losing, and that was enough for him.
"Obviously, we're not popping bottles or losing our minds," Arrieta said of their celebration. "We know we're in now and we still have some business to take care of. We'd like to finish the regular season with everybody healthy and everybody feeling good about October baseball, and go from there."
Maddon sent a text to A's manager Bob Melvin to say thanks, and he got a message from former Cubs pitcher Rick Sutcliffe.
On Saturday, as players arrived for an early game against the Pirates, there were fist pumps and hugs.
"It's different," Maddon said of the subdued celebration. "You're used to going nuts on the field or in the clubhouse. We accept it, we take it. It's a beautiful thing."
Said Bryant: "It's kind of a weird way to clinch it, but we'll take it any way we can get it."
Addison Russell came up in the A's organization, so he was rooting for Oakland.
"You don't wish bad on anyone," Russell said. "Me, coming from Oakland, I kind of wanted Oakland to win because I have so many friends over there. The thing is that we made it and we're going to play and we're going to celebrate."
Before Saturday's game, a video montage of some of the highlights of the season were featured, and the players stood on the field to watch. They then tipped their caps to the fans at Wrigley Field.
"Win or lose today, I'm sure we're going to spray the champagne and enjoy it," Rizzo said. "A lot of us haven't done that. I know I'm looking forward to it. It's something that's not easy to do, and playing and not winning, you realize how hard it is to win. We've really made a winning culture in here this season and it's a credit to a lot of the older guys who have helped us do that."
Carrie Muskat is a reporter for MLB.com. She writes a blog, Muskat Ramblings. You can follow her on Twitter @CarrieMuskat and listen to her podcast. This story was not subject to the approval of Major League Baseball or its clubs.