Bucs widen Wild Card gap to 5 1/2 over Cubs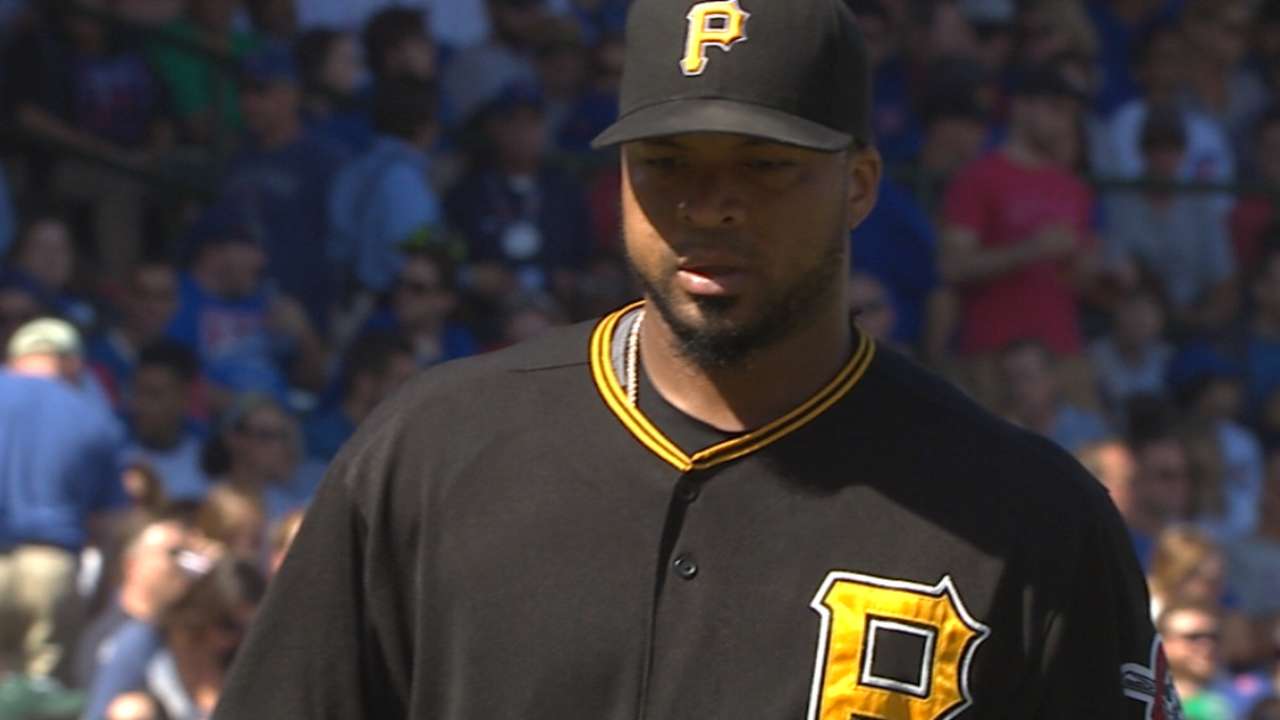 CHICAGO -- Jordy Mercer hit a three-run homer and Francisco Liriano tossed 7 2/3 scoreless innings to power the Pirates past the Cubs, 4-0, at Wrigley Field on Saturday afternoon. With its eighth straight win, Pittsburgh moved 5 1/2 games ahead of Chicago for the top National League Wild Card spot. With the Cardinals' 5-1 win over the Brewers on Saturday night, the Bucs remained three games back in the NL Central.
"We'll enjoy this win and get ready for [Jake] Arrieta [on Sunday]," said Pirates manager Clint Hurdle, declining to comment on taking a big lead over the Cubs with only seven games remaining in the regular season.
• Gear up for Cubs' postseason
• Load up on Pirates postseason gear
Liriano allowed just four hits and struck out nine in his 20th quality start of the season. The left-hander surrendered only one extra-base hit -- a leadoff double to Kris Bryant in the fourth inning. Bryant was the only Cubs player to make it past second base on the day. It's the first time the Cubs have dropped three straight games at home since July 24-26 against the Phillies.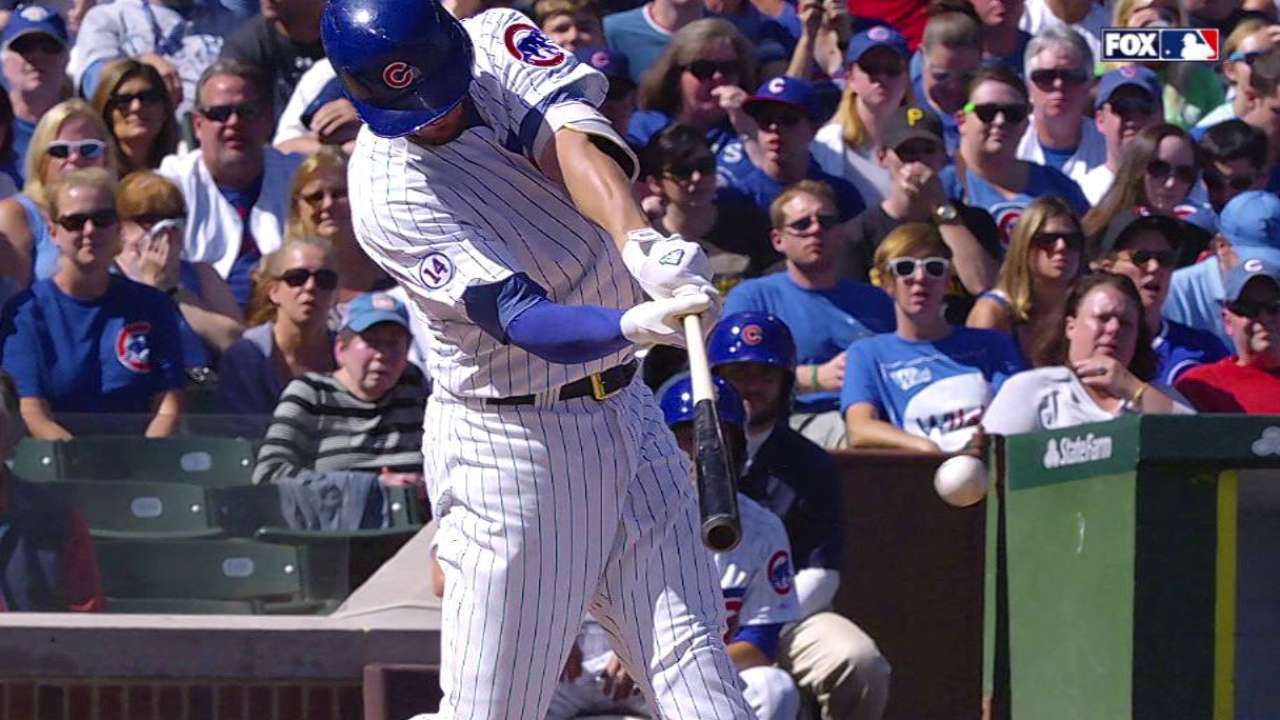 "When he has his fastball command, that's when he becomes special," Hurdle said of Liriano. "He had his fastball command today. That changes the whole dynamic of the at-bats against him, when he goes to his spin pitches. He changed speeds extremely well. He was very unpredictable."
Mercer connected on just his third home run of the season -- his first since June 3 -- off Chicago starter Jason Hammel. It was the sixth consecutive start in which the right-hander has allowed at least three runs. The Pirates provided some insurance with another run in the eighth inning on a Sean Rodriguez double.
"He got a pitch up, and I put a good swing on it. But I still didn't think it would go out, the way the wind was blowing," said Mercer, who displayed his power potential when he homered 12 times last season.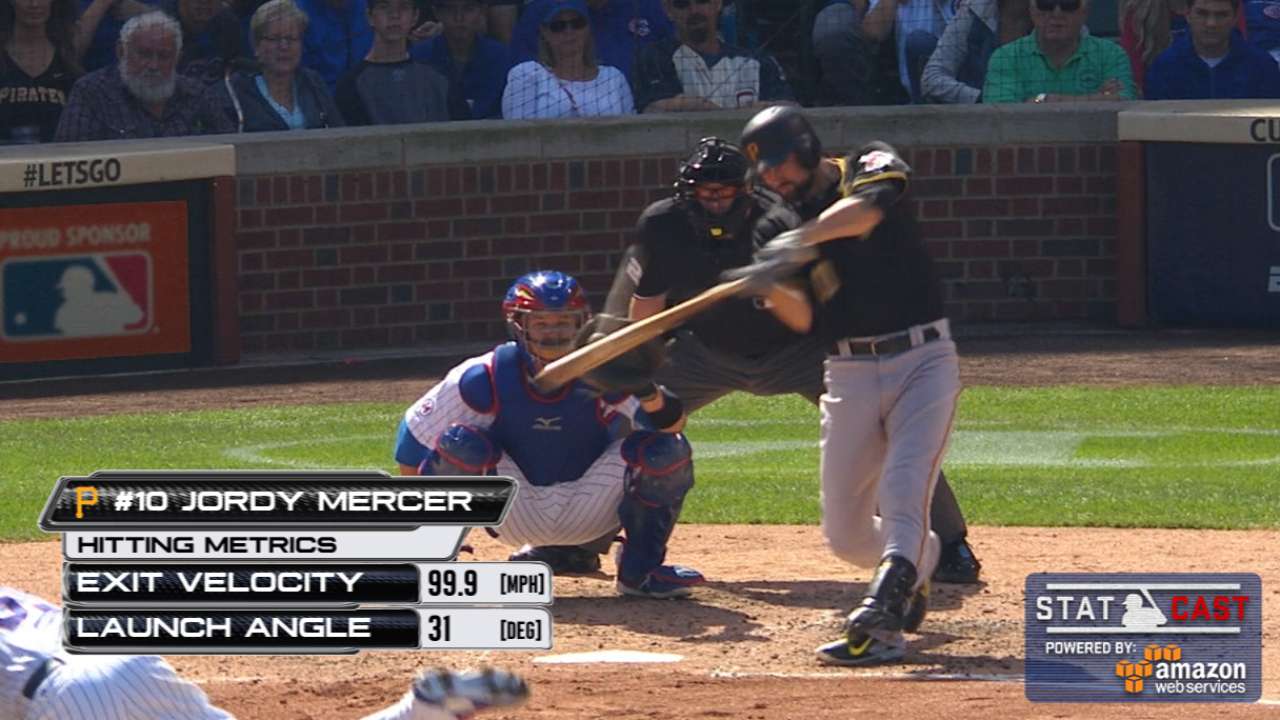 MOMENTS THAT MATTERED
Strong stuff: Liriano was given two extra days of rest between starts because of some arm fatigue, and he came off as a tired act to another Pittsburgh opponent as the Bucs won for the 15th time in his past 16 starts.
"Everything felt better, physically and mentally," Liriano said of the extra rest, even though he had been comparably stout last Saturday against the Dodgers, allowing two runs and five hits in seven innings of a 3-2 win. "I felt a lot better than last time, the way I could command the fastball."
• Bastardo steps up for Liriano in eighth
Short start: For the 12th time in his past 14 starts, Hammel was unable to go at least six innings. This time, he made it through four innings while allowing just two baserunners, but he was tagged for three runs and five hits in the fifth and was pulled before recording an out. The right-hander still has one chance left before the regular season concludes to find a rhythm he has struggled to maintain.
"He was doing great. He really made good pitches, his stuff was really good and all of a sudden it happened quickly -- a three-run homer," Cubs manager Joe Maddon said. "If they had not done that, we could've utilized our bullpen differently. Give them credit, they came to play. We came to play."
• Maddon the 'ideal' manager for young Cubs
Celebrate good times: Though they lost, the Cubs weren't deterred from celebrating their first postseason berth since 2008 after the game. Players soaked each other in champagne and danced in the clubhouse with their disco lights. They also came onto the field to continue the celebration with fans.
"We didn't win the game today, but we won the season to this point," Maddon said. "We're celebrating the season. It was definitely worthwhile. We set out to get into the playoffs from Spring Training. Our goal was to win the division; that's probably not going to happen. But we got the playoffs with every opportunity to win the World Series."
More >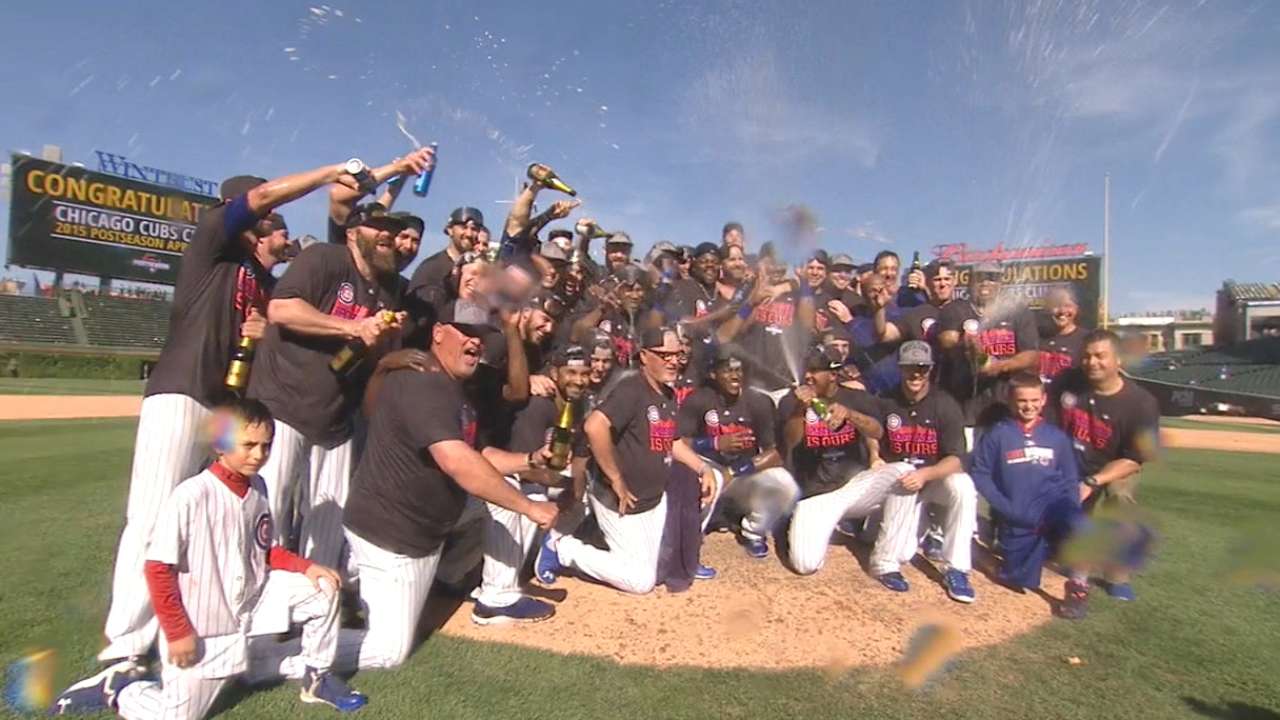 QUOTABLE
"No doubt, everybody who plays the game wants to play their best baseball at the end. We've obviously picked up momentum across the board. We've been been playing our best baseball." -- Hurdle, on how the Bucs are streaking toward the wire
"I don't feel like this is the ultimate goal. Nobody set out to just get into the playoffs. We want to win a World Series. I think you need to build a great organization to do that, and I feel like we're real close to having that. Great organizations play well in October. I hope we're going to give ourselves a lot of chances to do that in the coming years. But it starts right here, right now, this October." Cubs president of baseball operations Theo Epstein, after Chicago clinched its postseason berth
SOUND SMART WITH YOUR FRIENDS
One day after Gerrit Cole reached 200 strikeouts, so did Liriano -- making them only the fourth and fifth pitchers in Pirates history to post 200 K's in a season, following lefties Bob Veale (who did it four times) and Oliver Perez, and righty A.J. Burnett, who did it in 2013. Thus, the current staff includes three of the five.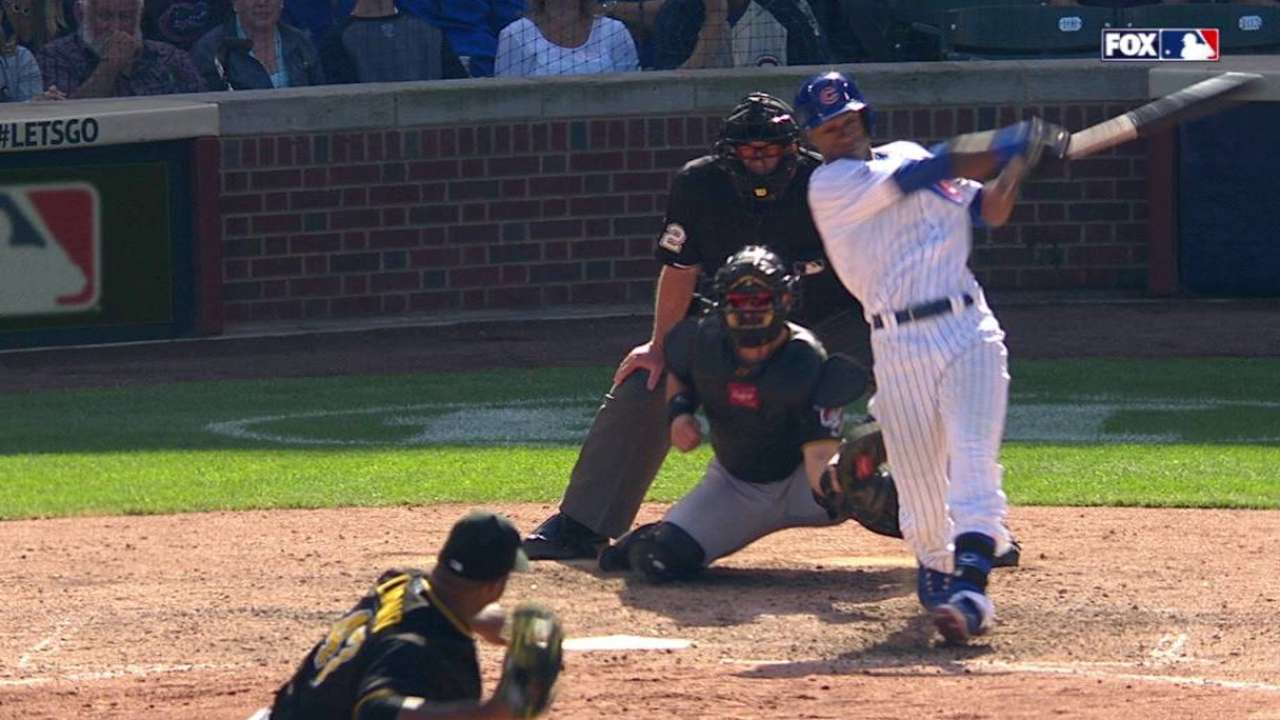 "It's special, and it's impressive," Hurdle said. "It's the easiest out to record; it only involves two people."
The Pirates' eight-game win streak has come all on the road, the first time they have strung together eight straight wins on one trip since July 4-12, 1938. The Bucs did win eight consecutive road games more recently, in 1987, but that was across two separate road segments. More >
WHAT'S NEXT
Pirates: Burnett makes what figures to be the next-to-last regular-season start of his career in Sunday night's 8:05 ET final game of this series and of the Bucs' road schedule. He is 6-1 at Wrigley Field, blanking the Cubs on three hits over seven innings in his most recent start on May 17.
Cubs: Jake Arrieta takes the mound for the Cubs as they conclude the season series against the Pirates on Sunday. Arrieta (20-6, 1.88 ERA) looks to become the first Cubs pitcher since Ferguson Jenkins in 1971 to win more than 20 games. First pitch from Wrigley Field is scheduled for 7:05 p.m. CT.
Watch every out-of-market regular-season game live on MLB.TV.
Greg Garno is an associate reporter for MLB.com. This story was not subject to the approval of Major League Baseball or its clubs.