Burns' 'terrific' rookie year among A's best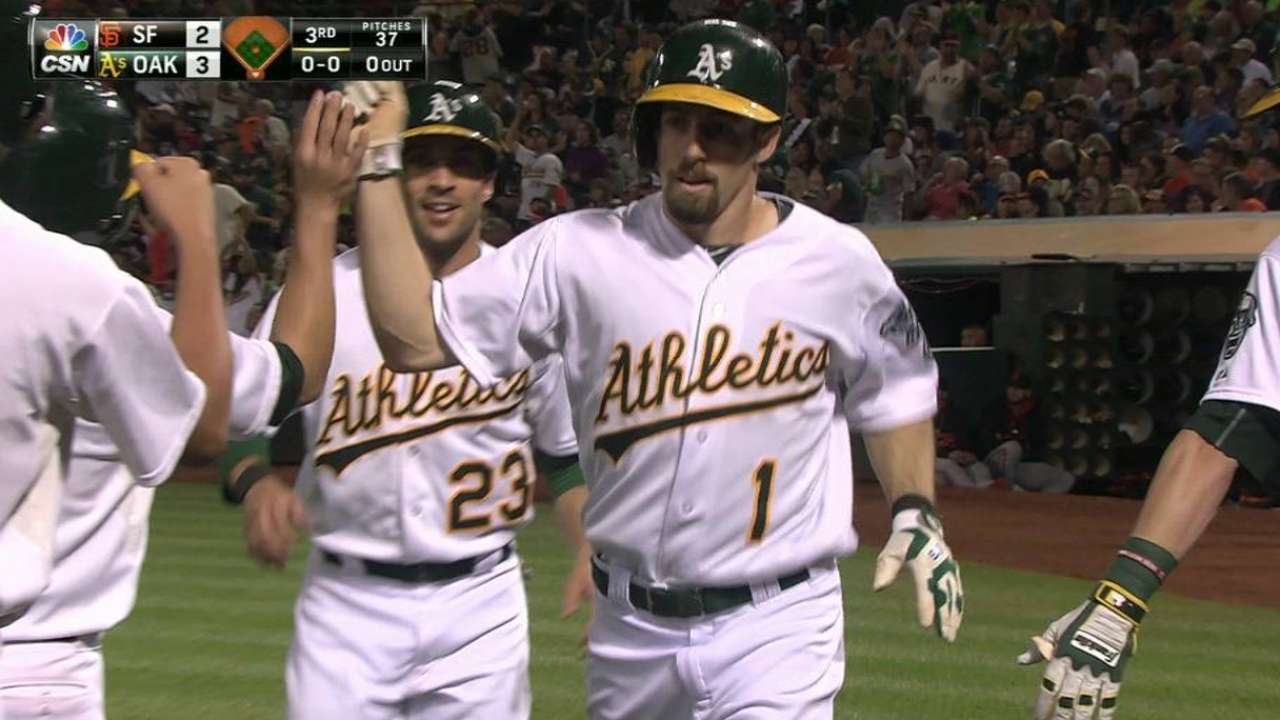 OAKLAND -- Athletics center fielder Billy Burns smacked a two-run home run in the third inning of Oakland's 5-4 win over the San Francisco Giants Friday night at the Coliseum, passing Jose Canseco for sole possession of sixth place on the franchise's all-time rookie hits list.
Burns turned on an inside cut fastball from the Giants' Mike Leake and sent it just above the right-field wall for his fifth home run and 145th hit of the season, passing Canseco's mark set in 1986.
"He's been really consistent for us," manager Bob Melvin said. "Whoever he's in conversations with right now, he deserves to be."
The 26-year-old added a double in the fifth to collect his 45th multi-hit game of the year, tying Mark McGwire for third on Oakland's rookie franchise leaderboard for multiple hits in a contest.
"It's an honor to be talked about in the same conversation with those guys," Burns said. "Those guys are the greatest. That's pretty awesome."
Burns needs four multi-hit games in the final eight to tie a franchise record set by Brent Gates in 1993.
Terrence Long holds the franchise's rookie record for most hits in a season with 168 set in 2000. While Burns would have to record three hits in each game the rest of the year, a nearly impossible feat, the fact that he's come close is remarkable in itself.
Burns spent four-plus seasons in the Minor Leagues and received a callup to the A's at the beginning of May, mainly for his speed on the base paths. But the first-year outfielder has come into his own at the plate, too.
"You're talking about multi-hit games for a guy that didn't even start here to begin the season with us," Melvin said. "He's been terrific, he's been consistent, he's been durable, all of the above."
Burns' two-hit effort Friday increased his batting average to .299, good for second all-time on the Athletics' rookie list behind Mitchell Page's .307 mark recorded in 1977.
"He's becoming more and more of a polished and mature baseball player so I'm excited to see what the future holds for him," Vogt said.
Oliver Macklin is an associate reporter for MLB.com. This story was not subject to the approval of Major League Baseball or its clubs.