Rangers won't cruise with goal within reach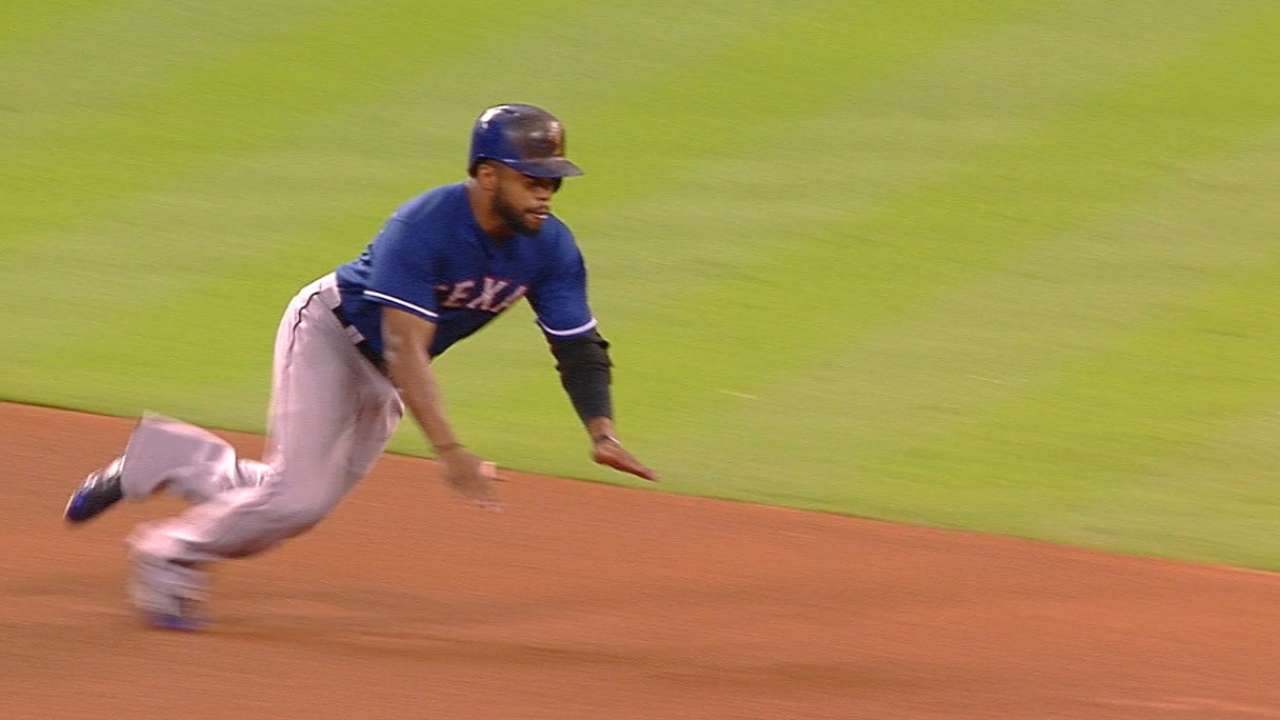 HOUSTON -- Rangers starter Yovani Gallardo had a four-run lead with two outs in the fifth inning of Friday's 6-2 win over the Astros. He needed one more out to put himself in a position to earn his 13th win of the season.
Then Evan Gattis ripped a double down the left-field line, the eighth hit off Gallardo. At that point he had thrown 87 pitches.
Manager Jeff Banister decided to go to the bullpen.
"Yovani was doing what he does," Banister said. "But his pitch count got up quickly on him; it was a situation where he kept trying to hit that outside corner and he couldn't find the range. He had been pitching in traffic and in high-stress situations.
"The situation we were in, we felt it was the right time to turn it over to the bullpen."
Gallardo didn't appear too thrilled about being pulled, but the bullpen delivered 4 1/3 scoreless innings, and the Rangers held on to win the opener of their three-game series with the Astros.
"We won, that's the most important thing," Gallardo said.
And that's all the Rangers are thinking about after opening a 4 1/2-game lead over the Astros in the American League West. Their magic number is down to five, but they don't want to start cruising now with the goal within reach.
"There is no exhaling," Banister said. "We're not looking up until it's over. This is a mission. We're looking for an accomplishment, to get to where we want to go. Don't relax -- still play with some urgency. If you get comfortable, get complacent and drop the gloves, you get punched in the mouth.
"Continue to play hard for 27 outs, and stay focused. The last thing you want to do is get complacent. If you look up, you drop a couple of games you shouldn't have, and it's hard to regain them. You have to continue to stay on top of it."
The Rangers have been on top of it for all of September, having won 16 of 23 for a .696 winning percentage that is the best in baseball. Right now it's the third-best winning percentage ever for the team in September, and it's reminiscent of 2011, when they won 19 of 25 in the season's final month.
"We've been playing pretty good baseball, and [that] has showed with the situation we're in," Gallardo said. "We have a lot of veteran guys, and we have a good mix in this clubhouse. Our guys go out and play, and no pressure on our side whatsoever. We're playing the same way we've have all year. We enjoy it. We understand it's a long year."
The Rangers are closing in on the sixth division title in club history. Banister does not want any letup at this point.
T.R. Sullivan is a reporter for MLB.com. Read his blog, Postcards from Elysian Fields, follow him on Twitter @Sullivan_Ranger and listen to his podcast. This story was not subject to the approval of Major League Baseball or its clubs.