Statcast: Betts leaps to haul in Davis' blast
Altherr's inside slam, Duda's drive also get in-depth look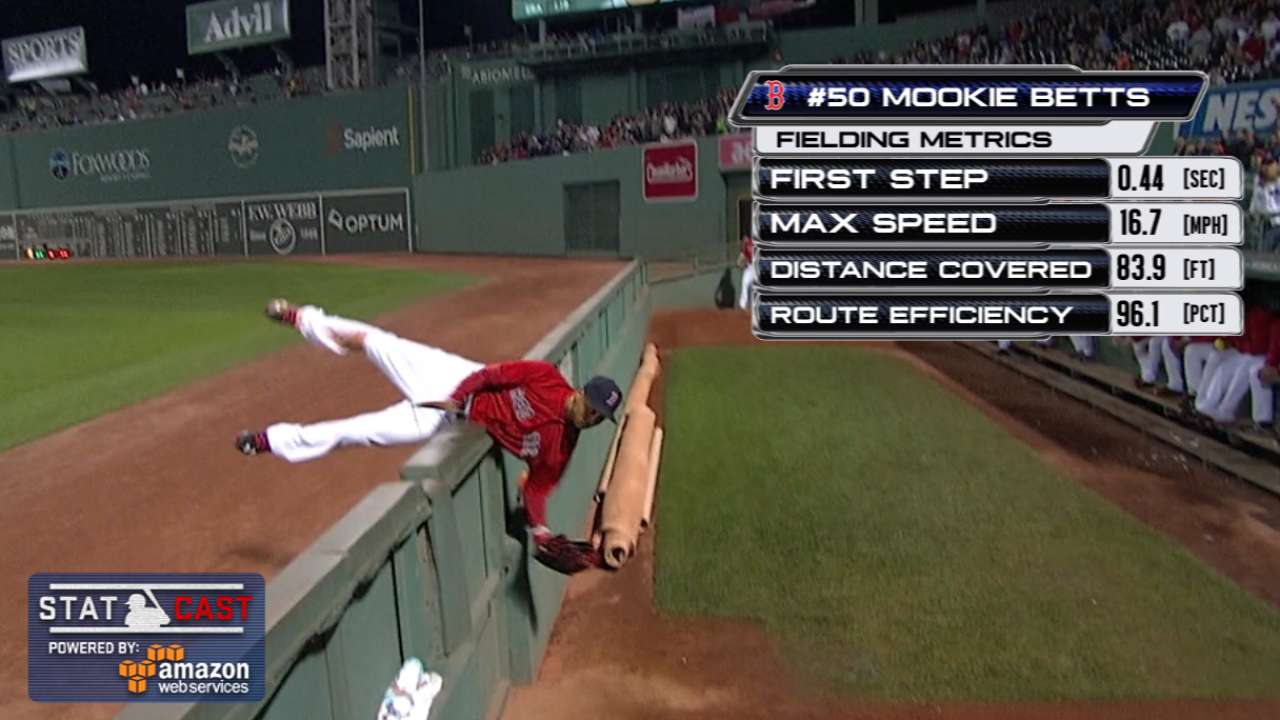 It wasn't hard to explain what happened in the ninth inning of the Red Sox's 7-0 win over the Orioles on Friday night: Mookie Betts made an outstanding play, one of the best you'll see all year, to rob Chris Davis of a home run.
But thanks to Statcast™, we can dig deeper to see just how Betts pulled back Davis' blast and preserved Rich Hill's two-hit shutout at Fenway Park.
Betts' highlight-reel grab wasn't the only play worth further observation Friday night. Aaron Altherr hit two very different home runs, Lucas Duda crushed a pair of three-run shots, Mike Olt went deep and Delino DeShields turned a single into a double.
And before Betts' game-ending grab, one of his Red Sox teammates nearly ran over another. Here's an in-depth look at each play.
Betts finishes with a flair
Davis got a hold of Hill's last pitch of the game, crushing it with an exit velocity of 104.2 mph toward Boston's bullpen. Back went Betts, taking his first step in 0.4 seconds and reaching a top speed of 16.7 mph while recording a route efficiency of 96.1 percent.
Betts covered 83.9 feet in 5.6 seconds as he made his way to the short wall in right field, leaping and balancing horizontally on the fence as he grabbed Davis' blast.
Altherr's grand day
With one out and the bases loaded in the third inning, Altherr knocked a 1-1 pitch from Jordan Zimmermann into center field. Nationals outfielder Michael Taylor's diving attempt came up short, and the ball slipped toward the center-field wall.
Altherr, the Phillies' left fielder, took advantage. He sprinted around the bases, reaching a top speed of 21 mph and touching them all in only 14.9 seconds for an inside-the-park grand slam in Philadelphia's 8-2 victory.
It was the first inside-the-park slam in MLB since Oct. 3, 1999, when Tampa Bay's Randy Winn hit one against the Yankees. And according to Statcast™, it was the third-fastest trip around the bases on an inside-the-park homer this year. The Marlins' Dee Gordon did so in 14.2 seconds on June 30, while the Royals' Jarrod Dyson went home-to-home in 14.7 seconds on July 8.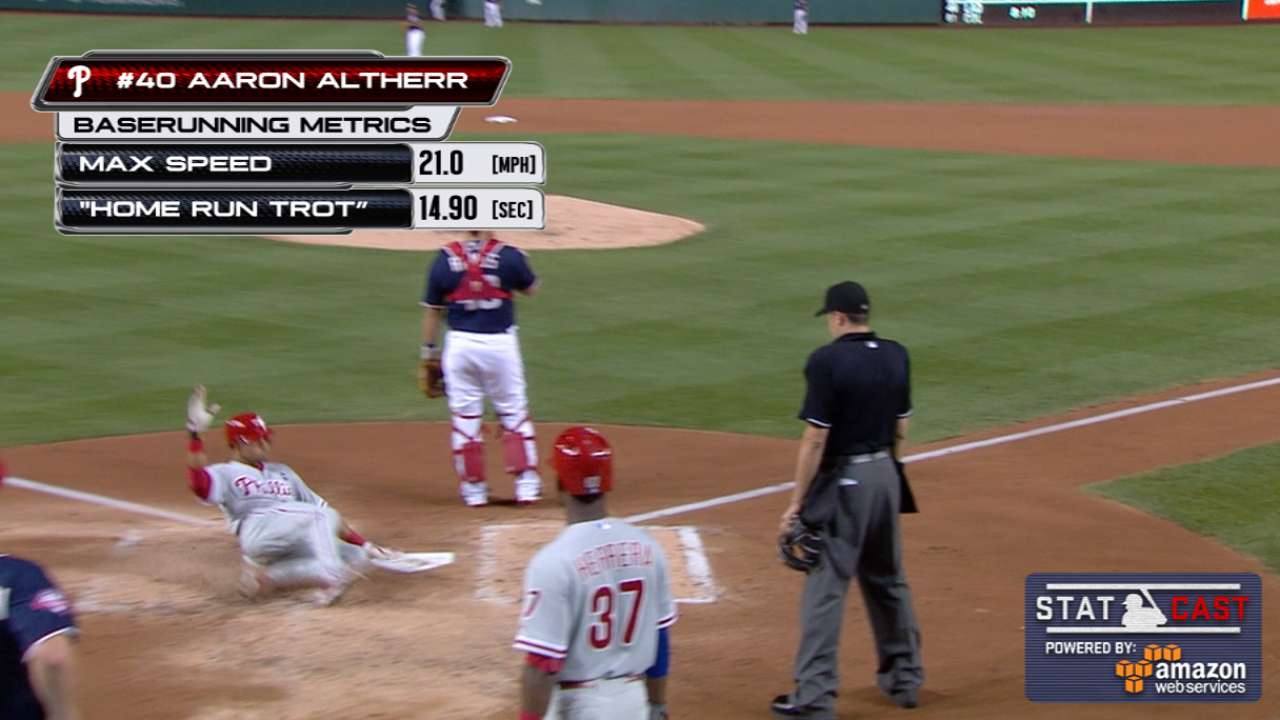 But Altherr didn't stop there. With one out in the fifth inning, he hit a more conventional home run, sending a 1-0 pitch from Zimmermann 371.2 feet to left field. According to Statcast™, that homer left Altherr's bat at 100.2 mph. The inside-the-park homer's exit velocity: Just 87.8 mph.
Duda goes deep
Duda blasted a three-run homer to left-center field in the third inning of the Mets' 12-5 win over the Reds. He went to work again in the seventh, stepping to the plate with two on and two outs against Cincinnati's Tony Cingrani.
This time, Duda crushed another three-run shot well into the right-field seats. Duda's 24th homer of the season traveled 433.8 feet, according to Statcast™, and came off his bat at 111.1 mph.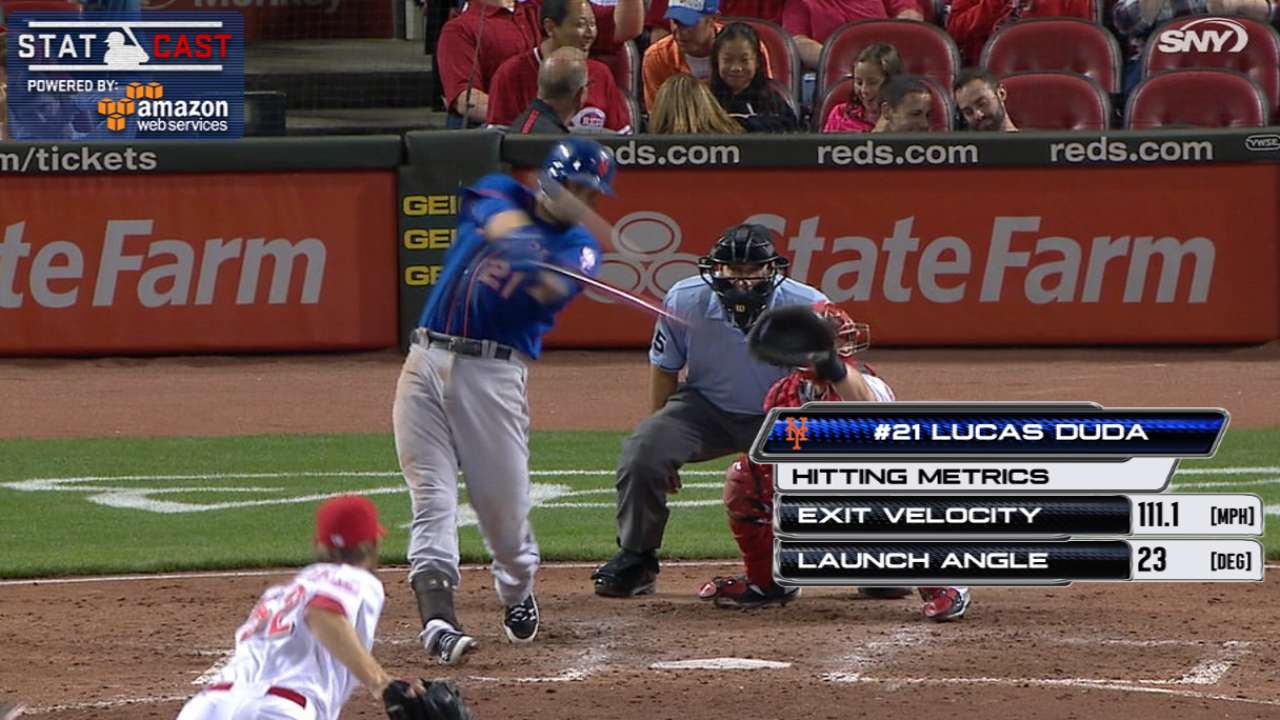 Olt hits a moonshot
With the White Sox and Yankees tied at 2, Olt led off the seventh inning against lefty CC Sabathia. Olt took a big swing at a 2-1 pitch from Sabathia and launched it 447.4 feet to left field. The ball came off the third baseman's bat at 109.5 mph, according to Statcast™, as the White Sox went on to win, 5-2.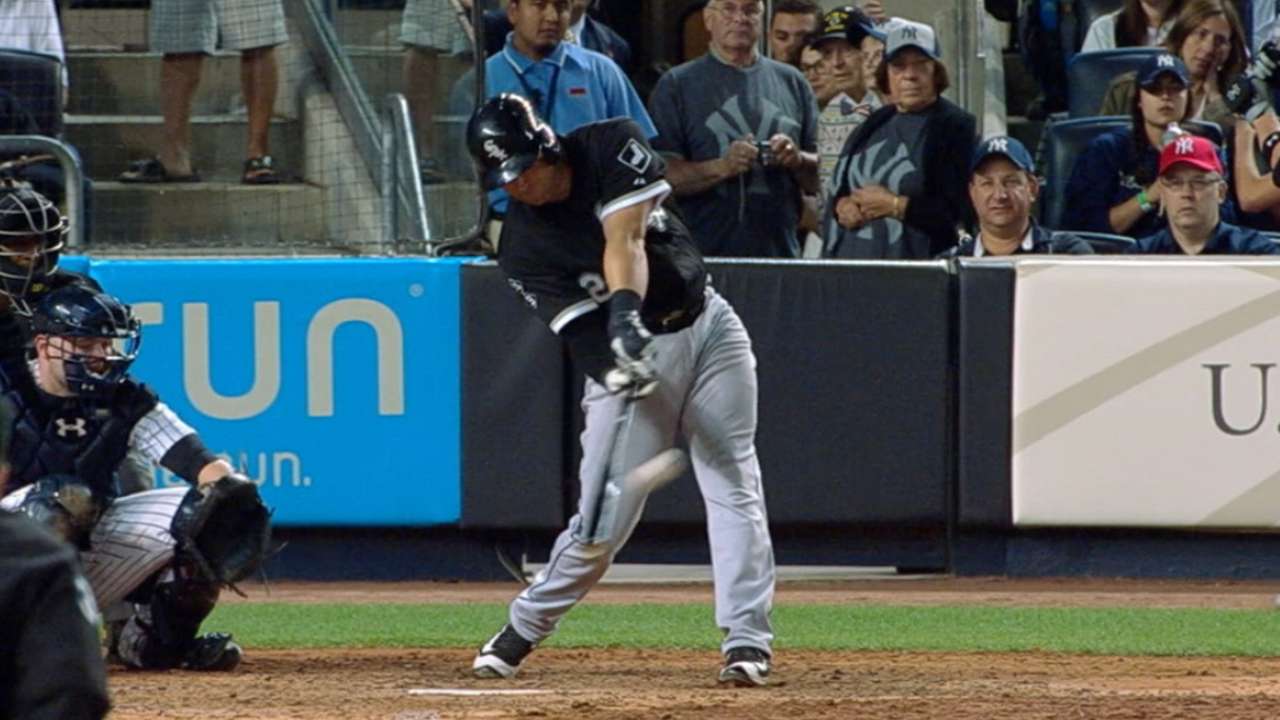 DeShields' hustle double
With two outs and nobody on in the fourth inning of the Rangers' 6-2 win over the Astros, DeShields lined a 2-2 pitch from Scott Kazmir to left-center field. It was a single for most players, but not DeShields. He sped around first, reaching a top speed of 20.9 mph, and slid safely into second in just 7.6 seconds to leg out a hustle double.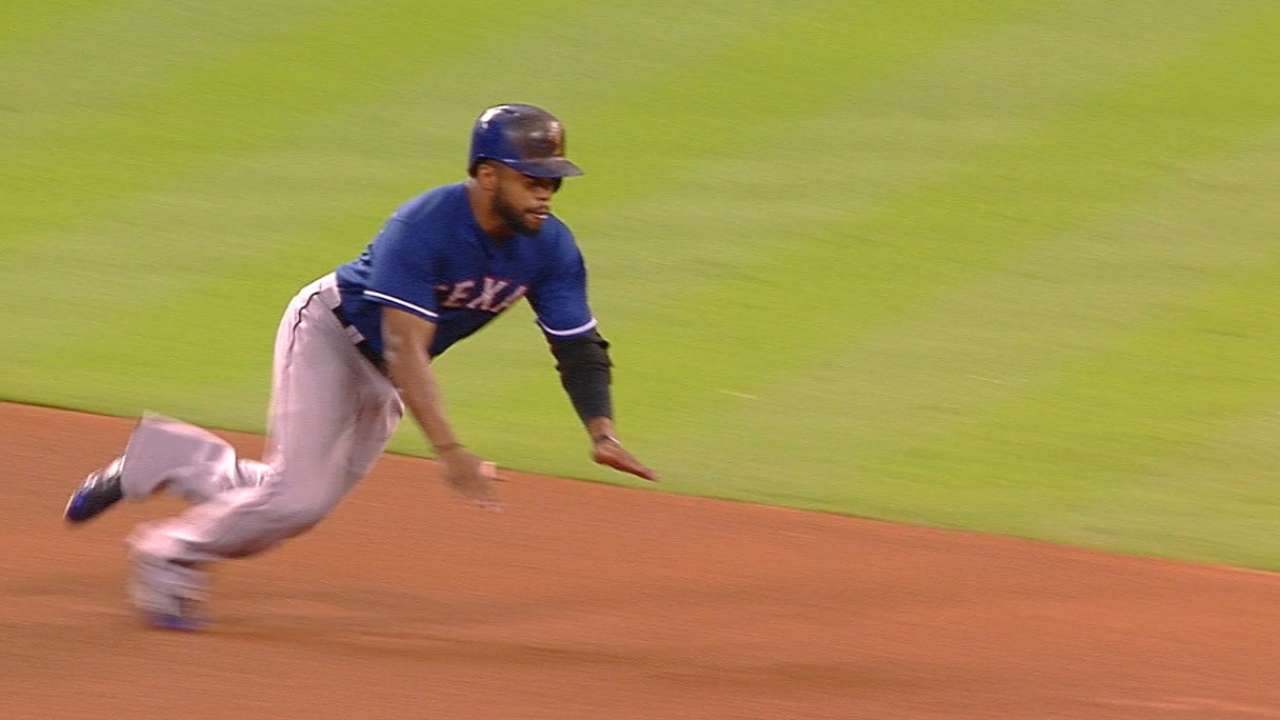 Bogaerts coming through
Dustin Pedroia led off the sixth inning of the Red Sox's victory over the Orioles with a walk, and Xander Bogaerts reached on a single. Up came David Ortiz, who ripped a double to right field.
Unsure whether Dariel Alvarez would record the out, Pedroia and Bogaerts hesitated until the ball landed. Then Pedroia headed home in 12.5 seconds, reaching a top speed of 19 mph. And Bogaerts was right behind him, hustling from first to home in 12.9 seconds while reaching a top speed of 20 mph.
The end result was both players sliding home safely, essentially right on top of each other, within less than four-tenths of a second of each other, according to Statcast™.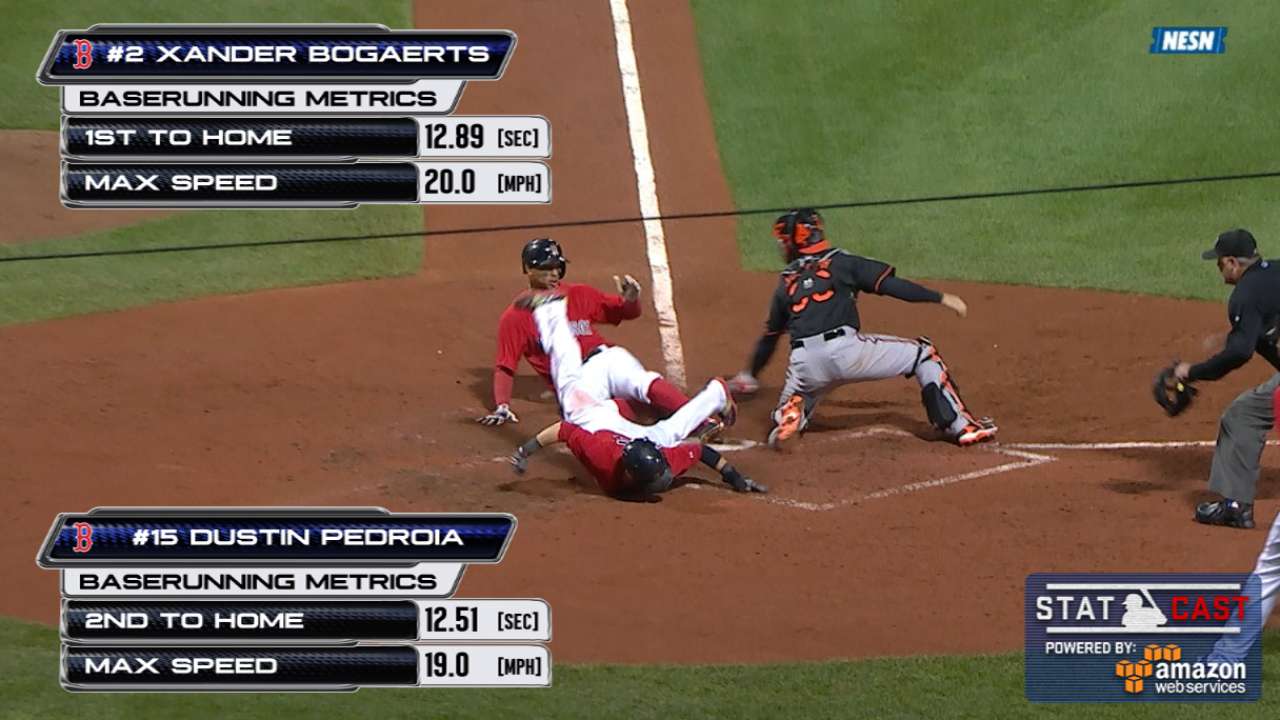 Adam Berry is a reporter for MLB.com. Follow him on Twitter at @adamdberry. This story was not subject to the approval of Major League Baseball or its clubs.