Rajai's aggressive at-bats key in victory
Left fielder fouls off nine out of 14 to set up game-tying rally, battles in eighth to hit go-ahead homer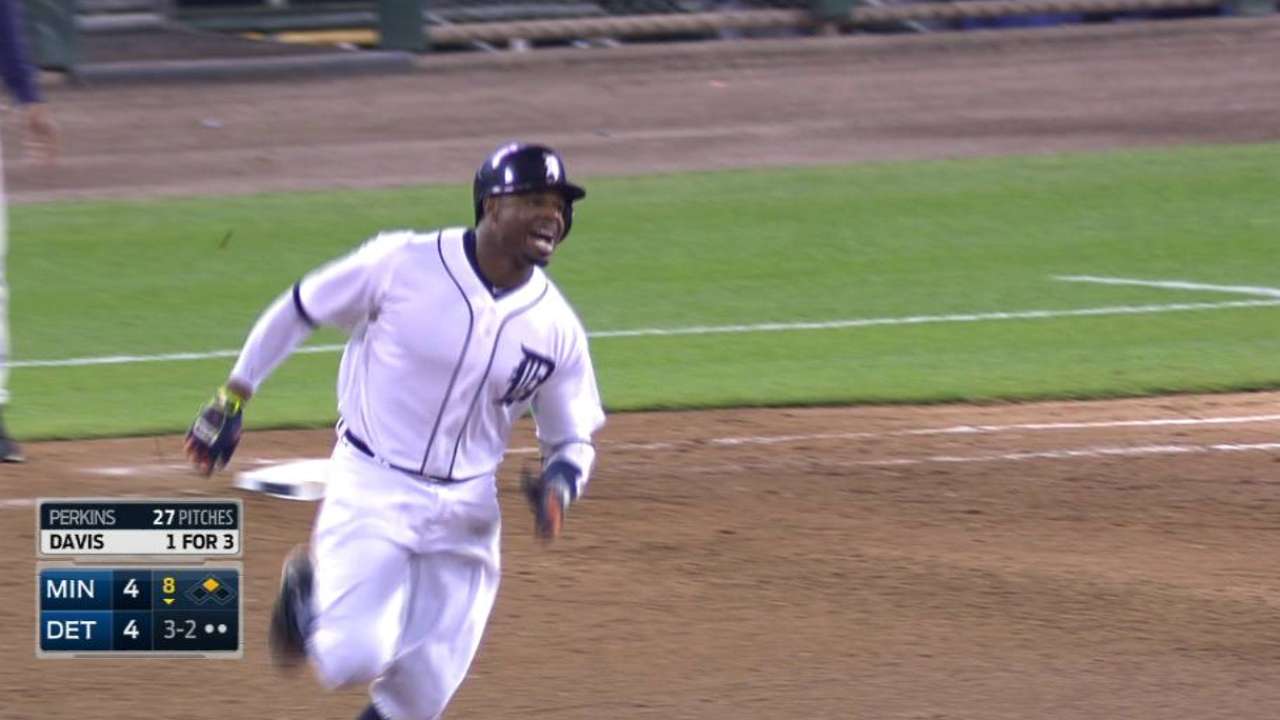 DETROIT -- One foul ball after another, Rajai Davis battled Casey Fien, sending each pitch behind home plate with authority to stay alive. He didn't get a hit out of his 14-pitch, nine-foul battle in the seventh, but he wore down Fien enough that he arguably set up the game-tying rally that followed.
Davis also set up his own bat. An inning later, he fouled off two Glen Perkins pitches with two strikes, then sent a ball in the right direction toward the right-field fence. And as he watched his go-ahead home run head over ex-teammate Torii Hunter's head and into the seats, he raised his hand in the air.
"Just in case they didn't see where that ball went, I had to point it out," Davis said with a laugh after the Tigers' 6-4 win over the Twins. "You never know."
All totaled, he saw 31 pitches in four at-bats Friday night. He made the last one count.
Davis doesn't hit that many out to the opposite field. That was just the second of his eight home runs this season to go out to right. But he's made more of a knack for clutch homers than opposite-field ones.
Davis has 16 home runs in two seasons as a Tiger. Five of them have changed the lead in the seventh inning or later, including his walk-off grand slam last year against Oakland.
He was more of a regular player back then. He has taken on more of a timeshare role this season, getting occasional starts in center field for Anthony Gose before splitting time with Tyler Collins in left following the Yoenis Cespedes trade. The irregular diet of at-bats shows in his strikeout rate, just five off last year's total despite 146 fewer plate appearances.
Yet while Davis was just 3-for-18 in full counts entering the night, he had three times as many walks (18) as strikeouts (six). The more pitches he sees, the better he tracks them, usually ending with one out of the strike zone. He didn't get the fastball down from Fien that he wanted in the seventh, but his revenge came from the hitters that followed.
Fien retired Davis for the second out of the inning, but it was the last out he recorded. Anthony Gose walked on five pitches, then Ian Kinsler jumped a first-pitch fastball for a ground-rule double. A Perkins walk to Cabrera and a Victor Martinez two-run double later, the game was tied.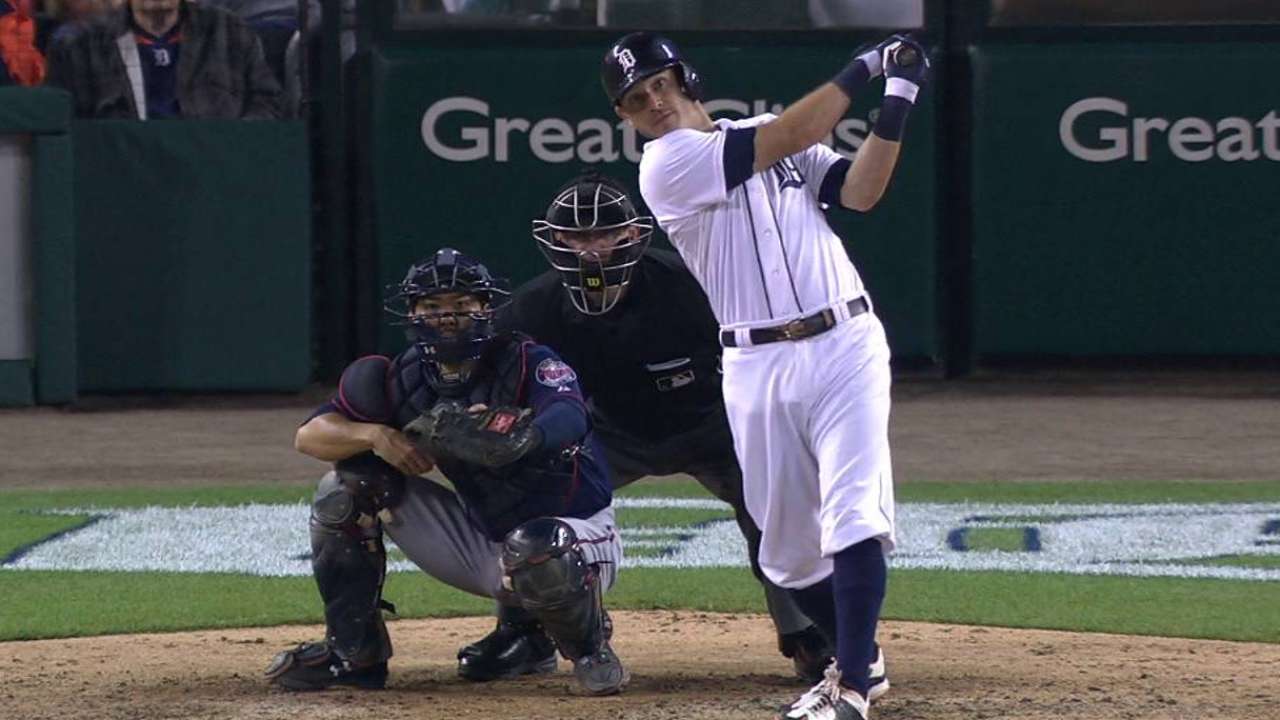 "I think it definitely helped, no doubt," Kinsler said of Davis' at-bat. "It frustrated him a little bit, wore him down a little bit. He had a tough time finding the strike zone against Gose at the plate, and I got a really good fastball to hit. That's a great question. That's the game of baseball right there."
Perkins, Davis said, was a different scenario against him in the eighth.
"In the past, he's thrown me a lot more fastballs," Davis said. "He gave me one fastball, that was it. He was trying to bury that slider, but I made up my mind I wasn't going to be overaggressive. Just take what he gives me and don't try to do too much."
Davis saw sliders with his final five pitches. The last one was just up enough for him to hit and for Hunter to try to chase.
"When Torii took off running, I said it's going to get over his head," Davis said.
Jason Beck is a reporter for MLB.com. Read Beck's Blog, follow him on Twitter @beckjason and listen to his podcast. This story was not subject to the approval of Major League Baseball or its clubs.