Cubs stay up late, clinch spot in postseason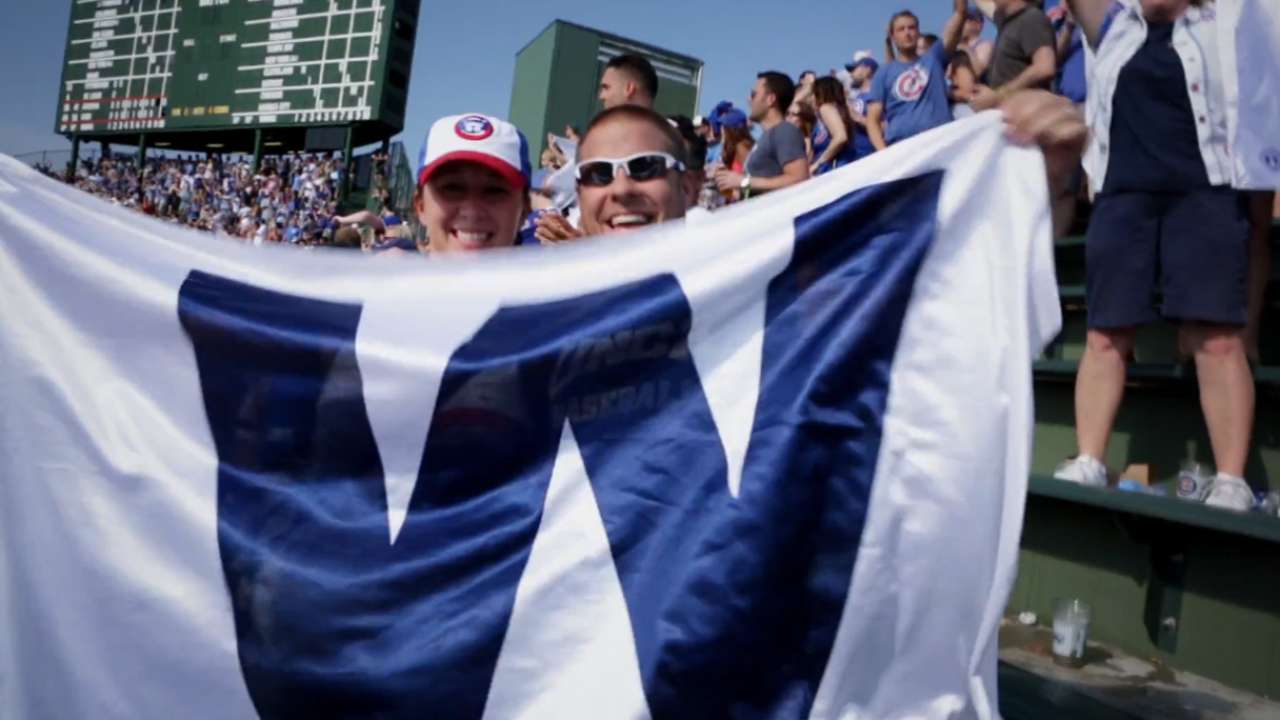 CHICAGO -- In November, Joe Maddon offered to buy a shot and a beer at his introductory news conference as the new Cubs manager. Late Friday night, Cubs fans were toasting Maddon and his young squad, which is headed to the postseason for the first time since 2008.
Chicago lost to Pittsburgh, 4-3, on Friday, but they still clinched a postseason berth because the Giants lost, 5-4, to the Athletics in Oakland, the game ending about midnight CT. The Cubs trail the Pirates by 4 1/2 games and the Cardinals by 7 1/2. If the season ended today, Chicago would travel to Pittsburgh to face the Bucs in the National League Wild Card Game presented by Budweiser on Oct. 7.
Is home-field advantage important?
Clinched! Your 2015 Chicago Cubs are heading to the postseason! #FlyTheW pic.twitter.com/Q24R9ZrVuB

— Chicago Cubs (@Cubs) September 26, 2015
"It's not, in my mind," Chicago catcher David Ross said Friday. "That's my personal opinion. We play good at their place. We've played pretty strong in Pittsburgh."
If the Cubs and Pirates were to end the regular season tied, Chicago would host the NL Wild Card Game because they have already secured the edge in the season series. Who knows what will happen in the final nine games?
It's been a season of Maddon-fueled surprises for the Cubs, beginning in Spring Training when a deejay livened up the morning stretch in Mesa, Ariz., and continuing with appearances by a magician in New York, team-mandated pajamas on a flight back from Los Angeles and appearances by a penguin and a cheetah on back-to-back days at Wrigley Field this week.
• Maddon 'really believed' postseason prediction
The Cubs' hot streak began after they were humbled by the Phillies, who posted a three-game sweep July 24-26 at Wrigley Field. Since July 27, Chicago has gone 38-18, recording the most wins in the Major Leagues in that stretch.
Most of the Cubs said they would probably be sleeping rather than watch the Giants-Athletics game, but they were watching. Dexter Fowler posted on Twitter: "I've never been happier for the @Athletics! #playoffbound"
I've never been happier for the @Athletics! #playoffbound

— Dexter Fowler (@DexterFowler) September 26, 2015
This is the first time the Cubs have gotten to the postseason as a Wild Card team since 1989. How'd they do it? Give the kids credit. Kris Bryant has set a franchise record for most home runs (26) and RBIs (98) by a rookie. Kyle Schwarber, just a year after he was the team's first-round pick, ranks among the NL leaders in home runs in the second half. The Cubs' rookie contingent has combined to hit 66 home runs, the highest total in franchise history.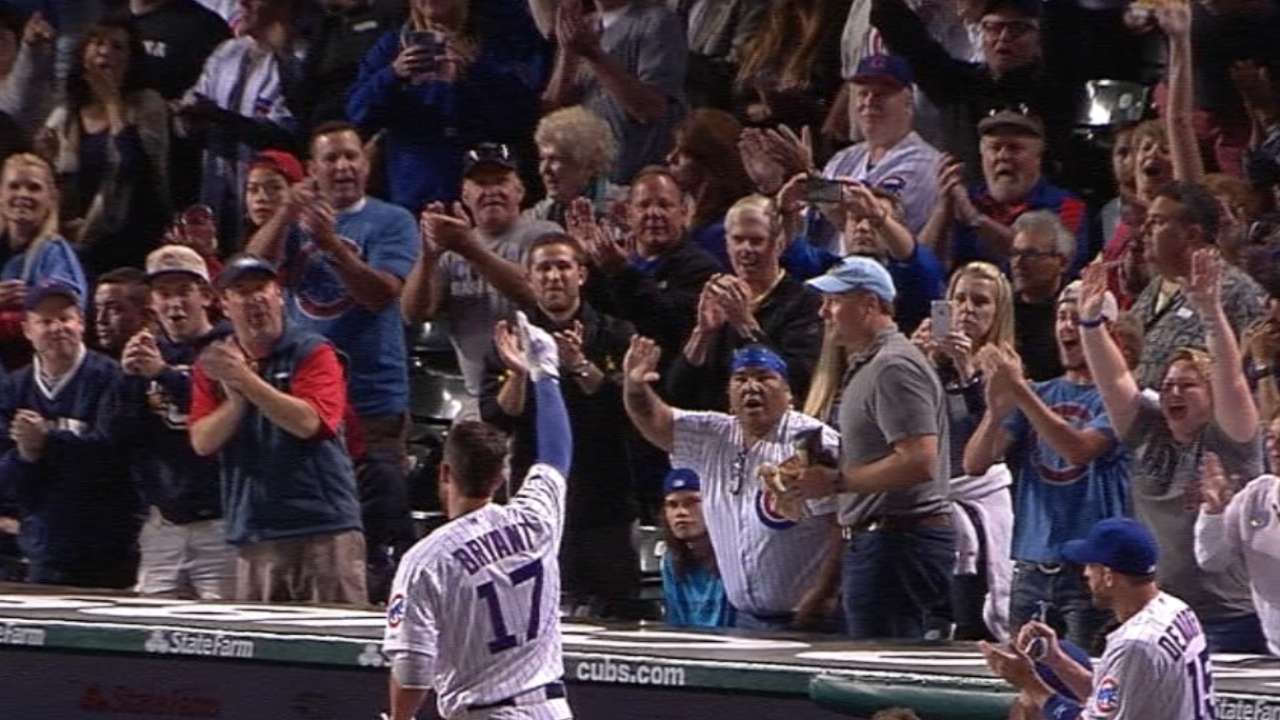 This was Maddon's first season in the NL, and he ignored conventional ways and opted to bat the pitcher eighth. Batting practice, which Maddon says is "archaic," was optional late in the season, and for one week, players were encouraged to show up late to the ballpark.
It's official. Playoffs. Now we go.

— Jake Arrieta (@JArrieta34) September 26, 2015
The Cubs have nine players with at least 10 home runs and 40 RBIs, a franchise mark and something that hasn't been done by a NL team since the 2005 Reds. Anthony Rizzo, still a kid at 26, has set career highs in RBIs (95) and posted his second straight 30-homer season. Jake Arrieta leads the Major Leagues with 20 wins, including a no-hitter against the Dodgers on Aug. 30.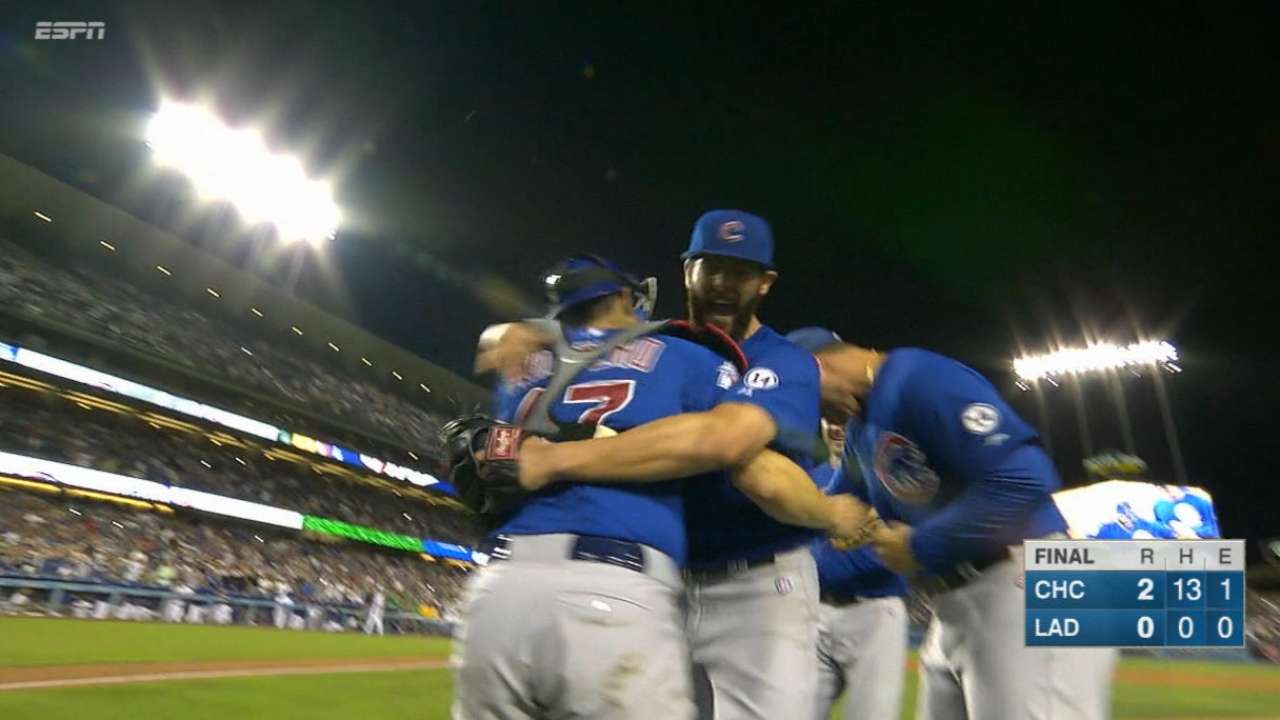 The turning point might have been Aug. 7, when Maddon benched Starlin Castro and moved rookie Addison Russell from second to shortstop. The change was motivated because the Cubs wanted to keep Schwarber's bat in the lineup, catcher Miguel Montero was back from the disabled list and Castro was batting .236. A three-time All-Star, Castro accepted a move to second and rebounded with a stellar .429 September.
How rare is it for a young team to win? The Cubs have had six players 25 or younger get at least 200 plate appearances. According to ESPN's Jayson Stark, of the last 20 teams to do that in the Wild Card era, two have had winning records: The 2005 Braves and the 2007 Diamondbacks. The other 18 teams averaged 95 losses.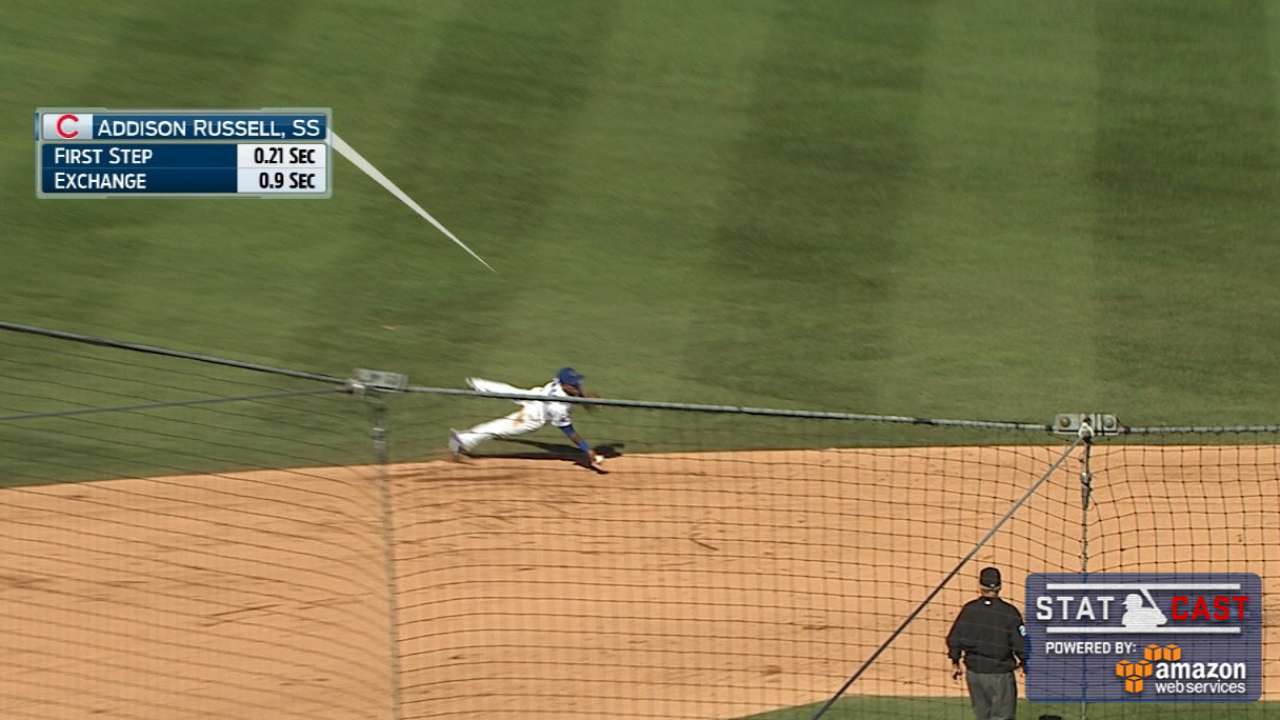 If there's been any pressure, the Cubs' kids haven't shown it.
"It's really impressive that they're unfazed by the length of the season, the fact that they're in a pennant race, the natural ups and downs that come," Cubs president of baseball operations Theo Epstein said. "We're relying on numerous rookies and young players, and they're just finding a way to contribute, finding a way to improve through the course of the season, which is not easy to do.
This is what you work all offseason, spring training and season for. #PostseasonBaseball here we come!!! #GoCubsGo

— Jason Motte (@JMotte30) September 26, 2015
"I think that's who we are, that's why we are where we are," Epstein said. "I think that's the kind of people they are. They deserve a ton of credit for it."
Carrie Muskat is a reporter for MLB.com. She writes a blog, Muskat Ramblings. You can follow her on Twitter @CarrieMuskat and listen to her podcast. This story was not subject to the approval of Major League Baseball or its clubs.