Kelly settles down after pep talk from Shields
In comeback start, Padres righty falters early, then retires 11 straight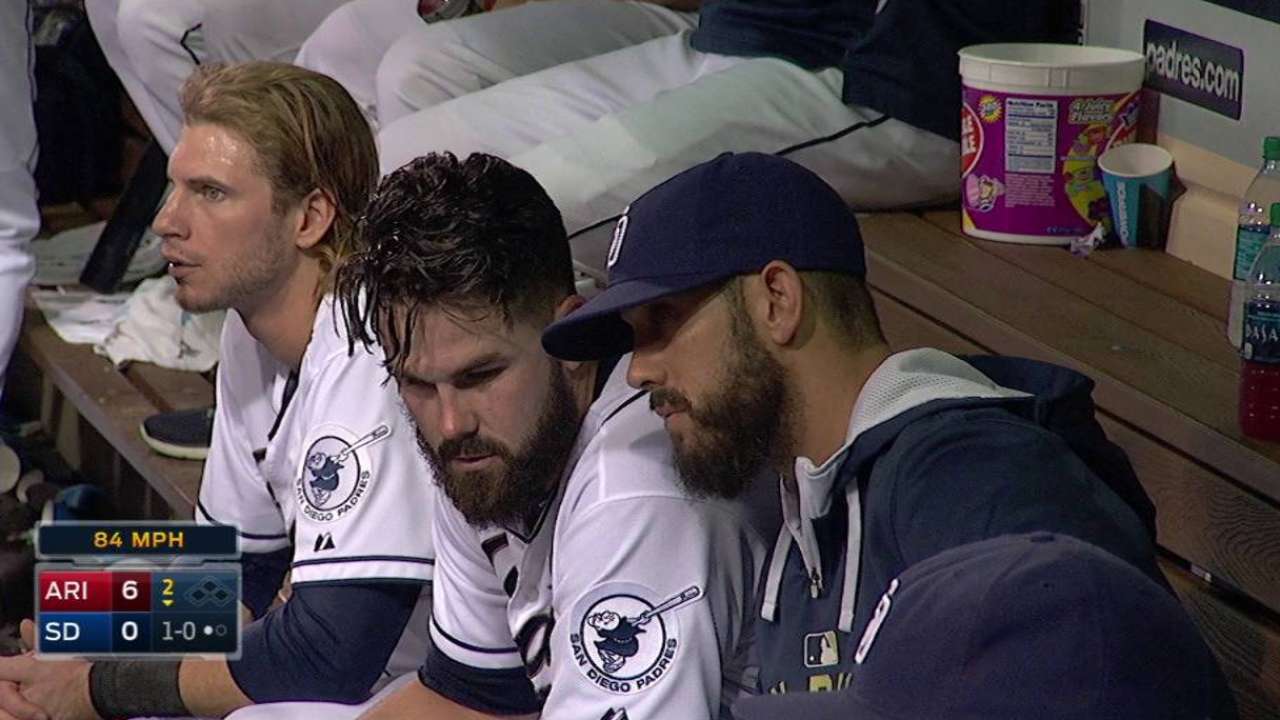 SAN DIEGO -- Nearly three years to the day after his last Major League start, Casey Kelly got a shot at making another one on Friday night at Petco Park.
This was no small feat, considering Kelly is two years removed from Tommy John surgery, though that was the least of his concerns facing the D-backs.
The D-backs scored early and often on their way to a 6-3 victory over the Padres, ruining Kelly's first big league start since Sept. 27, 2012.
Kelly allowed six runs over the first two innings, including a second-inning grand slam to A.J. Pollock, but found better footing and results thereafter, finishing his start by retiring the final 11 hitters he faced.
All told, Kelly allowed six runs on six hits in five innings with one walk and one strikeout.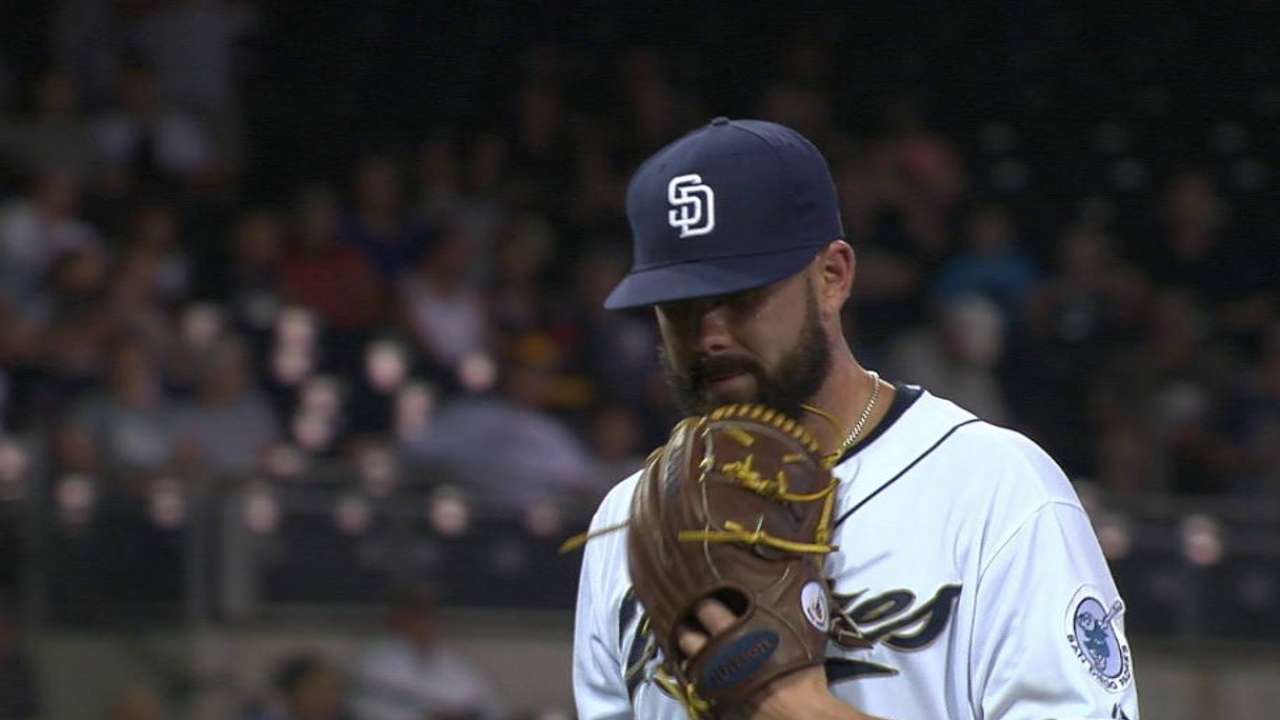 "After the first couple of innings, I think I settled down, I was able to keep the ball down," Kelly said. "… Every outing, you are going to have some tough things going on. I'm just trying to take some positive things out of it."
Those were hard to find early as he allowed three consecutive one-out hits in the first inning, including an RBI single to Pollock and a run-scoring double to Paul Goldschmidt, good for his 105th RBI of the season.
In the second inning, he hit a batter and then after getting an out, allowed three batters to reach base, the last being Pollock, who drove a ball over the fence in deep center field to clear the bases.
"They put some good swings on decent pitches. It wasn't that he was way behind in the count and missing badly," said Padres interim manager Pat Murphy.
"Quite frankly, I'm sure he was a little jittery; first start in a lot of years."
Kelly had missed all of 2013 and pitched only a shade over 20 innings in 2014. He then spent all of this season in Double-A San Antonio rebuilding his endurance and getting a feel again for his pitches after so much time away.
A week ago Saturday, he made his first appearance in the big leagues since 2012, as he tossed two innings of relief at Coors Field.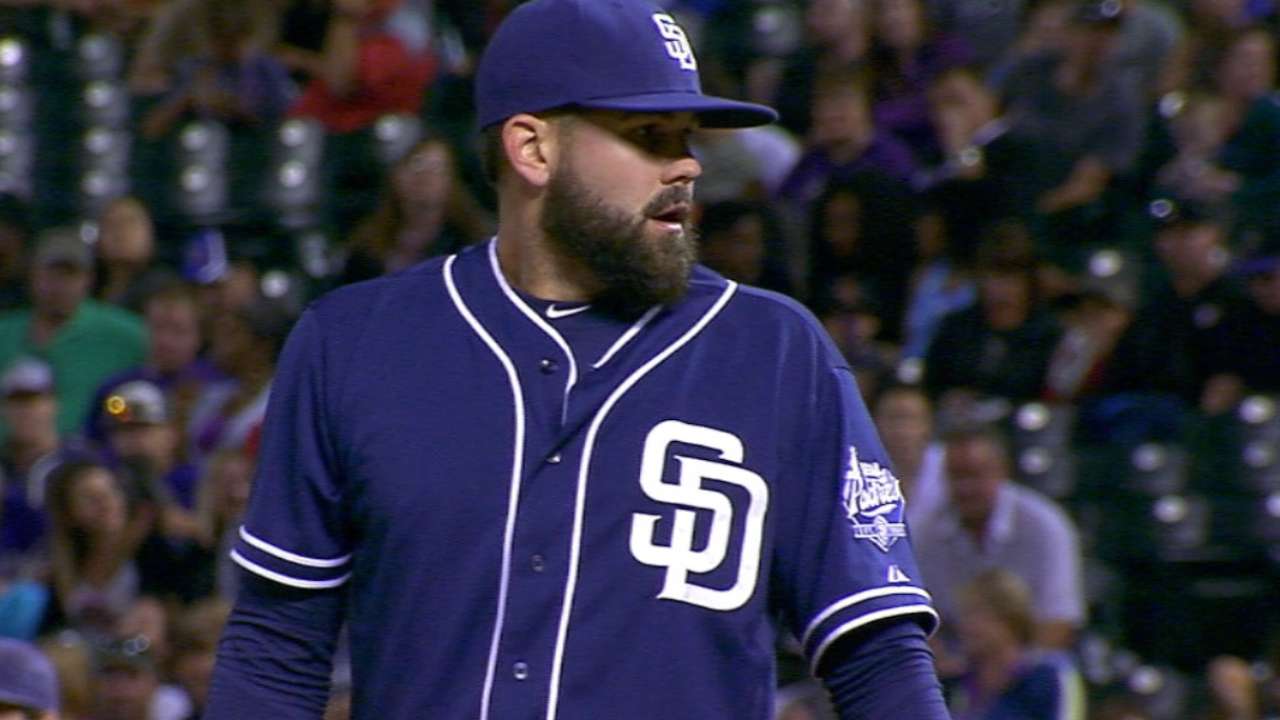 On Friday, after his rough start, Kelly found an ally in the home dugout in veteran pitcher James Shields, who sat next to him and shared some encouraging words.
"He came up to me and told me to keep throwing the ball, don't let up, keep attacking, be aggressive. It ended up working out," Kelly said.
Kelly retired the final two hitters in the second inning and retired the D-backs in order in the third, fourth and fifth innings, saving the bullpen from heavy lifting.
"It was huge, especially to help out the bullpen. You don't want them coming in the third or fourth inning," Kelly said. "… Going in my next start, there's a lot of positives to take forward."
Corey Brock is a reporter for MLB.com. Keep track of @FollowThePadres on Twitter and listen to his podcast. This story was not subject to the approval of Major League Baseball or its clubs.