Pollock, D-backs turn up heat, with eye on '16
Outfielder's five RBIs vs. Padres a career high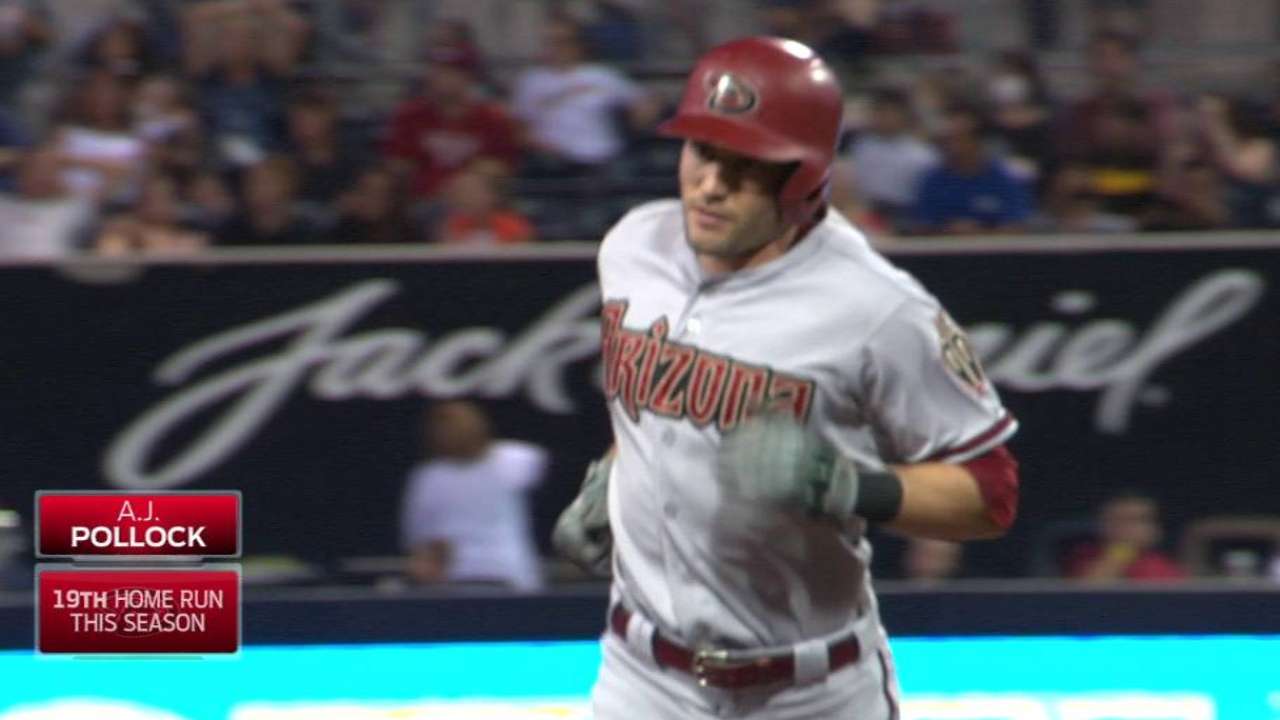 SAN DIEGO -- Finishing the season strong is important for outfielder A.J. Pollock and his teammates, not because the D-backs are still in the pennant race, but because next year they plan on being in one and they want to show they can play a full season.
"We don't want to be limping to the finish line," Pollock said. "We want to go strong into next year. This is the time when we could be making a playoff run so this is good practice right now to go at these games and really attack them. That's kind of what I want to emphasize for me, personally, and I think our team really wants to do it too."
Pollock continued his hot play from the last seven weeks when he blasted his first career grand slam and notched a career-high five RBIs Friday night as the D-backs beat the Padres, 6-3.
"He's just had a great second half of the year," D-backs manager Chip Hale said of Pollock. "Obviously he was an All-Star in the first half and he's probably been our hottest hitter the last month and a half."
Over his last 34 games, Pollock is hitting .346 with nine doubles, seven homers and 25 RBIs.
This past week the D-backs moved him from the leadoff spot in the order to the No. 3 hole, sliding Paul Goldschmidt from three to the cleanup spot.
"I think it's made our offense a little better," Hale said. "We're going to keep experimenting with it and see how it goes the rest of the year and decide over the winter where we sit with it. We've said it from Day One, as a leadoff hitter he was an impact player because he could steal bases, he could hit home runs like Rickey Henderson. We said his true spot would probably be in that three hole so we'll see if we can keep him there."
Pollock has 37 doubles on the year to go along with 36 stolen bases and his next homer will be his 20th.
"Honestly it's just different opportunities," Pollock said of moving to the No. 3 spot. "Different parts of the order, different things come up. You're leadoff you're a table-setter mostly. Third, I've gotten a lot of guy on third [with] no outs or one out. For me I'm just trying not to do too much."
Steve Gilbert is a reporter for MLB.com. Read his blog, Inside the D-backs, and follow him on Twitter @SteveGilbertMLB. This story was not subject to the approval of Major League Baseball or its clubs.