Braun tests back, set to play in season's final days
Slugger pinch-hits after six-game absence, hopes to start Saturday in St. Louis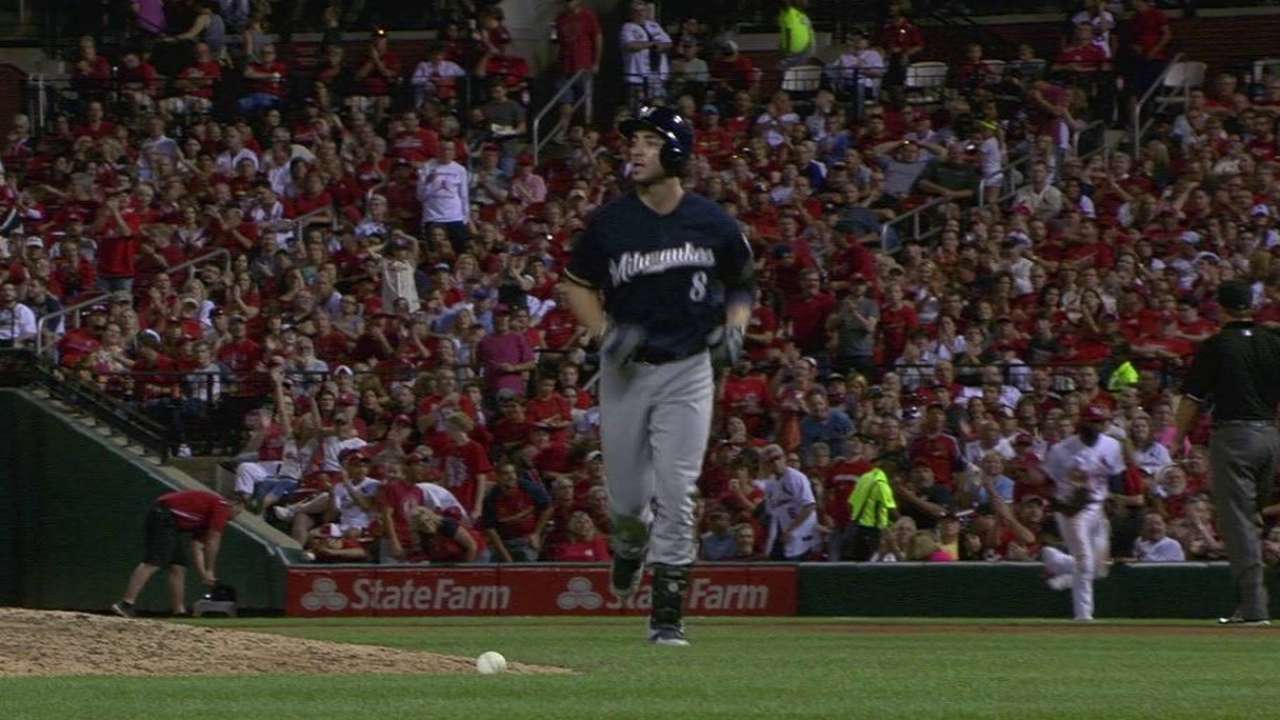 ST. LOUIS -- Before undergoing offseason back surgery, Ryan Braun is hoping to get a few more games under his belt. Friday marked a start.
After a six-game absence while getting treatment for back stiffness, Braun returned to action for the Brewers as a pinch-hitter, lining out to right field in the seventh inning of what became a 4-3 win over the Cardinals at Busch Stadium. Barring a setback, Braun expects to return to the lineup when the series continues Saturday night.
"That's the plan," Braun said.
He was deemed available off the bench following a successful round of batting practice on Friday evening. Braun has not specifically revealed the type of surgical procedure he'll require after the season ends, but his symptoms are consistent with a bulging disc.
A setback would necessitate immediate surgery and could prolong Braun's rehabilitation. So with the Brewers long since eliminated from postseason contention, why risk it?
"Why not? I'm here. We get paid to play," Braun said. "The whole time [being out], I showed up every day, did my rehab stuff, did everything I can to put my back in the best possible position. I know I'm going to have to have a procedure. There's no reason we have to have it done now. I'm going to get it done in two weeks. So I'm going to be here anyways, and I always want to play. We get paid to play; we don't get paid to sit.
"We'll go through the battery of tests every day to see where it's at, and when I feel like I can give it a go, I'm going to play. Obviously, if it doesn't feel good [Saturday], then we at any point could change our minds. But I always want to play when I feel like I'm capable of playing and I'm not going to make it any worse."
Braun has enjoyed a comeback season after being hampered in 2013 and '14 by a right thumb injury. He leads the Brewers with 25 home runs and 84 RBIs while posting a .287/.359/.502 slash line.
Adam McCalvy is a reporter for MLB.com. Follow him on Twitter @AdamMcCalvy, like him on Facebook and listen to his podcast. This story was not subject to the approval of Major League Baseball or its clubs.