Braves' offense shows it has fight in Miami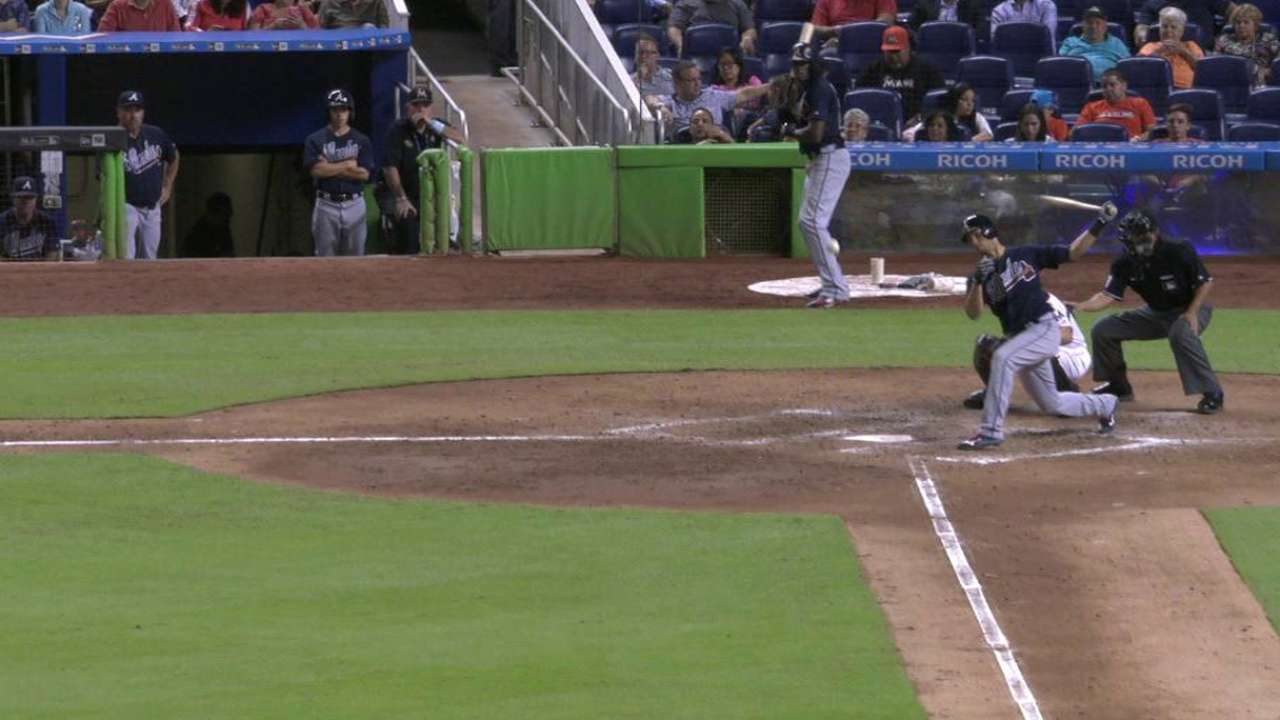 MIAMI -- The Braves saw a four-run first-inning lead turn into a seven-run fourth-inning deficit in the blink of an eye on Friday night at Marlins Park. They still trailed by six runs after five innings. However, Atlanta's offense kept punching back in its 12-11 loss to Miami.
"We just kept picking away and kept hitting and next thing you know, we find ourselves right back in the ballgame," said outfielder Michael Bourn, who finished 3-for-5. "We came up just a little bit short."
After jumping Marlins ace Jose Fernandez for four runs in the top of the first, the Braves faced an 11-4 deficit following the fourth inning when starter Ryan Weber faltered. They got two runs back in the fifth on Andrelton Simmons' RBI double and Cameron Maybin's sacrifice fly, but still trailed 12-6 after five innings when Miami also scored in the fifth.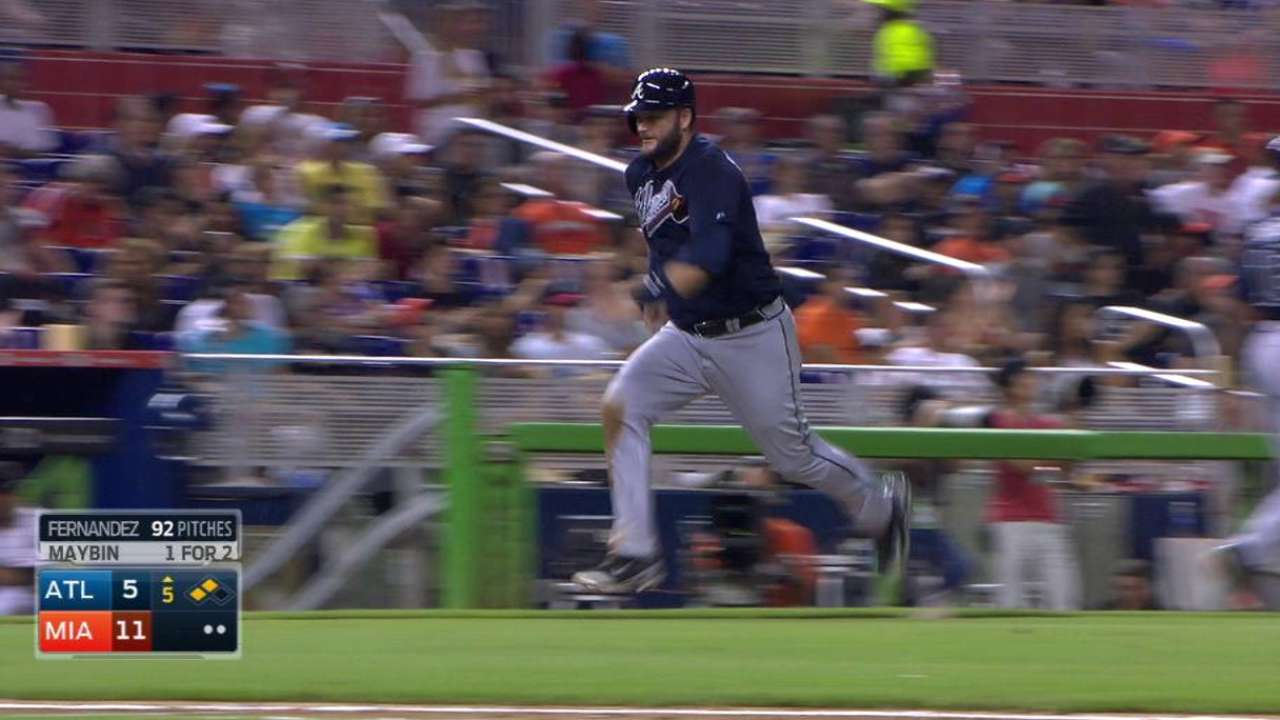 However, the seventh inning is when the Braves began to make their final push, as first baseman Freddie Freeman -- playing with an injured right wrist -- logged his third hit of the night, a two-run homer, to make it 12-8.
"I think our guys showed some extreme want-to and they battled," manager Fredi Gonzalez said. "Guys we put in there did some nice things.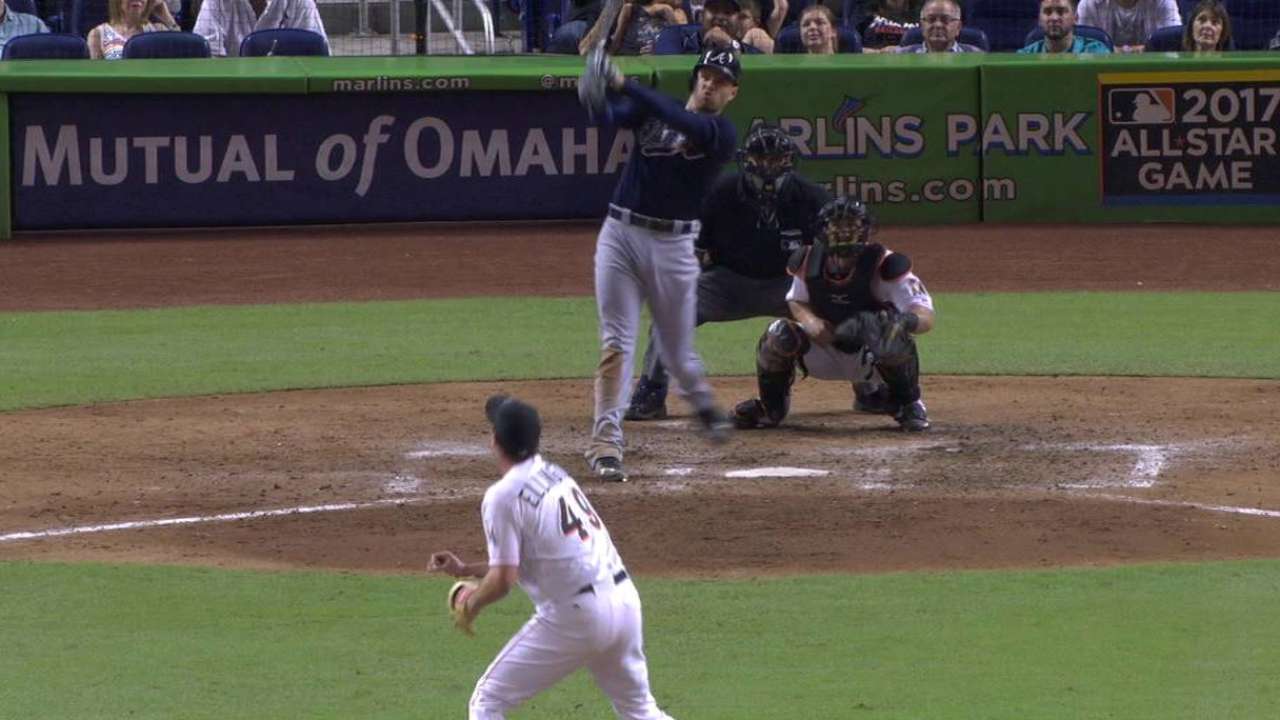 "I was almost ready to pull the plug on [Freeman] earlier since we were down big at the time, but he came up and gets us the two-run homer to put us back in the game. Shoot, we had the bases loaded there in the eighth inning with a chance to win the game."
Indeed they did, as Adonis Garcia recorded a two-run eighth-inning double in his only at-bat of the night to cut Miami's lead to 12-10. Then, after Daniel Castro singled and Freeman walked, Nick Swisher pinch-hit with one out and the bases loaded, walking in a run to make it a one-run game.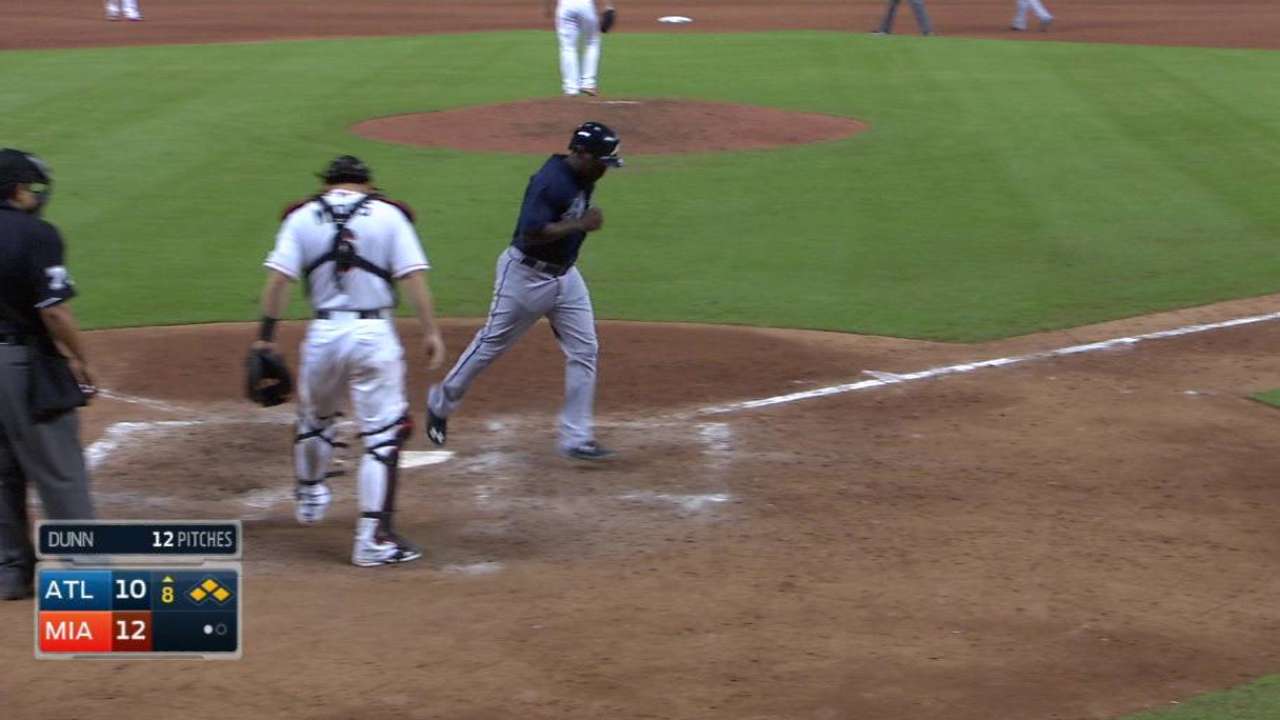 But that was as close as Atlanta came, as Marlins reliever Kyle Barraclough entered and struck out Simmons, before forcing Maybin into an inning-ending groundout. Hector Olivera singled to open the ninth, but Bourn groundout into a 4-6-3 double play to end the threat.
"There's no negatives when you get down 11-4 and come back and give it a run," Freeman said. "We never quit and had an opportunity to even win this game. So it was definitely an interesting, but fun game to play."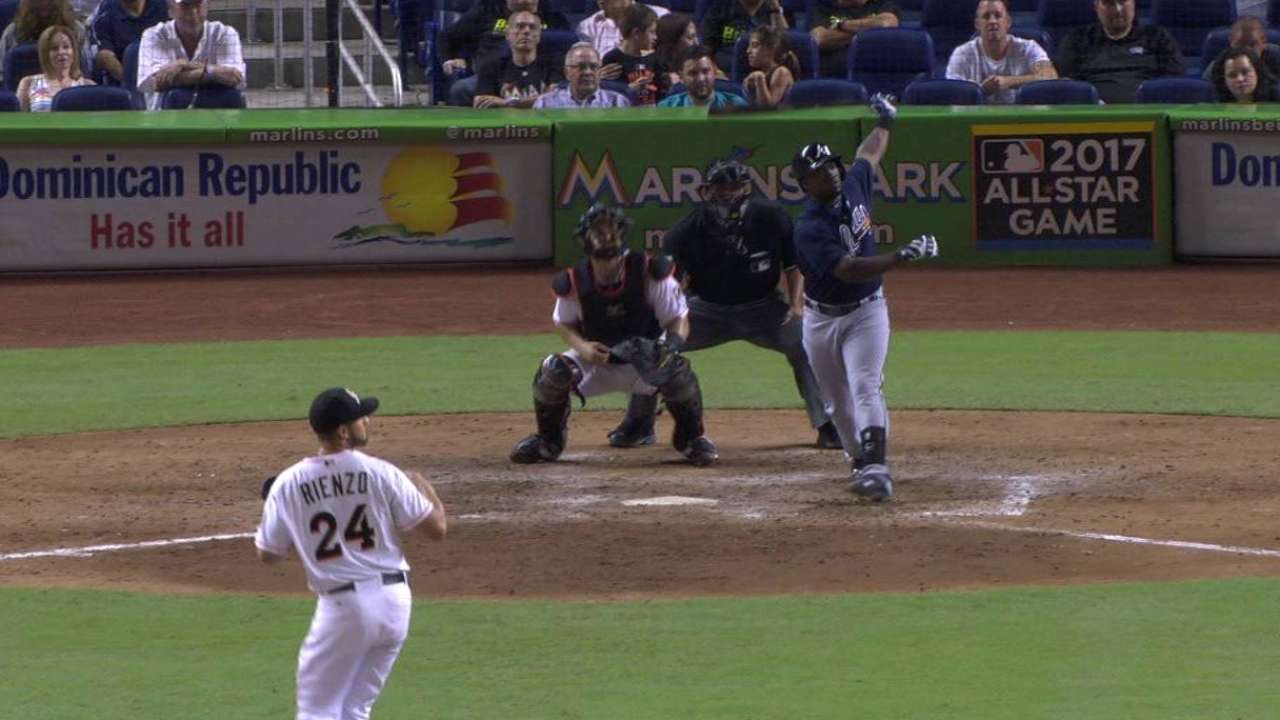 The Braves finished with 16 hits, as Olivera also recorded three knocks along with Bourn and Freeman. Atlanta's thwarted comeback followed a first-inning outburst that was sparked by Nick Markakis' second leadoff homer of the year and the fourth of his 10-year career.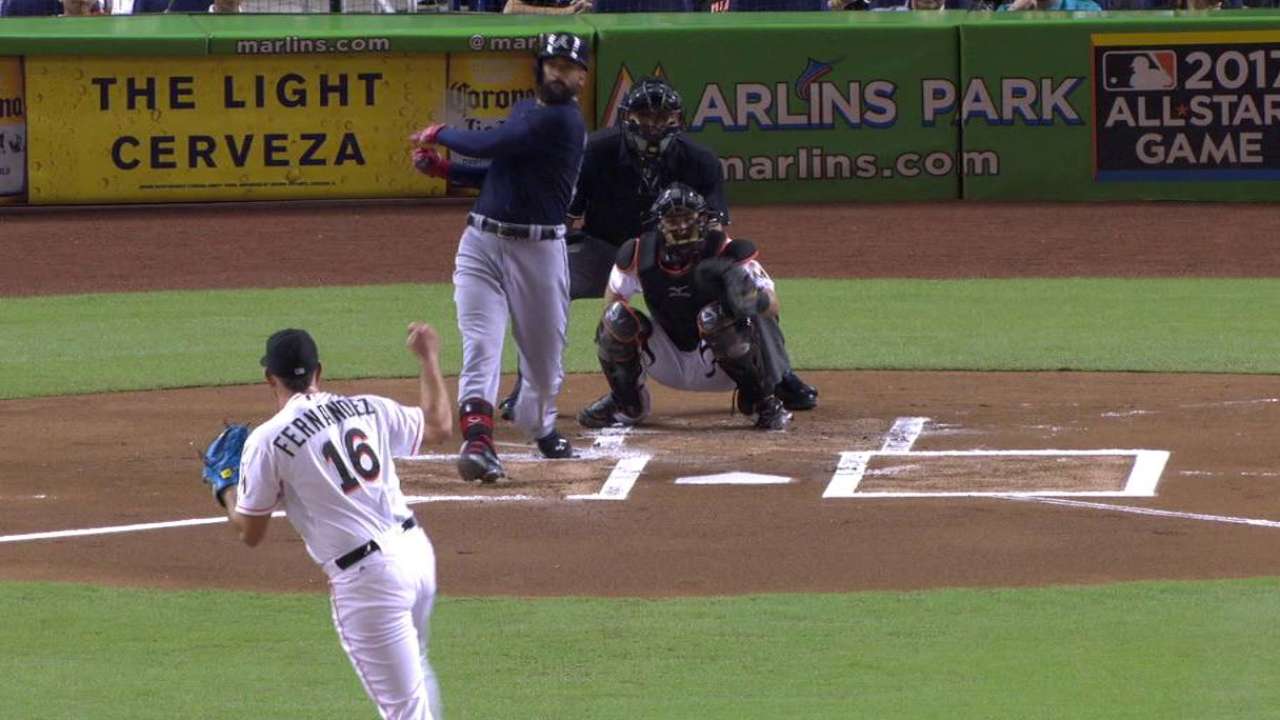 "Heck of a job by our guys to come back and battle," said Weber, who allowed seven runs in just two-plus innings. "We had a good chance to win the ballgame there -- I thought we were gonna do it after Swish walked. But it was just a great job by the offense."
Steve Wilaj is an associate reporter for MLB.com. This story was not subject to the approval of Major League Baseball or its clubs.