Votto sets career high with on-base streak
Reds first baseman extends run to 42 games with RBI single in 8th, chasing Rose's 48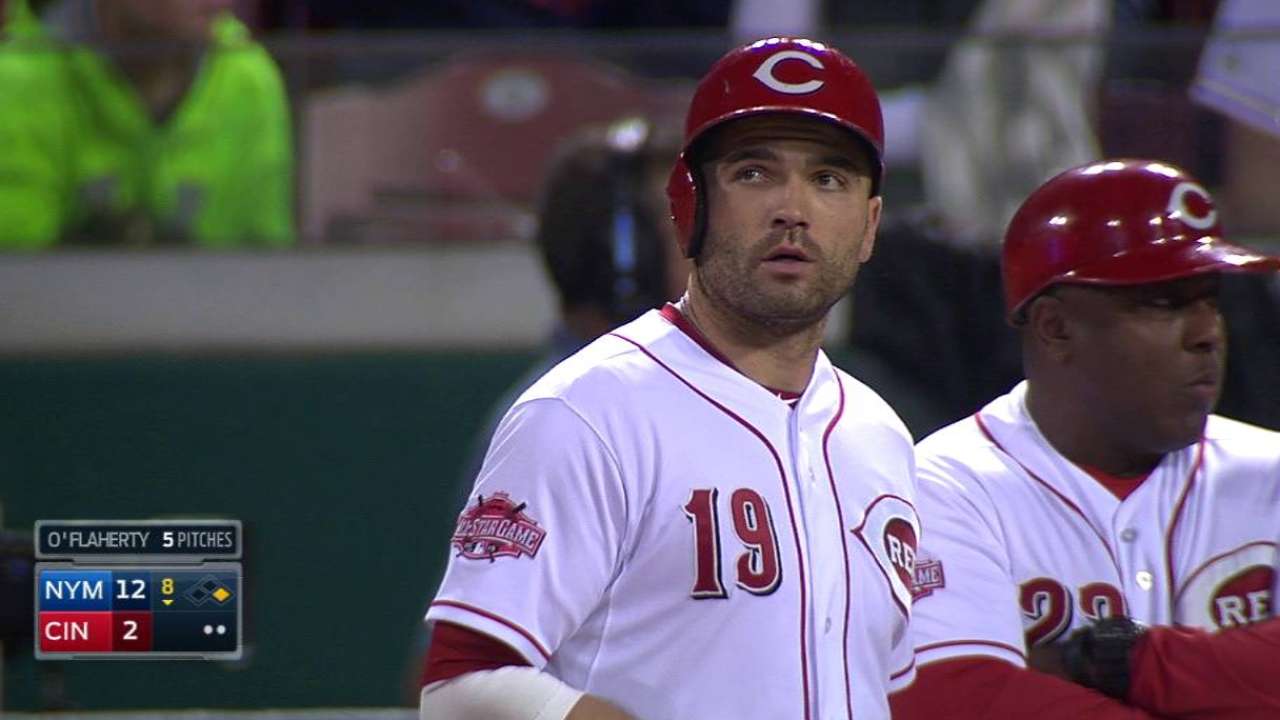 CINCINNATI -- Joey Votto continued his pursuit of one of Pete Rose's franchise records Friday night when he reached base for the 42nd consecutive game during the Reds' 12-5 loss to the Mets at Great American Ball Park.
Votto was hitless in his first three at-bats before an eighth-inning RBI single off New York left-hander Eric O'Flaherty. That hit extended Votto's streak, which surpassed his previous career high of 41 in 2010. He also drew a walk in the ninth inning.
Rose reached in 48 consecutive games in 1978. Matt Holliday of St. Louis reached in 45 consecutive games to begin this season, still the longest streak in the Majors.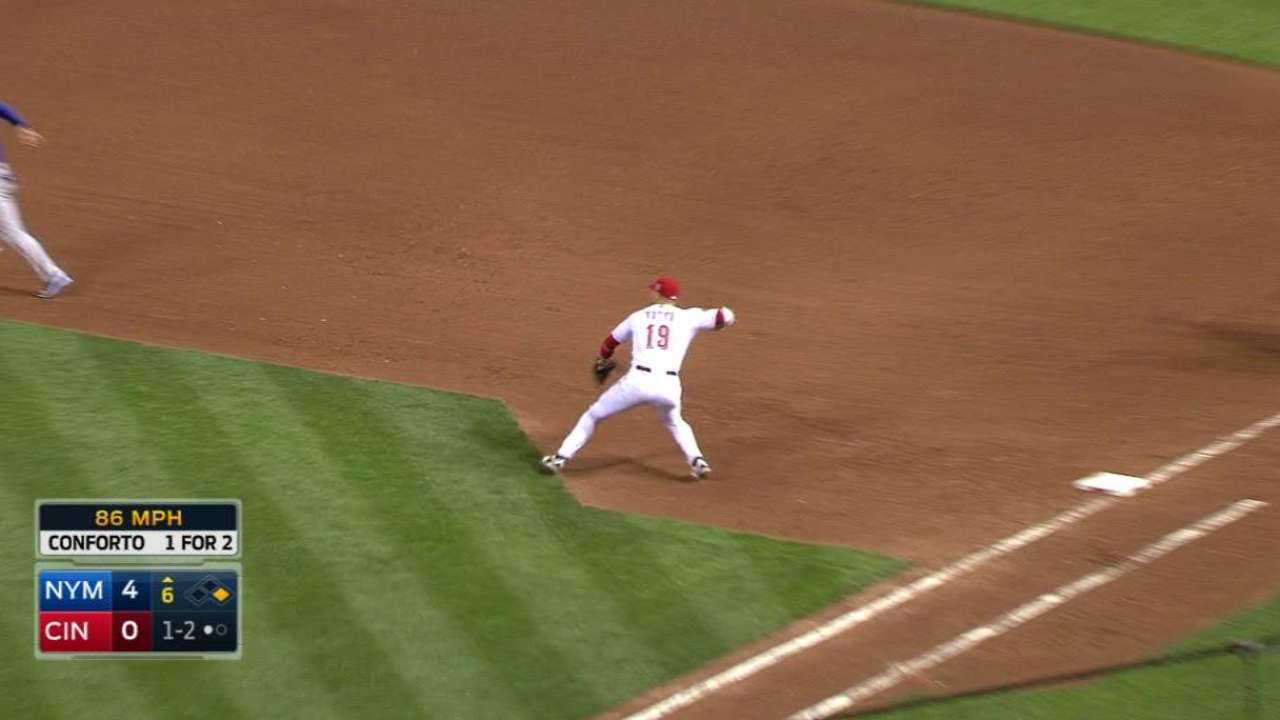 "He produces in a prodigious way," Reds manager Bryan Price said of Votto. "He has been terrific. He's having a great year. He's still playing with a lot of energy. He's busting his tail."
• Is Votto #AwardWorthy? Vote now for Best Major Leaguer
Votto came into Friday trailing only Washington's Bryce Harper for the National League lead in on-base percentage. Votto is attempting to lead the league in that category for the fifth time in six years.
The veteran first baseman's concentration has not faltered even as the Reds have plunged into last place in the NL Central.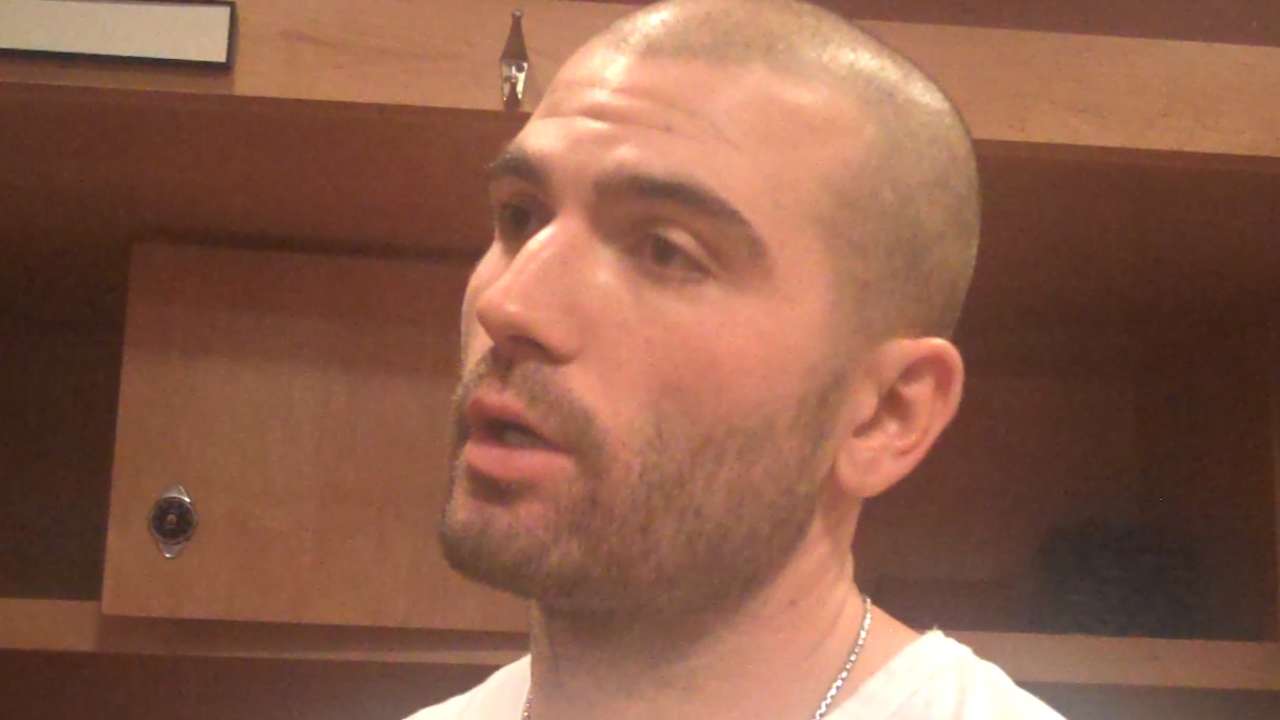 "I know he's been under a lot of scrutiny over the last few years of his career, " Price said. "If someone is going to look for criticism, I hope they wouldn't come by my office."
Votto is batting .315 with 29 home runs and 139 walks. If he reaches 30 homers and 150 walks while still batting .300, Votto would join Barry Bonds, Ted Williams and Babe Ruth as the only players to hit all three of those milestones in the same season.
Andy Call is a contributor to MLB.com. This story was not subject to the approval of Major League Baseball or its clubs.