Betts robs HR to end game, save Hill's shutout
Hill's surreal comeback story continues to amaze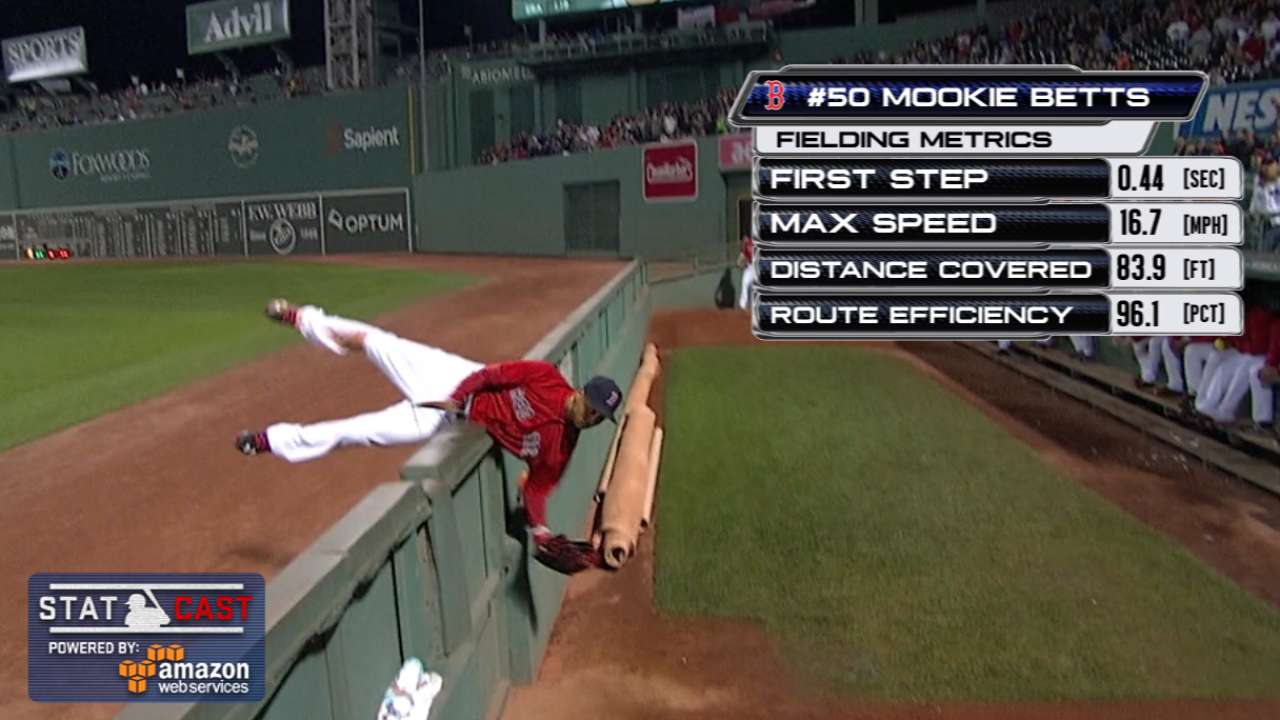 BOSTON -- From what Rich Hill could see from the pitcher's mound, his two-hit shutout was about to land in the Boston bullpen for a deflating, two-run home run by Chris Davis.
But what turned out to be a special Friday night at Fenway Park ended in spectacular fashion, with Hill's two-hitter very much intact in a 7-0 victory over the Orioles.
Davis belted a drive to deep right and Mookie Betts raced back, jumped, and reached his glove over the bullpen wall to make a spectacular catch for one of the most exciting 27th outs of a game you will ever see.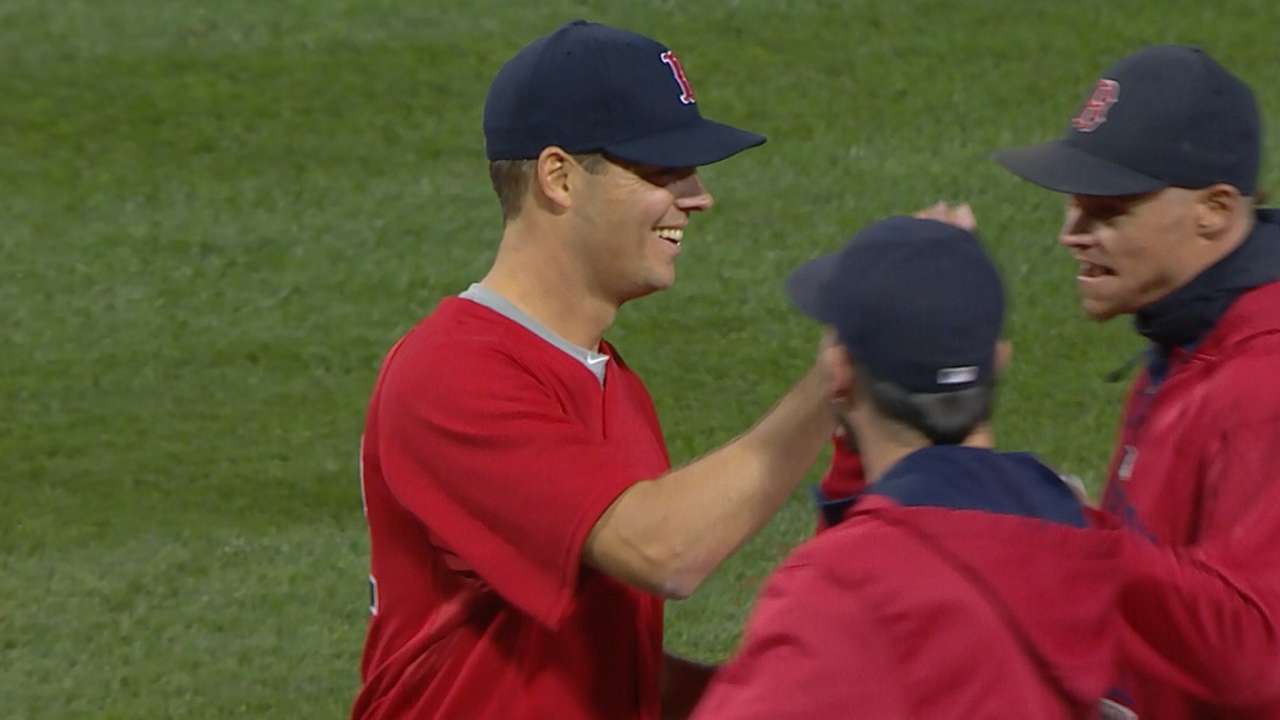 And there to celebrate it in the bullpen was Steve Horgan, the same Boston cop who raised his arms triumphantly when David Ortiz belted a game-tying grand slam against the Tigers in Game 2 of the 2013 American League Championship Series. This time, Horgan raised both arms, and then pumped his right fist.
• Cut 4: Bullpen cop Horgan watches Betts' amazing grab
Betts basically landed sideways on top of the bullpen as he reeled it in, but never fell in, as he did back in July when he suffered a concussion.
"I've had some experience going over the wall so I kind of learned from that and to brace myself," said Betts, a center fielder for most of the season who just started playing right field regularly one week ago.
When Betts caught the ball, nobody was as surprised -- or ecstatic -- as Hill. The lefty had a look of bewildered excitement on his face.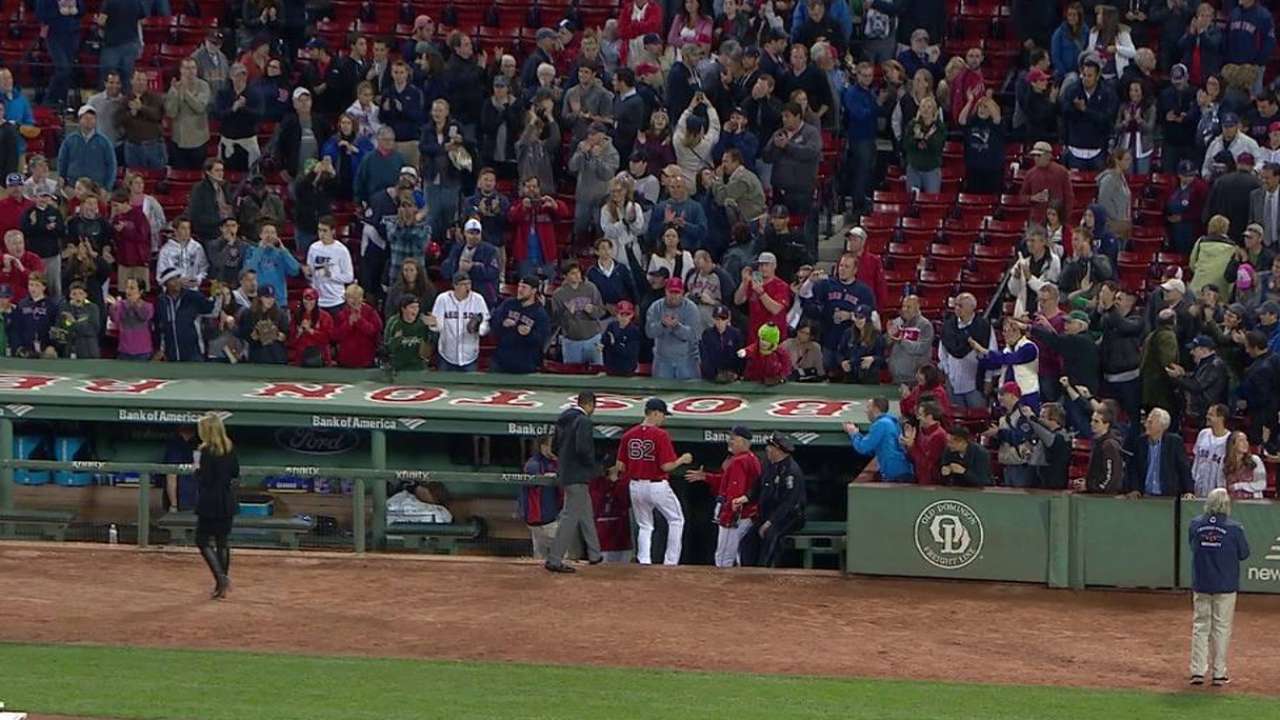 "I thought it was actually in the seats," Hill said. "I thought it was a little bit deeper. When he did catch it, I caught a glimpse of my reaction on TV. That was probably the best catch I've ever seen."
Meanwhile, just about everyone in Fenway Park was ecstatic for Hill, whose comeback story has become a bit surreal.
In June, Hill was released from his Minor League contract by the Washington Nationals. In July, the lefty went to the Independent League's Long Island Ducks to try to prove he could be a starter for the first time in six years. By August, Hill was at Triple-A Pawtucket.
Now, it's September, and the 35-year-old Hill is 2-0 with a 1.17 ERA in three starts for the Red Sox. In all three starts, Hill has struck out 10 batters. After allowing a single to the first batter of the game, Hill didn't allow another hit until the ninth. The shutout was the second of his career, and also just the second time he's gone nine innings.
"No team would take a chance on somebody as a starter without going to play independent baseball," Hill said. "Just had to reprove myself again to be able to go out there and start again."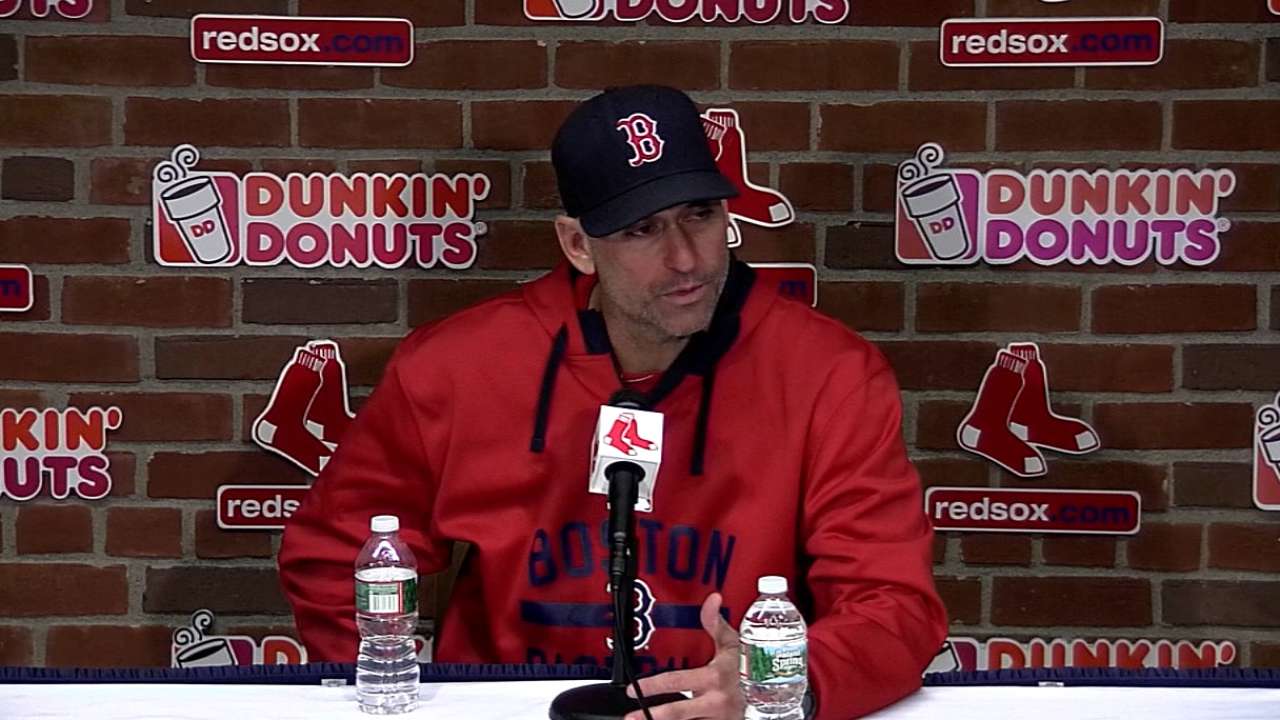 And Hill has gotten that chance with the Red Sox, the team he grew up rooting for as a youngster in Milton, Mass., and the team he's now pitched multiple times for in his career. The resurrection also has come on the heels of some personal tragedy. Two years ago, Hill's son died shortly after being born.
"I feel very fortunate to be here with the Red Sox, giving me the opportunity, making the most of it, and I'll try to continue to go in the right direction and make progress," Hill said. "After tonight, I'll come in and look forward to the next start."
When Betts hauled in the baseball, players sprinted out of the Boston dugout and ran straight for Hill.
"He's first class," said Red Sox second baseman Dustin Pedroia. "I think everyone is proud of him. I've played with him a few times so you know, I think everybody is rooting for him and happy for him and for what he's doing."
The buzz at Fenway when Friday's game ended was palpable.
"There was a ton of energy in the stadium, there was a ton of energy on the field, there was a ton of energy in the dugout," said Red Sox interim manager Torey Lovullo." But nothing was better than a complete-game shutout by Rich Hill. The catch was a close second. It was scripted in an unbelievable way to end the game the way it did."
Ian Browne is a reporter for MLB.com. Read his blog, Brownie Points, follow him on Twitter @IanMBrowne and listen to his podcast. This story was not subject to the approval of Major League Baseball or its clubs.