Gausman falters while bats baffled by Hill
Orioles' postseason hopes take a hit in Boston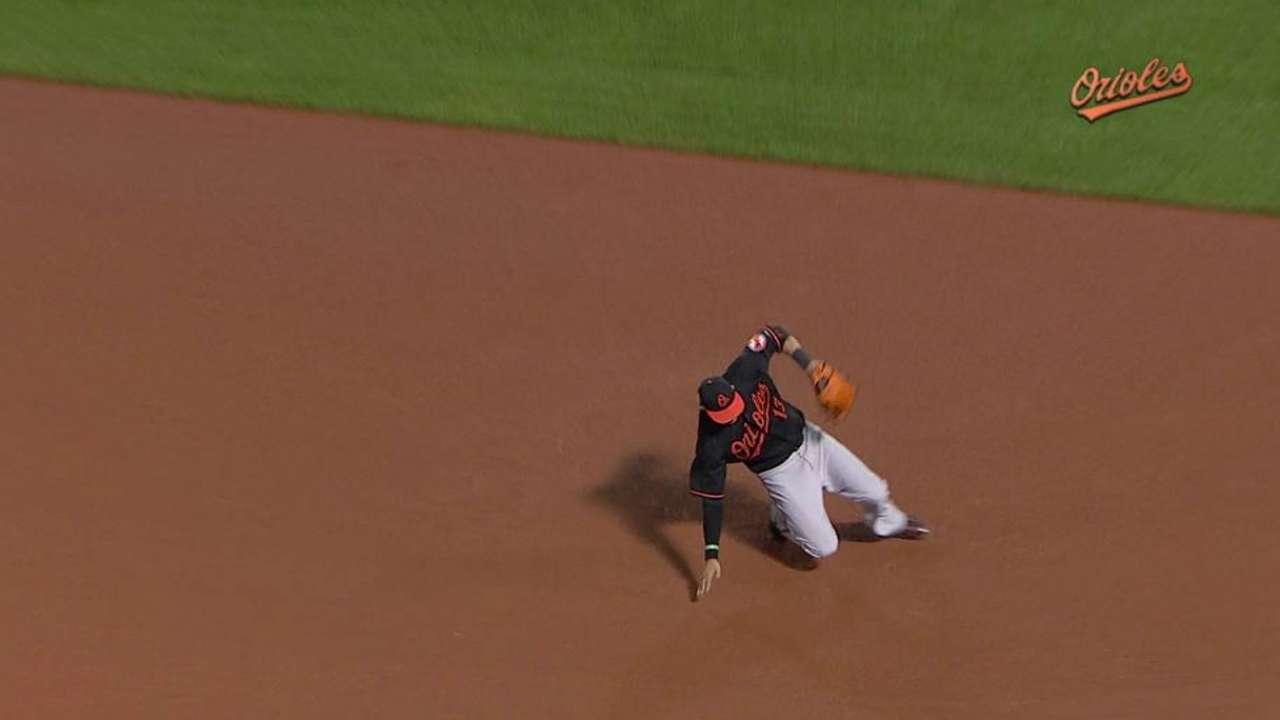 BOSTON -- With a 7-0 loss on Friday night, the Orioles' postseason chances took a big hit -- something their bats couldn't get vs. Red Sox starter Rich Hill.
Entering the game on a roll after sweeping the Washington Nationals, the Orioles looked like they were going to carry that momentum into the weekend after Nolan Reimold led off the game with a single. But it would be the last hit they would get until the ninth inning, befuddled by the Red Sox starter's mastery.
"To get two-hit, that's disappointing," said catcher Caleb Joseph. "We swung the bats well [in Washington] and had a bunch of clutch hits. We ran into a really good performance tonight. [Hill] is a veteran, he's been around, and he knows how to pitch."
After the Reimold leadoff hit, the O's would not get another runner on base until the sixth inning when Dariel Alvarez reached on a Hill throwing error, than Reimold followed with a walk, but neither advanced in the wake of Manny Machado's inning-ending strikeout, one of 10 on the night for Orioles hitters.
"He's got a big huge curveball," Joseph said of Hill. "He's got a fastball that comes out of the same slot and he works up and away to righties. So it comes out, one's at 90 mph and it's just enough deception, just enough right on it that you got to respect it."
On the flip side, Baltimore starter Kevin Gausman cruised through the first two innings, but twice ran into some two-out trouble, set on by free passes that would eventually come back to haunt him.
Already down, 1-0, in the fifth inning, Gausman put Brock Holt on with a leadoff walk, and after Holt moved to third with two outs, the Orioles starter threw a pitch in the dirt that Joseph could not locate, allowing the home team to add another run.
"I just threw a bad pitch in the dirt and the run scored," Gausman said. "That was the biggest thing, this was a big game for us and I just kind of let the team down."
The floodgates opened in the sixth when, with two men on, Gausman tried to blow one by David Ortiz only to have the slugger rip a double over Alvarez in right, scoring Dustin Pedroia and Xander Bogaerts within a split second of each other.
"I think I kind of let my ego get the best of me, especially to Big Papi," Gausman said. "I tried to throw a fastball by him. If I pulled back a little bit I could probably hit my spot. I tried to throw it by him like I did the pitch before and I just left the pitch way too middle. He's a future Hall of Famer. You can't do that."
"When he's had a challenging night, obviously it gets multiplied by how well their guy is pitching and we just didn't make any adjustments to him," said manager Buck Showalter. "He'll learn from it, but I know it's frustrating for him."
Craig Forde is a contributor to MLB.com. This story was not subject to the approval of Major League Baseball or its clubs.