Syndergaard's gem fuels Mets' confidence
Righty fans 11 in 7 2/3 dominant innings, hints at strength of club's October rotation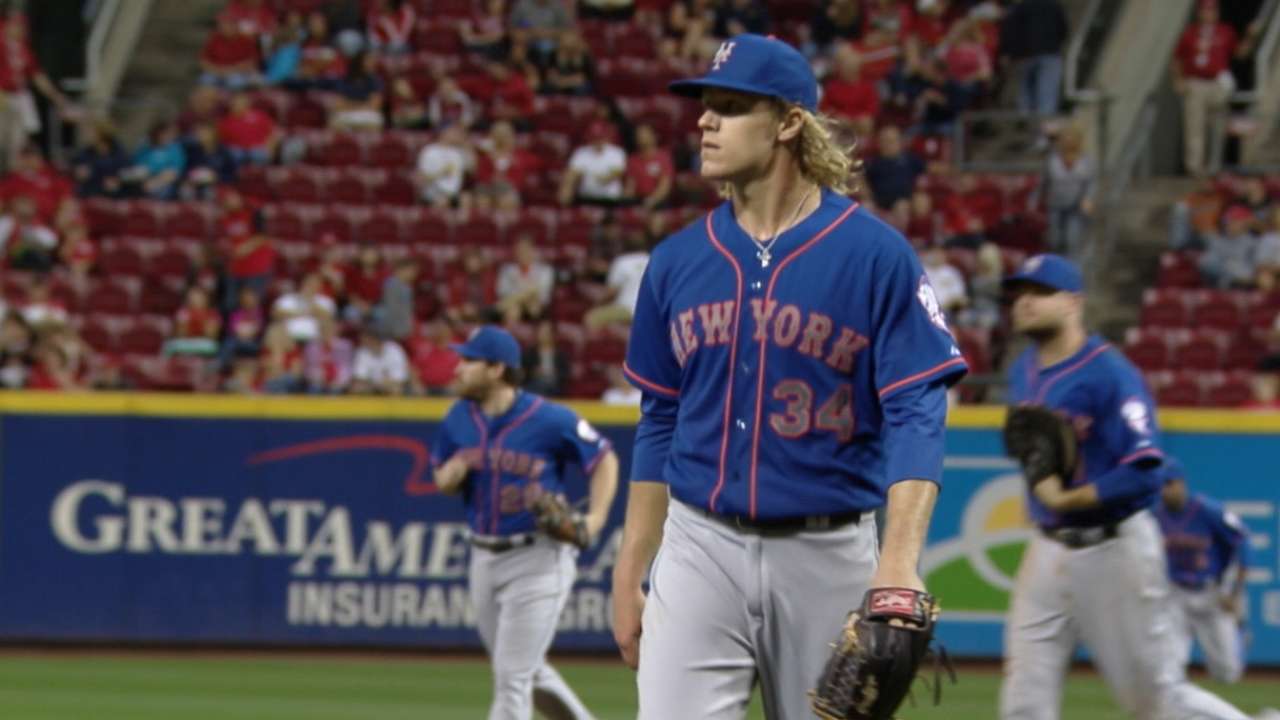 CINCINNATI -- There is a reason why whispers around the Mets now hint at a postseason rotation of Jacob deGrom, Matt Harvey, Noah Syndergaard and Steven Matz. With respect to Bartolo Colon, Jon Niese or any other starting pitcher who may have designs on sniffing the Mets' rotation, those four have the potential, every night, to be dominant. Crane your necks to see their upside.
If Syndergaard weren't already a lock for the rotation, he cemented his status Friday with 7 2/3 dominant innings in the Mets' 12-5 win over the Reds. For the first seven of those innings, no one -- not even Joey Votto, who extended his on-base streak to 42 games only after Syndergaard left the game -- could touch him. During one 16-batter stretch, no one reached base at all.
Syndergaard struck out 11 and left just as many others dizzy, wondering how to hit his 99-mph fastballs, upper-90s sinkers and array of offspeed pitches. He also went 2-for-3 at the plate, including an RBI single in the second that plated the game's first run.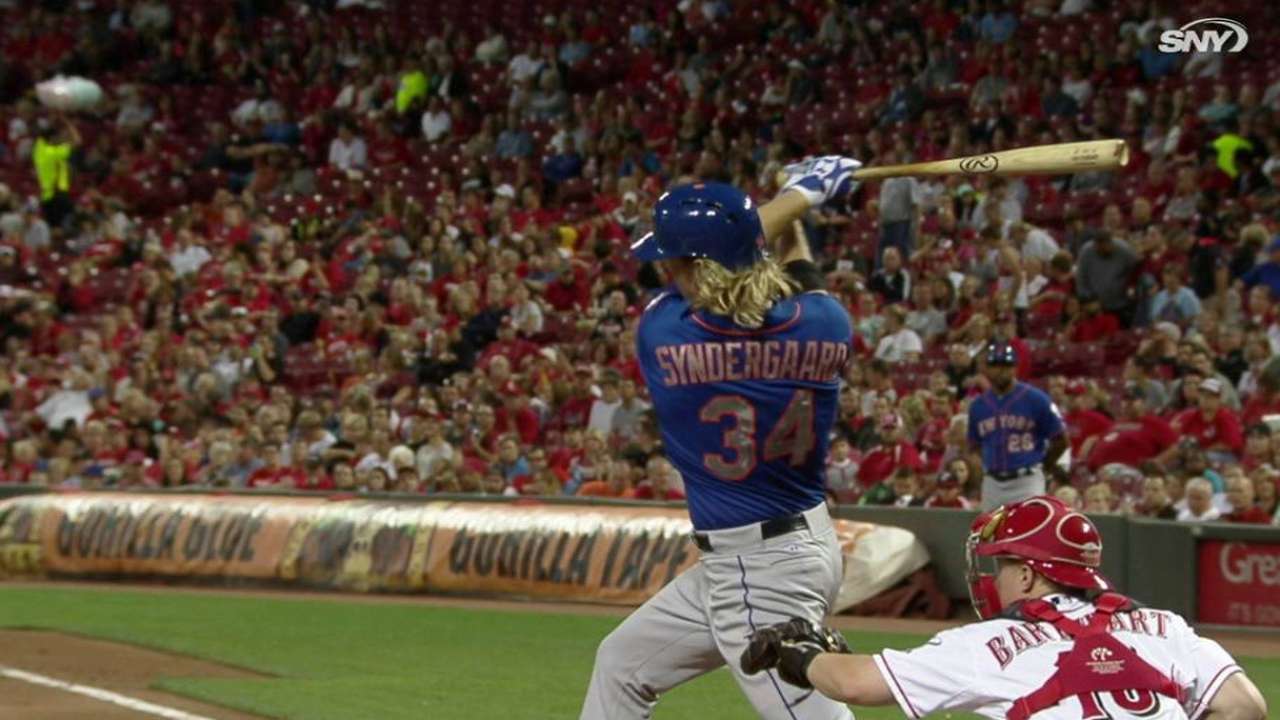 "Tonight was the best start he's had," Mets manager Terry Collins said of Syndergaard, who caved only for a Brennan Boesch solo homer in the eighth and an inherited run later that inning. "That's a good lineup. They've got four All-Stars in the middle of their lineup. And to go out and go through them like he did is pretty impressive."
• Is Syndergaard #AwardWorthy? Vote now for Best Rookie
Since the day he arrived in the big leagues, Syndergaard has possessed elite swing-and-miss ability. The Mets were mostly just concerned with his ability to game plan against veteran hitters, to vary his pitch types and not always rely on blunt force trauma.
Lesson learned; if anything, Collins said, Syndergaard leaned too heavily on his secondary pitches in the middle innings of Friday's game -- throwing three fastballs among 13 pitches in the fourth, for example. But there was plenty of old-fashioned gun-slinging in this one, as well, including a three-pitch strikeout of Tucker Barnhart in the second that featured nothing less than 98-mph heat.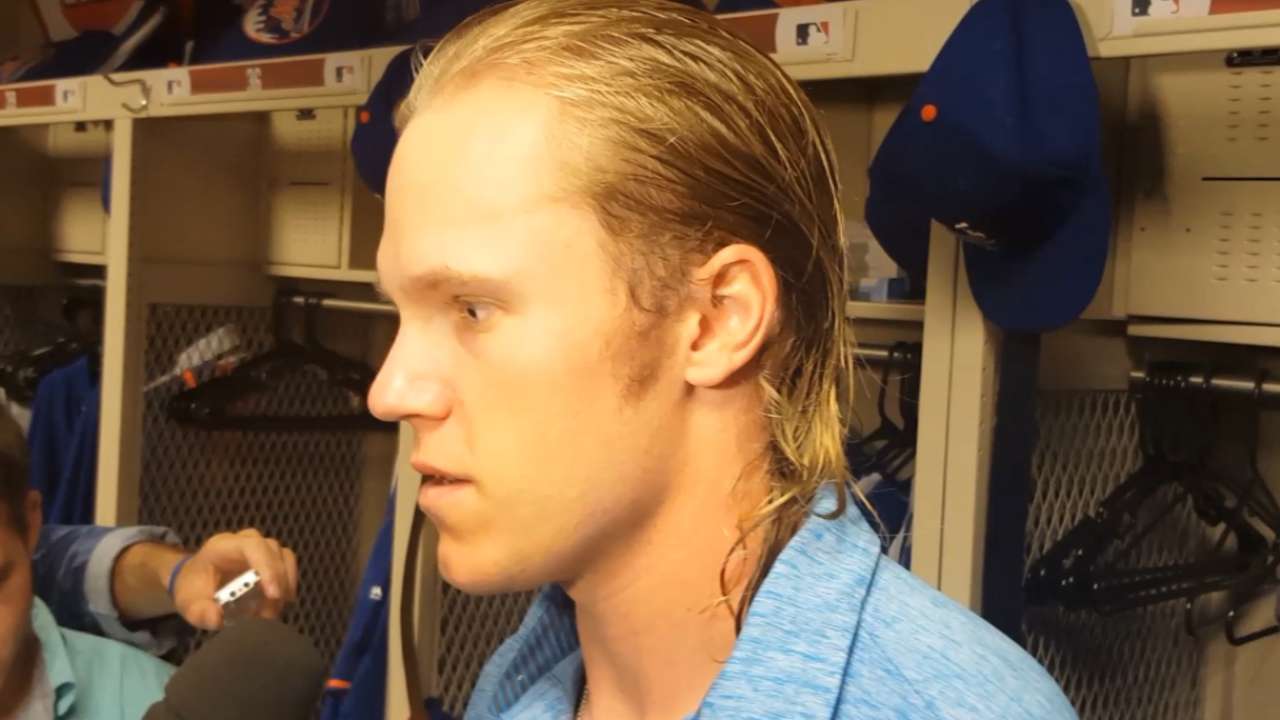 "The past couple starts I've had, the stuff's always been there," said Syndergaard, who is 5-3 with a 3.54 ERA since the All-Star break. "This time out, I just focused more on each and every pitch, and I was able to execute them. That's what the huge difference was."
It was enough for Collins to gush afterward, unprompted, that Syndergaard will be in his postseason rotation. That much is no surprise; Collins has said as much before. But the Mets now realize how clear the decision is, and perhaps, in a way, always has been.
"You're not going to see him pitch in the seventh inning, I can tell you that," Collins said, alluding to midseason gossip that Syndergaard could spend October as a reliever. "He's going to start the game, whatever game it may be. I'm very impressed. This kid's really gotten better. I hope he learned a lot from tonight, because he did an outstanding job."
Anthony DiComo is a reporter for MLB.com. Follow him on Twitter @AnthonyDiComo and Facebook, and listen to his podcast. This story was not subject to the approval of Major League Baseball or its clubs.