Arencibia shows former club he still has pop
Rays catcher blasts solo shot against Blue Jays in Toronto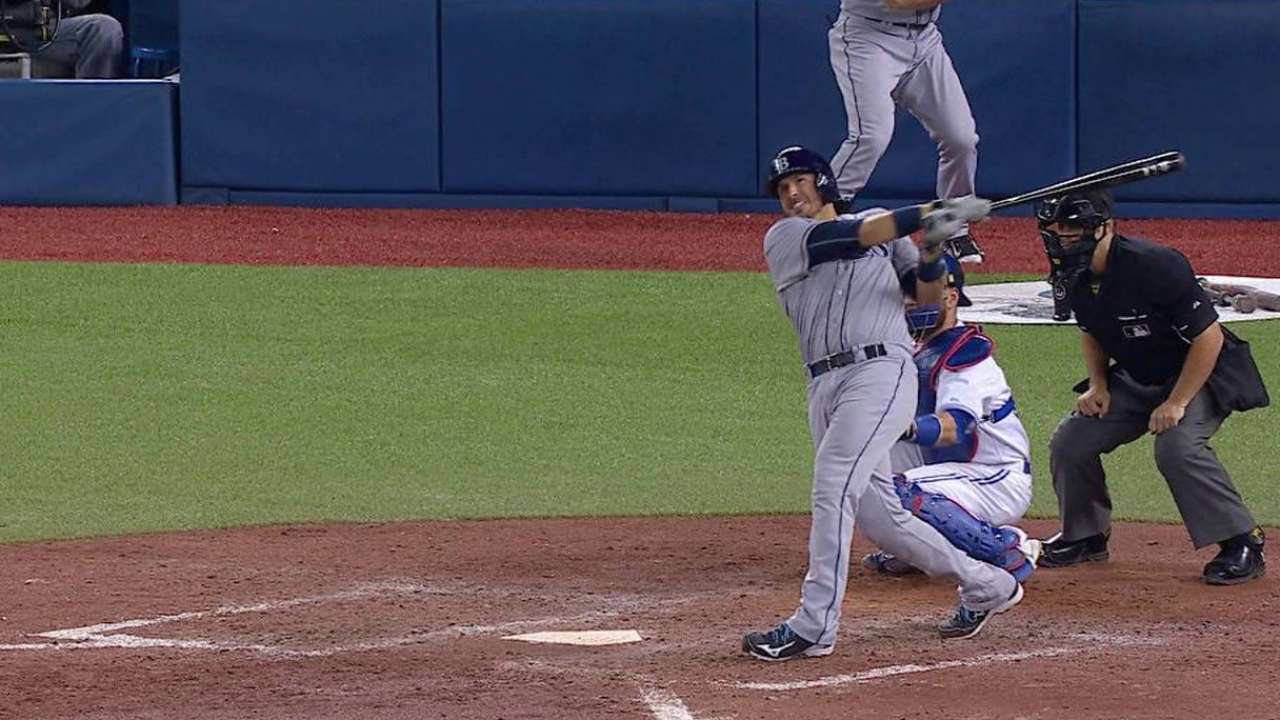 TORONTO -- J.P. Arencibia, who once was cheered at Rogers Centre, heard boos Friday night when he led off the Rays' eighth with a solo home run.
The blast by the former Blue Jays catcher put a dent in the lead, but Toronto held on to take a 5-3 win over Tampa Bay.
The Blue Jays drafted Arencibia out of the University of Tennessee in the first round (21st overall) of the 2007 Draft. His Major League debut came with the Blue Jays in 2010, and he remained with them through the 2013 season.
During his tenure with the Blue Jays, Arencibia socked 64 home runs and drove in 193 runs in 380 games. That did little to curry favor with the crowd of 47,696 Friday night.
With the Rays trailing, 5-2, Arencibia led off the eighth by hitting the first pitch he saw from Mark Lowe into the left-field stands for his sixth home run in 22 games since joining the Rays.
"I mean, [the home run] wasn't really too special, obviously, it wasn't enough to get us back into the game," Arencibia said. "That's all that really matters. Winning. And we didn't win."
Arencibia hardly heard "Auld Lang Syne" as he rounded the bases.
"Good for him," Rays manager Kevin Cash said. "I know the crowd reacted in a way, but good for J.P. to get back here. He did some good things while he was here. To hit the home run, I'm sure it's a little bit of icing on the cake.
"He has done a nice job, obviously, at the plate. He continues to show the ability to hit the ball out of the ballpark and he's done a nice job with our pitchers."
When asked about Friday night's crowd, Arencibia asked reporters, "Was there a lot of people here tonight?"
Then he smiled.
"It was nice," Arencibia said. "Obviously a good atmosphere. They're very prideful of their team. And you know, rightfully so, they're in the hunt to win the division and even have the best record in the AL, so obviously the fans have something to be excited about."
And Rays fans should be excited about Arencibia, who has brought offense to a position the club has struggled to get production from the past several years -- save for Curt Casali's contribution this season.
Arencibia will be a free agent after the season. So it could be interesting to see if the Rays will try to re-sign him and throw him in the mix with Casali, Rene Rivera, and Luke Maile come Spring Training.
Bill Chastain is a reporter for MLB.com. This story was not subject to the approval of Major League Baseball or its clubs.