Cole talks postseason, offseason in Q&A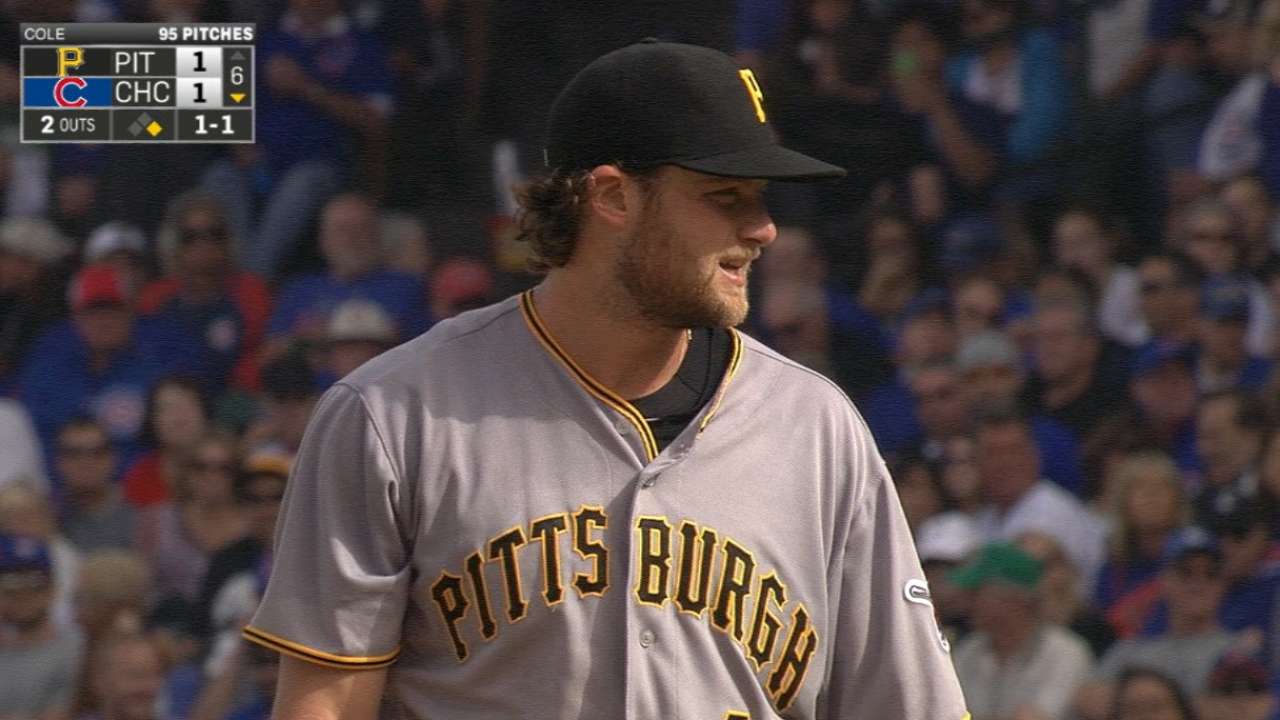 Almost two years to the day after the Pirates selected Gerrit Cole with the No. 1 overall pick in the 2011 Draft, the UCLA product took the ball for his Major League debut. Four months after that, he started two games against the St. Louis Cardinals in the National League Division Series. Talk about a quick return on investment. The hard-throwing, 25-year-old right-hander has since developed into one of the finest pitchers in the league, and Pirates fans believe his best is yet to come.
This season, he boasted a league-leading 13 victories at the All-Star break, earning his first Midsummer Classic nod. Pirates outfielder Andrew McCutchen and fellow moundsmen A.J. Burnett and Mark Melancon accompanied him to Cincinnati as members of the NL squad, proving that Cole is no one-man show in the Steel City. Still, the Pirates hadn't been to the postseason for more than two decades (1992) before he arrived, but they've qualified in all three years since Cole joined the rotation. That's the type of impact No. 1 overall picks are supposed to have. In the midst of a highly-competitive NL Central race, MLB spoke with Pittsburgh's ace about his coming-of-age in the spotlight.
What was it like to be named to the All-Star team this year?
I had high expectations. I didn't have my hopes set on pitching or getting in the game, though; I was just excited to be there. It blew my expectations away. I had a fantastic time meeting some perennial All-Stars. Even though you play against many of these guys, you always see them on edge, being competitive. It was cool to meet some of them with their guard down.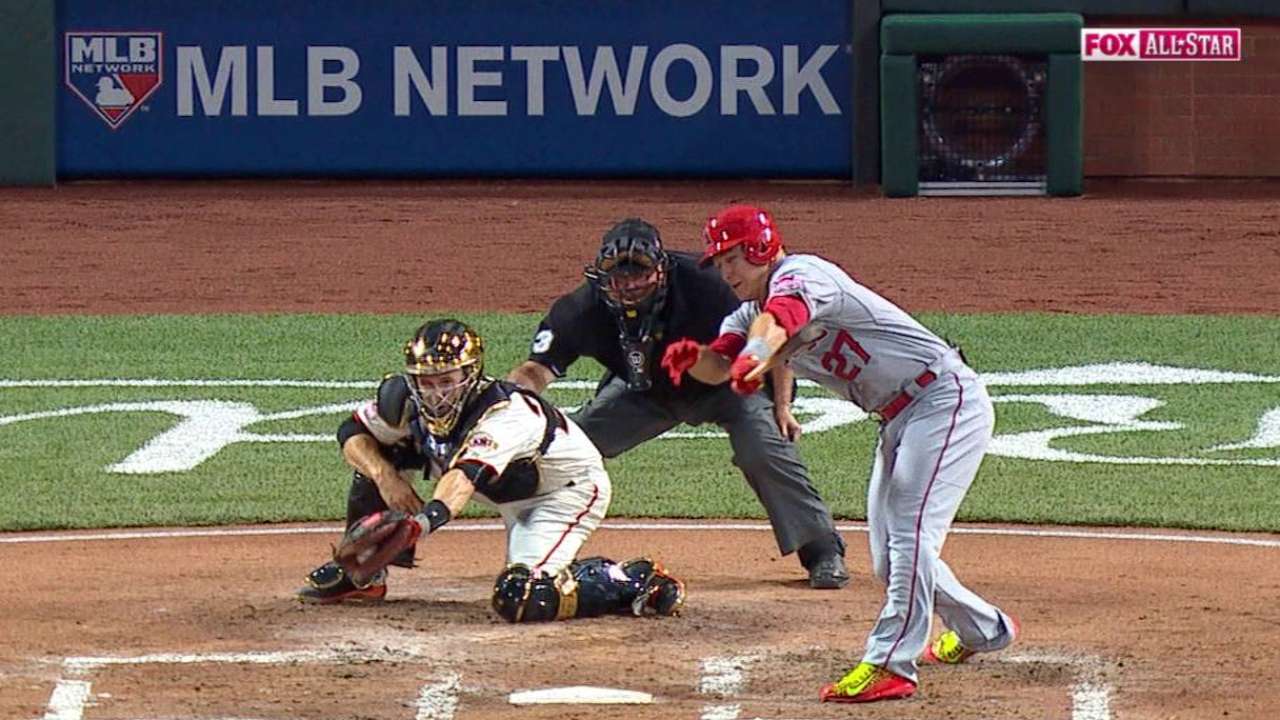 What would it mean to you and your teammates to bring a title back to Pittsburgh?
It would mean a lot to the players, because we've worked tremendously hard. We're in a hell of a division where you can't take a pitch off for the entire six months. This city is starved for a World Series, to say the least. We've been fortunate to put a good product on the field, something enjoyable for the fans to watch the last few years. But we're definitely looking to take it to the next level.
When you think of Pittsburgh sports, you think of the Steelers winning the Super Bowl and the Penguins winning the Stanley Cup. And the Pirates, we're close. It would be tremendous for the city, and for Pirates fans everywhere, to be able to get back to a World Series and bring the trophy home.
What have the Bucs' recent successes and playoff appearances in 2013-14 taught you and your teammates?
Every game counts. You go into the season thinking, "There are 162 of these things; there's no chance the season comes down to one or two." Yet in the last few years, it has.
And anything can happen in the Wild Card game. We've tasted both ends of that. But I think the desire to win has fueled us. Some people get a taste and get satisfied. We get a taste and get hungrier.
During your first Major League season in 2013, you started Games 2 and 5 of the NLDS. What was it like to be on that stage as a rookie?
I mean, it was my first season in the big leagues, and I was already getting some postseason experience; there are some people that work for a long time to be in that position. So, looking back on it, being able to have that experience under my belt in a hostile St. Louis environment is something I can use to gain an advantage in the future. I just check it off the list as another fortunate opportunity.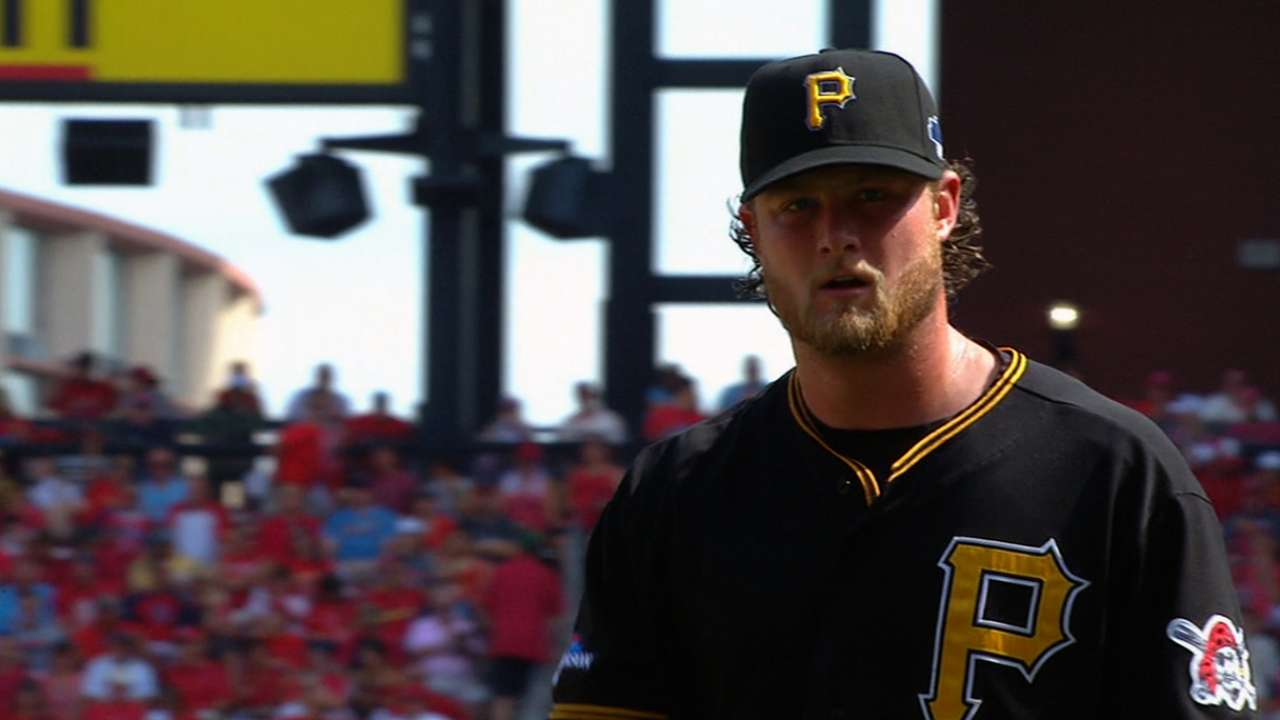 Do you ever imagine yourself winning a Cy Young Award?
Those awards don't come to guys on bad teams. You don't see MVPs and Cy Young Award winners on teams that are winning 60 games a year; you see them on postseason teams. You see them on teams where there are real difference makers, where those players did take the team to the next level.
I think if we collectively stay focused on trying to win, then the talent we have will speak for itself in the numbers at the end of the year. It would be tremendous to win an award. But the focus is definitely on trying to win another ballgame and keeping it as simple as that, because it's so easy to go down a different path.
How important are backstops like Francisco Cervelli and Chris Stewart to your success on the mound?
I don't know how those guys do it. Catching is a tough job. You definitely take a beating. That's why those guys are the prized jewels and the heartbeat of the team. There's a lot to be said for having a good catcher.
Your fiancee, Amy, is the sister of Giants shortstop Brandon Crawford. She played at UCLA, too. Did you catch many of her games?
I got her first home run on video. That was cool. It was crushed: way-back, a no-doubter for sure. She is tremendously athletic, like Brandon.
Was she a shortstop, too?
She was a utility type, like Sean Rodriguez. She played everything except for catcher and pitcher. She was always in games late as a pinch-runner, pinch-hitter or defensive substitute. She began to start more as time went on, and then the team won the College Softball World Series in 2010, her junior year.
When you have a chance to get away from the game, especially during the offseason, what do you like to do?
I enjoy going out with my friends, going out to dinner, cooking and spending quality time with quality people. We live down by the beach [in Santa Ana], so the atmosphere is really relaxed. And it's Southern California, so we can barbecue in the winter. I haven't really found a golfing partner that likes to play as much as I do. I also like to surf. After Thanksgiving, workouts take up the majority of my time. The offseason always ends up being shorter than you expect.
Jim Lachimia is the editor of Pirates First Pitch magazine. This story was not subject to the approval of Major League Baseball or its clubs.