Richards prepared to pitch on short rest if needed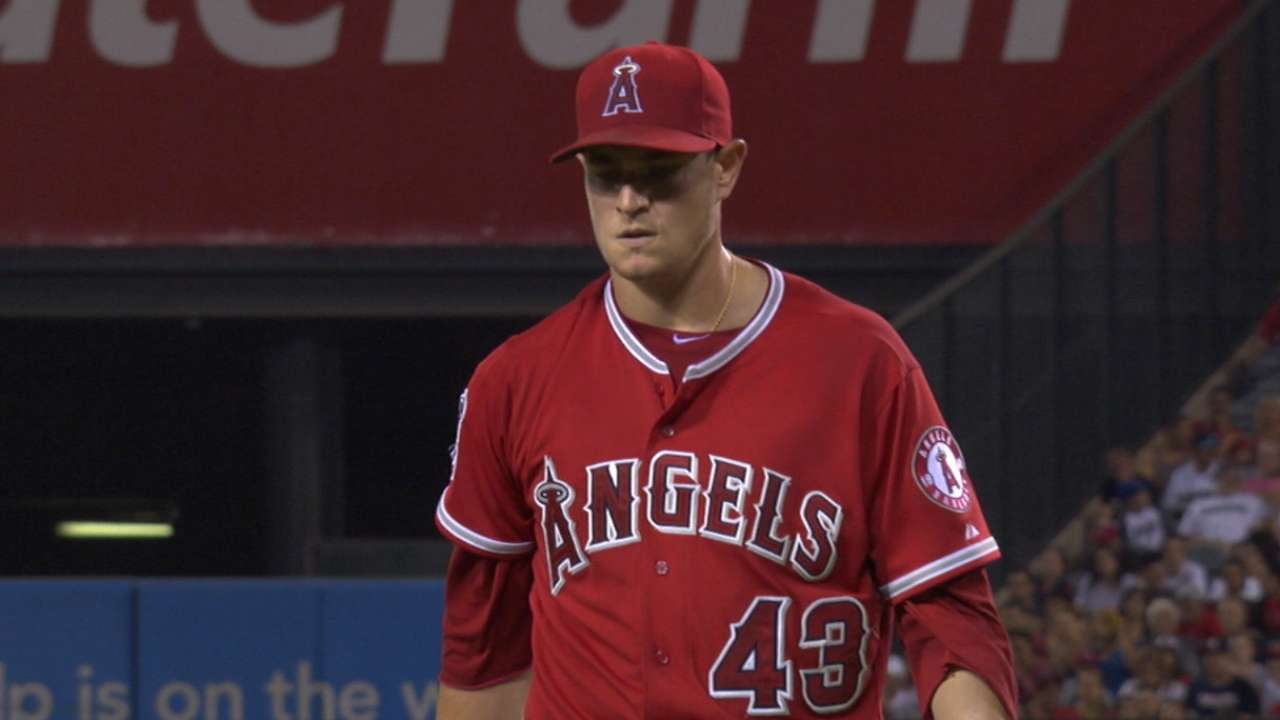 ANAHEIM -- If the Angels' season is on the line, Garrett Richards is the guy they want on the mound. Mike Scioscia made that clear coming out of the Thursday's off-day, when he flipped Richards and Andrew Heaney in the order so that Richards lined up to start the American League Wild Card Game presented by Budweiser. And he basically verbalized that on Friday afternoon, when the Angels' manager said Richards would likely start on short rest if his team needs to win the final regular-season game to make the playoffs.
"I'd like to welcome a challenge like that," Richards said after capturing his career-high 15th win in the Angels' 8-4 victory over the Mariners. "If we are in position like that, I'll be ready to go."
Richards, who pitched seven innings of three-run ball in Friday's series opener, is slated to take the ball again on Wednesday, at home against the A's. The regular-season finale, on Sunday against the Rangers in Arlington, would have him making two starts in a span of five days for the first time in his career.
Matt Shoemaker is currently slated to make that Sunday start, but he's still battling some stiffness in his right forearm, and the Angels may have to replace him with Nick Tropeano again on Tuesday. If they have to win their 162nd game, though, Richards will be the guy. He and Scioscia have basically already agreed on it.
In that scenario, Andrew Heaney can start the Wild Card Game on Tuesday, perhaps even Game 163 on Monday.
"It should be fun," Richards said. "If we're in a position where it comes down to one game, obviously I'm going to have some emotions going into that game."
Richards struggled early on against the Mariners, giving up a first-inning solo home run to Nelson Cruz and allowing two more runs in the second, a half-inning after the Angels put up four runs.
But Richards worked out of a second-and-third, none-out situation that inning, striking out three straight batters with sliders to preserve a 4-3 lead, and only allowed two more hits the rest of the way.
Coming off a dominant 2014 season that was cut short by a torn patellar tendon in his left knee, Richards sports a 3.73 ERA and 163 strikeouts in 195 1/3 innings. He hasn't been as dominant as he was through five months last year, while going 13-4 with a 2.61 ERA. But he has by far the best stuff on the Angels' staff.
And even though Heaney has come on strong, Hector Santiago made the All-Star team and Jered Weaver is their long-time ace, he's still clearly their best choice.
"We're not gonna hold anything back to get to the part we need to," Scioscia said. "Garrett's definitely stepped up and thrown the ball, with Andrew Heaney, as well as anybody we have in our rotation."
Alden Gonzalez is a reporter for MLB.com. Follow him on Twitter @Alden_Gonzalez and listen to his podcast. This story was not subject to the approval of Major League Baseball or its clubs.