Trout picks perfect time to snap out of slump
Star center fielder makes case for AL MVP Award with hot streak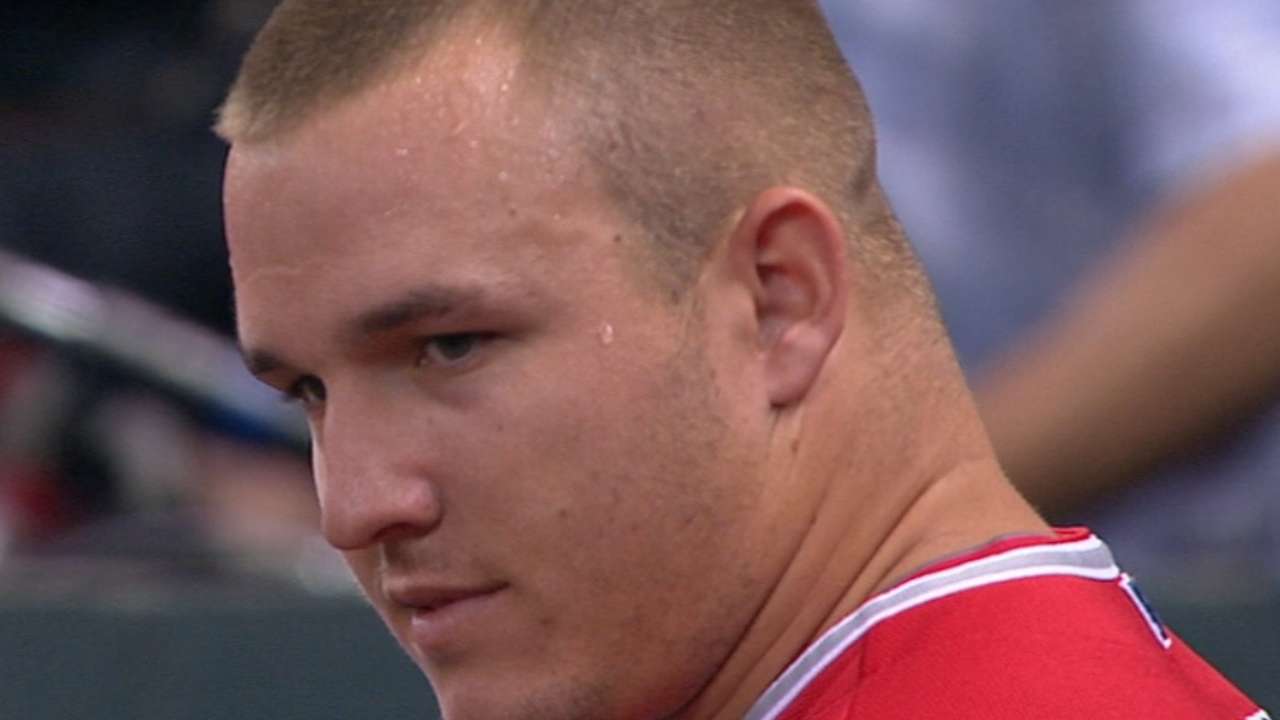 ANAHEIM -- As August continued and the longest slump of Mike Trout's career prolonged, the Angels' superstar center fielder could feel himself over-swinging. His front foot was coming down late, his shoulders were flying open, his typically compact swing was getting long.
"It seemed like every day it went on, I was trying to do so much more," Trout said. "Even when I got some hits, my swing felt weird. It didn't feel right. Now, it feels good."
Heading into Friday's series opener against the Mariners, Trout was hitting .309/.420/.679 over a 23-game stretch, adding seven home runs, 14 RBIs and 16 walks. His OPS is up to .984, the highest in the American League and 34 points better than that of Blue Jays third baseman Josh Donaldson, widely considered the MVP frontrunner.
• Is Trout #AwardWorthy? Vote now for Best Major Leaguer
One of the biggest reasons for Trout's turnaround: A breaking-ball machine.
The Angels have a pitching machine that looks somewhat like an edger one would use on his or her lawn, except it spits out nasty, hanging curveballs. Trout has been using it before every game. It's helping him slow everything down.
"It's all about timing, getting the foot down," Trout said. "When I start hitting curveballs, it slows me down a lot, instead of jumpy-jumpy-jumpy. That has something to do with it, and just going up there just trying to hit, not trying to do too much. That's the biggest thing."
One of the most surprising elements of Trout's recent slump was how seldom he was driving the ball to left field, his pull side. Throughout August, only six of the 67 balls Trout put in play were line drives and/or hits to left. Outsiders considered it a potential sign that Trout's left wrist, the one that kept him out for a couple games in late July, was still bothering him.
Trout will tell you he was simply out of whack.
"It's because I was late," he said. "I was late and not getting my foot down."
Trout has equaled his total of line drives to left field in eight fewer games since the start of September, and two of them have gone over the fence. The 24-year-old has also had more success on first pitches this month, hitting two home runs -- one more than he hit to start at-bats from the start of 2013 to the end of 2014.
Trout's three hits on first pitches in September are one more than he managed through the first five months, but Angels manager Mike Scioscia called it "a cyclical, small sample," since Trout has only put the first pitch in play 7.7 percent of the time since the start of September.
Whatever the reason, Trout is making the AL MVP race interesting.
Donaldson is starring for a playoff-bound Blue Jays team, but both versions of Wins Above Replacement have it very close. FanGraphs WAR gives Donaldson a slight edge, 8.2 to 8.1. Baseball-Reference WAR gives Trout a slight edge, 8.5 to 8.4.
Trout will have a legitimate shot at a second straight AL MVP Award if the Angels capture that second Wild Card spot.
"Last year he had a great year, and this year he's having an unbelievable year," Trout said of Donaldson. "It's going to be fun down the stretch."
Alden Gonzalez is a reporter for MLB.com. Follow him on Twitter @Alden_Gonzalez and listen to his podcast. This story was not subject to the approval of Major League Baseball or its clubs.