Pirates' home-field advantage still possible
If club can win division title, Pittsburgh will have edge through NLCS
CHICAGO -- As the Pirates started on their second 10K Friday with their 3-2 victory over the Cubs at Wrigley Field, franchise win No. 10,001 also accomplished something certain to have flown below the radar:
They clinched home-field advantage through the National League Championship Series ... assuming they can overtake the Cardinals for the NL Central title. Talk about a big "if."
"Thanks for bringing that to my attention," Pirates manager Clint Hurdle said. "I wasn't even aware of that."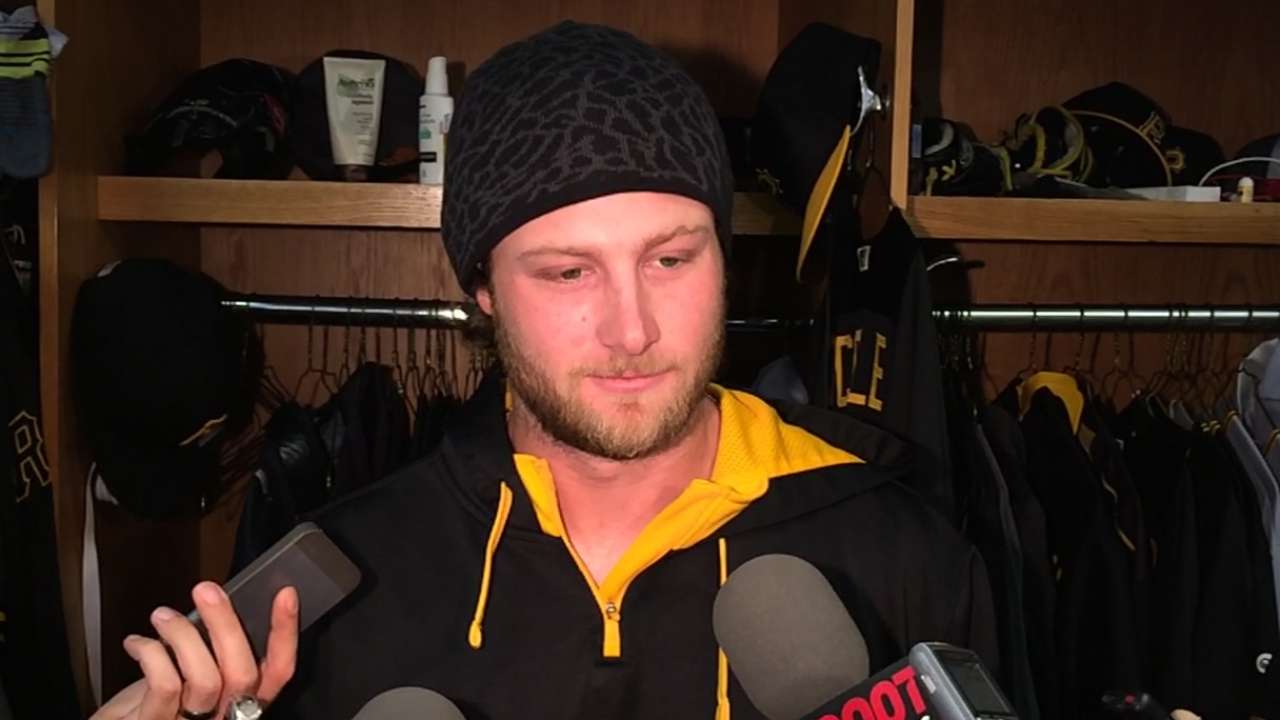 Who was? But this is how it works: It will take a minimum of 98 wins to capture the division title, given St. Louis' 97 wins entering Friday action. The Dodgers, the league's best team outside of the NL Central, had 87 wins with 10 games remaining, thus couldn't possibly post a better final record.
Ergo, the Bucs would have home-field edge in the NLCS, as long as they don't get there as a Wild Card team.
With his head spinning, Hurdle shrugged off all the possibilities hidden in the season's final eight games.
"Hypotheticals are real good for other people," Hurdle said. "Their magic number, somebody else's magic number, where it can go. ... The only thing we have to take care of is today. If we have a foot in yesterday and a foot into tomorrow, we're doing something wrong today."
The Pirates did enough things right on Friday to post their 94th win. That matches 2013's total and puts them 34 games above .500 for the first time since they ended the 1991 season at 98-64. The next step would put the Bucs 35 over .500 for the first time since the end of the '72 season (96-59).
That is going way back; Roberto Clemente was in right field for the Pirates that year.
"I hear that number a lot," Hurdle said of 1972, significant also because that was the previous season in which both the Pirates and the Cubs had winning records. "Isn't that great? That three teams in this division have a chance to do something significant that hasn't been done in a long time -- have the three best records in baseball."
The Bucs have found another gear at the best -- and perhaps least likely -- time, ripping off seven consecutive wins on the road. It is their longest road streak since seven straight in 2013.
"This isn't anything we haven't done before: Play a very good team on the road," Hurdle said. "Our guys love to play, to meet the demands of the game when they come up."
Tom Singer is a reporter for MLB.com and writes an MLBlog Change for a Nickel. He can also be found on Twitter @Tom_Singer and on his podcast. This story was not subject to the approval of Major League Baseball or its clubs.