MLB.com Columnist
Barry M. Bloom
Yanks lack clear choice for Wild Card starter
NEW YORK -- Forget about the protestations of Yankees manager Joe Girardi. It's about time the Yankees project who will be their starting pitcher for the American League Wild Card Game presented by Budweiser on Oct. 6.
By all rights, it should be Masahiro Tanaka. If not, CC Sabathia has the experience, but also that chronically bad right knee. Then there's rookie Luis Severino, who is the healthiest starter, but has the least experience.
"That's looking too far ahead for me," Sabathia said after he and the Yankees lost a tough one, 5-2, to the White Sox on Friday night at Yankee Stadium. "I'm just looking forward to my next start, but if I do get the ball [in the Wild Card Game], I'll be ready. That's what you play for, to get the ball in that game."
Sabathia worked into the seventh, but he allowed homers to Mike Olt and Gordon Beckham in that pivotal inning. The Yanks' offense didn't help him much, either, stranding eight runners and hitting into four 6-4-3 double plays.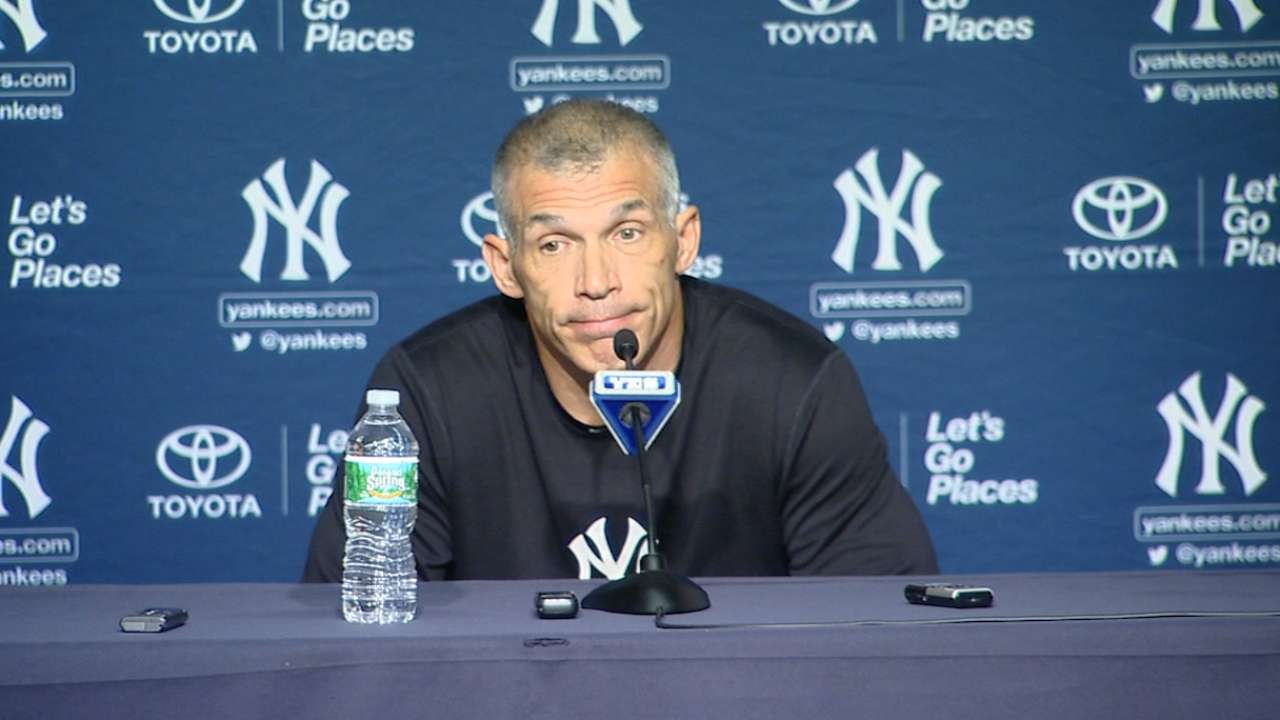 Tanaka recently missed a start because of a nagging right hamstring strain and tossed a bullpen session at Yankee Stadium before Friday night's game. After that, he claimed he wasn't completely healthy.
"It's not completely gone," he said. "I wish it was gone, but it's a strain. It's still there."
On top of all that, Tanaka has battled right elbow and forearm issues for more than a year.
Girardi said he hopes to have Tanaka ready for a start sometime next week during a four-game Red Sox series that begins at the Stadium on Monday night. He wasn't specific about which game.
Sabathia's next start and last of the regular season -- as of now -- is Wednesday night, which would line him up for the AL Wild Card Game only 11 days away.
The Yanks trail the first-place Blue Jays by four games in the AL East with nine to play. They also hold a comfortable 4 1/2-game lead over the Astros for home-field advantage in the AL Wild Game. They haven't locked up a spot in the postseason just yet, but they could as soon as this weekend, so there's no real reason to rush Tanaka back into action.
"We didn't expect him to be 100 percent today. We wanted to have him throw a bullpen to keep things going," Girardi said. "I really think you have to see how he feels the next couple of days. And your decision is, do you have him throw another bullpen before he starts or do you think that he's ready to start a game?"
Does Tanaka have to make one more start at least five days out for him to pitch the AL Wild Card Game?
"Well I think it would be important that he pitch, but you just have to see what happens," Girardi said. "That's a hypothetical. Let's worry about that when we have to."
Girardi said he's in no position yet to talk about either Plan A or Plan B because, "I'm going to say it again: We haven't clinched anything.
"When we get to the point when we have clinched something and we know exactly what will happen, then we'll set things up, but I think it's premature to set things up right now."
Plan B would involve either Sabathia, Severino, Michael Pineda or Ivan Nova. All of them present a dilemma.
Severino would be the best outside-the-box choice. Of course, he's made just nine big league starts and has absolutely no postseason experience.
Girardi could choose instead to go with the recently injured Pineda, who can't go beyond 80 pitches, Sabathia with his balky right knee and 4.82 ERA, or Nova, who returned from Tommy John surgery in June.
He does so at his own peril.
It may be ancient history, but the 1980 Dodgers went into the final weekend of the season needing to sweep a three-game series at Dodger Stadium over the Astros just to force a tie with Houston in the National League West.
They did it in uproarious fashion and a 163rd game to decide the division title was played the following Monday in Chavez Ravine.
Dodgers manager Tommy Lasorda had a major decision to make in choosing his starter for that game. He had veteran right-hander Dave Goltz, signed as as free agent prior to that season and finished 7-11 with a 4.31 ERA. He also had a rookie left-hander named Fernando Valenzuela, who came up that September and was 2-0 with a 0.00 ERA in 10 relief appearances.
Lasorda declined to think out of the box. There was no analytics department back then. Using his gut, he chose Goltz. The Dodgers lost, 7-1, and Goltz lasted three innings.
When Fernandomania swept Los Angeles County the very next season, Lasorda never heard the end of it.
Severino is 4-3 with a 3.10 ERA and 48 strikeouts in 49 1/3 innings since his arrival in the big leagues on Aug. 5. There are no sure things, but these numbers are better than anything else Girardi has at this point.
If the Yankees get to the AL Division Series against the Royals or Blue Jays, Girardi will have to deal with all his other starting-pitching enigmas. But first he has to get there.
With all due apologies to Sabathia, who helped the Yankees win the 2009 World Series and is 9-5 in 19 postseason appearances -- 18 of them starts -- the vote here is that this year Severino gives the Yanks the best option to win that one game.
Barry M. Bloom is a national reporter for MLB.com and writes an MLBlog, Boomskie on Baseball. Follow @boomskie on Twitter. This story was not subject to the approval of Major League Baseball or its clubs.