Rosario impresses with bold baserunning
Left fielder hits three-run triple, then scores on unusual sac fly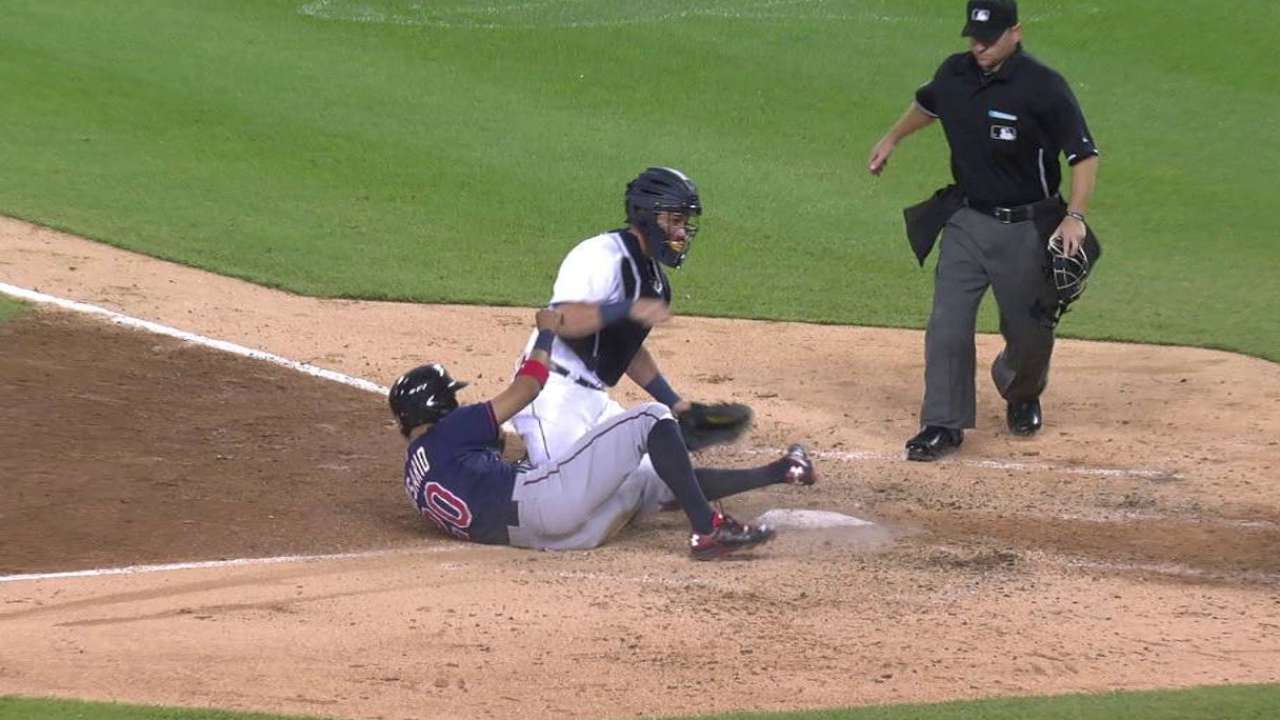 DETROIT -- Since being called up by the Twins on May 5, rookie left fielder Eddie Rosario has been a sparkplug for the Twins with his combination of speed and aggressiveness.
It was quite evident yet again in Friday's 6-4 loss to the Tigers, as Rosario hit a bases-clearing triple in the fifth, but it was his daring baserunning on a shallow pop fly to second baseman Ian Kinsler that was most impressive.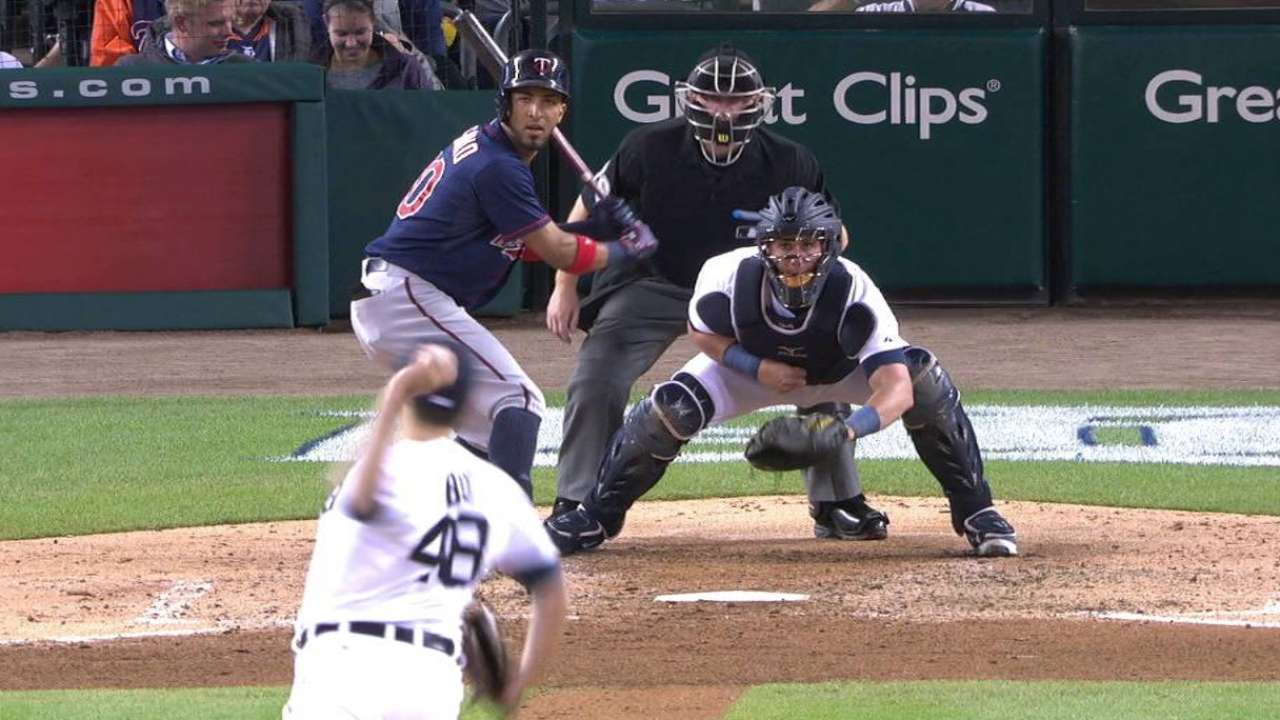 With one out, Eduardo Escobar lifted a high pop fly to Kinsler, who nonchalantly caught it for the second out. But Rosario took advantage, as he darted home on the play to surprise Kinsler, whose flat-footed throw got past catcher James McCann to allow Rosario to score on an unusual sacrifice fly that barely left the infield.
"With the infield in, even though it didn't take Kinsler back very far, it's still a play where he was moving away from the infield," Twins manager Paul Molitor said. "I think he just broke expecting to stop and saw a little hesitation and tried to challenge it."
Rosario said he did plan to stop halfway down the line, but once he saw that Kinsler wasn't set to throw, he took a chance and kept on running to home.
"It was my decision," Rosario said. "Maybe the second baseman didn't think I was going to run. I was going to go half, and then I wasn't stopping."
Kinsler, though, said he wasn't surprised Rosario took off, as Rosario had faked like he was going to tag up on the previous play, which was also a pop fly to Kinsler from Kurt Suzuki.
"The play before, he was playing with me a little bit," Kinsler said. "That play, I figured there was a chance that he could go. I had plenty of time. I put a good throw there; it just skipped past McCann."
Tigers manager Brad Ausmus also said he believed Kinsler wasn't caught off-guard, but they just had bad luck as the ball took a bad hop on the way to McCann.
"If the ball is caught -- it doesn't skip off the grass -- Rosario is out by 10 feet," Ausmus said. "Rosario would've been out easy. It just so happened to hit the grass."
It gave the Twins a 4-0 lead that was keyed by Rosario's Major League-leading 15th triple of the year. The three-run triple was challenged in a crew chief review and the original call was overturned due to fan interference, but Rosario was placed at third and the result of the play remained unchanged.
Rosario also showed off his arm in the second, when he threw out J.D. Martinez at third base as he tried to advance from first on a ball hit down the left-field line by Nick Castellanos. It was the team-leading 16th outfield assist of the year for Rosario.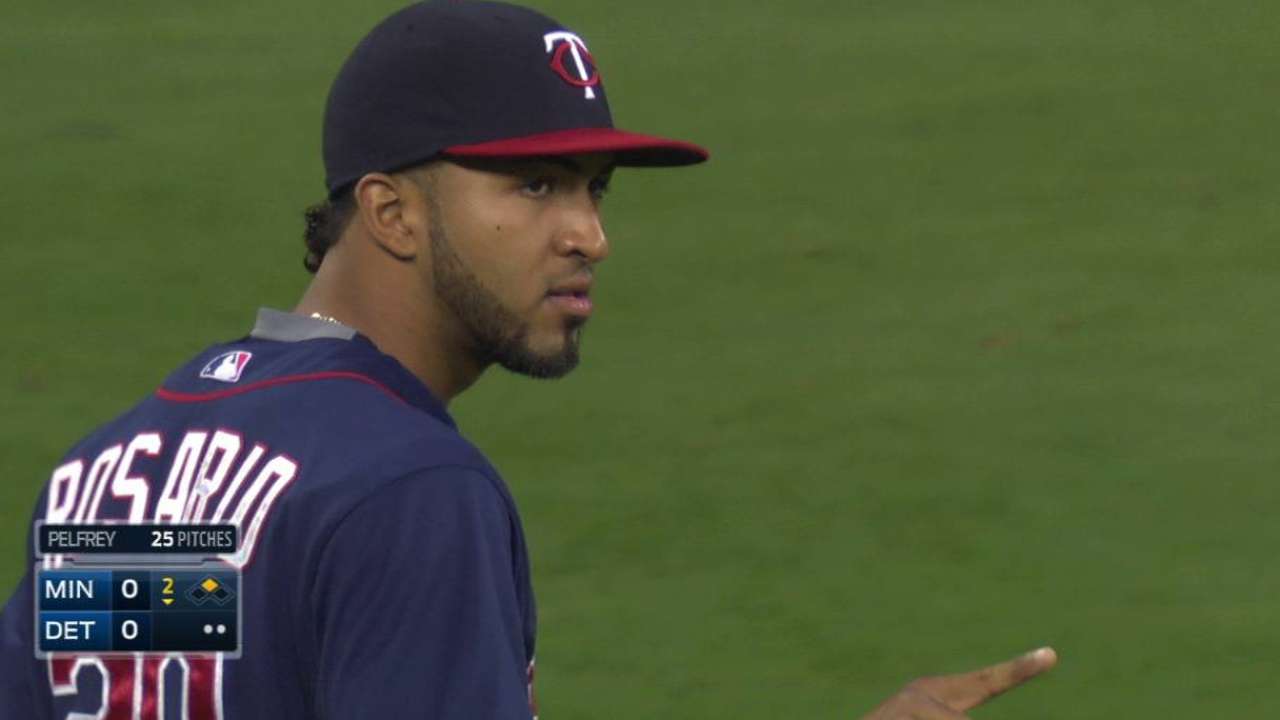 With his triple and outfield assist, Rosario became the first player with at least 15 outfield assists and triples since Philadelphia's Johnny Callison in 1965.
Rhett Bollinger is a reporter for MLB.com. Read his blog, Bollinger Beat, follow him on Twitter @RhettBollinger and listen to his podcast. This story was not subject to the approval of Major League Baseball or its clubs.