Giavotella sparks Angels in return to lineup
Second baseman smacks RBI single and triple in key victory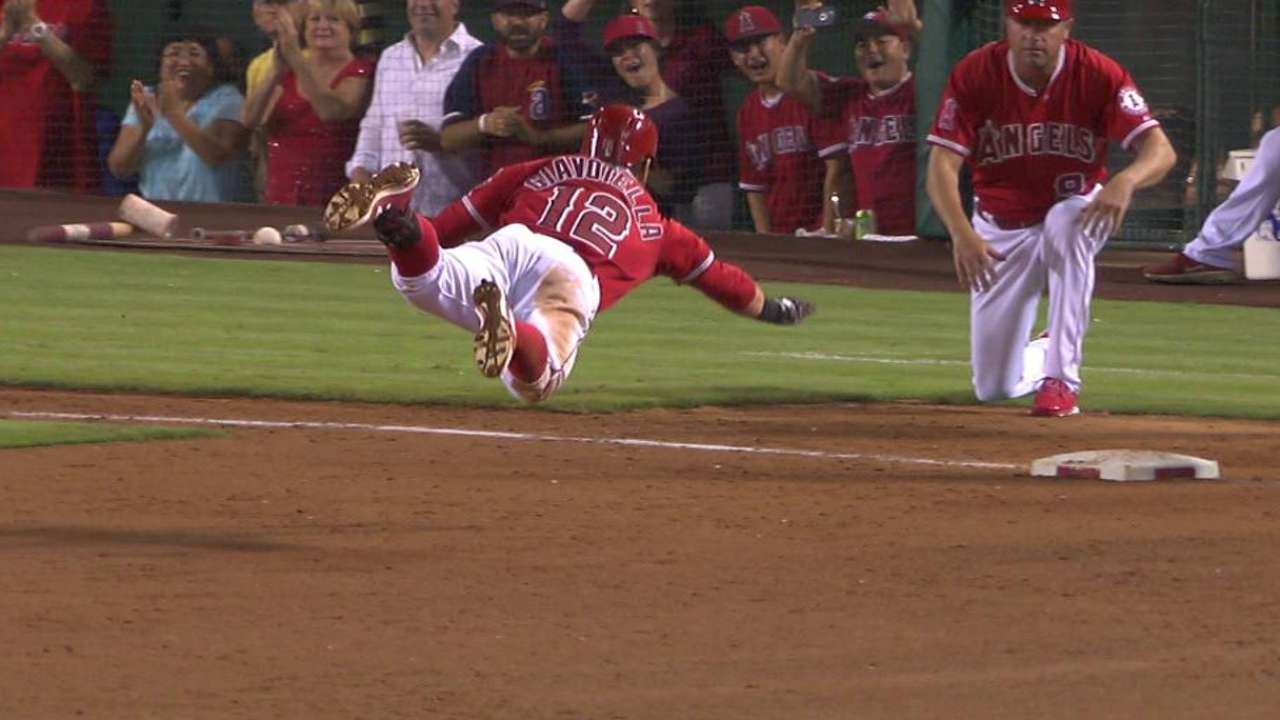 ANAHEIM -- Johnny Giavotella capped his return to the Angels lineup on Friday with a theatrical belly flop into third base, diving in for a two-out RBI triple in the sixth inning of the Angels' 8-4 win over the Mariners at Angel Stadium, which brought them to within a half-game of the Astros for an American League Wild Card spot.
"I love to bring energy, lighting a fire under guys -- I think it's contagious," Giavotella said. "I think the more energized people are, the more that other people tend to follow in those same lines. It was fun to be a part of, I'm glad I got that big hit, and I'm glad we got a win tonight."
"That's the kind of stuff that pumps everybody up," said Garrett Richards, who started and won the game for the Angels. "People feed off that kind of stuff."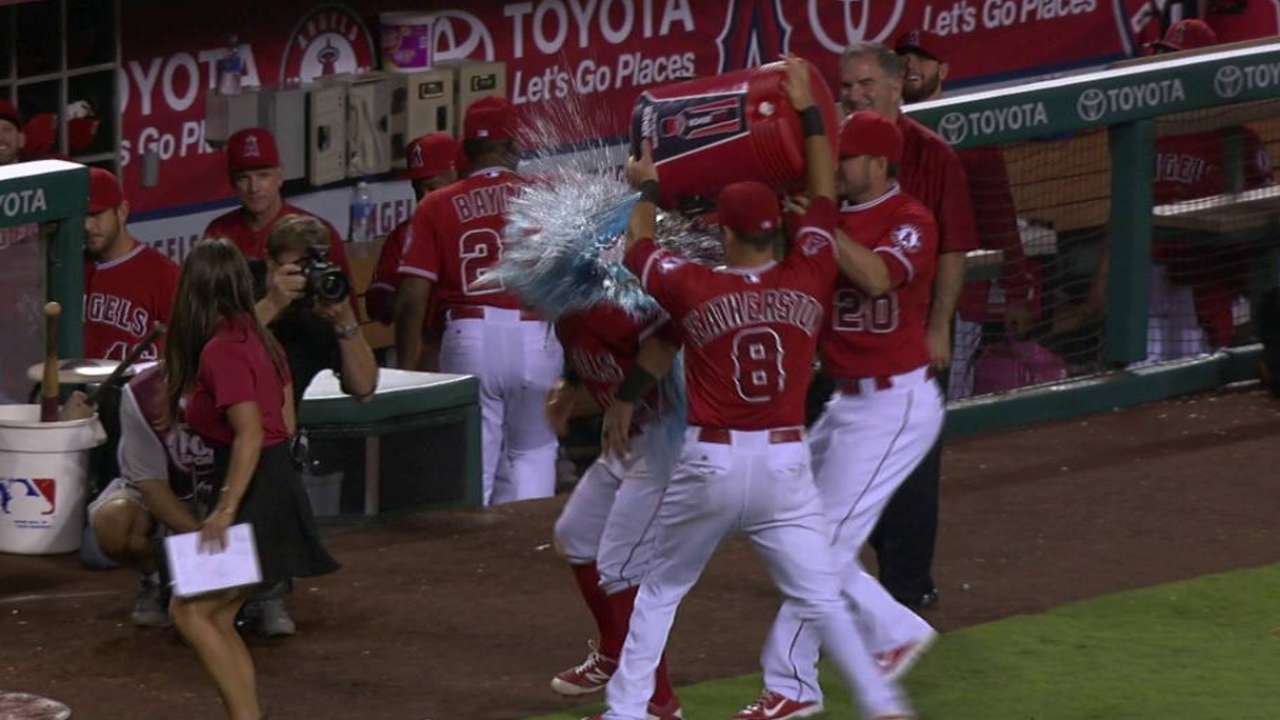 Giavotella was playing his first game in more than a month -- the Angels second baseman missed 31 with fourth nerve palsy, a condition caused by an irritated nerve that affected the muscles in his eye, giving him double vision when he looked down or to his left.
He hadn't played since June 20, and he had spent just a few days facing live pitching in the Arizona Instructional League earlier in the week. But Giavotella's timing looked good in Friday's series opener, as he helped key the Angels' offense with two run-scoring hits.
"He kind of picked up where he left off," manager Mike Scioscia said. "He was getting some big RBIs for us before he had the vision problems, and he came back, put some good swings on some pitches and got two big hits for us."
Giavotella finished 2-for-3 before being lifted for defensive replacement Taylor Featherston after the sixth inning, and Scioscia said he expects Giavotella to start again on Saturday. Featherston is the superior defender at second base, but he's hitting just .162. Giavotella's bat can provide the Angels an important spark at the bottom of their order in their nine remaining regular-season games as they fight for a playoff spot.
"When I first got here today, there was a buzz in the locker room," Giavotella said. "We're all on the top step [of the dugout], rooting one another on, and you can definitely feel the vibe with the playoffs getting close by."
Once his vision completely returned, Giavotella jumped back into game action without much rehab -- he'd only been taking batting practice for about a week before his return -- but he said he was fine facing Major League pitching again.
"It wasn't anything that I wasn't expecting," Giavotella said. "I was ready, I was prepared, I got some at-bats the last couple of days in Arizona that I think prepared me for tonight. I saw the ball well and put some good swings on the ball."
Giavotella's mother, who stayed with him, drove him around and cooked for him the first week-and-a-half after his vision condition developed, was also in attendance Friday night.
"It was great to have her watch me do well and get back on track," Giavotella said. "It was a special night."
David Adler is an associate reporter for MLB.com. Follow him on Twitter @_dadler. This story was not subject to the approval of Major League Baseball or its clubs.