Return date unclear for injured Paxton
Torn fingernail continues to be issue for Mariner's left-hander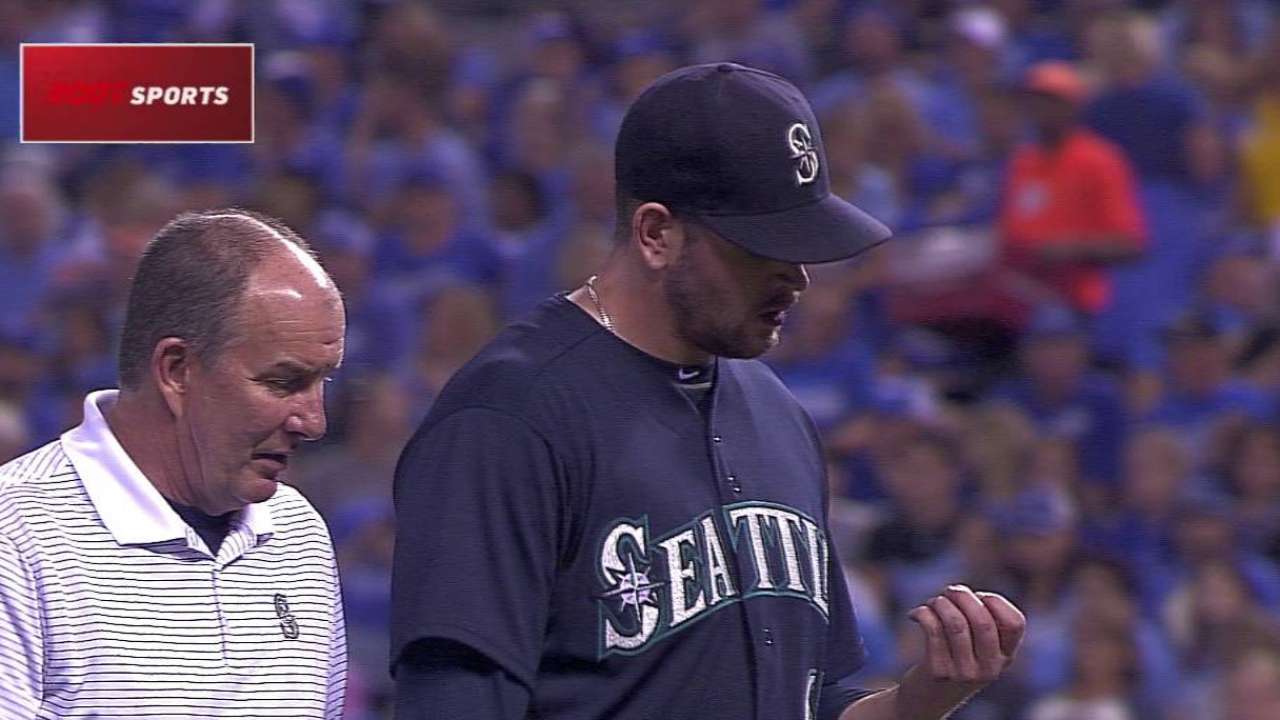 ANAHEIM -- James Paxton's torn fingernail was still sore on Friday and manager Lloyd McClendon said he's not sure when or if the big left-hander will pitch again this season, though Paxton is holding out hope he can make another start in the final week.
Paxton was taken out after 1 1/3 innings when the finger issue flared up in his start on Thursday in Kansas City. He was initially lined up to pitch twice in the final homestand -- Tuesday against the Astros and again in Sunday's regular-season finale against the A's -- as the Mariners look to get him as much work as possible after the 27-year-old missed nearly four months with a strained tendon on the same middle finger of his pitching hand.
But it appears now he'll be pushing it to get even one more start, given the fingernail has bent backward and come off the skin both in his final rehab start for Triple-A Tacoma on Sept. 1 and now in his third start since rejoining the Mariners, making it difficult to grip his pitches.
"It feels alright," Paxton said, pushing against the nasty looking purple nail. "I'm hopeful, trying to stay positive. I'm just going to do everything we can do for it and try to get back out there."
Trainer Rick Griffin said he was surprised the same issue returned after Paxton had healed up from his previous issue, but he did say this incident wasn't as bad as when the fingernail tore backward in Tacoma and Paxton had to go five days without even picking up a ball to let that injury heal.
"I'm hoping it'll be a more manageable thing," Griffin said. "There are some things we can explore to try to help it."
McClendon was in no mood on Friday to explore the possible pitching options should Paxton be unavailable. The club could use Roenis Elias to fill one of the two dates, but will be scrambling if Paxton can't pitch any more at all.
"I don't know yet. We'll figure it out," McClendon said "I'm worried about tonight's game. I'll worry about Tuesday when we get there."
McClendon did reiterate that 23-year-old right-hander Taijuan Walker would not take Paxton's place after the club told him he's shut down for the season after reaching 169 1/3 innings for the year in his last start on Sept. 12.
"As we speak today, he will not start," McClendon said. "Come Tuesday, I may change my mind."
Mike Montgomery and Edgar Olmos, two left-handers who started games earlier in the year, both were optioned back to the Minors and aren't on the club as part of the September callups. So the Mariners only have four other starters -- Felix Hernandez, Hisashi Iwakuma, Vidal Nuno and Elias -- now that Walker has been shut down.
Paxton has been able to make only 13 starts this season due to his finger issues. He lasted just 1 1/3 innings in Thursday's 10-4 loss at Kansas City before the nail forced McClendon to take him out before it got worse.
Paxton said he's never had a problem with the fingernail before and doesn't know why it's become a problem now.
"I just looked down and it was bleeding," he said. "I obviously can't throw with a bleeding finger. The ball was coming out pretty well. I felt a little weird on the release with that nail, but my arm feels great. It's just the fingernail isn't quite right, obviously."
Greg Johns is a reporter for MLB.com. Follow him on Twitter @GregJohnsMLB, read his Mariners Musings blog, and listen to his podcast. This story was not subject to the approval of Major League Baseball or its clubs.