Holland says farewell to 'Wild Thing' look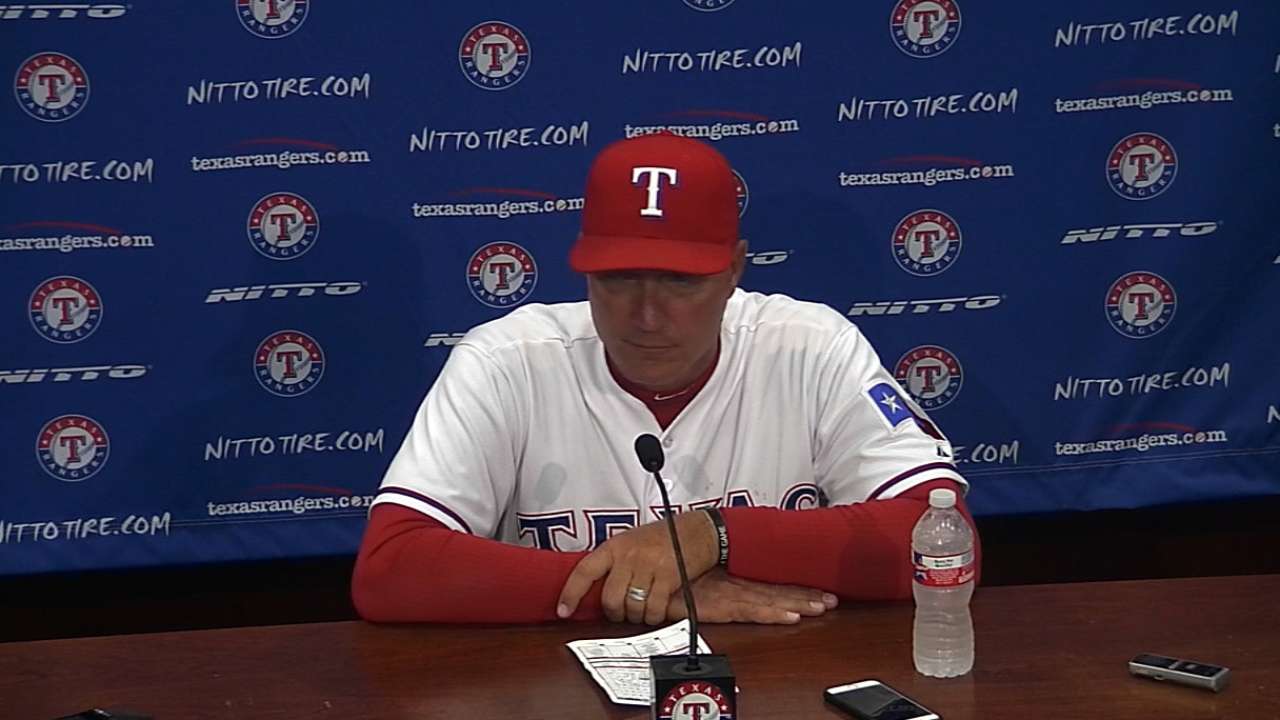 HOUSTON -- Derek Holland has shaved his head, and the "Wild Thing" look is no more.
Holland didn't cut his hair because he's trying to change his luck. It's all about there being no excuses as he gets ready for Saturday's start against the Astros.
"People want to blame my hair for the way I pitch," Holland said. "It's not my hair throwing the baseball."
Holland sported the "Wild Thing" haircut for a while, but the look really gained notoriety after he met the actor Charlie Sheen -- who portrayed Ricky "Wild Thing" Vaughn in the "Major League" films -- in Anaheim. That was after his last good start, on Sept. 5, when he held the Angels to one run in eight innings. He is 0-2 with a 9.00 ERA in three starts since then.
"When it's going good, nobody cares about my hair," Holland said. "One bad outing, and it's the hair. I'm tired of it. I don't want to deal with it."
Holland attributes his struggles to a lack of execution with his pitches.
"I'm not hitting the spots I need to hit," he said. "I have been working on it and plugging away, but I just have to execute better. It's just something that goes as the game progresses. I'm not hitting my spots like I need to, and my stuff is not sharp. But if I don't have my best stuff, I still have to find a way."
Manager Jeff Banister said it all comes down to fastball command.
"Locating his fastball and putting his fastball inside when he needs to," Banister said. "It sets up every other pitch. It makes his breaking ball more dynamic and makes his changeup better when he spots his fastball. That's what we would like to see. He has been off for a while, and he hasn't pitched consistently the past two years. You are going to have some of that."
Saturday will be Holland's eighth start since he returned after missing four months with a torn muscle in his left shoulder. He was 3-0 with a 2.15 ERA in his first four starts before hitting this skid.
"I'm fine, everything is good," Holland said. "Obviously, I'm frustrated, but I am not going to let it get to me. I've got to go out there and improve and do my job. I have had a couple of bad outings. No excuses."
Worth noting:
• Josh Hamilton is two weeks removed from minor surgery on his left knee, and he continues to have good days running the bases and shagging fly balls in the outfield. The Rangers are growing optimistic that he is getting close to being more than just a pinch-hitter.
• Minor League pitchers Cole Wipers and Tyler Phillips were brought to Houston on Friday to throw a simulated game against Hamilton, Leonys Martin and other Rangers who aren't getting regular at-bats.
• Shortstop Elvis Andrus played in his 150th game of the season on Thursday. It's the fifth straight year in which he played that many games, tied for the second-longest streak in club history. Michael Young played in at least 150 games for 10 straight seasons, and Rafael Palmeiro and Ruben Sierra did it for five straight.
T.R. Sullivan is a reporter for MLB.com. Read his blog, Postcards from Elysian Fields, follow him on Twitter @Sullivan_Ranger and listen to his podcast. This story was not subject to the approval of Major League Baseball or its clubs.