Yost doesn't regret resting regulars in defeat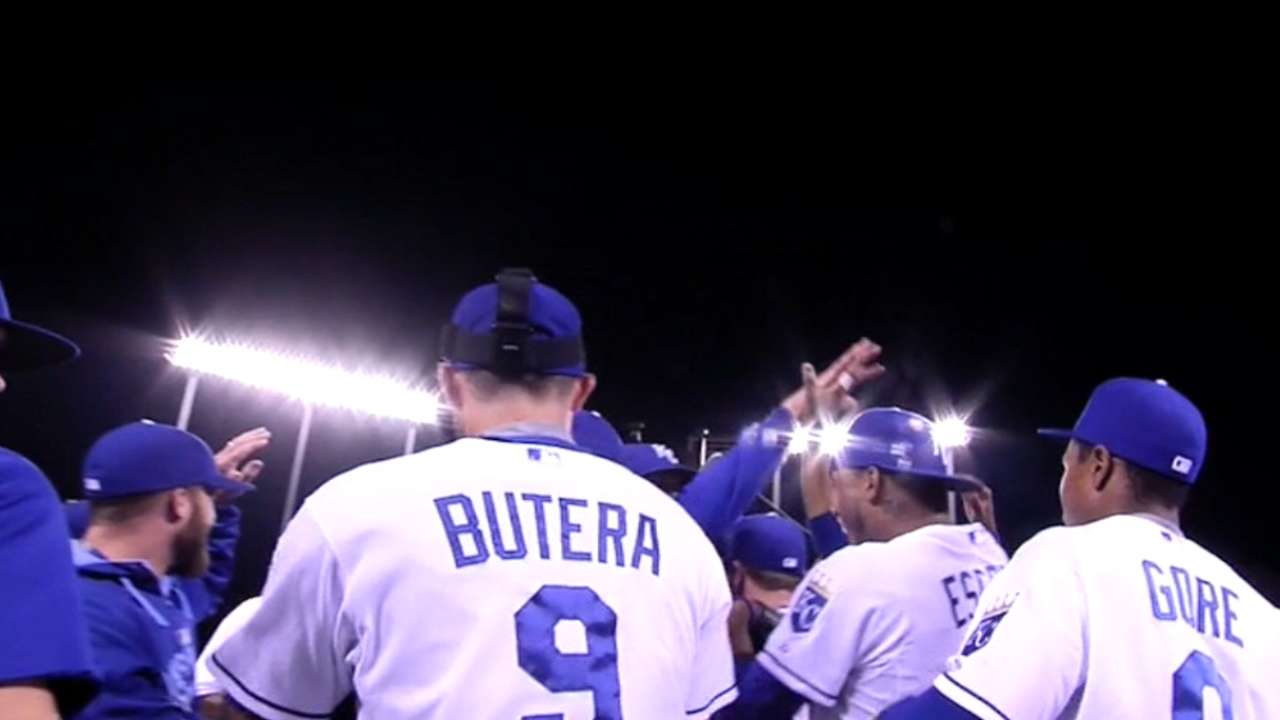 KANSAS CITY -- A day after the Royals clinched their first division title in 30 years, manager Ned Yost kept most of his regulars out of the starting lineup in a 6-0 loss to the Indians, a move that stirred up the Royals fan base on Twitter and on the talk shows.
Cries of "Minor League lineup" and "Omaha Royals" and "white-flag lineup" lit up Twitter.
Here's what Yost wheeled out Friday night: Jarrod Dyson CF, Ben Zobrist 2B, Alex Rios RF, Paulo Orlando LF, Jonny Gomes DH, Cheslor Cuthbert 3B, Christian Colon SS, Drew Butera 1B, Francisco Pena C, with Edinson Volquez on the mound.
"I've got the best bench in baseball tonight," Yost deadpanned before the game.
Then Yost explained, "These guys have been going at it hard lately and it was a special day yesterday. I'm just going to let them catch their breath. We go back after it tomorrow. I'm giving them a day to kind of relish in it."
The Royals entered Friday two games ahead of Toronto for home-field advantage throughout the postseason, but the lead fell to just one with the Blue Jays' 5-3 win over the Rays. Tribe starter Carlos Carrasco threw a one-hitter, striking out 15.
"I don't' regret it," Yost said of his lineup. "What they accomplished last night was special, hadn't been accomplished in 30 years, and I wanted to give them a full opportunity to celebrate that. Know that they could come to the park today without having to worry about playing. We'll get back after it tomorrow.
"We accomplished the main goal we wanted to in the regular season, and now it's on to the secondary goals. We wanted to win the division. We did that. We were focused on winning the All-Star Game so we can get home-field advantage in the World Series. We did that. Now it's just about home-field advantage from here on."
The lineup caught the attention of Indians manager Terry Francona.
"Shoot, I think it was just a matter of time," Francona said. "They've put together a pretty good year. They have the right to do whatever they want to get themselves ready. I've never bought into the [idea] that we have to play certain lineups. When you win, you've earned the right to do whatever you want. It's up to you. That's their right."
Jeffrey Flanagan is a reporter for MLB.com. Follow him on Twitter at @FlannyMLB. This story was not subject to the approval of Major League Baseball or its clubs.