Tribe gives Brantley time to rest sore shoulder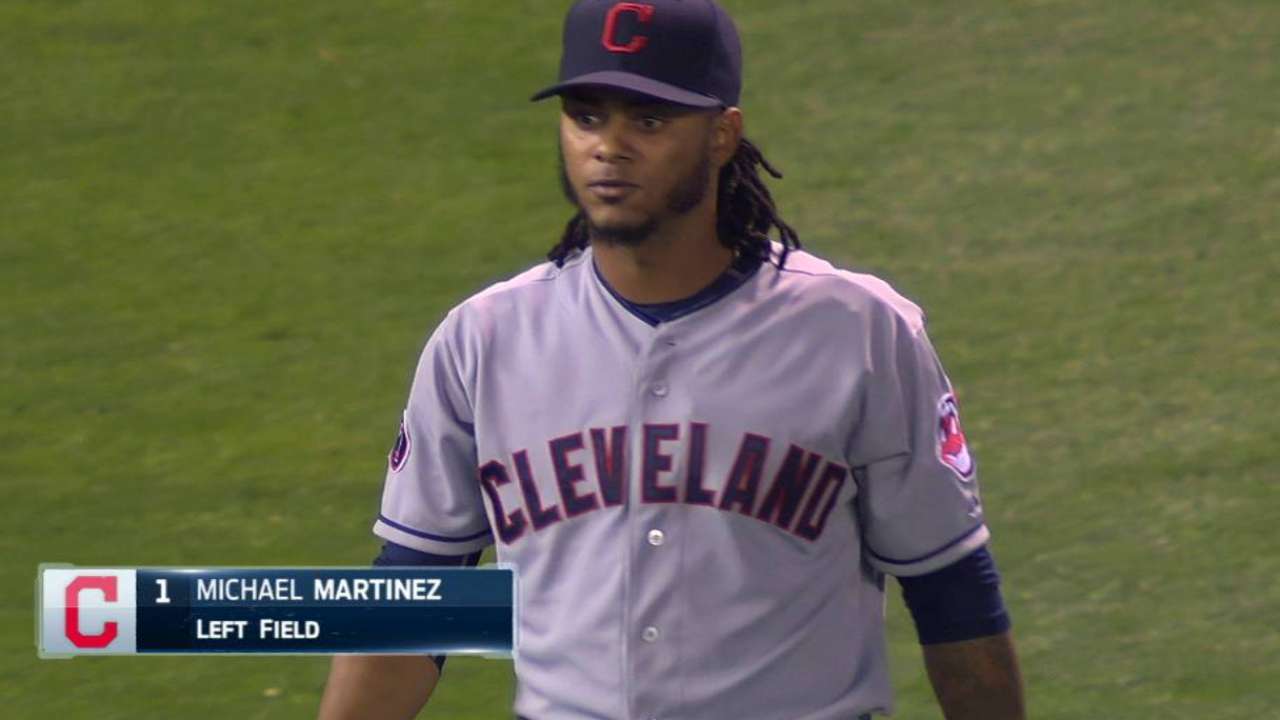 KANSAS CITY -- Indians outfielder Michael Brantley arrived early at Kauffman Stadium on Friday, determined to return to the lineup after a two-game hiatus to rest a sore right shoulder. Manager Terry Francona went as far as penciling Brantley's name into his initial starting nine.
Roughly 45 minutes before the series opener against the Royals, though, Francona pulled Brantley from the lineup, electing to give his star outfielder one more day of recovery. Brantley has played through a variety of ailments all season, earning plenty of praise from Francona.
"One, you appreciate the fact that he's staying on the field," Francona said before Friday's game. "Two, he's been able to still be productive. That's not always easy, and I know it's been hard for him at times. But, I just think with [however many games] we have left, seeing how bad he wants to play, that's a really good thing."
Following Friday's 6-0 win over the Royals, Francona said Brantley felt some discomfort in his arm during batting practice before the game, adding that it was unlikely that the outfielder would start on Saturday.
Brantley's production has been a tick below his American League Silver Slugger Award-winning showing last season, but his offensive output this year takes on a new look when considering the circumstances. Brantley began the year battling a back issue that plagued him since early spring. He has also missed games at points this season due to issues with both shoulders.
On Tuesday, Brantley jammed his right shoulder on a diving catch attempt in the third inning against the Twins at Target Field.
Even with the health issues, Brantley has hit .314 with 14 steals, 15 homers, 45 doubles, 84 RBIs and more walks (58) than strikeouts (50) through 135 games. Brantley is five doubles shy of joining Grady Sizemore, Albert Belle, Odell Hale, Johnny Hodapp, George Burns, Tris Speaker and Nap Lajoie as the only Indians with 50 or more doubles in a season.
It has been a physically trying season at times for Brantley.
"I agree with that, yeah," Brantley said. "But at the same time, it's about getting out there and, when you're there, just staying focused on the task at hand. ... I pride myself on trying to play as many games as possible, going out there and battling through anything and everything, if I can."
Smoke signals:
• Francona likes having expanded rosters in September, but he said on Friday that he would be in favor of teams submitting a fixed and equal roster number before each game in the final month. Said Francona: "I'm all for calling guys up. I think it's great, but I think every night, you should have to submit a roster so it stays the same for each team. I don't care what the number is -- 30 or 32 -- but don't have one team have 38 and the other team have 30. It's too much."
• Rookie third baseman Giovanny Urshela (right shoulder soreness) played catch prior to Friday's game and has shown improvement over the past couple days, according to Francona. The manager said the team is weighing whether to, "get him back in there or, because he's feeling better, to let him go [back to Cleveland]. So, we're kind of walking through that now with the medical staff, trying to figure it out. We're trying to balance winning, but also his health."
Jordan Bastian is a reporter for MLB.com. Read his blog, Major League Bastian, follow him on Twitter @MLBastian and listen to his podcast. This story was not subject to the approval of Major League Baseball or its clubs.