Tulo 'excited' about how recovery is going
Blue Jays shortstop taking swings and fielding grounders, but no return date set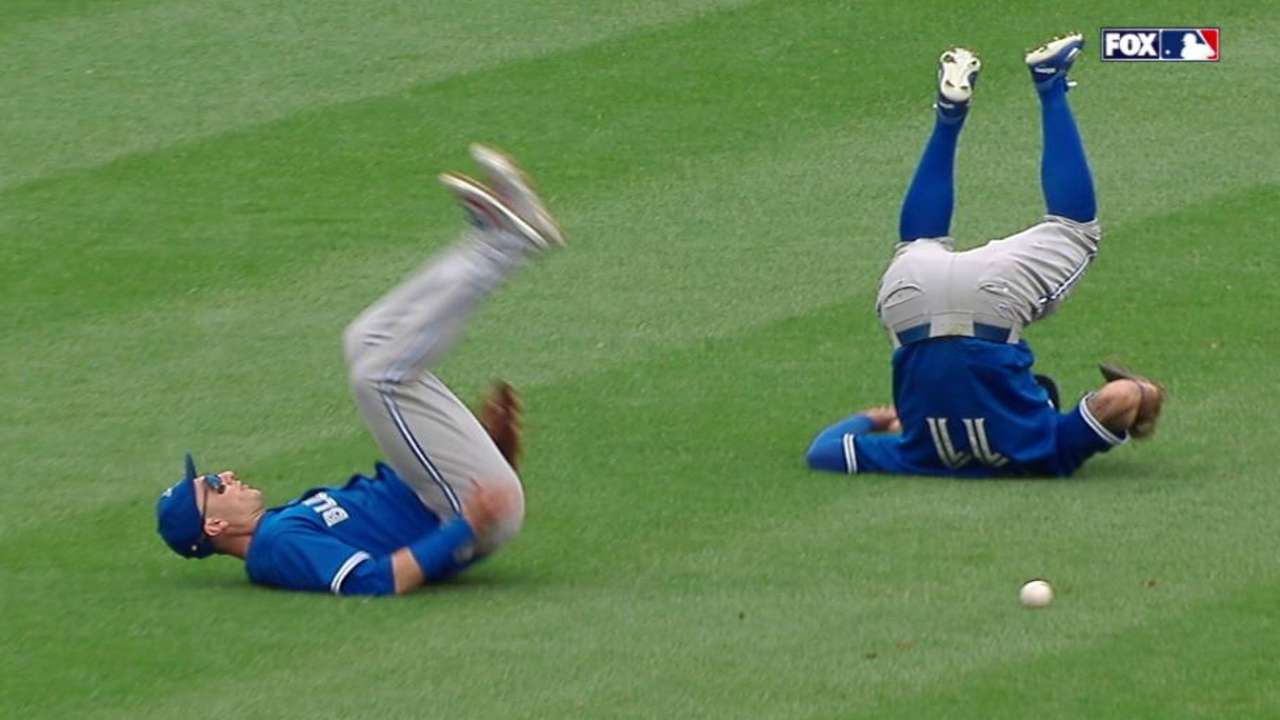 TORONTO -- Troy Tulowitzki continues to progress in his recovery from a cracked left shoulder blade, but there's still no timetable for his return to the Blue Jays' lineup. The All-Star shortstop swung off a tee on Thursday, and on Friday he took grounders at Rogers Centre.
"Feel like I'm moving a lot better," Tulowitzki said. "I said from the beginning swinging was gonna be the last thing, so now I'm going in, taking light swings off the tee, nothing major yet. But I'm definitely excited with the direction I'm headed."
Tulowitzki, who was acquired in July from the Rockies, has been sidelined since Sept. 12 after colliding with teammate Kevin Pillar as they both attempted to make a play on a fly ball in a game against the Yankees. He visited a specialist last week before rejoining the team to continue his rehab.
Tulowitzki said getting back into the lineup ahead of a potential Blue Jays postseason appearance isn't important. With the club on the verge of making the postseason for the first time since 1993, he said it would be "ideal" to get into game action before the end of the regular season, but not essential.
"If my shoulder doesn't allow for me to do that, it's not like I'm worried about going into the playoffs without any swings," he said. "It's playoff baseball. You got out there and grind out at-bats anyway, play good defense."
Tulowitzki is batting .232 with five homers and 17 RBIs in 39 games with the Blue Jays. He has a .278 average with 17 homers and 70 RBIs on the season.
While the math shows Toronto is in the playoffs, it can bust out the champagne with a win.
Based on the standings, the Blue Jays can clinch a playoff berth with a win over the Rays or an Angels loss to Seattle. But based on the remaining schedules for the Halos, Astros and Rangers, only two of the three AL West contenders can finish 88-74. (The Angels and Texas currently have 74 losses, the same as Toronto.) If that result were to happen, one AL West team would win the division, another would win an AL Wild Card spot, and the third would be eliminated with at least 75 losses. Toronto is thus guaranteed of at least an AL Wild Card berth.
Jamie Ross is an associate reporter for MLB.com. This story was not subject to the approval of Major League Baseball or its clubs.