Thompson delivering more than a Trayce of power
Successful big league stint propels rookie into offseason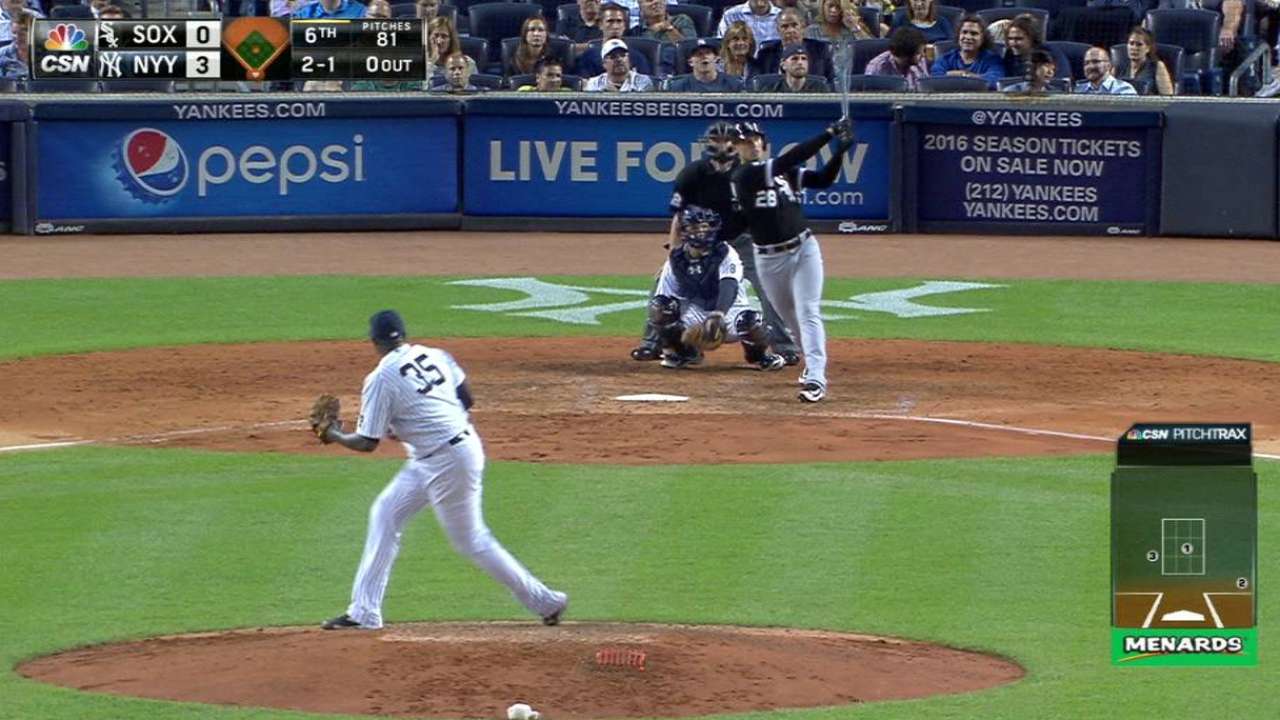 NEW YORK -- There have been times during Trayce Thompson's Minor League career when the outfielder hit for power.
In fact, Thompson posted five seasons with more than 20 doubles and four with at least 15 home runs. But something appears to have clicked with Thompson's offensive approach during the 98 plate appearances since joining the White Sox.
The rookie is hitting for power and for average, a combination that had previously eluded him as the 24-year-old climbed the organization's ranks. Thompson spoke about trying to backspin the ball during batting practice and in his cage work where the power surge is concerned, but this switch dates back to personal work leading into the 2015 campaign.
"I know that a guy with my stature, I'm supposed to drive the ball," said Thompson, the No. 14 prospect in the organization, according to MLB.com. "So, that's one thing this past offseason I really worked on, making sure I was taking my hacks and not just going up there and try to feel for something.
"Make sure I can go up there, especially before two strikes, and let it fly. Sometimes, the bigger I get, I'll get jammed or something. That's not necessarily a good thing. I know if I take a small, short, simple swing, sometimes the results are bigger. At the same time, I try to make sure I don't get cheated up there."
Since joining the White Sox, Thompson's at-bats and his in-game adjustments have been something to watch.
He struck out with the bases loaded against New York's Michael Pineda on an elevated 95-mph fastball to end the third inning on Thursday. In his next at-bat to open the sixth, Thompson crushed a 92-mph Pineda fastball for his fifth home run. And in the seventh, against Dellin Betances, whose stuff ranks high up on the filthy meter, Thompson took two borderline pitches at 1-2 in the count and eventually walked to force home a run.
Of Thompson's 28 hits for the White Sox, 15 have gone for extra bases. That power potential can be explored a little deeper this offseason through talks with his hitting partner and good friend, Nolan Arenado, who leads the National League in RBIs and ranks second with 39 homers.
This productive stint with the White Sox certainly puts Thompson into play for 2016, with his slick glove work already well-known. It also provides a boost for Thompson as he moves into his offseason regimen.
"It's just kind of validating for me to know that I can do it up here," Thompson said. "It's also taught me that the game is still the same. This is the same game as it was when you were in A ball.
"My swing can get a lot shorter. I'm a longer-limbed guy and so I'm always going to have problems or issues making my swing as short as I can. But I've been up here and have had some success and I'm going to try to keep the ball rolling. I feel like this has kind of motivated me to work even harder and make sure I can really stay up here and make a name for myself."
Scott Merkin is a reporter for MLB.com. Read his blog, Merk's Works, follow him on Twitter @scottmerkin and listen to his podcast. This story was not subject to the approval of Major League Baseball or its clubs.