Many Cubs to find out postseason fate late
Chicago can clinch spot with San Francisco loss to Oakland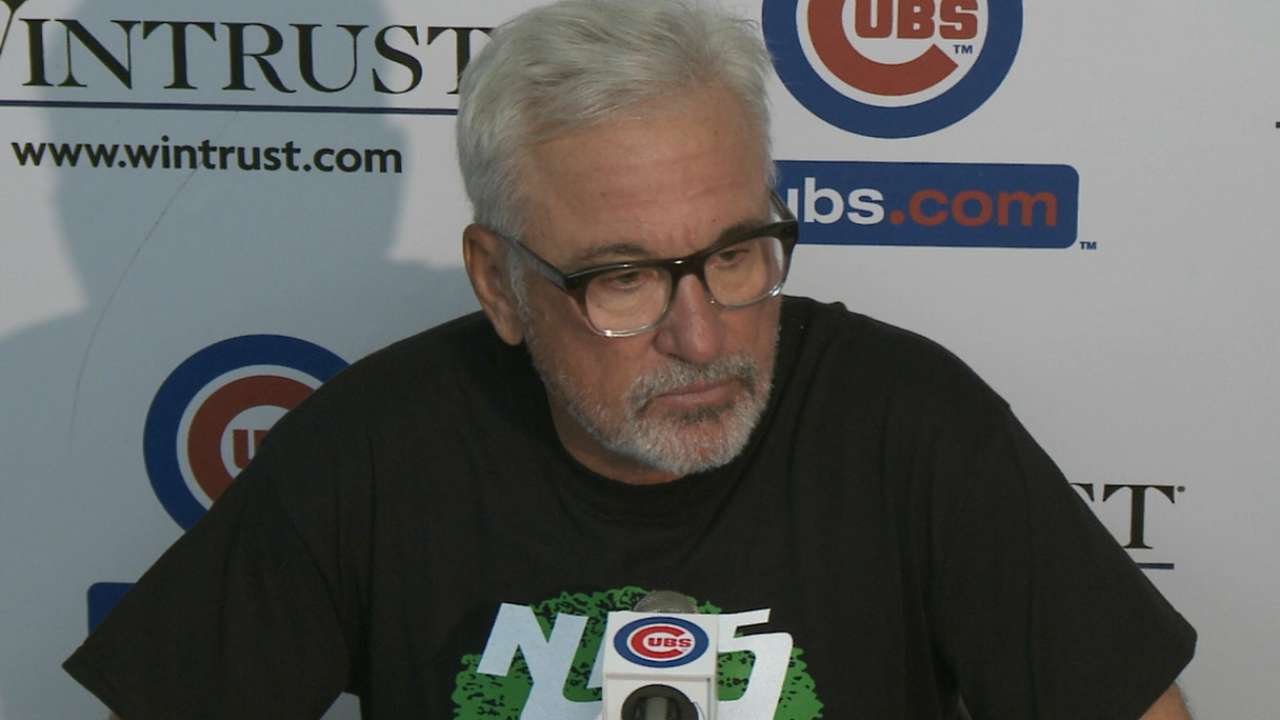 CHICAGO -- Despite a 3-2 loss to the Pirates on Friday, the Cubs could still clinch a playoff spot if the Giants lose to the Athletics in Oakland. Most of the Cubs will likely be asleep.
Chicago and Pittsburgh meet on Saturday at 12:05 p.m. CT at Wrigley Field, and the early wake-up call doesn't leave much room for late-night celebrating if the Cubs do advance. It would be their first trip to the postseason since 2008.
Chicago manager Joe Maddon didn't plan on staying up.
"We have a noon game [Saturday]," Maddon said. "Probably when I have to go to the bathroom at night, I'll check."
He's not alone. Did starting pitcher Jon Lester plan on staying awake?
"No chance," Lester said. "We'll show up [Saturday] and hopefully celebrate and have a good time and let these guys who have never experienced this really enjoy it. I know we have another week or so to go. A lot of things can happen. Not too many guys get the chance to play in the postseason."
The Cubs do party pretty hard after wins, celebrating with loud music and disco lights.
"We're not a team that misses out on a celebration," Chris Coghlan said. "We're a team that celebrates."
The 40,432 at Wrigley Field on Friday were hoping to spray champagne. Not yet.
"Maybe somebody will celebrate on their own," David Ross said. "I'd rather wait until [Saturday]. These old bones don't get up too early after a late night of drinks. I'll probably watch the [Giants] game. We've got a nooner [Saturday]. I'd rather celebrate after. We can sleep in after Saturday night for Sunday. That's my hope."
Chris Denorfia can't wait.
"I've been knocked out [of the playoffs] the last day of the season twice in my career," Denorfia said. "That's as close as I ever got. I'm looking forward to hopefully wrapping this up."
If the Giants do lose, and the Cubs are at their respective homes, how will they party?
"Maybe via text?" Maddon said.
Carrie Muskat is a reporter for MLB.com. She writes a blog, Muskat Ramblings. You can follow her on Twitter @CarrieMuskat and listen to her podcast. This story was not subject to the approval of Major League Baseball or its clubs.