Lorenzen eager to explore bullpen mindset
Reds to use righty as reliever, emergency starter in effort to control his innings count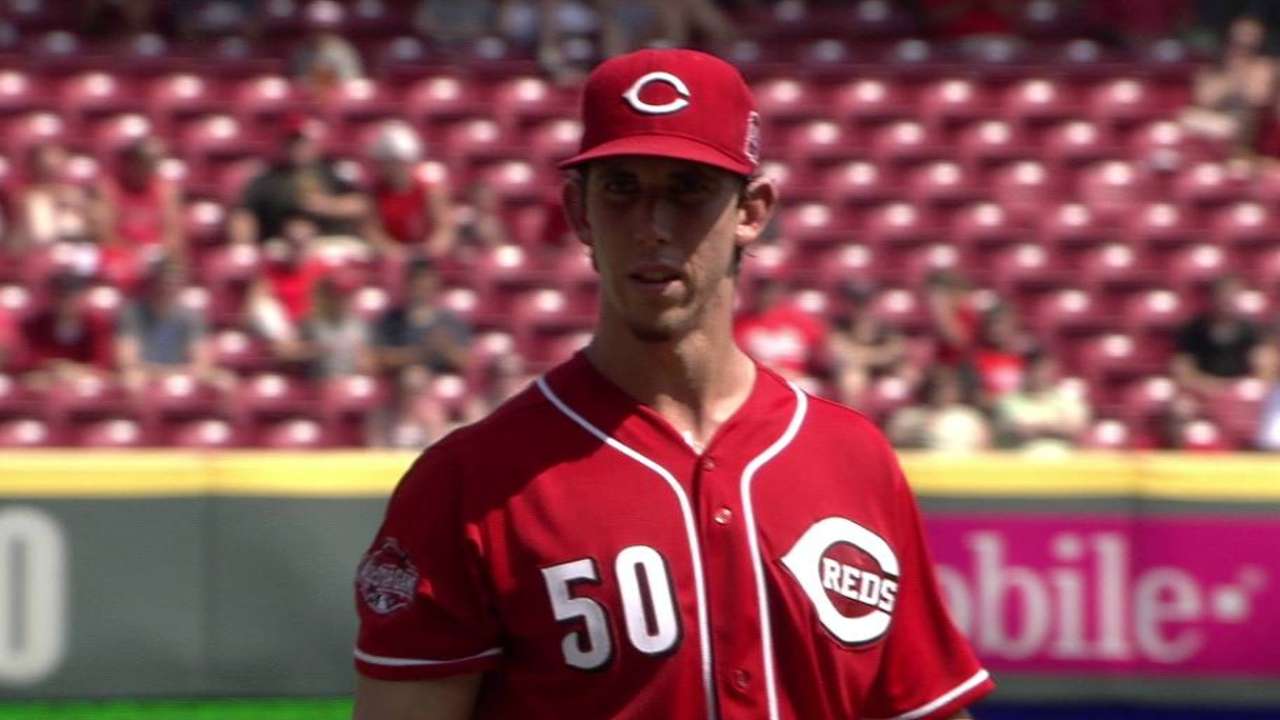 CINCINNATI -- Michael Lorenzen is a starting pitcher, one who could be a member of the Reds' rotation for years to come.
"The sky is the limit for that guy," catcher Tucker Barnhart said.
What Lorenzen is still trying to determine at the end of his first Major League season is whether he thinks like a starter.
"I'm still trying to figure out who I am," Lorenzen said Friday, a day after having worked a scoreless inning during the Reds' 6-4 loss to the New York Mets, his third relief appearance of the season. "It is a different mindset. Some people say relief pitchers need a more aggressive mindset. But if you look at [Clayton] Kershaw and [Max] Scherzer, they're pretty fiery."
The Reds have been trying to control Lorenzen's innings count, which sits at 152 2/3 between Cincinnati and Triple-A Louisville. Manager Bryan Price said he would like to give Lorenzen enough work out of the bullpen to keep him sharp for an emergency start.
"He's pitched plenty this year," Price said. "But, realistically, if anything happens to any of our five starters, he's the guy who, most likely, would be the one to make one of those starts."
The Reds are currently working with an all-rookie rotation of Anthony DeSclafani, John Lamb, Keyvius Sampson, Josh Smith and Brandon Finnegan. The 12-man bullpen includes Lorenzen, who has made 21 starts and three relief appearances -- two in May, the other Thursday.
Lorenzen said he is intrigued to see how his sampling of life in a big league bullpen might benefit him in the future.
"Mentally, there is a difference," said Lorenzen, who was ranked as the team's No. 3 prospect by MLB.com in 2014. "If I do get another start, it would be interesting to see if I can do what I did [Thursday]. I believe I can."
The 23-year-old right-hander is 4-9 with a 5.50 ERA for the Reds. His ERA through July 9 was 3.53, which Barnhart said is a more accurate indicator of his ability.
"I caught him a couple times in Double-A, and I have seen him really mature and learn a lot of things," Barnhart said. "He's incredibly gifted. But at times, even he will admit, he gets a little mechanical. Getting out of his own way is important for him. If he can do that, he could have a very impressive career."
Andy Call is a contributor to MLB.com. This story was not subject to the approval of Major League Baseball or its clubs.