Darling, Ripken amped for Rangers-Astros
TBS set for finale featuring more than state pride at stake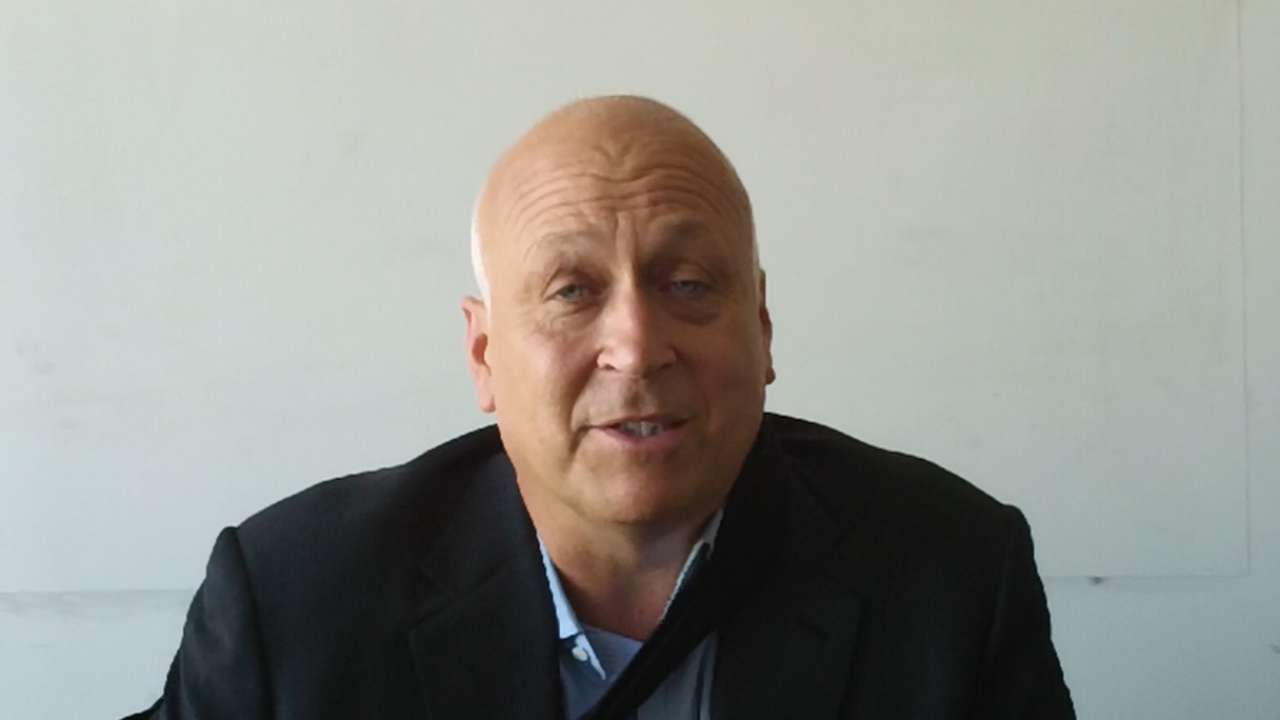 Sunday's series finale at Minute Maid Park will mark the final meeting of the regular season between the Rangers and Astros in their hotter-than-ever intrastate rivalry -- barring a potential one-game playoff or a possible meeting in the American League Championship Series.
That 2 p.m. ET game will be the second-to-last on the 2015 MLB on TBS weekly Sunday schedule, leading into the broadcaster's coverage of all subsequent National League postseason action. With the AL West title and Texas pride on the line, MLB on TBS analysts Ron Darling and Cal Ripken Jr. said they can't wait to see how it all turns out for two of the Majors' biggest surprises.
"When Houston moved back to the American League, it was pretty interesting, because I always played against them when they were a National League ballclub, and I think they anticipated someday that this would be an intrastate rivalry. And they've got it full-blown this year," said Darling, who started Game 3 for the Mets at Houston during a memorable 1986 NL Championship Series, before starting three games in the World Series.
"So to have Texas and Houston; Texas is a team that most people discounted, and made a trade for [Cole] Hamels and others in the middle of the season that changed their team. Houston, with all their young players, after they've gone six years with a team that's been under .500, I think it's beautiful to watch. Both are underdogs, both are trying to win that AL West title, and I think it's nice to show bragging rights for Texas for the summer."
On Aug. 23, TBS broadcast the Astros' 3-2 victory at home over the Dodgers, and at that point, Houston had a four-game lead over the Rangers. Texas made its move at the start of this month, taking over the AL West lead on Sept. 15. They entered this three-game series with the Rangers holding a slight edge, with the Angels right behind the Astros, and one of the two AL Wild Cards might also come from this three-team race.
"Houston is a surprise by all accounts, and the way they play and the way they've swung the bats, hit a lot of home runs, and the way they've pitched -- they're not a team where a lot of things happened by accident," Ripken said. "They're a good, good team. Texas has now caught them, and they've fallen back a bit, but it seems like Houston is getting it back again and making their push. I'm excited about the series [and] the excitement in the ballpark.
"Texas has been a little bit of a surprise because we thought they were still in a little bit of a rebuilding mode. They surprised everyone by getting Cole Hamels. They're playing some really good baseball. I think it's all about playing hot baseball when you get down to the end. Those are the teams that have proven in recent years that they can go further into the playoffs. The Texas team is a very dangerous team right now, but I wouldn't put it past Houston to regain and try to get that foothold back into first place."
Ripken said he considers the Rangers and Cubs the two "hot teams" from each league, if you're looking for a club to watch heading into this final stretch. He also said he likes what he has seen from the second Wild Card addition, instituted for the 2012 season.
"I'm ecstatic that there are so many teams that are still kind of in it," he said. "The whole idea of that second Wild Card and the play-in game, I love that. There has been a lot of talk that they should make it a two-out-of-three series, but I love the fact that there's a seventh-game sort of feeling. You played all season long and you're a Wild Card, it really values winning the division.
"We see everybody pushing down the pedal through the end of the season, and I like that personally."
Dusty Baker, who managed the Giants, Cubs and Reds to postseason appearances, joins the MLB on TBS studio crew for Sunday's game. He will provide studio analysis along with Hall of Famer Pedro Martinez and former slugger Gary Sheffield.
"Johnnie B is one of my favorite guys of all-time," Darling said of Baker. "I played against him, I watched him manage, I would like to say I'm a good friend of his. To have that managerial presence in the studio is so important, because there are 100 decisions that are made. Sometimes we only reflect on the two or three. Dusty will be on top of all 100, and be able to talk about them, along with Pedro and Gary."
Mark Newman is enterprise editor of MLB.com. Read and join other baseball fans on his MLB.com community blog. This story was not subject to the approval of Major League Baseball or its clubs.