Tanaka throws bullpen session, eyes return
Right-hander could start against Red Sox next week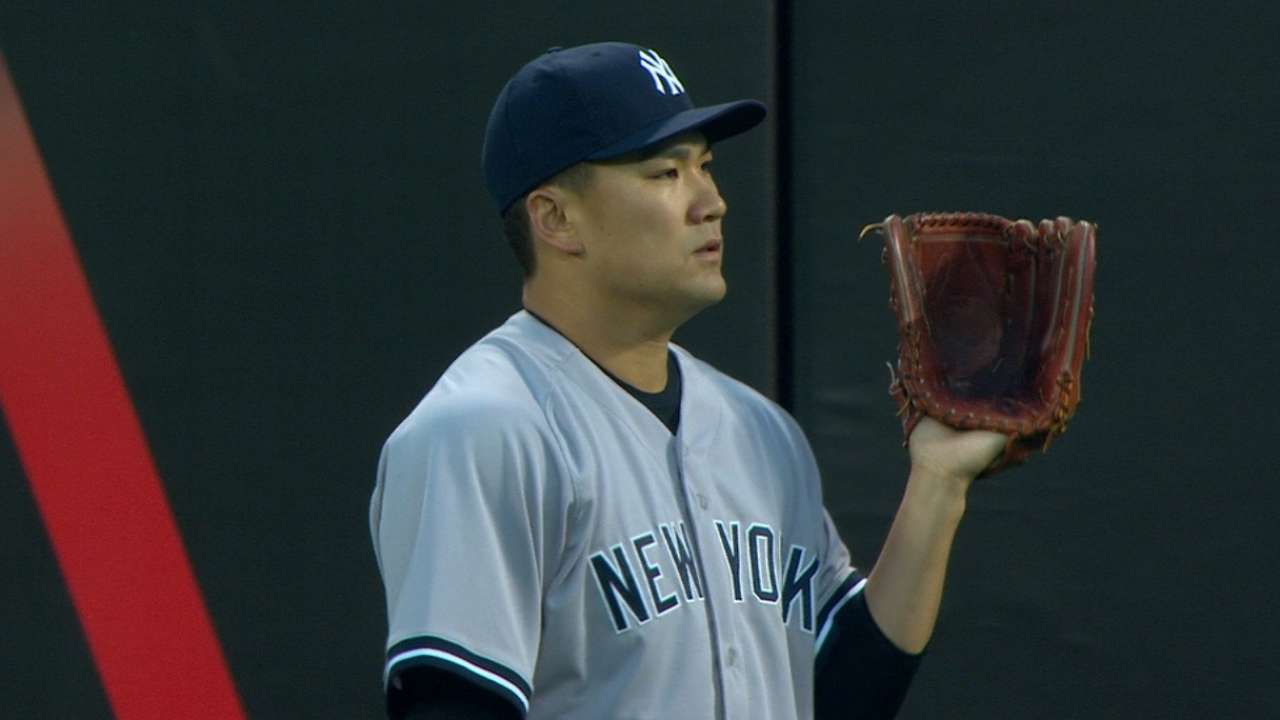 NEW YORK -- Masahiro Tanaka said he still hasn't fully recovered from the Grade 1 right hamstring strain he sustained last week, but the right-hander threw a bullpen session on Friday and believes that he will be ready to return to the Yankees' rotation early next week.
"It's not completely gone. I wish it was gone, but it's a strain, it's still there," Tanaka said through an interpreter. "I think the good sign is that I was able to throw a pretty good bullpen today. It's definitely moving toward the right direction."
Tanaka said he threw 31 pitches -- a normal amount for him -- and was able to use all of his pitches.
Yankees manager Joe Girardi is hopeful that he can reinsert Tanaka into the rotation early next week when the Red Sox come to New York.
• Yankees continue to fight division long shot
"It's definitely getting better and better each day," Tanaka said. "But we want to see how I feel [Saturday] after the bullpen session thrown today. I guess we'll wait and see how I feel tomorrow."
Through 23 starts, Tanaka is 12-7 with a 3.38 ERA. He indicated that he'll likely feel the strain for the rest of the regular season and has not yet run at full speed, nor performed fielding drills. But he had no issue saying that he could pitch with 100 percent strength.
After the Yankees fell to the White Sox, 5-2, Friday night, Girardi said the club will have to decide what the next step for Tanaka is in terms of getting him ready to start again.
"I think the one thing is, we didn't expect him to be 100 percent today. We wanted to have him throw a bullpen to keep things going," Girardi said. "I really think you have to see how he feels the next couple days and your decision is do you have him do another bullpen before he starts or do we think that he's ready to start a game?"
Asked if Tanaka would be the leading candidate to start a potential American League Wild Card Game presented by Budweiser, Girardi wasn't ready to commit to anything.
"We have not clinched anything in a postseason," said Girardi, whose club maintains a 4 1/2-game lead over Houston for the top AL Wild Card. "So we need to win games, and when you get to a point and we have clinched something and we know exactly what will happen, then we'll set things up. But I think it's premature to set things up right now."
Grace Raynor is an associate reporter for MLB.com. This story was not subject to the approval of Major League Baseball or its clubs.