Freeman persevering through wrist injury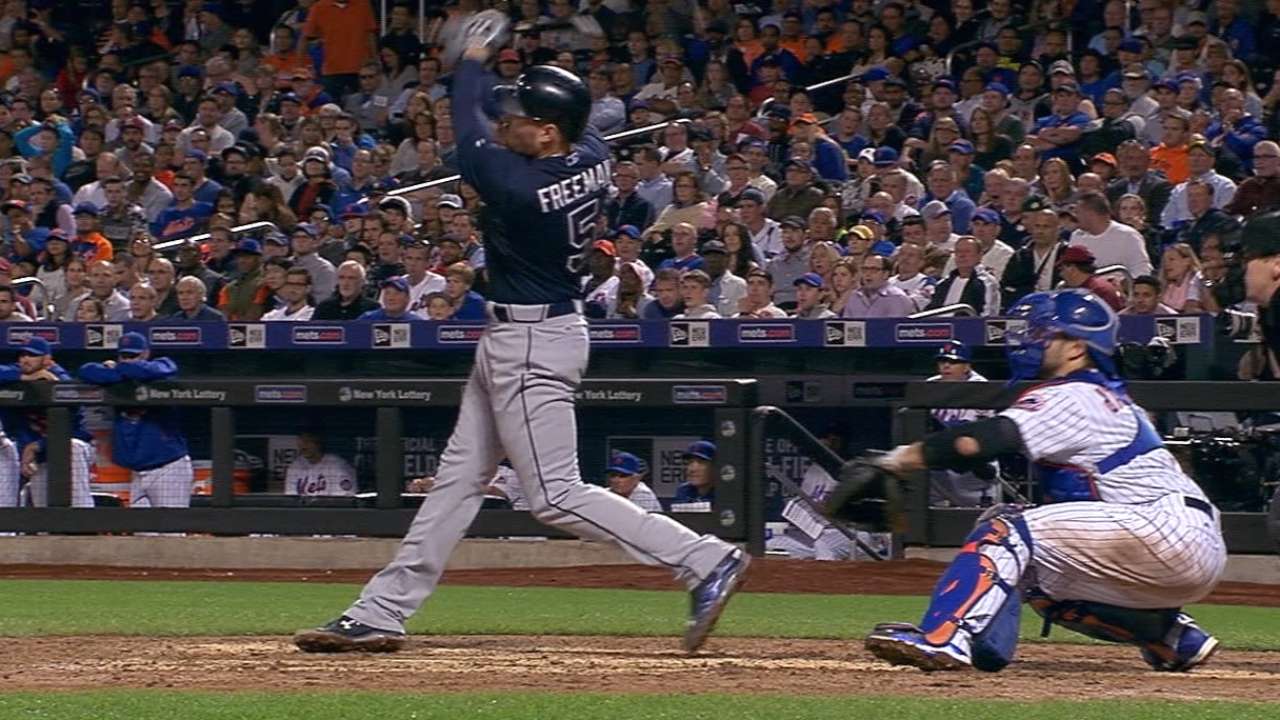 MIAMI -- With just over a week remaining in the season and the Braves out of the playoff race, Atlanta first baseman Freddie Freeman -- battling a sore right wrist -- knows he wouldn't catch any flak for shutting down his injury-plagued season early.
However, the two-time All-Star refuted talk he's done for the season before Friday's series opener in Miami.
"That's not gonna happen," Freeman said. "I don't care how far we are out or how many games under .500, if I'm able to play, I'm gonna play. I am in pain, but it's not enough pain to keep me out of the lineup, so I'm gonna play all the way until the end."
After not starting on Wednesday in New York, the left-handed hitter returned to the three-hole and went 3-for-4 with a two-run homer and three runs scored in the Braves' 12-11 loss vs. the Marlins on Friday. Despite initially being out of the lineup against the Mets, Freeman entered in the seventh inning and finished 2-for-2 with five RBIs -- including a decisive three-run homer in the ninth.
Prior to coming off the bench, the 26-year-old took 11 swings in order to loosen his sore right wrist and oblique -- the injuries that sent him to the disabled list on three different occasions this season. He said he plans to take the same approach on Friday, skipping batting practice altogether.
"I'll just take enough swings to go out there and play," Freeman said. "It's gonna be a battle and a grind to get through these nine games, but I'm gonna give it my best effort to go out there and play and hopefully I'll have the same results as Wednesday."
Manager Fredi Gonzalez commended his slugger for his persistence to battle through injuries and finish the season.
"That's his character. He wants to play and he wants to compete," Gonzalez said. "He knows what his name in that lineup means to our lineup. I think he learned that from Chipper [Jones] and guys like [Brian] McCann."
Despite all his bumps and bruises throughout the season, Freeman has still hit .283 with 18 home runs and 66 RBIs in 111 games this year.
Other than making just 20 appearances for Atlanta during his rookie campaign of 2010, this season will by far mark the least amount of games for Freeman. He played in 157 in 2011, 147 in both '12 and '13, and all 162 last season. Still, he's going out with a fight this year.
"I'm not gonna sit on the bench," Freeman said. "I don't think it's gonna get worse, but obviously it's not gonna get better until the offseason. I can still swing, but you'll see grimaces as games go on. It's gonna hurt -- and I know it's gonna hurt -- but I'll be able to get through."
Steve Wilaj is an associate reporter for MLB.com. This story was not subject to the approval of Major League Baseball or its clubs.