Capps shut down, Stanton decision coming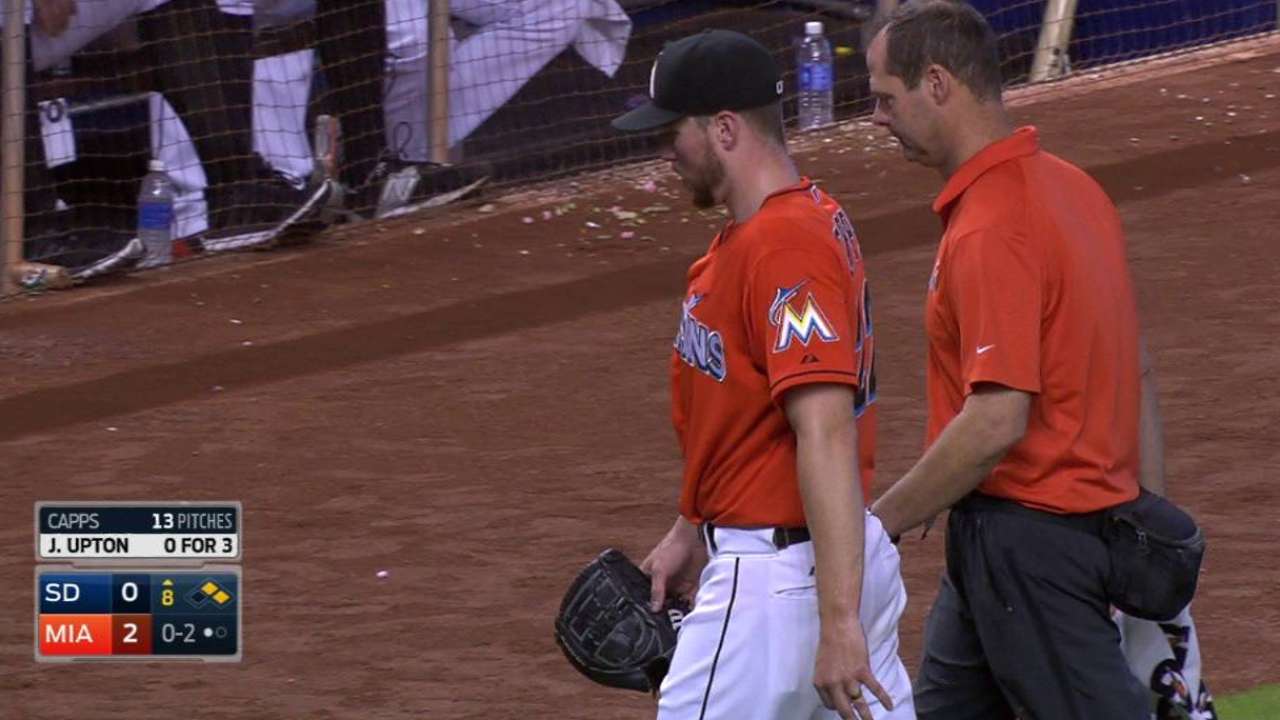 MIAMI -- The 20 pitches Carter Capps threw on Thursday in a simulated game will end up being the final tosses by the right-hander this year. Capps is still experiencing discomfort, the Marlins have decided to shut down the 25-year-old.
Time also is running out on Giancarlo Stanton, who also is trending toward being ruled out from returning. A decision on the All-Star will be made in the next few days.
"I think we're getting close to that, where [Stanton] either is going to have a yea or a nay, really within the next couple of days," manager Dan Jennings said. "He's at that point where he either feels like it is worth testing or it's time to shut it down and build for 2016."
Capps, who has been on the disabled list since Aug. 3 with a right elbow strain, was hopeful to be back, perhaps this weekend. At Marlins Park on Thursday he threw effectively in a simulated game.
But after that session, he wasn't feeling right. So the decision was made to not risk further discomfort. Capps, who had a breakout year, expects to be fully ready for Spring Training.
"The sim game went good," Capps said. "I still had a little bit of discomfort. The rehab has been going great. I just unfortunately have run out of time."
Capps said he is dealing with a soft tissue injury, and there is no structural damage to the elbow.
"The muscle is not ready," Capps said. "It's like eight to 10 weeks [recovery] for soft tissue."
Because the injury occurred on Aug. 2, Capps simply ran out of season to come back.
Capps enjoyed a dominating season. His fastball reached as high as 101 mph, and he struck out 58 in 31 innings with a WHIP of 0.81.
"For me, it was the development of the slider," Jennings said. "The slider came forward and he became a different guy. We've talked at length about his delivery, and if it's legal or illegal?"
Capps has an unconventional delivery, where he springs forward off the rubber. MLB said it was legal, as long as his toe drags the dirt toward the plate.
"We saw some real good hitters take very bad swings against him," Jennings said. "I think he turned the corner in a big way."
Stanton, meanwhile, hasn't played since June 26 due to a broken left hamate bone. The slugger hasn't regained full strength in his left pinkie and ring finger, and he is bothered by scar tissue.
Stanton, who belted 27 home runs and drove in 67 runs in 74 games, hasn't taken batting practice the past few days.
The way it sounds, the Marlins will have an answer regarding Stanton before their homestand ends against the Braves on Sunday.
"I know in his mind he's getting close to that," Jennings said. "We'll see where it is."
Joe Frisaro is a reporter for MLB.com. He writes a blog, called The Fish Pond. Follow him on Twitter @JoeFrisaro and listen to his podcast. This story was not subject to the approval of Major League Baseball or its clubs.