Kemp surprises 3rd graders with class visit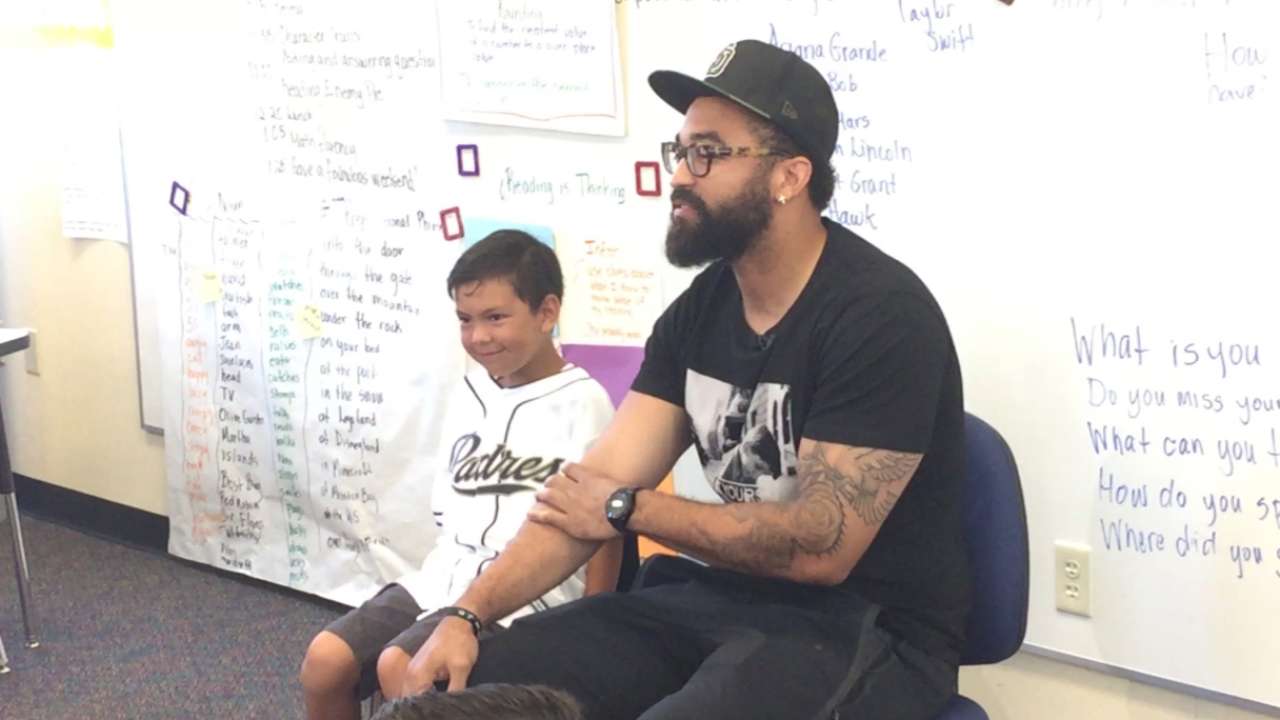 The students in Janet Nees' third-grade class at Hilltop Elementary had just finished writing about their favorite famous person. As a die-hard Padres fan, Daniel Elizarde of Chula Vista, Calif., wrote about his favorite player, Matt Kemp.
Minutes later, the door to the classroom opened, and in walked Kemp. Elizarde -- typically one of the chattiest kids in class, according to his mother -- was left speechless.
Kemp surprised Nees' class with a visit on Friday after Elizarde was chosen as the winner of a back to school style contest; Elizarde's mother had submitted a photo of him in front of Kemp's picture at the team store at Petco Park.
"I wish when I was growing up, Frank Thomas would've walked into my classroom and surprised me," Kemp said with a smile. "I wasn't as fortunate as my little friend, Daniel, but it's good to see him enjoying himself, and I think he got some cool points from his friends."
After Kemp's arrival, he and Elizarde sat at the front of the classroom, while the students asked Kemp questions. Those questions ranged from, "How many home runs have you hit?" (23) to "What's your favorite moment?" (getting his big league callup).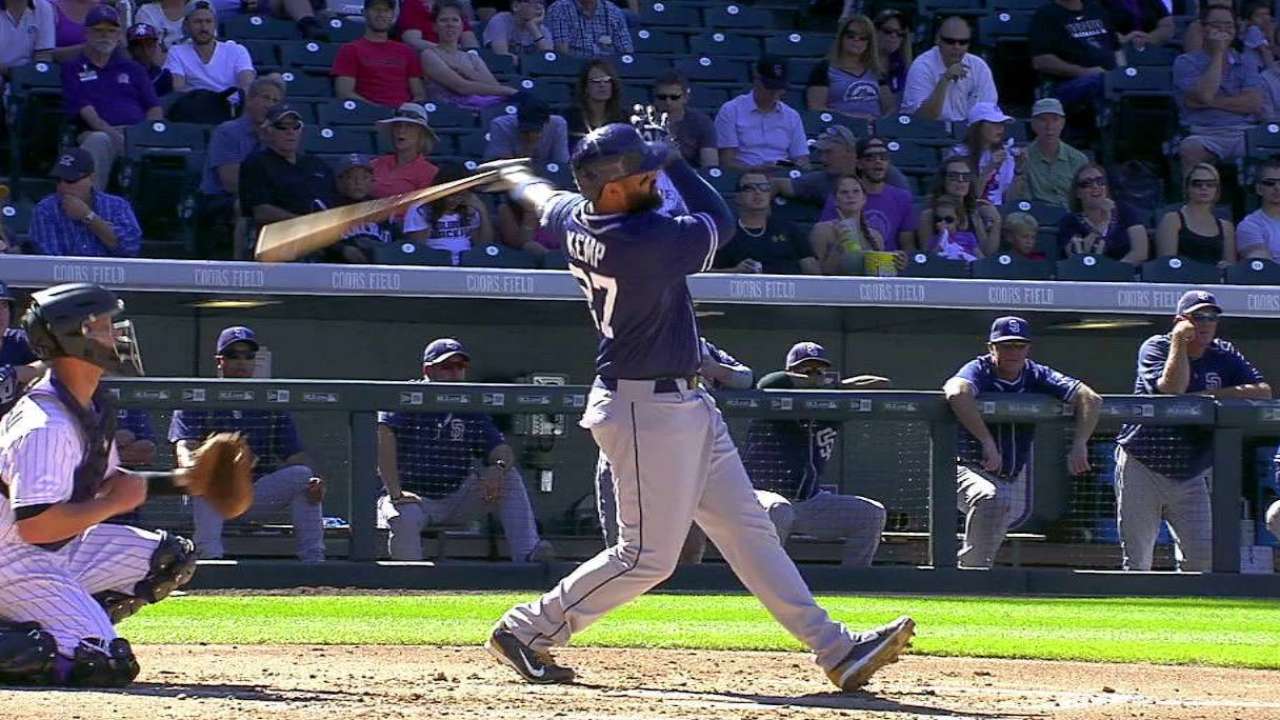 The spontaneous interactions continued for about 15 minutes, with the eager students asking Kemp all sorts of questions about his life.
"It really inspires kids," Kemp said. "It motivates them, and it makes their day. Especially, they might be going through a tough time. ... It might change their life around or just change their day and make them happy."
When Kemp's time in the classroom was finished, he posed for a picture with the students, who were informed that Kemp was the first player in Padres history to hit for the cycle.
Another student next to Kemp chimed in: "Yeah, but Tony Gwynn was one hit away from the cycle 22 times," prompting Kemp to burst into laughter. (Clearly, there is no shortage of baseball knowledge in Ms. Nees' classroom.)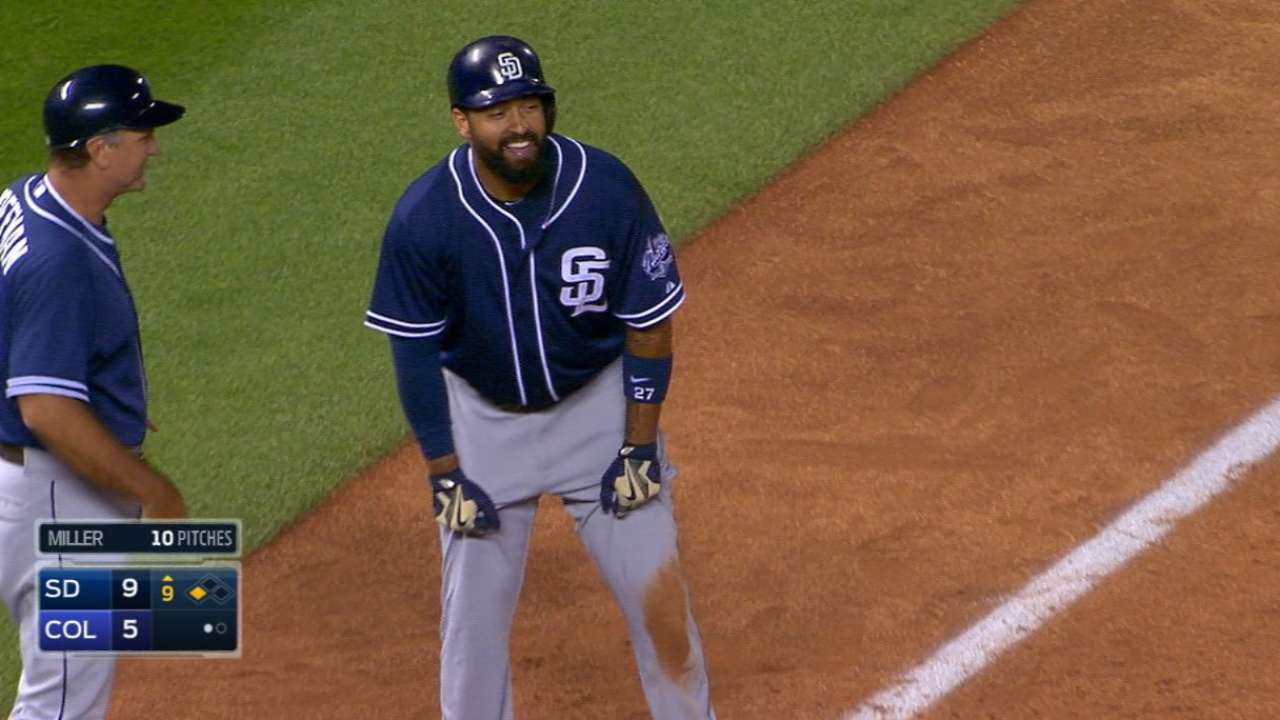 "It's incredible," Nees said. "It created a lot of writing opportunities for us. We need more of this -- people coming in from the community and interacting with the kids. It's a special day."
But Kemp wasn't the only one bringing the surprises. Halfway through the event, Daniel was called aside and given a birthday cake to present to Kemp, who turned 31 on Wednesday. The class broke out into a rendition of "Happy Birthday."
Afterward, Elizarde's mother, Renee Cuevas, said she figures her son "will be talking about this forever."
"All he talks about every single day is either watching baseball, playing baseball -- he played for Little League -- or Matt Kemp, or watching the game," Cuevas said. "It means the world."
AJ Cassavell is a reporter for MLB.com. Follow him on Twitter @ajcassavell. This story was not subject to the approval of Major League Baseball or its clubs.