East mode: Mets at postseason's door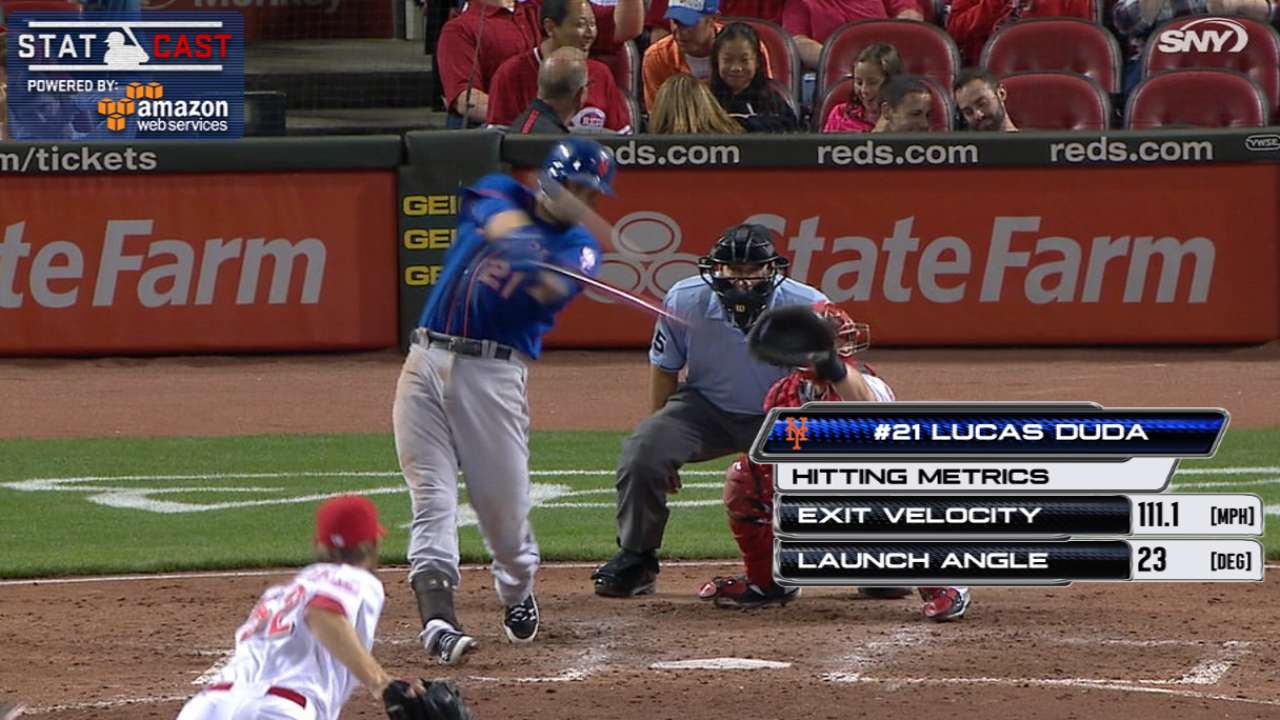 CINCINNATI -- For the first time in nine years, the Mets will play beyond their 162nd game.
They assured themselves that much Friday with a 12-5 thumping of the Reds at Great American Ball Park, fueled by Noah Syndergaard's 7 2/3 dominant innings and Lucas Duda's twin three-run homers. Combined with Washington's loss to the Phillies, the Mets' win ensured at least a tie atop the National League East, priming them to clinch the title outright as soon as Saturday.
"A really good win tonight," was how Syndergaard described it. "Our magic number is one now. We've got our horse tomorrow, [Matt] Harvey, on the mound. I have a pretty good feeling after that we're going to be celebrating."
• Is Syndergaard #AwardWorthy? Vote now for Best Rookie
Topping out at 99 mph, Syndergaard struck out 11 and retired 16 in a row from the third through eighth innings, before Brennan Boesch spoiled his shutout bid with a two-out homer, his first with the Reds. By that point, the Mets held a sizable lead thanks to Duda's three-run shots off Anthony DeSclafani in the third inning and Tony Cingrani in the seventh. Curtis Granderson added his own three-run shot off J.J. Hoover in the eighth.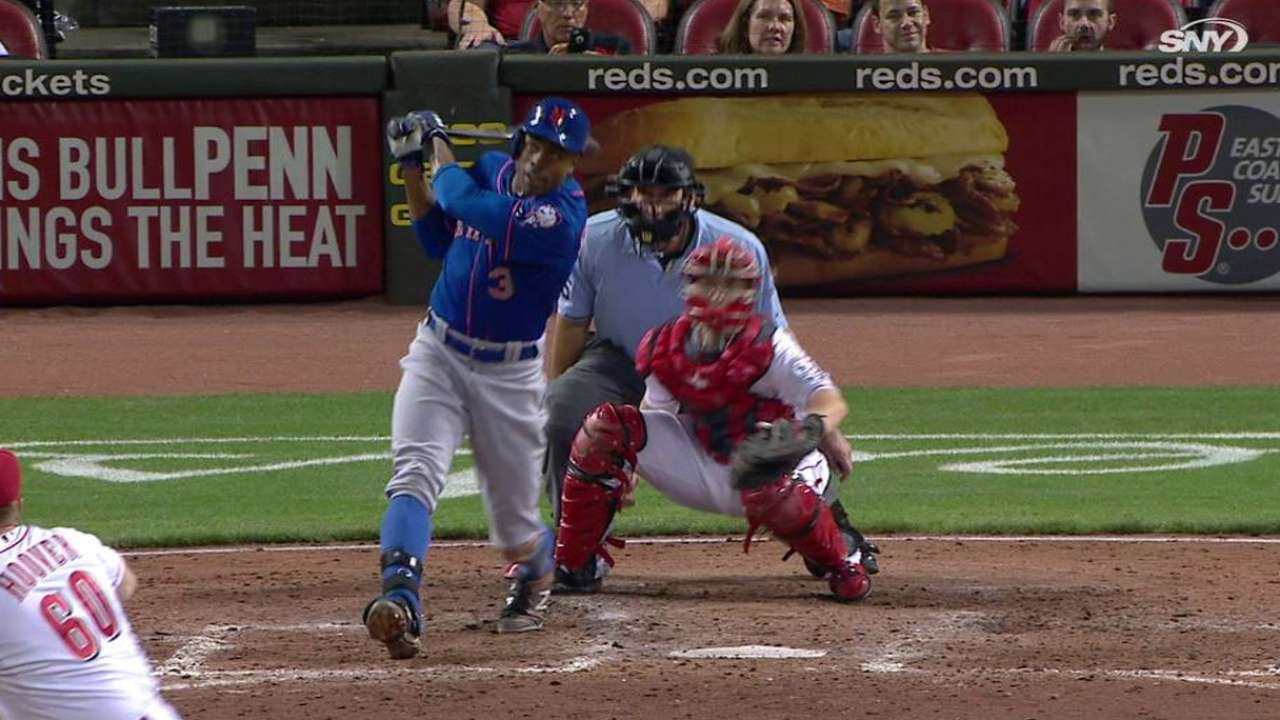 It was not until that inning that the Reds enjoyed some bright moments, including Joey Votto's RBI single that extended his career-high on-base streak to 42 games. Six consecutive Reds rapped out hits off Syndergaard, Eric O'Flaherty and Bobby Parnell in that inning, and Adam Duvall added a solo shot off Tim Stauffer in the ninth.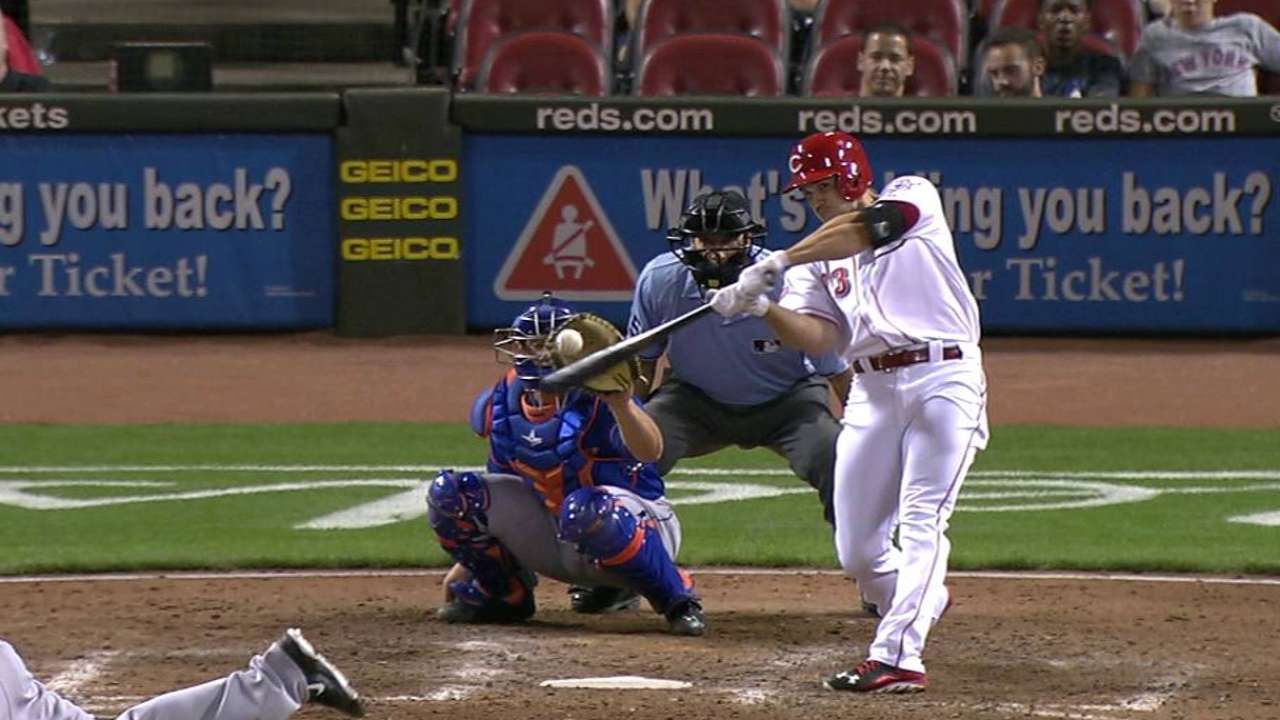 The Mets hardly seemed to notice, whooping and hollering in a vibrant postgame clubhouse. Not long after New York's game finished, the Dodgers lost in Colorado to lift the Mets within a half-game of home-field advantage in the NL Division Series.
"It's a very exciting time," Duda said. "I'm blessed to be a part of this. Hopefully we can handle our business the next couple days and see where we're at."
MOMENTS THAT MATTERED
On point: In addition to matching the second-highest strikeout total of his career, Syndergaard kept his pitch count low enough to last into the eighth, even finishing 2-for-3 at the plate with an RBI single.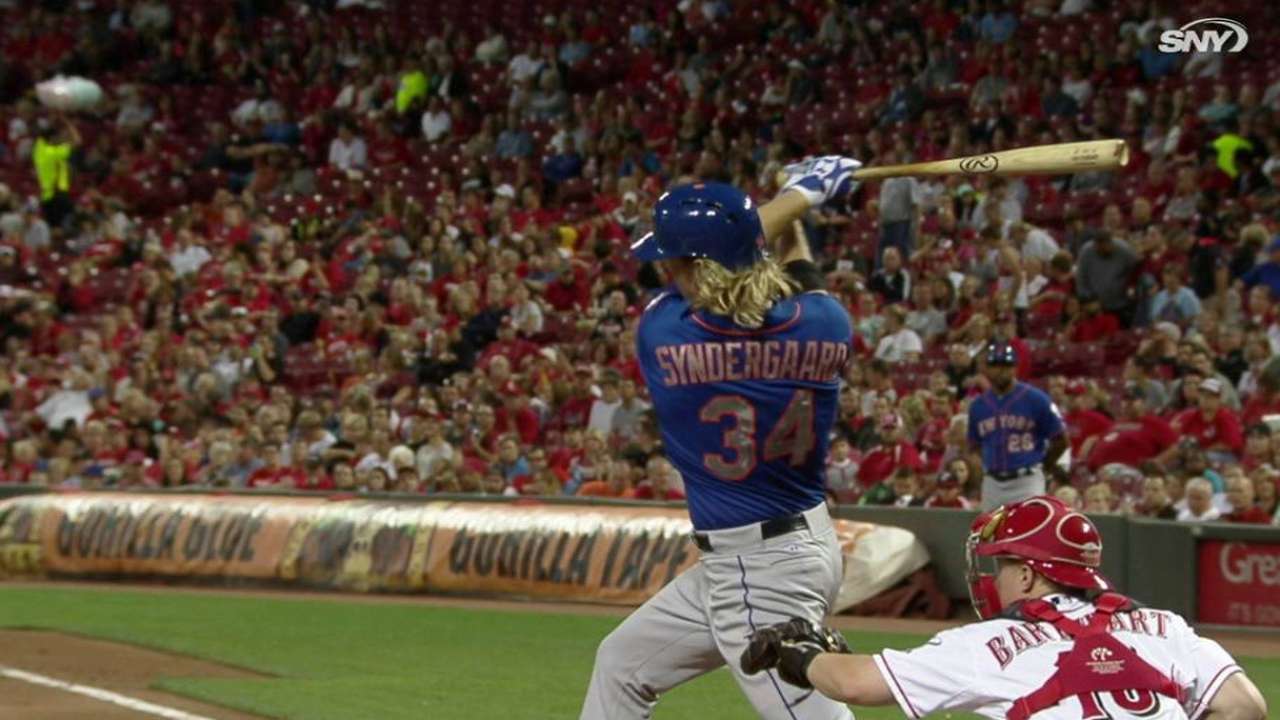 Despite a fastball that sat comfortably at 98 mph all night, Syndergaard mixed up his pitches throughout the outing, relying increasingly on his secondary offerings in the later innings. His final line would have been cleaner had O'Flaherty not allowed his only inherited runner to score. More >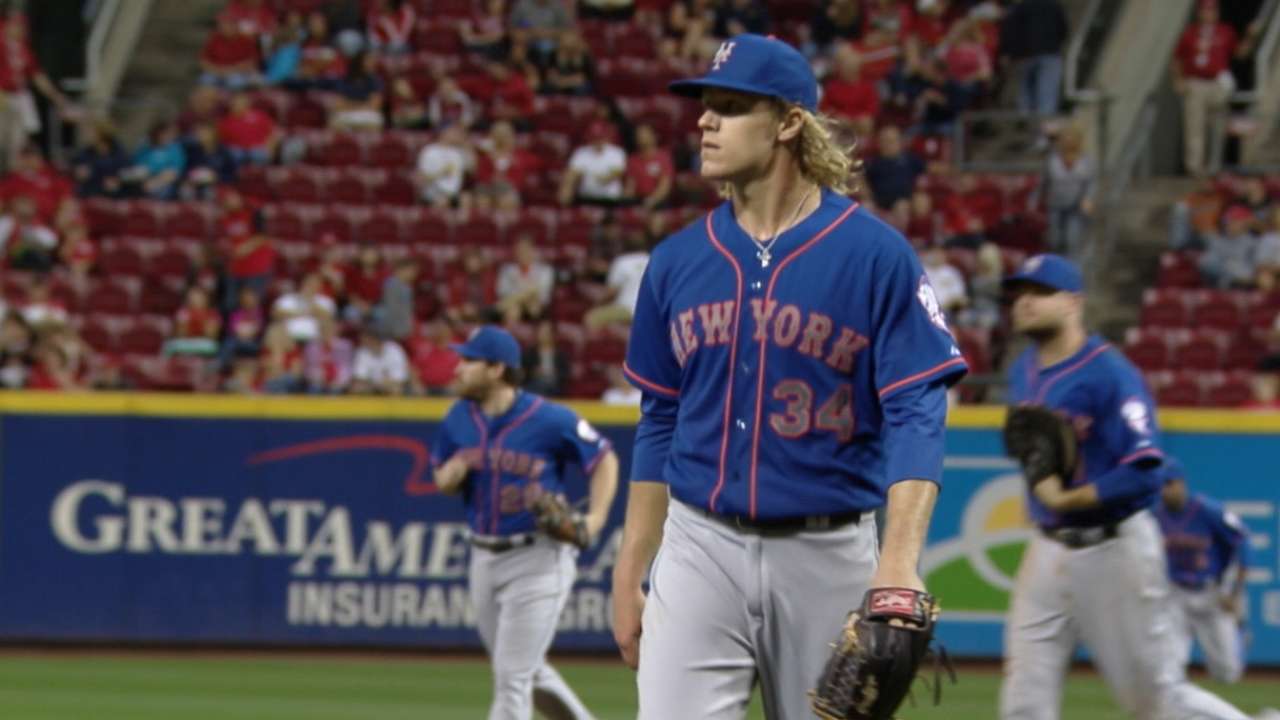 Disco inferno: DeSclafani got off to a rough start, giving up hits to seven of the first 14 New York batters. After serving up Duda's first three-run homer, however, DeSclafani held the next 13 hitless. He struck out the side in the fourth, including Granderson to end the inning, and got Michael Conforto to ground into a 3-6-3 double play to end the sixth.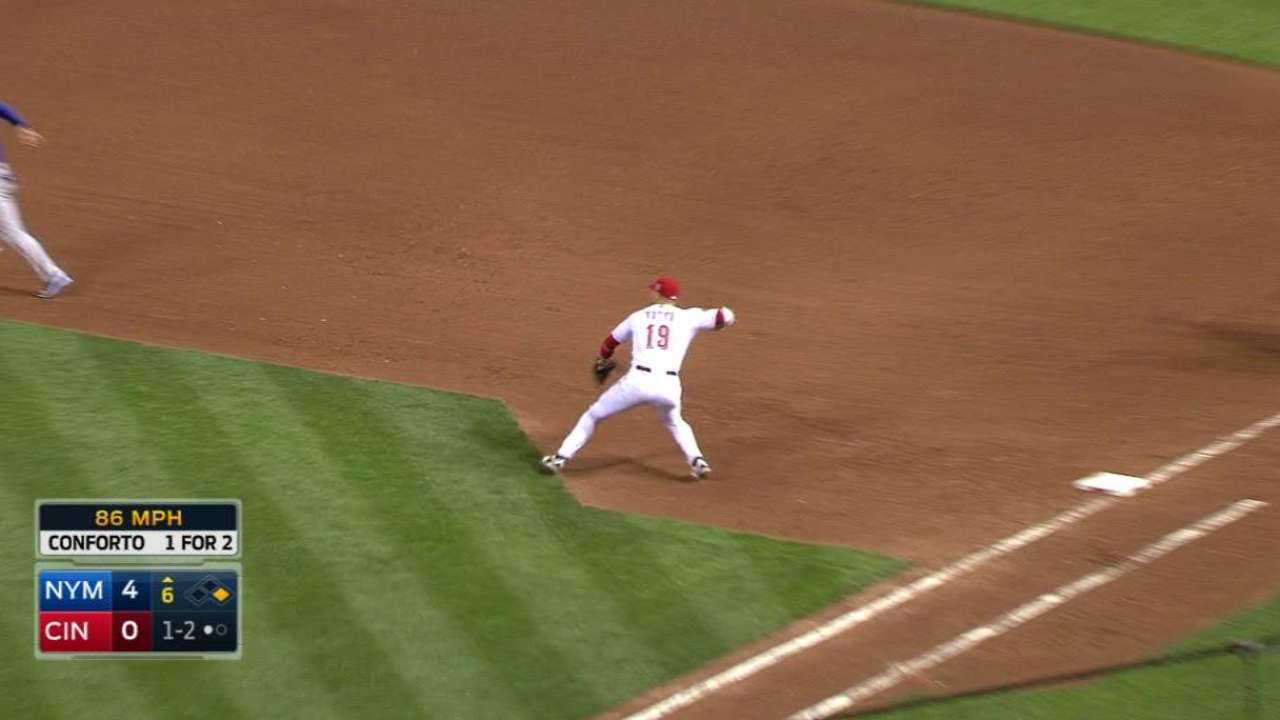 "I was definitely grinding out there," DeSclafani said. "I was glad to make it into the seventh inning."
Duda smashing: Known for his torrid hot streaks and icy cold ones, Duda is currently enjoying one of the former. After ripping his first three-run homer in the third inning, the Mets first baseman upped his RBI count to six with a thunderous seventh-inning blast that Statcast™ projected to land 434 feet from home. More >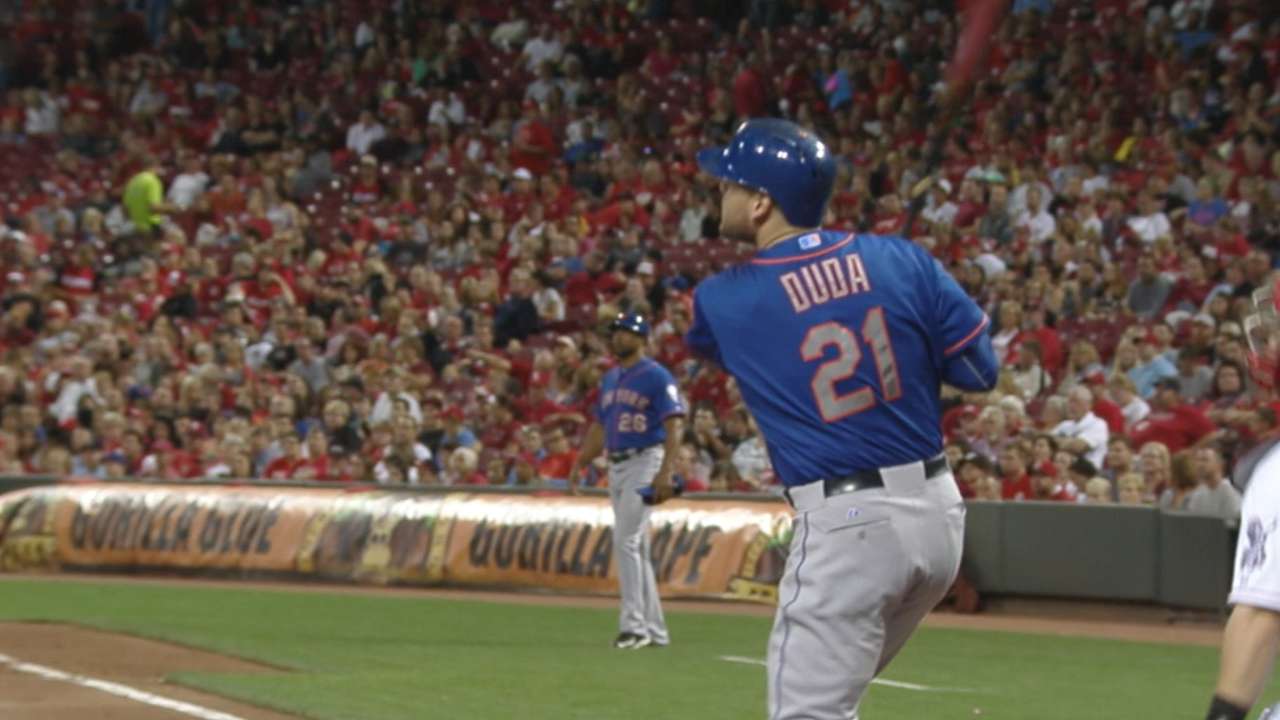 Still streaking: Votto's eighth-inning hit off O'Flaherty set a career high in consecutive games reaching base safely. Votto had also reached in 41 games in 2010. Pete Rose reached in 48 consecutive games in 1978.
"He's still playing with a lot of energy," Reds manager Bryan Price said. "He's busting his tail." More >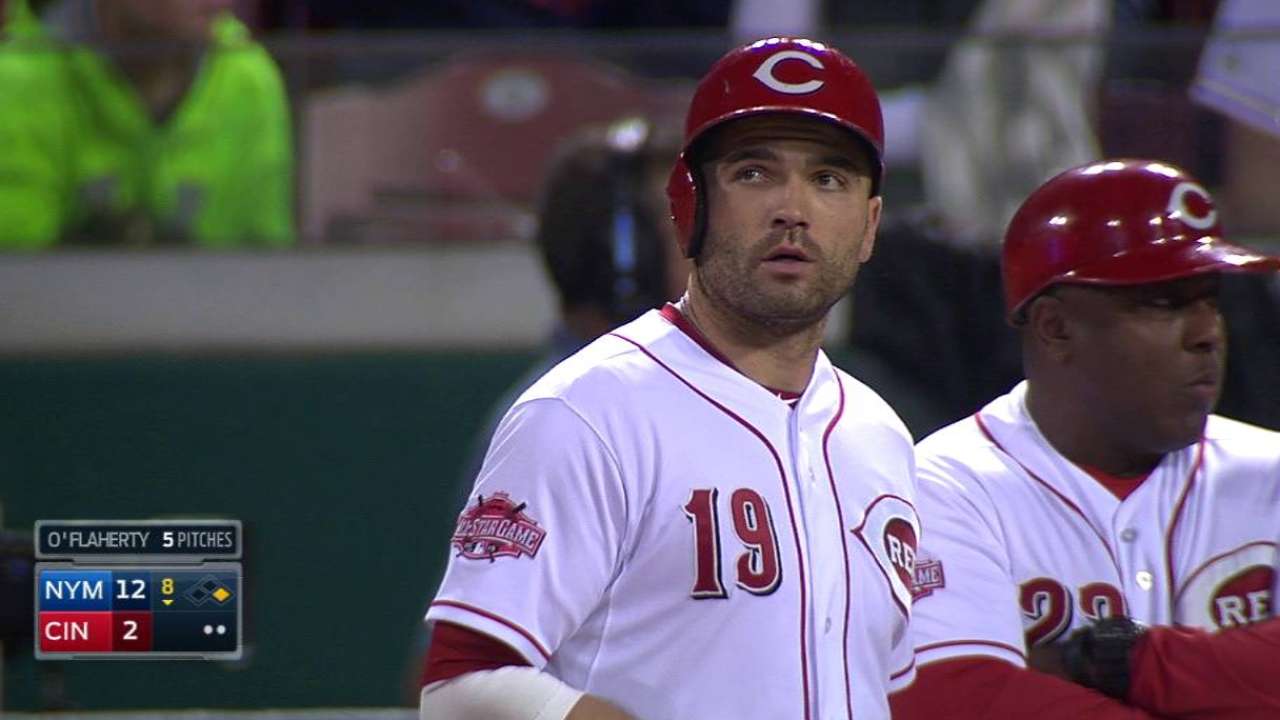 • Is Votto #AwardWorthy? Vote now for Best Major Leaguer
QUOTABLE
"Never did I think when I picked up a baseball when I was 7 years old that I'd be here at 23, pitching for the New York Mets in a postseason race. It's an unbelievable feeling, and I'm extremely blessed to be here." -- Syndergaard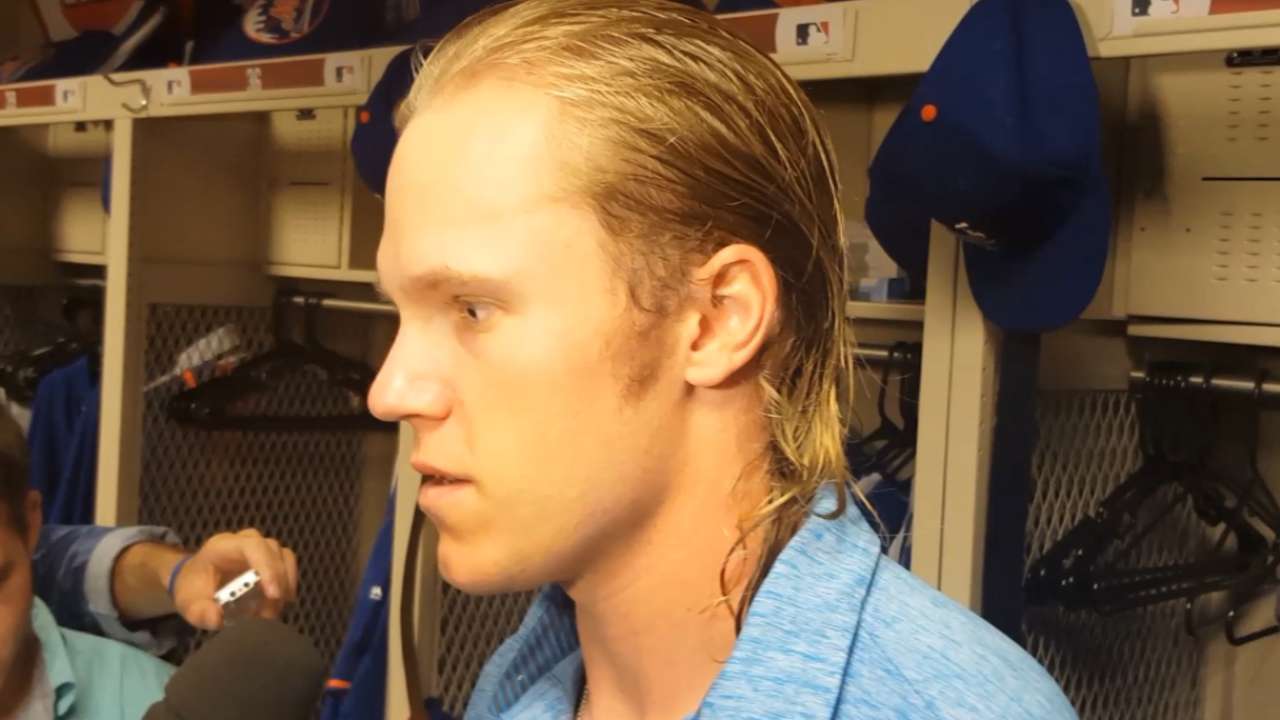 FROM THE TRAINER'S ROOM
Juan Uribe made only a cameo in this one, leaving after aggravating a chest injury during his pinch-hit appearance in the eighth. Uribe missed time last week due to muscle discomfort in his chest. More >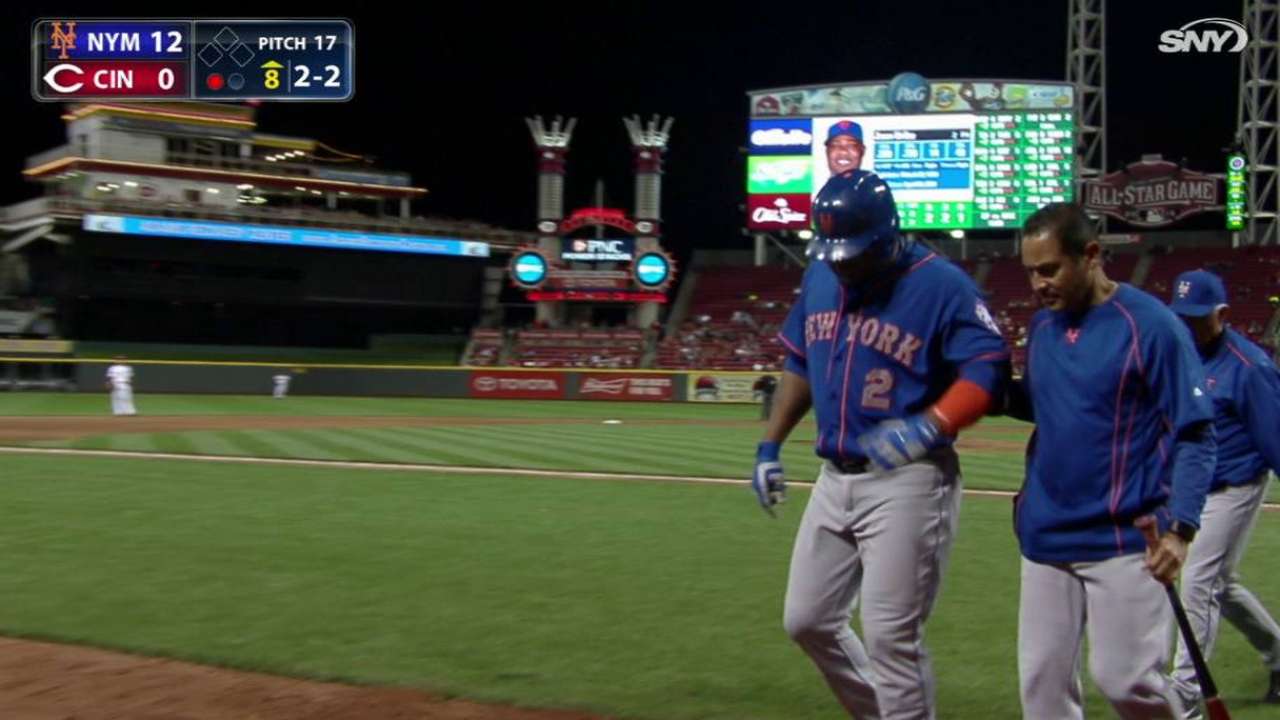 UPON FURTHER REVIEW
With Granderson on second base and one out in the seventh, DeSclafani fired a pitch to the backstop. Granderson attempted to advance to third, but home-plate umpire Angel Hernandez ruled it a foul ball off David Wright's bat. The call stood following a two-minute, six-second replay review, forcing Granderson to stay at second -- at least until Daniel Murphy drove him home with an RBI single.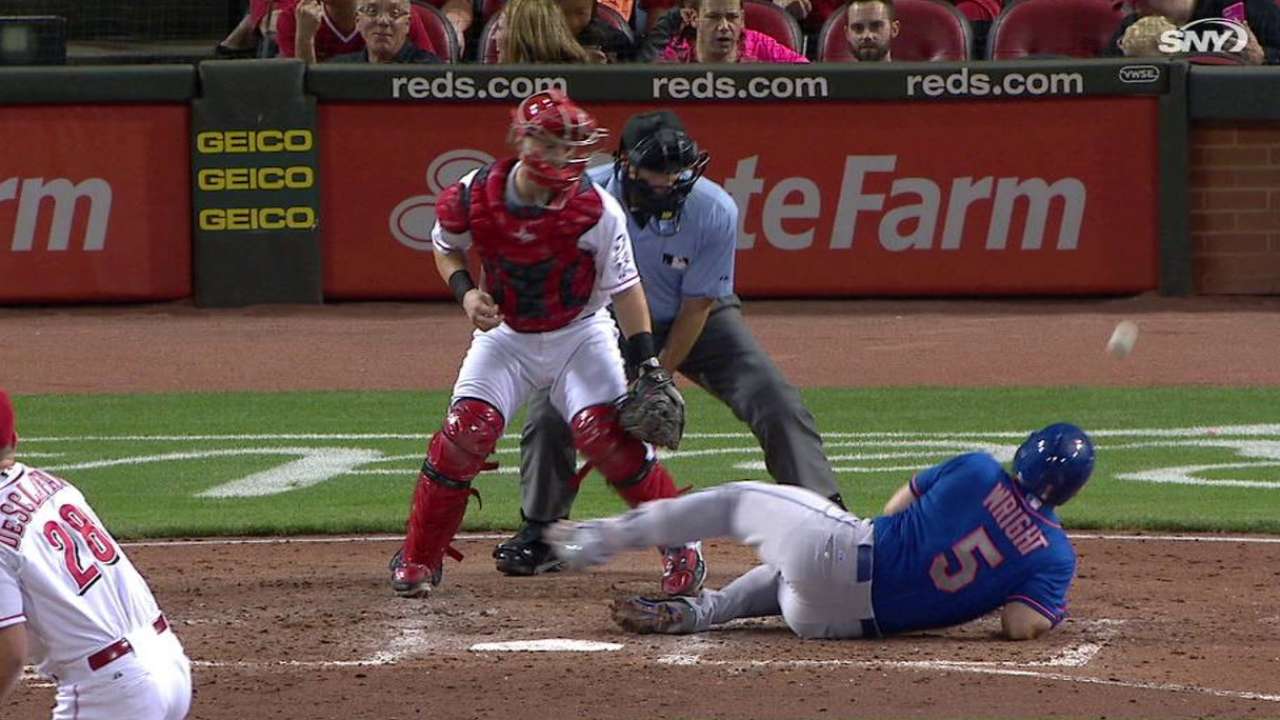 WHAT'S NEXT
Mets: Harvey will take the mound Saturday in Cincinnati at 4:10 p.m. ET with a chance to clinch the Mets' first NL East title since 2006. The Mets have said that they will limit Harvey again in what should be his penultimate start of the season, but they haven't divulged the particulars.
Reds: Rookie left-hander John Lamb will start in the third game of the four-game series. Lamb has allowed three runs in 15 innings over his last three starts.
Watch every out-of-market regular season game live on MLB.TV.
Anthony DiComo is a reporter for MLB.com. Follow him on Twitter @AnthonyDiComo and Facebook, and listen to his podcast. Andy Call is a contributor to MLB.com. This story was not subject to the approval of Major League Baseball or its clubs.