Bay Area set to say farewell to Hudson, Zito
Former A's aces and Giants World Series winners will square off Saturday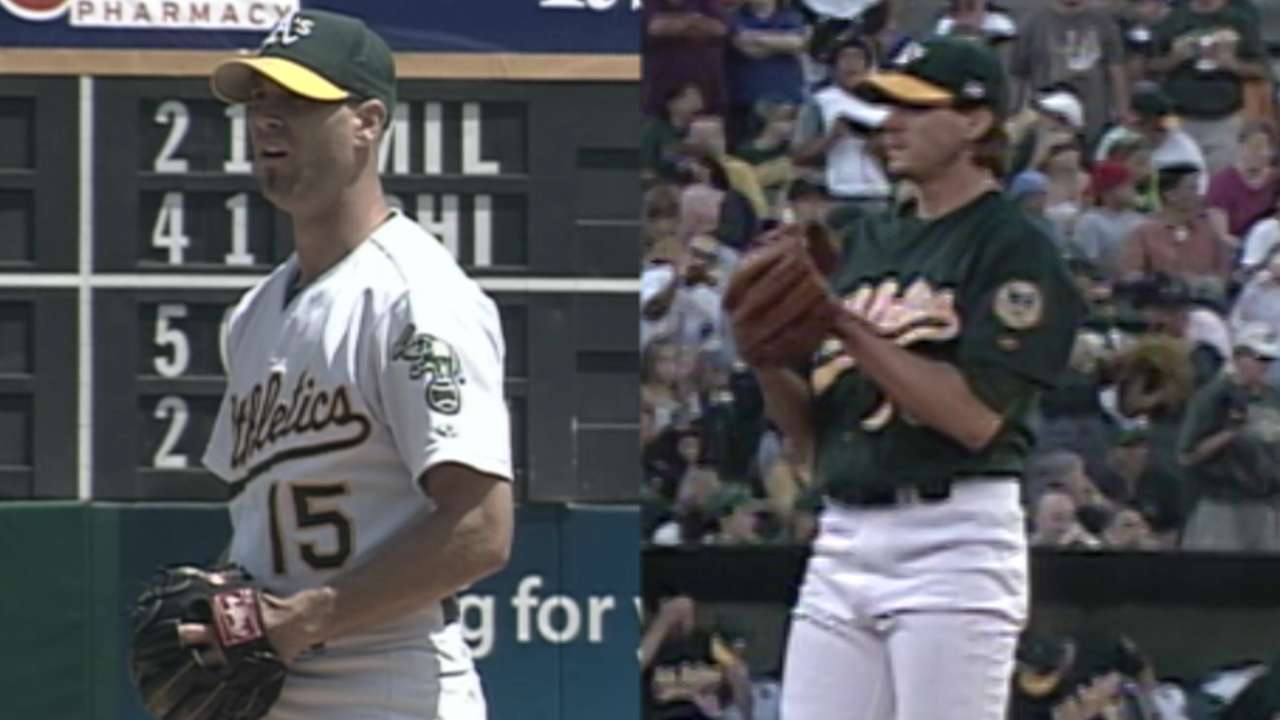 OAKLAND -- Make no mistake, Saturday's Interleague showcase featuring San Francisco's Tim Hudson and Oakland's Barry Zito is very much about baseball. It offers a classic complement of craftsmen: the right-handed Hudson flinging sinker after sinker -- the lower the better -- while the left-handed Zito seeks strikes at odd angles, changing speeds and eye levels with his assortment of deliveries.
Yet to reduce this game to a pitching matchup is to miss the point, like a hitter flailing at a vintage Zito curveball or a darting Hudson cutter. This is a homecoming mixed with a farewell, the kind of emotion-provoking event that sports generate so poignantly. Like a homecoming, fans will flock to the Coliseum full of festive nostalgia -- cherishing the mere sight of Zito and Hudson, as if they represented their alma mater, yielding to the memories and emotions that their presence provokes, seizing upon each chance to cheer for each pitcher, as they did in their youth. "A celebration," Hudson called it during a news conference Friday.
Well, not every fan will be so stirred. "Those 12-, 13-, 14-year-old kids in the stands really don't have a clue who we are," Hudson jokingly said.
However, most folks recognize the parallels. Zito cited the similarities between his career path and Hudson's -- from launching their careers to continuing with Oakland and observed, "It's crazy how things line up."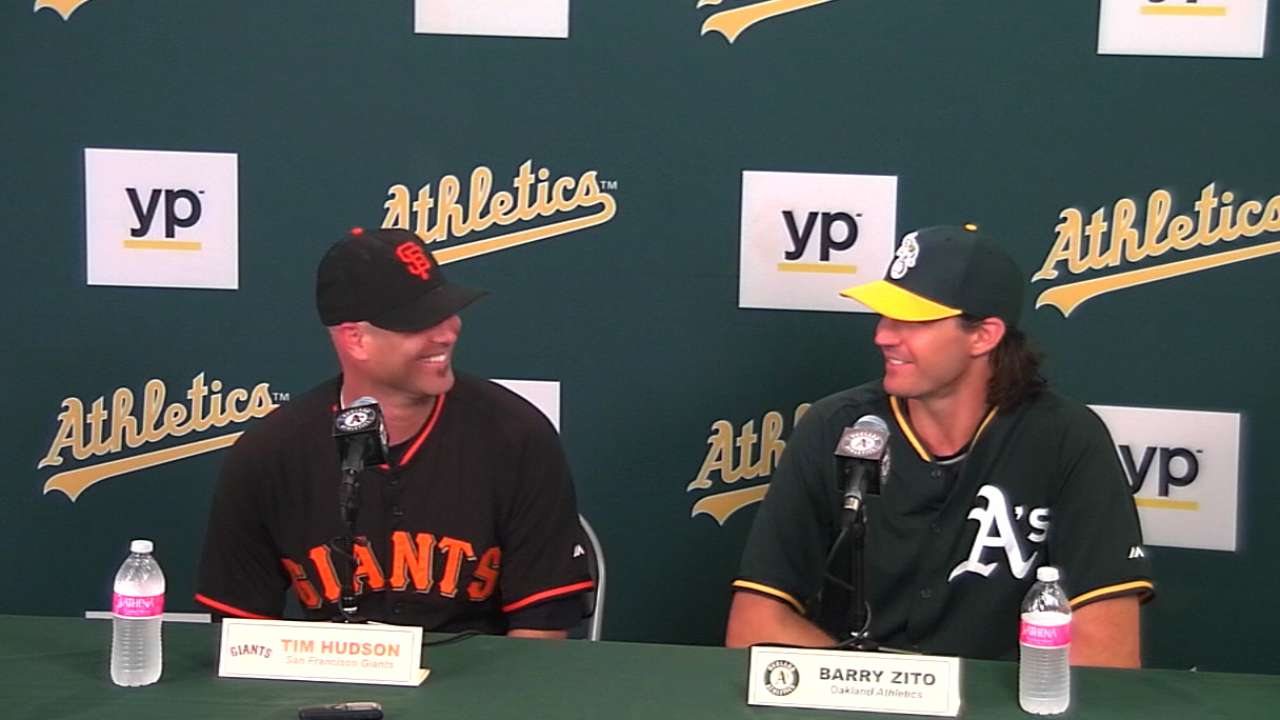 The farewell, of course, is what deepens this event's significance. Both Hudson and Zito have announced plans to retire after this season, having squeezed every drop of competitive passion from themselves. Said Hudson, "I don't think you could have written a better script" for their joint departures.
They gave the game their love, and the fans knew it. Hudson conveyed enthusiasm with a pitching delivery that was so maximum-effort that he twice strained his left side early in his career. Zito reveled in the sheer joy of playing baseball at its ultimate level, unafraid to challenge hitters despite his below-average velocity. One year, he pitched Game No. 161; the next day, before the season finale and without a postseason to prepare for, he combed the clubhouse looking for somebody to play catch with -- doggedly following his routine, still seeking the vigorous physical feedback a pitcher derives from throwing.
They transcended statistics, though theirs sparkle. Hudson owns a 222-132 record and leads all active Major Leaguers in victories. Zito's 165-143 mark was augmented by a magical second half in 2012, when the Giants won his final 11 regular-season starts, followed by victories in Game 5 of the National League Championship Series (when the Giants faced elimination in St. Louis) and the World Series opener.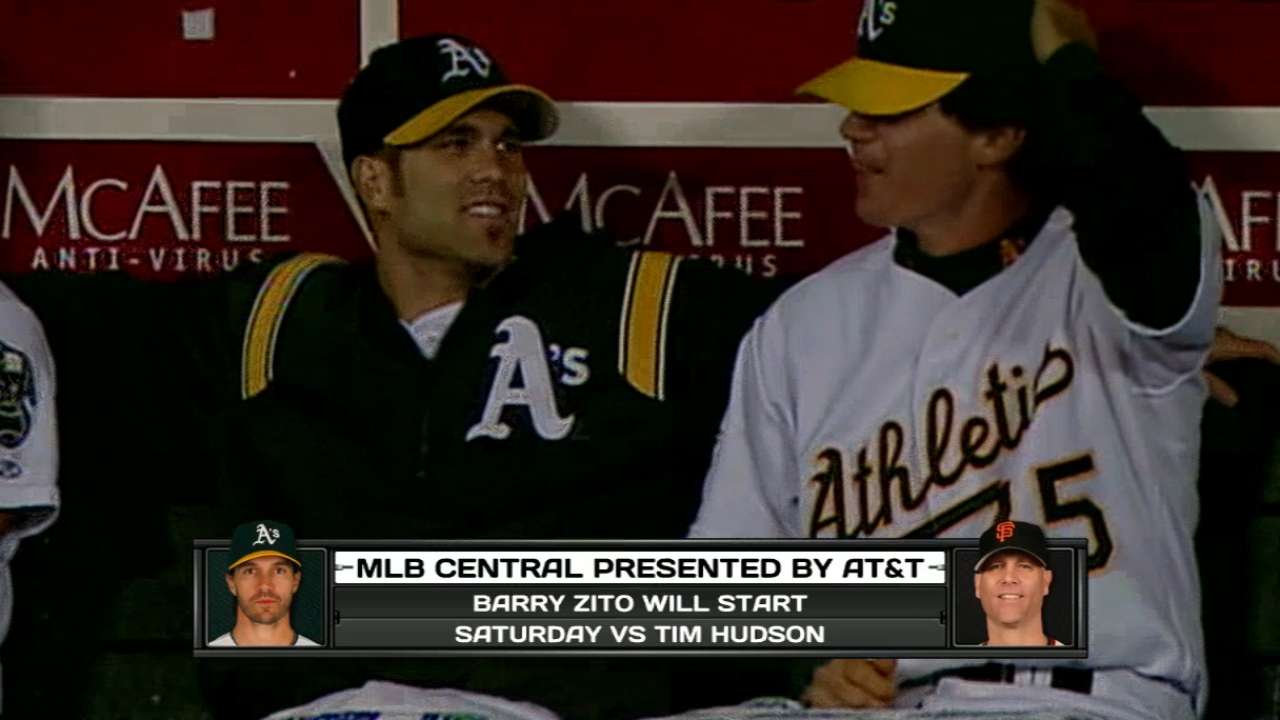 The duo accepted their triumphs in distinct fashion -- Hudson with just the trace of a swagger, and Zito with his California calm. But their success with the A's inextricably linked them, along with left-hander Mark Mulder. "You can't really talk about Oakland pitching without lumping the three of us together in the same sentence. I take a lot of pride in that," Hudson said. Referring to how they made each other better, Hudson added, "It made me set my standards really high to be able to compete at the level they did."
And they handled adversity with grace. Hudson never complained through a rash of late-career injuries. After signing a seven-year, $126 million contract with the Giants, Zito never lashed out at the fans who booed him when he struggled on the mound.
They distinguished themselves on both sides of the Bay, winning fame and ballgames by the bunches with Oakland, and earning World Series rings with San Francisco. "It's cool to have a little stake in both of the teams," Zito said.
Giants utilityman Kevin Frandsen -- as keen an observer of the northern California sports scene as any athlete could be -- summarized matters nicely earlier this week when he said, "Those two mean a lot to the Bay Area, not just to the Giants and the A's."
Saturday, everyone will have one final opportunity to show just how much they care. Including the participants. "It's like icing [on the cake] times a hundred," Zito said.
Chris Haft is a reporter for MLB.com. Read his blog, Haft-Baked Ideas, follow him on Twitter at @sfgiantsbeat and listen to his podcast. This story was not subject to the approval of Major League Baseball or its clubs.