MLB.com Columnist
Phil Rogers
Ace in spades: Pirates have gem in Cole
Righty reminds Cubs he's as tough as any starter in NL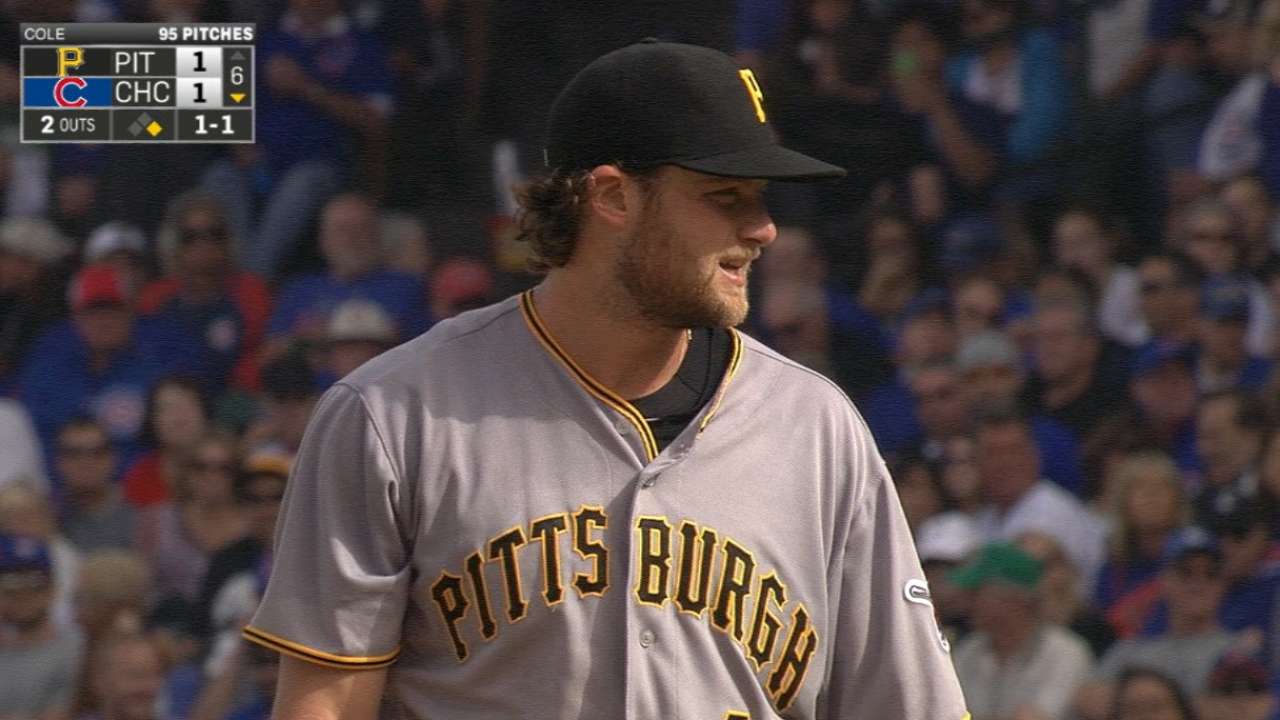 CHICAGO -- He hasn't won three Cy Young Awards, like Clayton Kershaw. He doesn't have a $210-million contract, like Max Scherzer. Nor does he have Zack Greinke's 1.65 ERA or Jake Arrieta's 0.86 ERA since the All-Star break.
But here's what matters: Gerrit Cole is the guy the Pirates want to have on the mound in a game they have to win.
Of course they do.
Cole is on the short list of the best pitchers in the game, if not yet as decorated as he will be. He reminded the Cubs of that on Friday at Wrigley Field, where 40,432 waited in vain for a playoff-clinching party. Enjoying a 68-degree day, he zipped in some 98-mph fastballs to set up devastating breaking pitches and walked out of the ballpark with the ivy-colored walls feeling satisfied, at least until his next start.
He should. The 3-2 victory not only stopped the Cubs from clinching a playoff spot at his expense but raised his career record in September to 11-2 with a 2.98 ERA.
• Is Cole #AwardWorthy? Vote now for Best Starting Pitcher
Strong finishing kicks are a sign of a rare thoroughbred, and that's what Cole has become. His late-season success is made even more impressive by the fact that he was a Pirates rookie in 2013, which means he's yet to play a game in which his team has been mathematically eliminated. He has learned early about the significance of the stretch run and postseason.
"It's put up or shut up now," Cole said. "You've got to get the job done."
Cole always seems to do that, which has to be gnawing at the Cubs. They are set to have the ultra-fit, rarely hit Arrieta start the NL Wild Card Game presented by Budweiser, and barring a drastic shift in the standings, they're going to see Cole again that night, most likely at PNC Park.
Pittsburgh has gone 8-1 against the Cubs when they've sent Cole to the mound, including a 3-1 record this season. But the 25-year-old UCLA product isn't yet thinking about a win-or-go-home date against Anthony Rizzo, Kris Bryant & Co., not with a start against the first-place Cardinals scheduled for Wednesday.
To look ahead to a postseason rematch against the Cubs would be to concede the division to St. Louis. The Pirates may trail by three games with only eight to play, but the Bucs are not about to do that.
"The thought process hasn't changed since the first day we showed up in Spring Training," said Cole, who improved to 18-8 with a 2.60 ERA. "That's to win the division."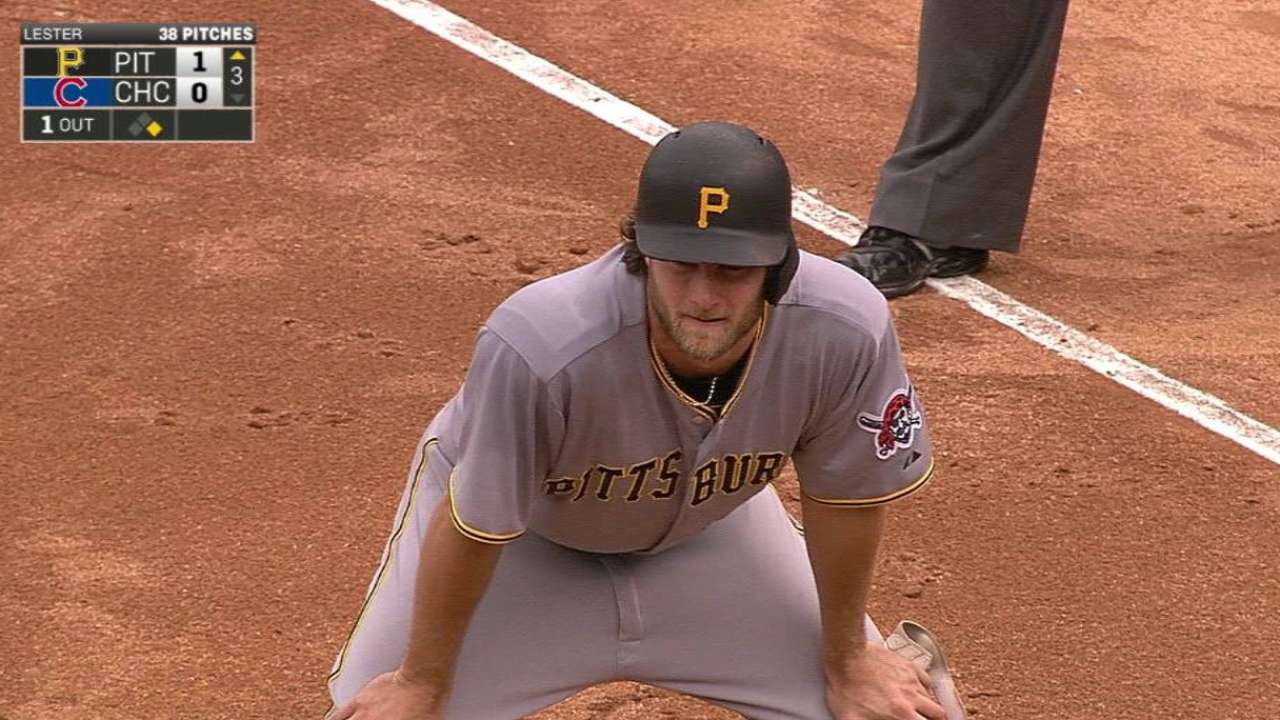 Grinding out runs against Jon Lester -- including one on a single by Cole and the eventual winning run in the eighth scored by Jordy Mercer, who struck out but reached first when Miguel Montero didn't block a Pedro Strop slider -- the Pirates won their seventh game in a row.
No wonder they weren't like most in the crowd and the press box, who watched this game while picturing one on Oct. 7, with the winner advancing to play the Cardinals.
"No, we picture ourselves playing the Cubs tomorrow, the Cubs Sunday," infielder Josh Harrison said. "We know where we stand, but at the end of the season we'll assess and go from there. It's too hard to look ahead. Baseball is too funny of a game to plan ahead. We do a good job of coming in and taking care of what we have to."
While the Pirates have a balanced rotation that got better with the acquisition of J.A. Happ, things generally work a little better on the days Cole pitches. The five teams ranked at the top of the National League in rotation ERA are currently in line for the postseason, with Pittsburgh fifth at 3.56.
"Regardless of who is on the mound, we have confidence," Harrison said. "We don't tend to play harder or better because someone's on the mound, but you can tell when he's on the mound. He's an energy guy. ... You know sometimes you can kind of feed off that, but as far as locking in, doing more, we just continue to play."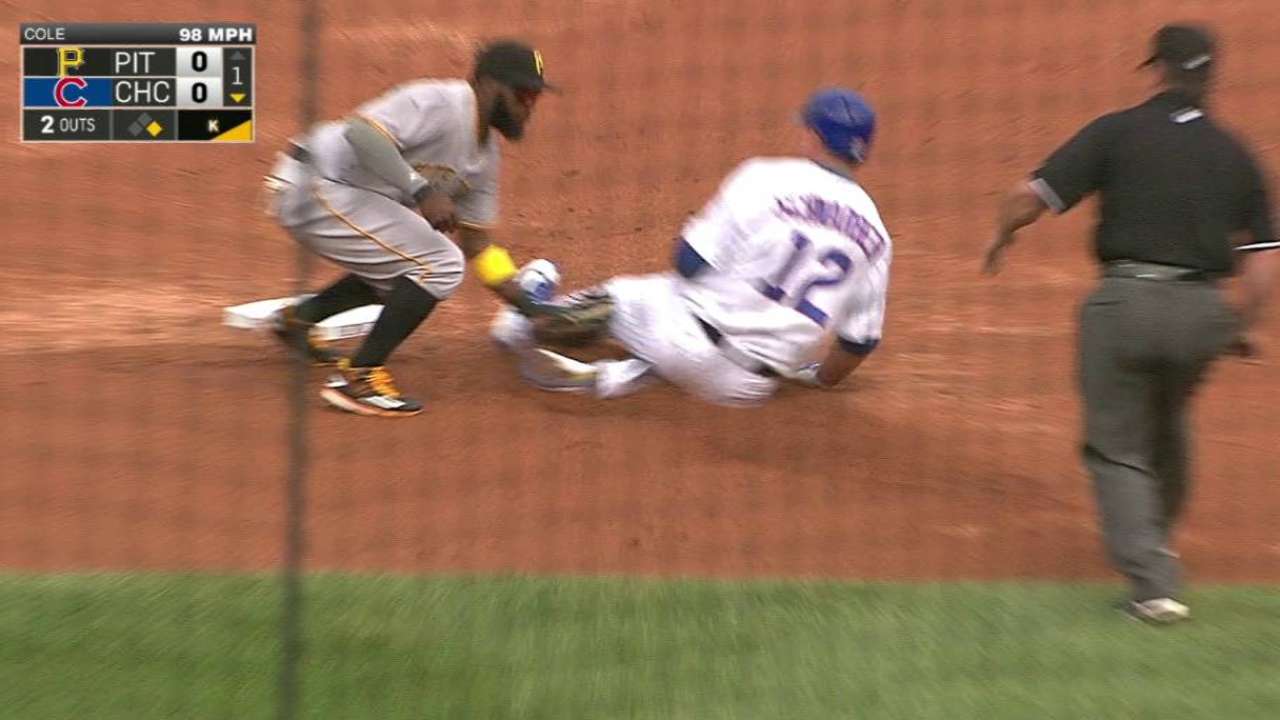 Like the Cubs' Arrieta, Cole seems to be getting stronger as he heads toward the Wild Card matchup he'd love to avoid. He's faced teams heading to the postseason in his past four starts -- Cubs (twice), Dodgers and Cardinals -- and led the Pirates to wins in all four games, allowing eight runs and only 18 hits in 27 1/3 innings.
"I know he has a competitive chip that's special," manager Clint Hurdle said. "Most players have one, but [with him] you combine that with a very elite skill set and a desire to be the guy. He's shown that ability in September. It's one of the reasons that when you set up your rotation, you try to map him out for these type games, and he's answered very well."
Cole struck out eight and walked two on Friday against the Cubs' loaded lineup. His fastball was especially lively, as it was at Dodger Stadium last Sunday.
"I've brought out a really consistent delivery the last few times," Cole said. "I've been able to get aggressive in spots with the fastball, knowing I can locate it. It was cool today, which was nice."
Also like the Cubs' Arrieta, Cole has climbed beyond the 200-inning plateau for the first time in his career. Both spent time on the disabled list last season but appear to have found training regimens that prepare them for the long haul.
"[Two-hundred innings] was a big goal," Cole said. "It's a testament to the training staff, testament to the strength coach. [Pitching coach Ray Searage] has done a fantastic job. The catchers have done a great job putting me in the position to eat innings. We've played fantastic defense every time I've gone out. We've played fantastic ballgames, for the most part, every time I've pitched. That's a testament to the team and the way they compete every day. That's why I have the record I have."
As for the Cubs, they didn't mind too much that they had to keep the champagne on ice on Friday. That won't be true if it happens again against Cole in October.
Congrats to Gerrit Cole on picking up his 200th K of the season! #Whiff pic.twitter.com/99Eqy5ihWR

— Pittsburgh Pirates (@Pirates) September 25, 2015
Phil Rogers is a columnist for MLB.com. This story was not subject to the approval of Major League Baseball or its clubs.