Maddon 'really believed' postseason prediction
Cubs manager says he doesn't know any other way to approach a season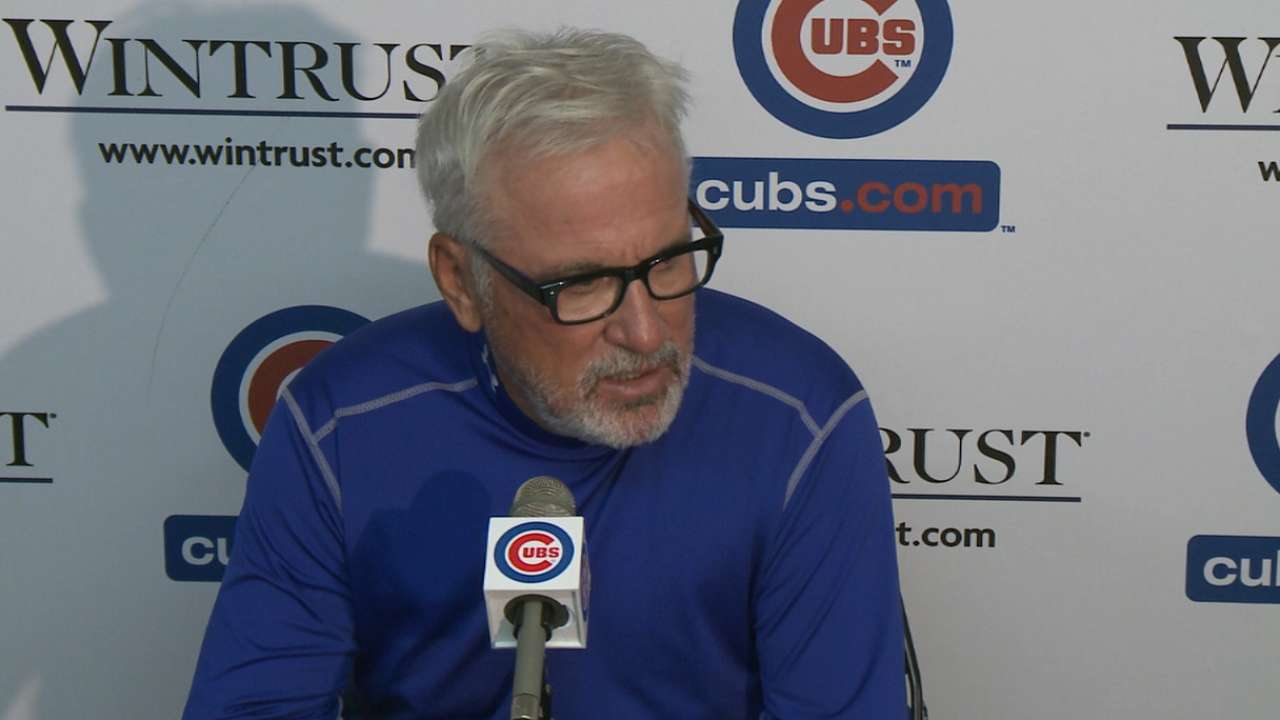 CHICAGO -- When Joe Maddon was hired last November, he talked about getting the Cubs to the postseason, which seemed premature at the time.
"I would say that every year anyways," Maddon said before Friday's 3-2 loss to the Pirates. "Sitting over there [at his introductory news conference], I think you guys know me by now to know I really believed it. I don't understand how you approach a season any other way."
And Maddon's vow was finally realized -- despite the Cubs losing on Friday afternoon -- after the Giants fell to the A's, helping Chicago clinch its first postseason berth since 2008.
• Buy Cubs postseason gear
• Cubs officially punch ticket to postseason
"There are so many wonderful items already in place here that I was fortunate to lock in on -- the leadership at the top, players on the field, what's going on in the Minor League system," Maddon said. "I was fortunate. The eventual signing of Jonny Lester and the ascension of [Jake] Arrieta this year make it all more possible. I did believe it when I said it."
The Cubs have had a tough assignment, as the three teams with the best records this season are all in the National League Central.
"I love playing in what is perceived to be the best division in baseball," Maddon said. "It's about the end of the season and the last game of the season, and getting to that particular moment. Sometimes it takes a different route to get there.
"I really respect what both [the Cardinals and Pirates] have done. I like to believe we've pushed them a little bit, too, in this particular season. ... I think it's aided us in getting better quicker."
• Maddon did not expect any retaliation in the Cubs' and Pirates' first meeting since shortstop Jung Ho Kang sustained a season-ending knee injury after a collision at second with Chicago's Chris Coghlan on Sept. 17.
"I would hope not," Maddon said. "It was a good baseball play. There was nothing to cause retribution at all. I would hope not. For me, for us, it's a dead issue and that's it. I think the people involved within the Pirates, they understand that. Others that may want to fan the flames are just fanning flames, and they really don't know what they're talking about."
After the game at PNC Park, Maddon said he'd heard that Kang had plantar fasciitis, not a serious knee injury. The Cubs manager said that's what they were told in-game.
• Dan Haren, who was skipped in the rotation because of off-days, will start Tuesday in Cincinnati as the Cubs open their final regular-season road trip. Haren last pitched Sept. 18 against the Cardinals and gave up three runs over 4 1/3 innings, and he did not get a decision. The right-hander has said he will retire after this season, and if he stays in the rotation, he would make one final start on Oct. 4 against the Brewers.
Carrie Muskat is a reporter for MLB.com. She writes a blog, Muskat Ramblings. You can follow her on Twitter @CarrieMuskat and listen to her podcast. This story was not subject to the approval of Major League Baseball or its clubs.