Marlins slug three homers to sweep Braves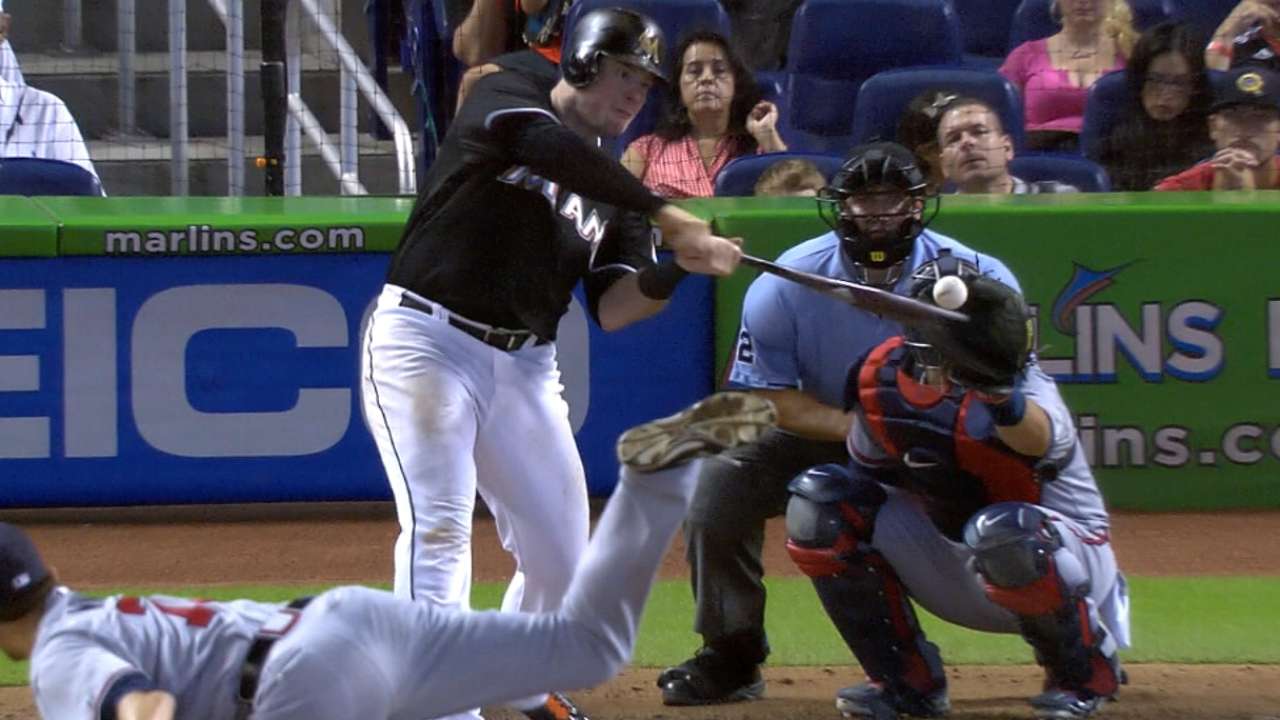 MIAMI -- Justin Bour, who produced his first career multi-home run game, and Martin Prado each drove in three runs as the Marlins defeated the Braves, 9-5, on Sunday at Marlins Park, completing a three-game sweep.
Winners of five straight, the Marlins secured third place in the National League East, and despite being 69-87 overall, they finished 41-40 at home. But Atlanta won the season series, 10-9.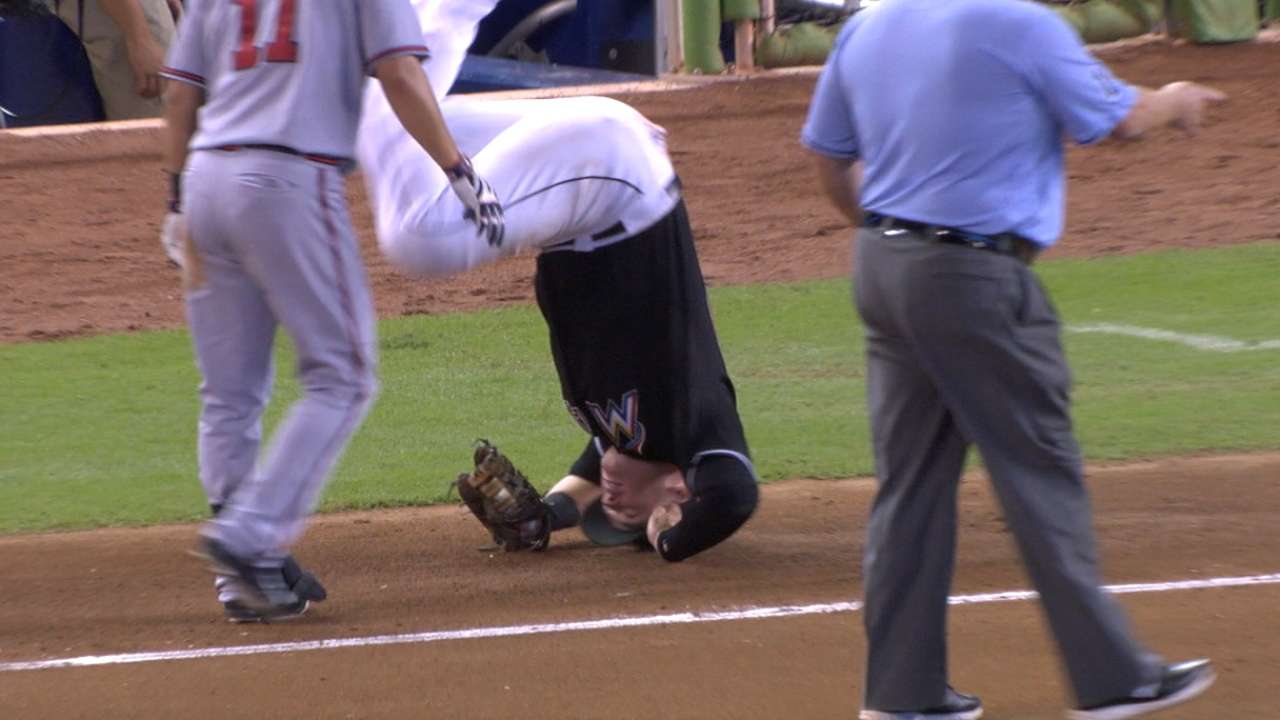 "It's better than fifth," Miami manager Dan Jennings said. "It's not where we want to be, but I think we're moving in the right direction."
Tom Koehler (11-14) battled through 6 2/3 innings, giving up four runs on nine hits with five walks and two strikeouts. Miami gained some breathing room in the seventh inning when Bour and Marcell Ozuna went back-to-back off Daniel Winkler.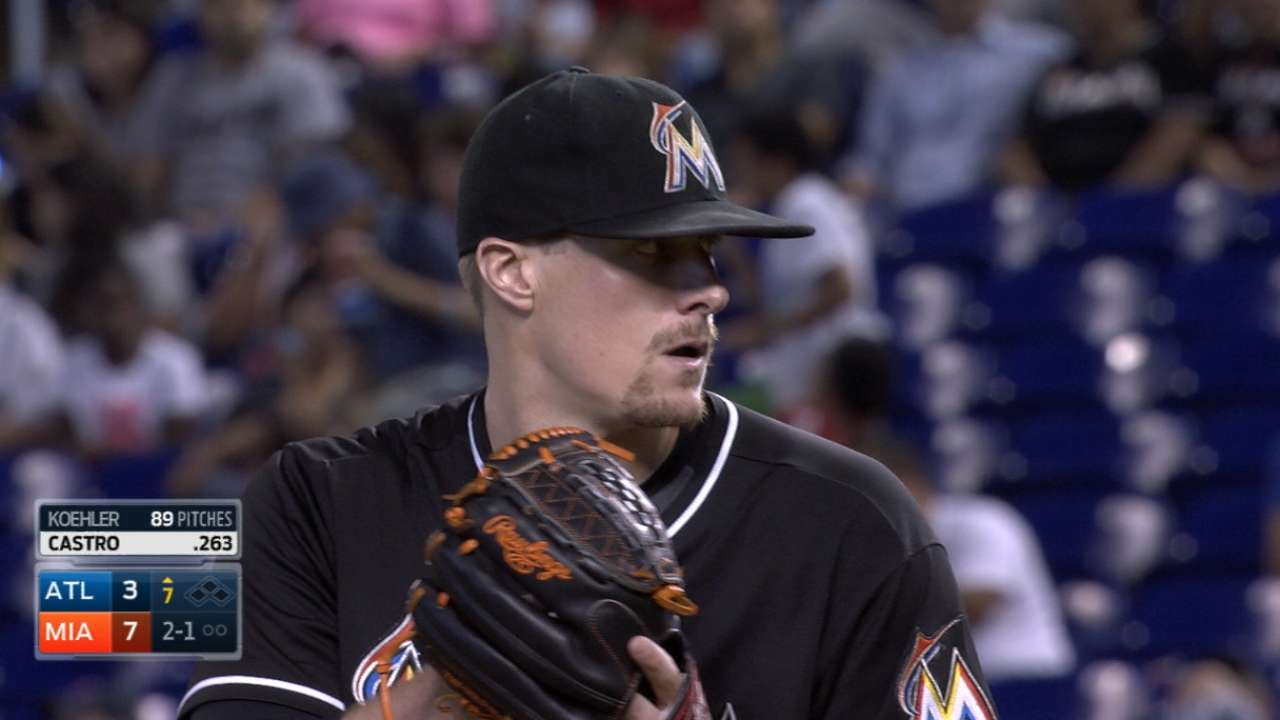 "It's awesome for us to be able to finish above .500 at home," Koehler said. "To be able to get a win on the last day at home is enormous. Today was a full team effort. Obviously, I struggled out there, but the guys picked me up defensively and offensively. It's a great team win. It's a great way to finish out the home portion of your season."
Since his no-hit bid was broken up by Bour with a two-out single in the ninth on May 17, Shelby Miller is 0-16 in 24 starts. The Braves did tie it in the second on Michael Bourn's two-run single, and they made it 3-3 in the fifth on Cameron Maybin's RBI single. Nick Swisher added a solo homer for Atlanta.
"At the end of the day, you can't take away what [Miami's] doing," Miller said. "They're swinging it well and they're playing as a team really well, and that's what you want to see."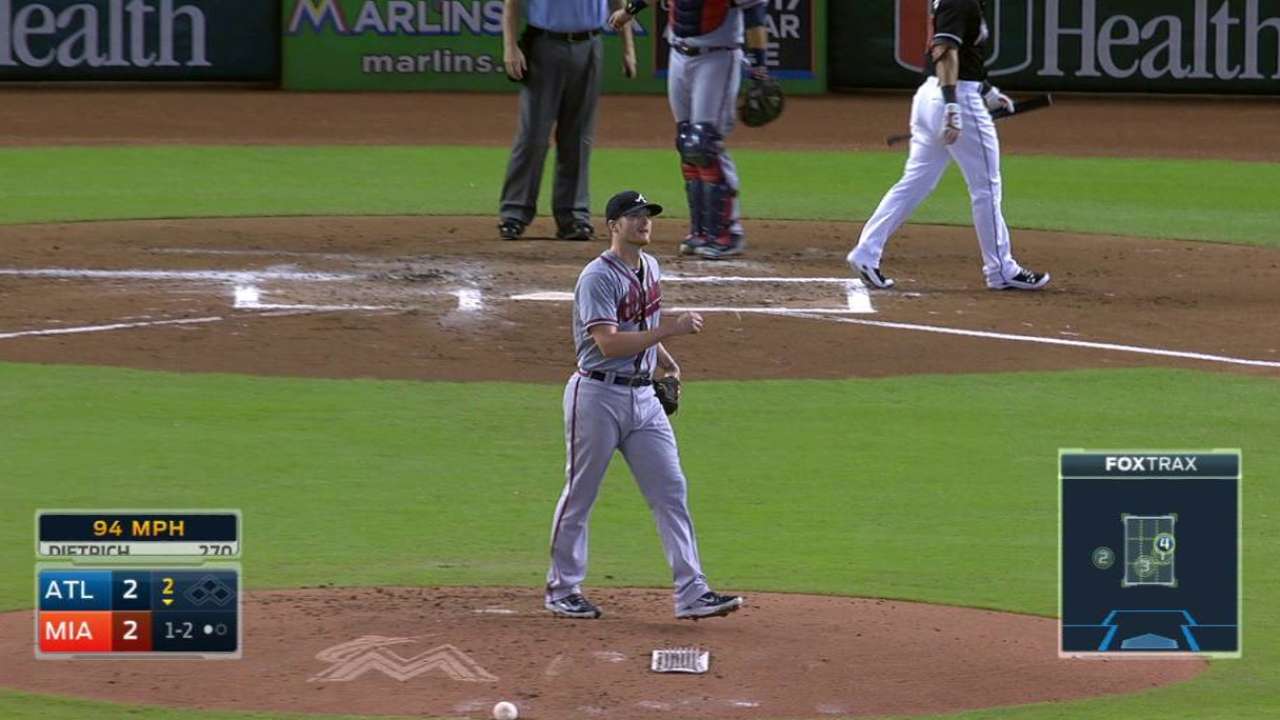 MOMENTS THAT MATTERED
Another first for Bour: Once again, Bour struck in the first. The 27-year-old unloaded on a two-run homer in the first inning. In all three games of the series, Bour connected in the first inning. He delivered a three-run shot on Friday, and had a two-run blast on Saturday. In the first inning alone in the series, Bour had three homers and seven RBIs.
"It's just not trying too hard. I've got to give some credit to Phelps," Bour said, noting teammate David Phelps. "The last three days, he's picked out a bat for me, every day. I've gone back to him now for three straight days. And I have home runs. I have to give a little credit to him for that. I'll make sure he marks my bats on the road, to use on certain days." More >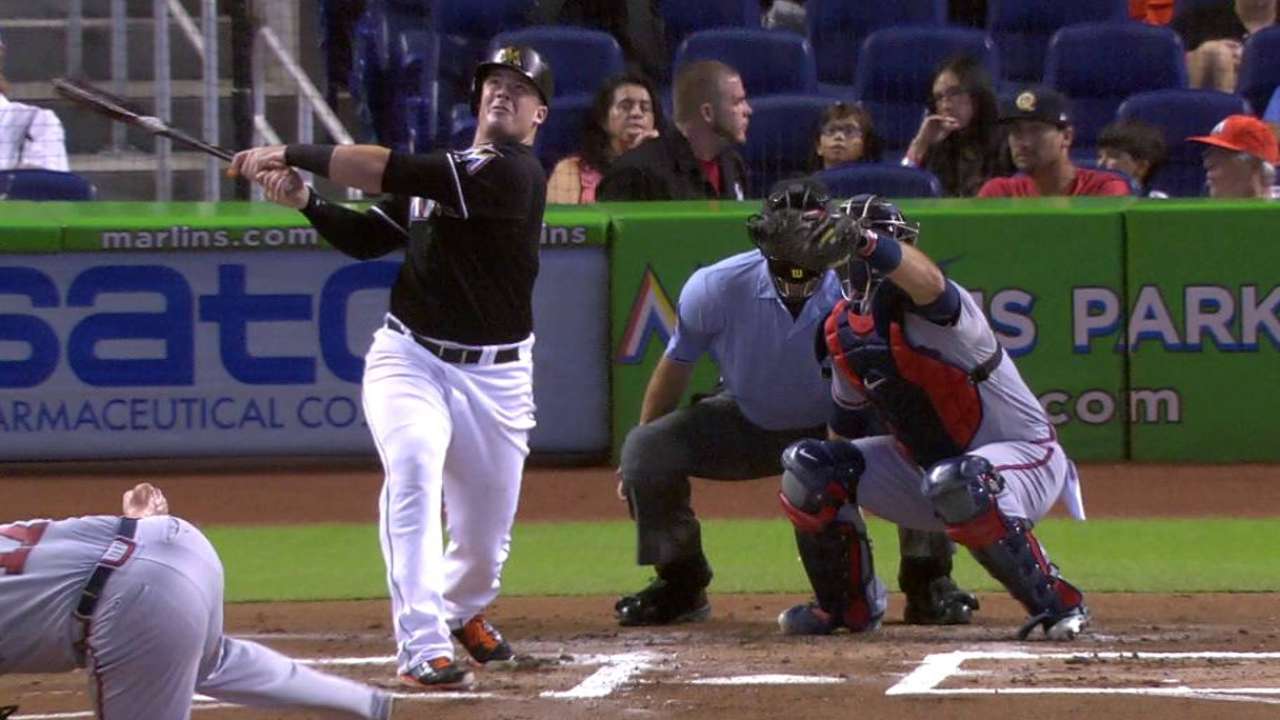 Back-to-back: The Marlins had a tough time producing add-on runs earlier in the season. They were able to provide some cushion in the seventh inning when Bour and Ozuna connected on back-to-back home runs off Winkler. Each shot was to the opposite field. It's the third time this season Miami has gone back-to-back. The last to do so were Giancarlo Stanton and Jeff Baker at Citi Field against the Mets on June 3.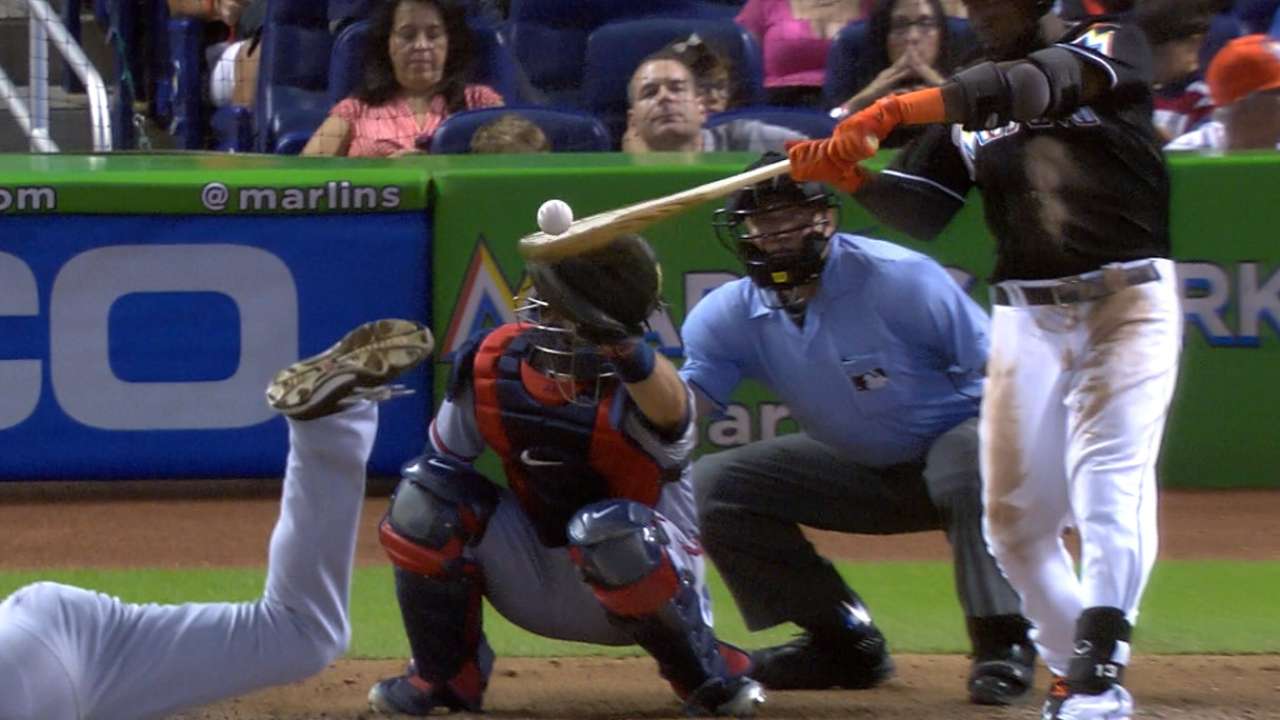 Miller can't find first: The Braves starter didn't help himself in the fifth inning. With one out, a runner on second and the score tied at 3, Dee Gordon bounced a grounder to Swisher at first, who threw to Miller as he was coming from the mound to cover the bag. However, Miller lost track of the bag and missed it altogether. The error left the door open for the Marlins, who took advantage later in the inning when Prado's two-run single put Atlanta in a 5-3 hole.
"He's human," Braves manager Fredi Gonzalez said. "Here's a guy that has gone through a lot of adversity this year and today he had a chance to go out there -- today in the fifth inning, it just unraveled on him. He didn't help himself on a couple different occasions -- at first base and walking the leadoff hitter." More >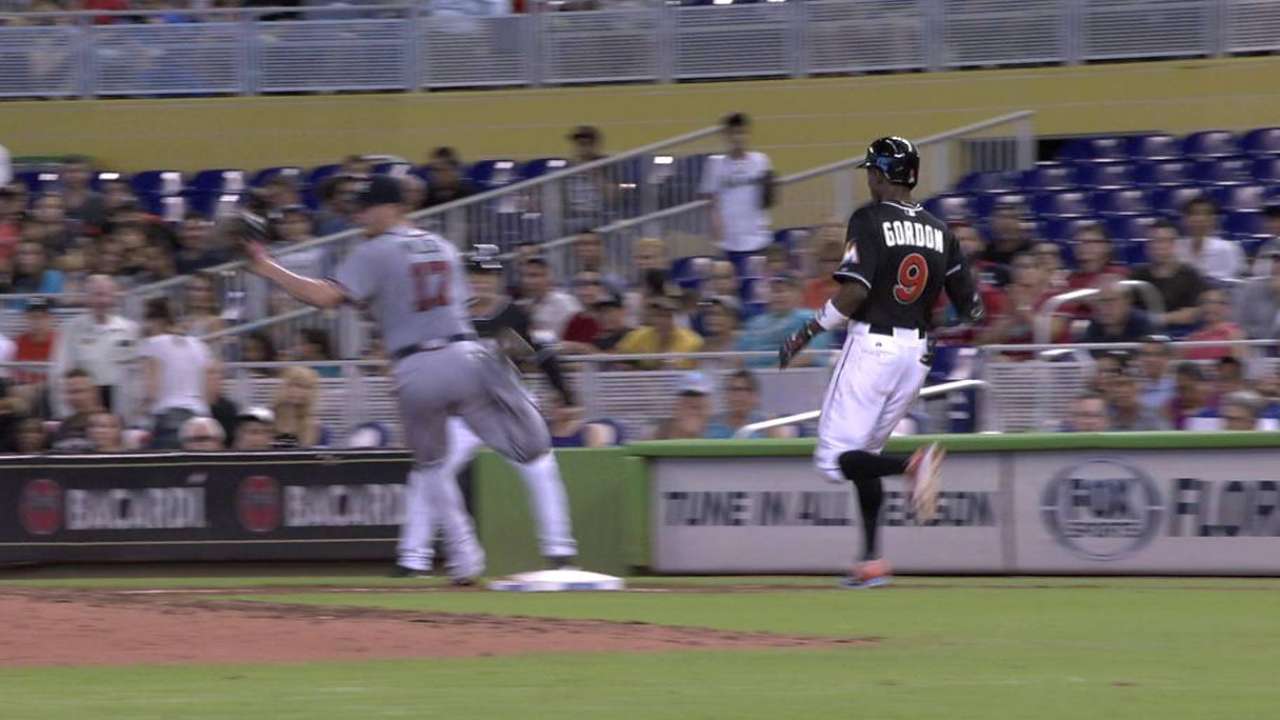 Braves offense fights back: After Miller surrendered the lead twice in the first five innings, Atlanta's offense -- which gives the righty the worst run-support in the league -- fought back to tie the score twice. Trailing 2-0 in the second inning, Bourn notched a two-run single. Then, trailing 3-2 in the fifth, Maybin's single scored Hector Olivera to once again tie the game. However, Miller lost the lead again in the bottom of the fifth.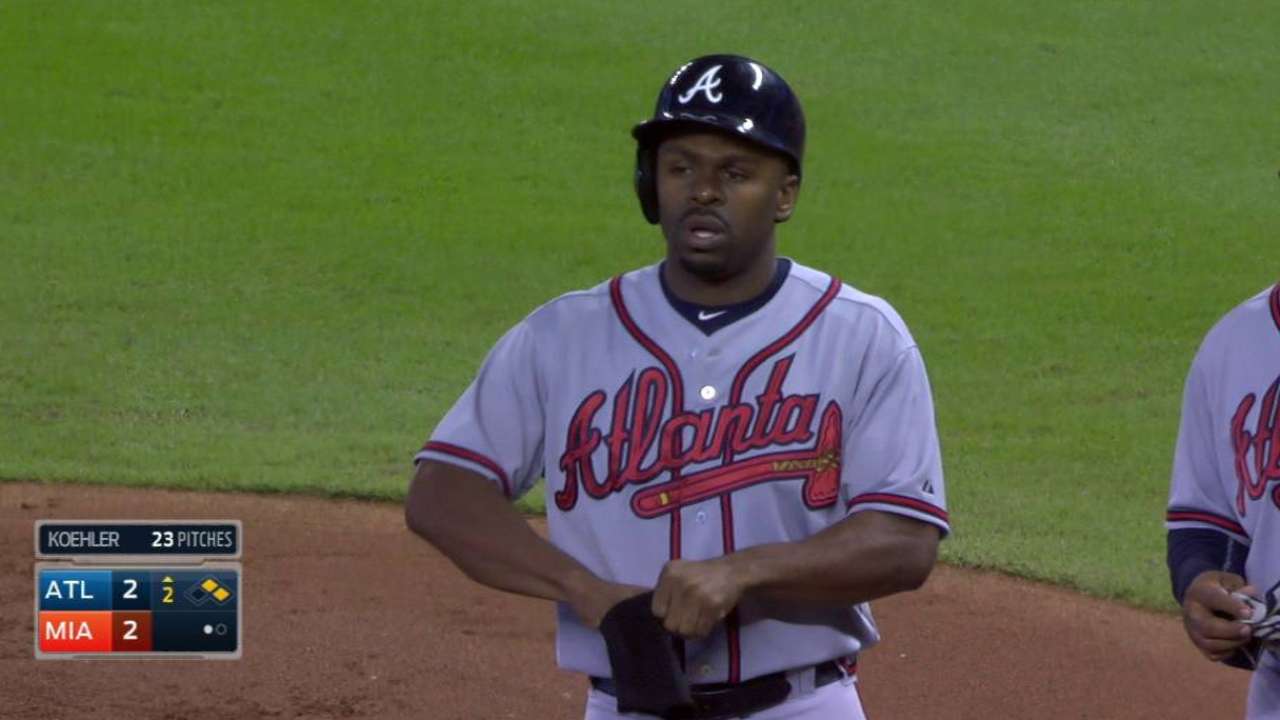 QUOTABLE
"We're going to watch that play all postseason. That's a good play you can see on both ends. Prado diving and then throwing off his knee, and [Bour] being able to shuffle his feet and maintain contact with the bag. Pretty nice little handstand there that he did on his head. I thought it was pretty impressive for a big man like that." -- Jennings, on Prado's stop on Daniel Castro's grounder and Bour's catch and tumble at first base. More >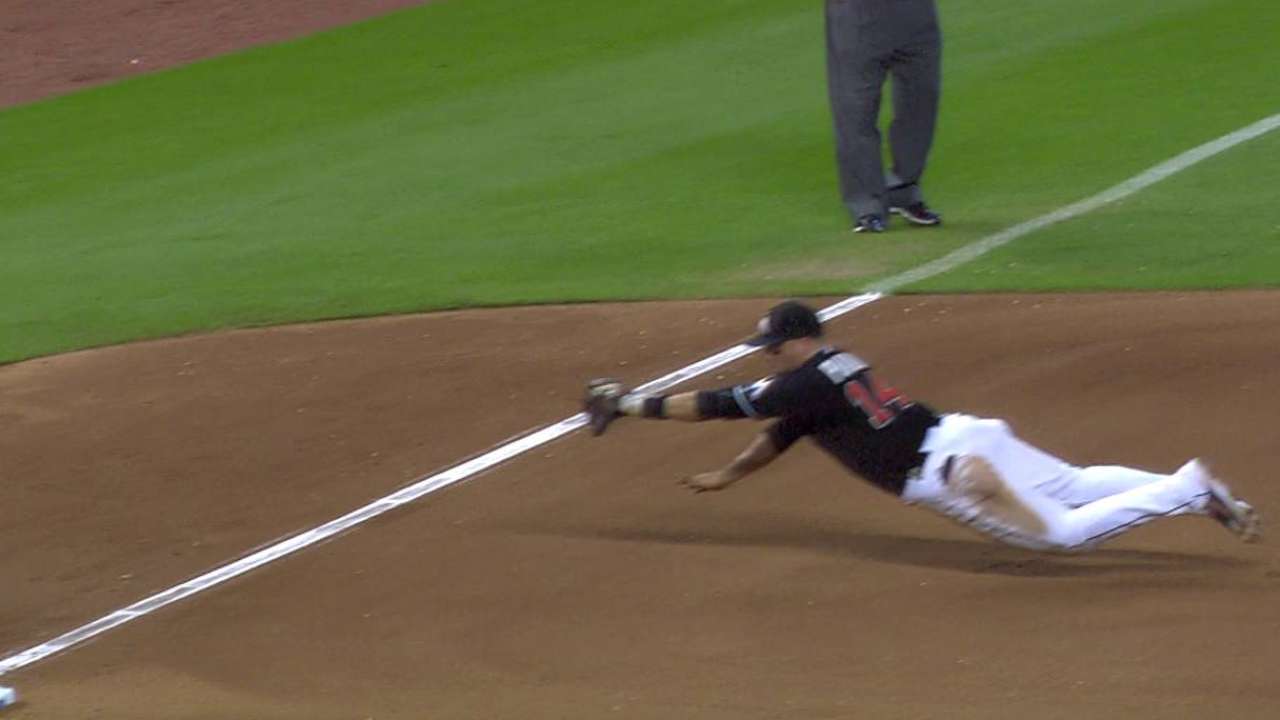 "There's a lot of talent there and I think the Marlins could say they found a first baseman, for sure. He's a guy that looks like he's not going to be going anywhere. Tremendous talent." -- Miller, on Bour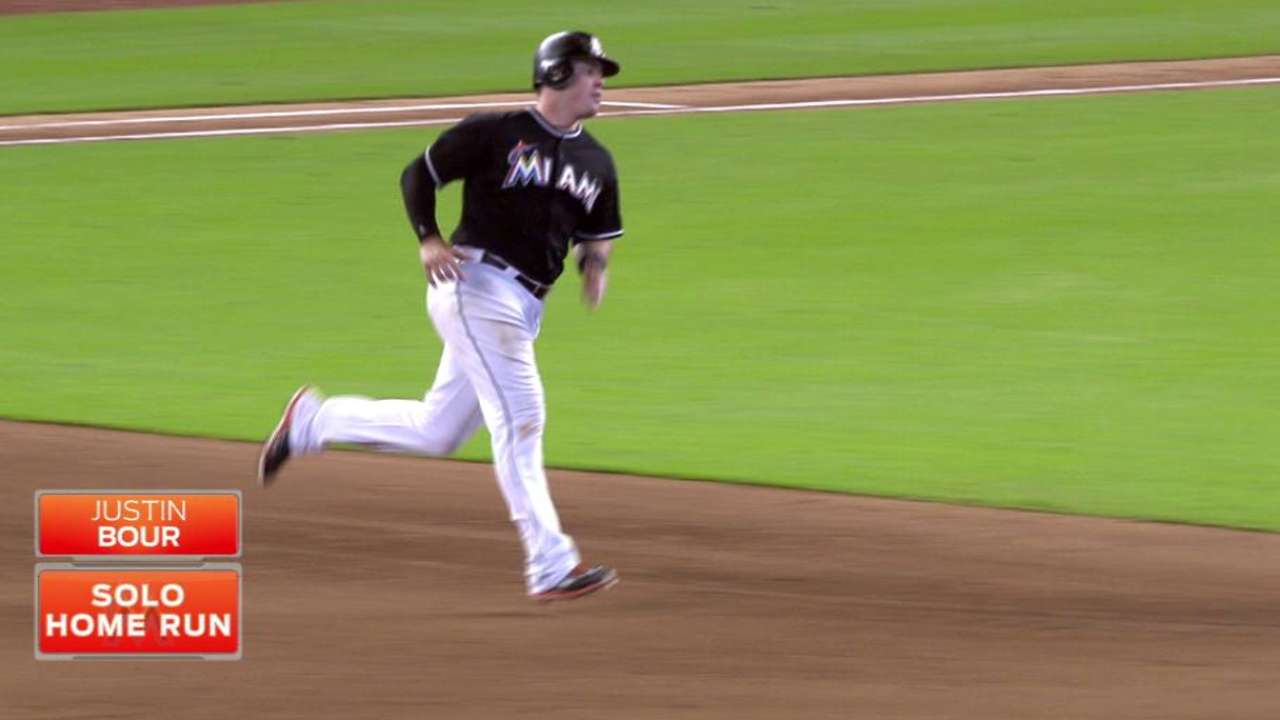 FREEMAN EXIT'S EARLY
Braves first baseman Freddie Freeman left the game after the top of the third inning with a sore right wrist and is considered day to day. He batted twice -- striking out in the first inning and lining out in the third. More >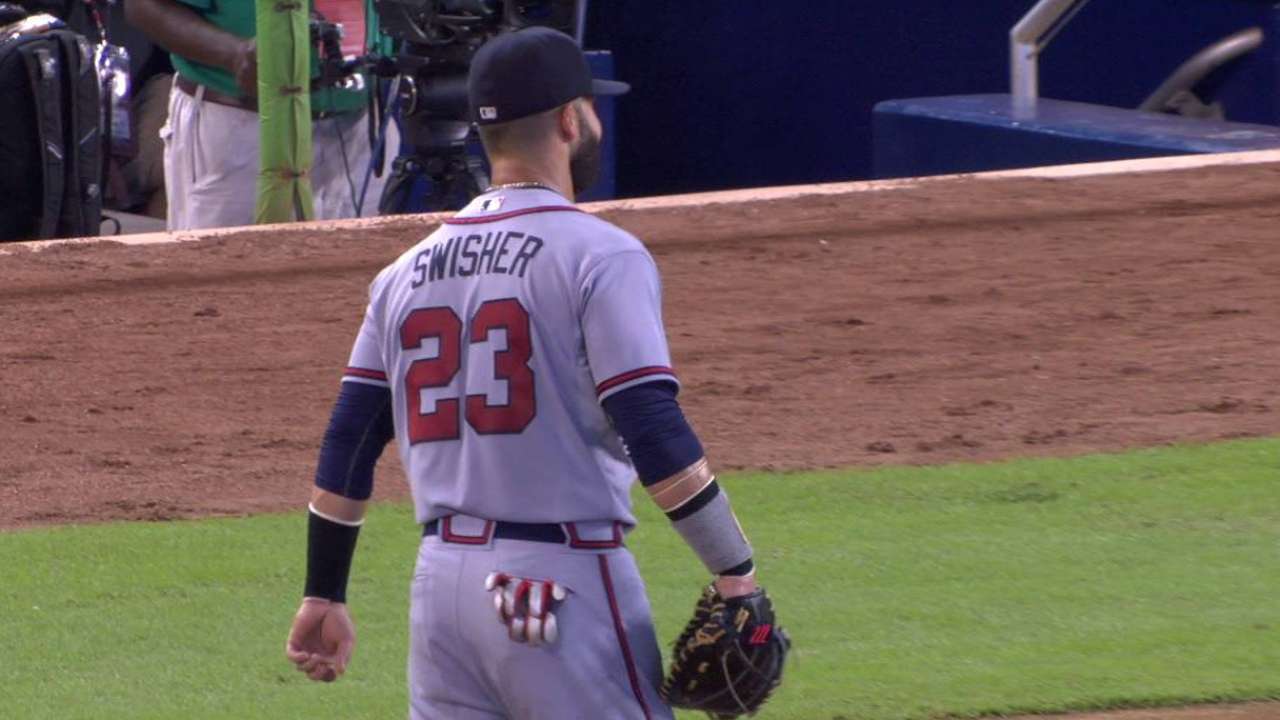 SOUND SMART WITH YOUR FRIENDS
J.T. Realmuto's two doubles gave him 20 on the season. The rookie becomes the first Marlins catcher to have at least 20 doubles since John Baker had 25 in 2009.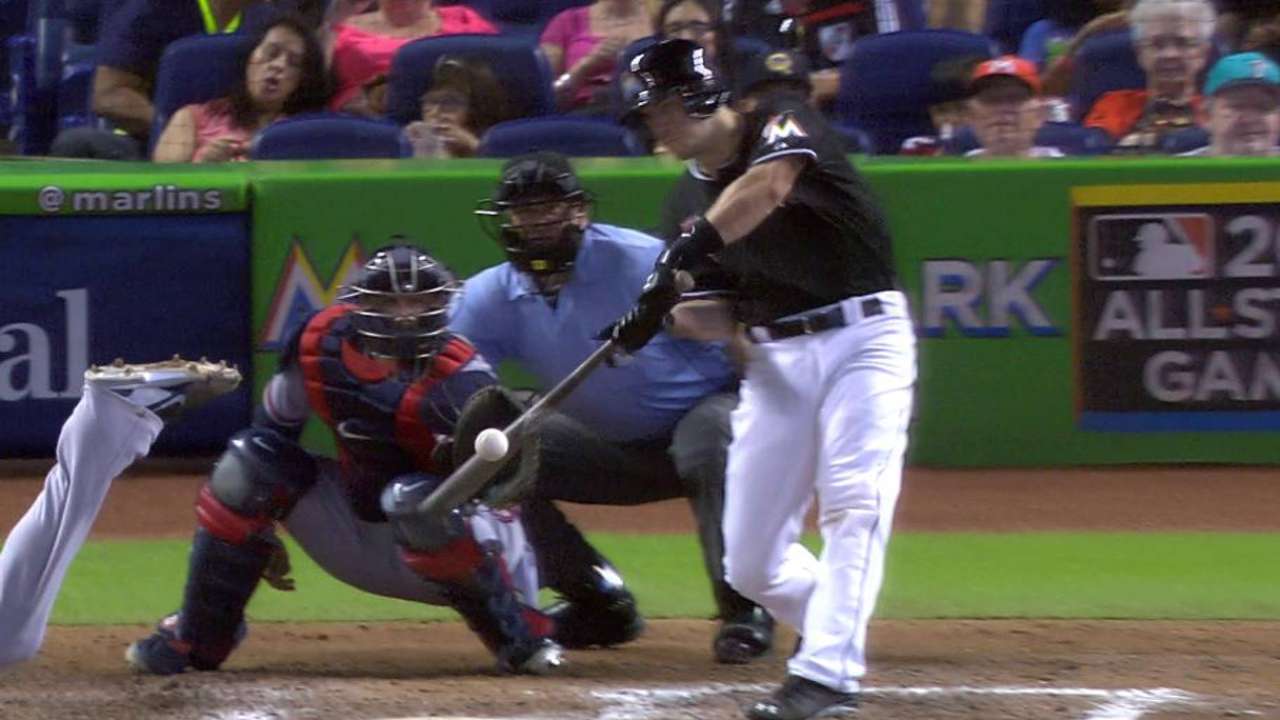 INSTANT REPLAY
Bour's first-inning home run didn't come without a dispute. The arching drive to right was near the foul pole. The umpires took a replay look to see if it indeed was a home run. After a review of one-minute, 27 seconds the home run was confirmed.
WHAT'S NEXT
Braves: Atlanta is off on Monday before opening up its final homestand of the season on Tuesday at Turner Field at 7:10 p.m. ET against the Nationals. Matt Wisler (6-8, 5.40 ERA) gets the ball for the Braves looking for his second consecutive win.
Marlins: Off on Monday, the Marlins open their final road trip on Tuesday with the first of three againat the Rays at 7:10 p.m. ET. Lefty Adam Conley (4-1, 3.93) gets the start. Tampa Bay is going with lefty Matt Moore (2-4, 6.48).
Watch every out-of-market regular season game live on MLB.TV.
Joe Frisaro is a reporter for MLB.com. He writes a blog, called The Fish Pond. Follow him on Twitter @JoeFrisaro and listen to his podcast. Steve Wilaj is an associate reporter for MLB.com. This story was not subject to the approval of Major League Baseball or its clubs.