ICYMI: Little Ninja comes up big in walk-off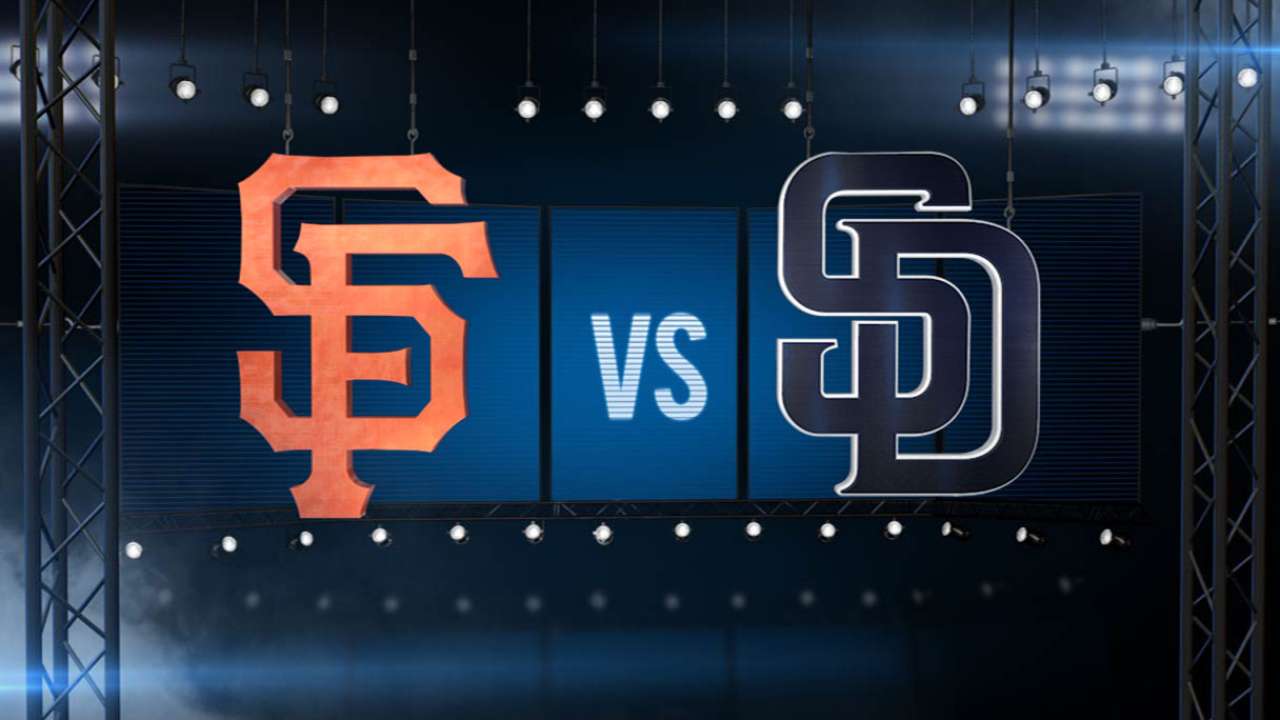 Entering Thursday night's game, utility man Alexi Amarista had only been 1-for-10 in his last 10 at-bats and had not collected a hit since Sept. 9 as a pinch-hitter against Colorado. Those numbers and inconsistent playing time did not seem to affect the "Little Ninja" as Amarista delivered a towering walk-off base knock in the bottom of the ninth to deliver the Padres their second straight win against the Giants. San Diego prevailed 5-4 over San Francisco after their second walk-off win in as many days.
San Diego's starter in Ian Kennedy took the hill last night looking to build upon the success he has had against the Giants over his nine-year career. Prior to Thursday, Kennedy owned a solid 11-6 record with a 2.73 ERA over 25 career appearances against San Francisco. Although Kennedy wasn't nearly as sharp as he had been in times past, he improved upon his last start since facing the Giants as he surrendered only four runs on 11 hits and two walks over five innings of work. Kennedy also struck out five batters in Thursday's start, earning a no-decision after keeping San Diego within striking distance on the mound.
The Padres bullpen saw a myriad of pitchers come out in relief of Kennedy, as interim manager Pat Murphy called upon seven different relievers to finish off the night. Reliever Bud Norris entered the game immediately following Kennedy, but left after only one out in the sixth inning after suffering an apparent right-groin strain after facing just two batters.
Following Norris, the 'pen threw nothing but zeroes up on the board as Nick Vincent, Kevin Quackenbush, Marc Rzepczynski, Jon Edwards, Marcos Mateo and Craig Kimbrel combined for three and 2/3rds innings of work while surrendering only one hit and striking out two. Kimbrel -- just as he did on Wednesday against the Giants -- was awarded with the "W" for pitching a scoreless ninth.
While San Francisco out-hit San Diego 13 hits to six, the Padres offense made their punches count as the Swinging Friars worked efficiently against the Giants pitching staff. Catcher Derek Norris made one of the biggest contributions of the night after blasting a three-run homer to give the Padres the early lead. Norris finished the night going 3-for-4 with three RBI and three extra-base hits.
Outfielder Matt Kemp also made an impact on Thursday after hitting a game-tying RBI-double in the eighth inning to set the stage for Amarista's walk-off knock in the bottom of the ninth. Rookie Travis Jankowski scored the winning run after pinch-running for Norris, who hit a leadoff double in the bottom of the ninth.
Thanks to Amarista's big hit in the bottom of the ninth, San Diego secured a series victory at home against San Francisco and guaranteed a winning 6-4 record over 10 home games against the Giants in 2015. San Diego improved to a 72-81 record on the year, while also dealing a blow to San Francisco's playoff hopes after lowering the Giants' elimination number to three with only 10 days left in the regular season.
In case you missed it, here are some highlights and stories that you might not have seen from Thursday:
Padres post-game recap: Padres stun Giants with 2nd straight walk-off
Upton Jr. and Myers complete a solid relay to nab Pagan at home:
Norris puts the Padres on top with his 14th homer of the year: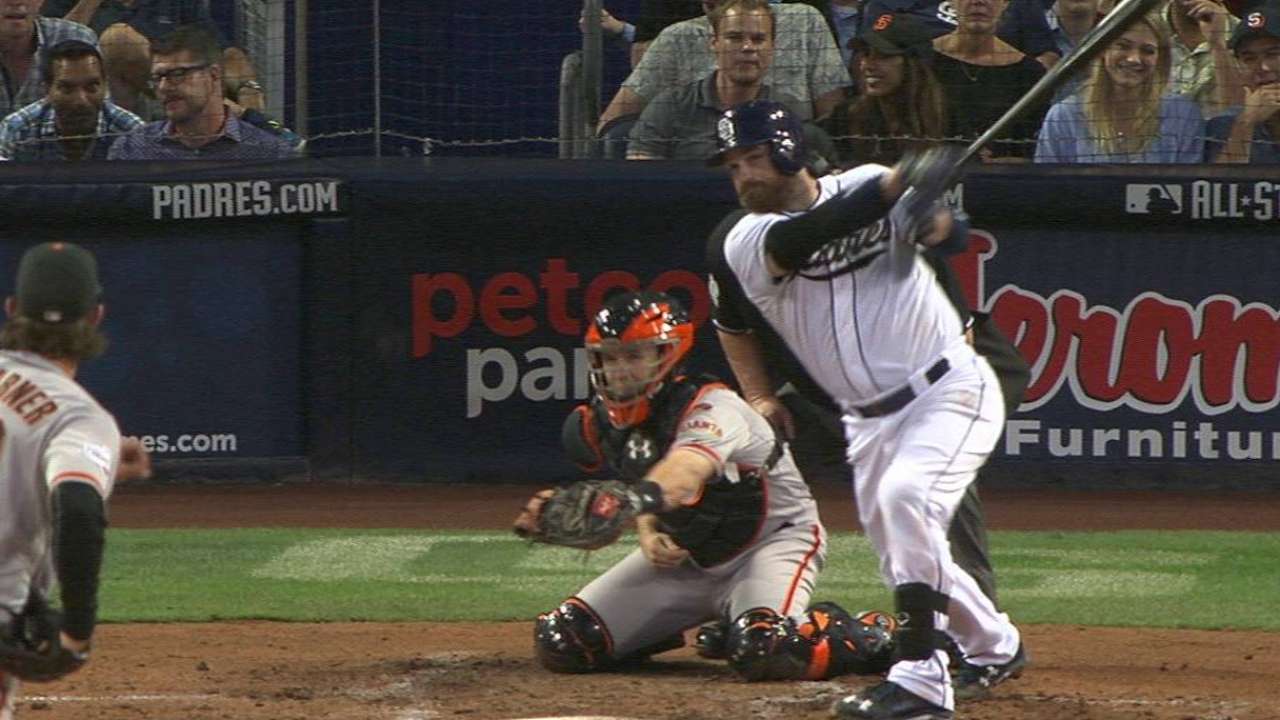 Kemp ties the game up in the 8th with an RBI-double to plate Spangy:
Amarista delivers second straight walk-off win with single in the 9th: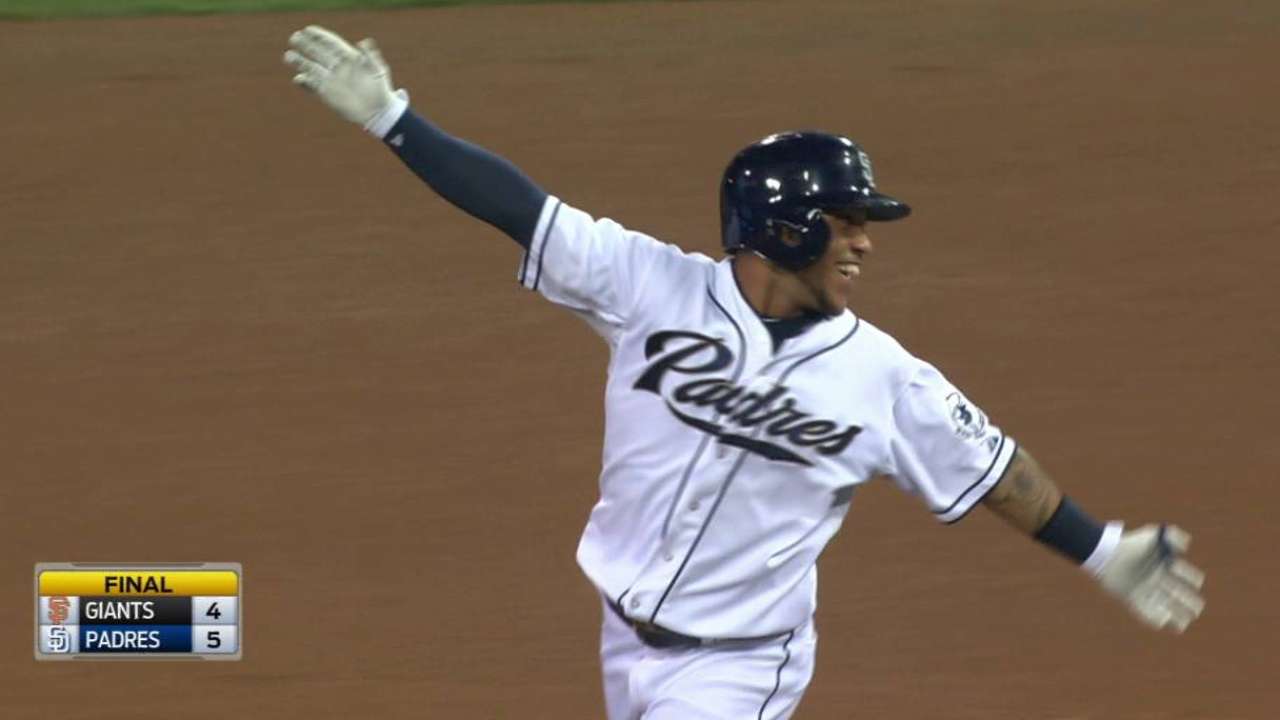 The day's top stories:
San Diego has a notable franchise first on Thursday: Youngest fan ever? Baby boy born at Petco
Jedd continues to flourish at "new" position: Gyorko continues to produce with the bat as a shortstop
Kelly gets chance at first MLB start since 2012: Kelly set to face De La Rosa in Friday opener
Final Homestand continues with AZ on Friday: Happening Homestand Report: Sept. 22nd - Oct. 1st
Murph's Musings: Myers returns to starting lineup, Solarte scratched
Notable Notes: Game Notes vs. SF (09.24) Kennedy Takes the Hill in Rubber Match, Last Game vs. SF
Sunday's #ICYMI recap: ICYMI: Gyorko, Kemp shine in birthday walk-off
Looking forward to the next game:
Friar Forecast at Petco Park: D-backs, Padres to begin weekend set in San Diego
Friday's pitching preview: Casey Kelly (0-0, 4.50 ERA) vs. Rubby De La Rosa (13-8, 4.60 ERA)