MLB to open Urban Youth Academy in KC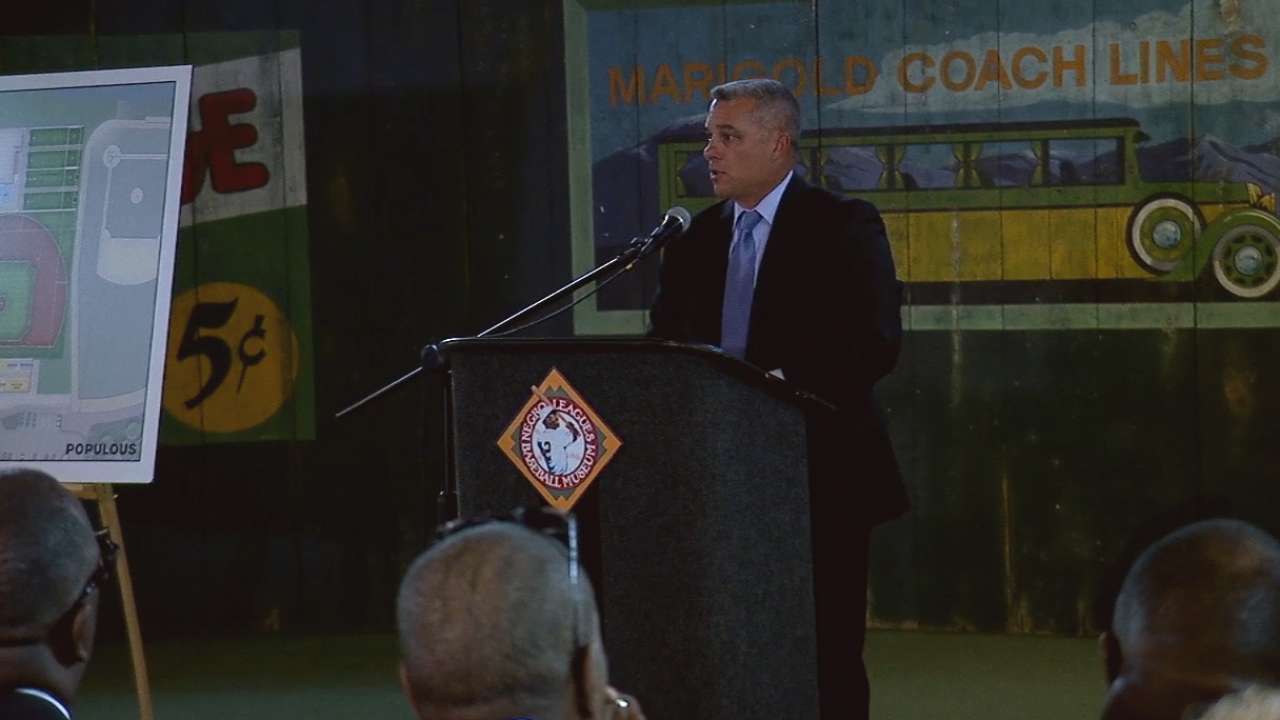 KANSAS CITY - Kansas City Mayor Sly James and Royals general manager Dayton Moore on Friday announced plans to construct the Kansas City Major League Baseball Urban Youth Academy, an indoor training facility coupled with four state-of-the-art diamonds near the legendary 18th and Vine District.
The announcement was made at the Negro Leagues Baseball Museum, with dignitaries such as George Brett in attendance, along with representatives from the Major League Baseball Commissioner's Office and the Major League Baseball Players Association. Well over 100 people attended the press conference.
The Academy, which will be constructed at Parade Park at Truman Road and The Paseo, is the seventh Urban Youth Academy in the United States, and it has been a dream of Moore's since he became the Royals' general manager in 2006.
"When I first brought the project up to Mr. [David] Glass," Moore said, "he looked me in the eye and said, 'Let's do this.'"
The two-phase project will be funded through private and public investments, and it will transform a 21-acre park into a complex that will include a walking trail, a playground, additional athletic facilities and a "Great Lawn" area for events.
Once the first phase is completed, the second phase will include the construction of an indoor baseball training facility and the installation of lighting for the baseball fields.
The Academy also will partner with the Boys & Girls Clubs of Greater Kansas City to help support the local Reviving Baseball in the Inner Cities (RBI) programs.
"Our goal is to help provide special opportunities for young people to develop their baseball and softball skills, but also to help them grow as leaders in the community," Moore said.
A portion of the funds allocated to the project will be supplied by the new MLB-MLBPA joint youth development initiative.
"Major League Baseball is honored to help bring an Academy to the children of Kansas City, the first professional baseball home of the great Jackie Robinson," MLB commissioner Rob Manfred said in a statement. "For years, Urban Youth Academies have not only served as safe places for baseball and softball opportunities for young people, but also as points of pride for local communities. This is a great era for baseball in Kansas City, and we are pleased to contribute to the game's future here in such a meaningful way."
MLBPA executive director Tony Clark added, "Kansas City has played an important role throughout the history of our great sport, especially as it relates to the participation and support baseball enjoys from the African-American community. Major League baseball players are fully aware of this history, and that's why today's announcement is an important one."
The Academy's immediate goal will be to serve approximately 800-1,000 youth per year, ages 6-18, providing free, year-round baseball and softball instruction and play, including hosting tournaments, coaching clinics and skills camps. The Academy's aim also is to provide youth with access to tutoring programs, college prep classes, college and career fairs, financial literacy and internship programs, courses teaching math through the use of baseball statistics and MLB industry alternative career workshops. Youth will also have opportunities to be involved in drug resistance and gang-prevention programs and healthy lifestyle classes.
"I know one thing," James said, "and that is Buck O'Neil would be proud of this day."
Jeffrey Flanagan is a reporter for MLB.com. Follow him on Twitter at @FlannyMLB. This story was not subject to the approval of Major League Baseball or its clubs.