With help, Blue Jays can clinch spot today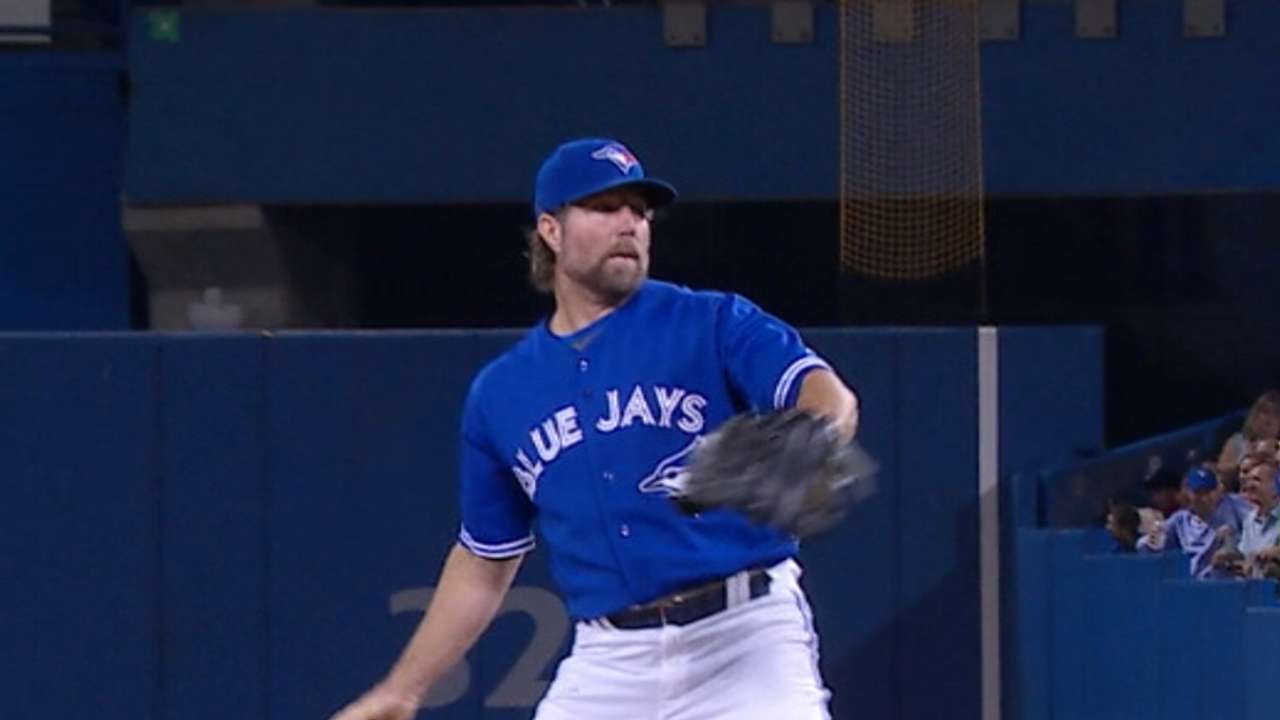 The playoff push continues into this weekend, with a number of teams closing in on the postseason and some working their way toward a division title.
Here are four things to watch for today:
• Jays can clinch, with help: TB @ TOR, 7:07 p.m. ET
It could be a fun weekend at the Rogers Centre, as the Jays have separated themselves a bit from the Yankees in the AL East -- they lead by three games -- and are now closing in on a postseason spot. The Jays can do it as early as today, when R.A. Dickey takes on Jake Odorizzi in the series opener in Toronto. Dickey has allowed 13 earned runs over 23 2/3 innings against the Rays this year.
Toronto's path to clinching is a little less straightforward than Chicago's, as the Blue Jays need a win as well as losses by the Twins and Angels to secure a spot on Friday. But even if they don't clinch a playoff spot today, it appears inevitable that the longest postseason drought in MLB will end soon.
• The next division champs? NYM @ CIN, 7:10 p.m. ET
Along with the Dodgers, the Mets have the next-closest path to joining the Royals in locking up a division title. New York's magic number to clinch the NL East is down to three over the Nationals heading into today's game against the Reds, meaning they can clinch as early as Saturday. The Mets will send Noah Syndergaard to the mound at Great American Ball Park, opposite Cincinnati's Anthony DeSclafani, who will make his team-leading 30th start of the year.
• A shot at payback in Houston: TEX @ HOU, 8:10 p.m. ET
It wasn't long ago that the Astros and Rangers met in a big-time series, and the Rangers took a small hold of the AL West by sweeping the Astros. Now, back at home, the Astros can return the favor. While the Astros are fighting off the Twins, Angels, Orioles and Indians for the Wild Card, they also have their sights set on the AL West. Two scuffling pitchers take the mound Friday: Yovani Gallardo is 0-2 with a 7.71 ERA in his last two starts, and Scott Kazmir is 1-5 with a 3.70 ERA in his last 10.
• Fernandez closing in on history: ATL @ MIA, 7:10 p.m. ET
Marlins ace Jose Fernandez needs a victory Friday night against the Braves to set a Major League record for most home wins without a loss to begin a career. To start his young tenure with the Marlins, Fernandez is 16-0 with a 1.11 ERA in 25 starts in Miami. Ryan Weber, who has gone at least six innings in each of his first three career starts, is pitching for Atlanta.
Joey Nowak is a reporter for MLB.com. Follow him on Twitter at @joeynowak. This story was not subject to the approval of Major League Baseball or its clubs.