Lucroy embraces return, singles in first at-bat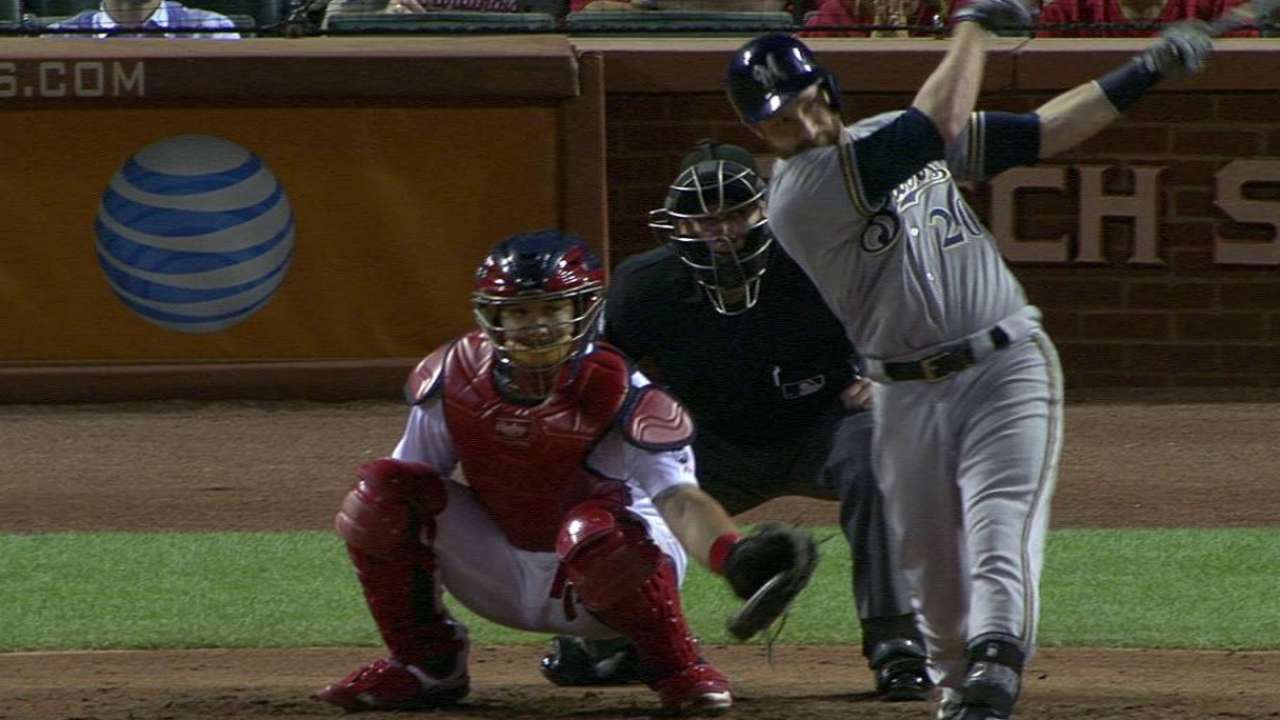 ST. LOUIS -- The Brewers' postseason hopes long since dashed, Thursday's 7-3 loss to the Cardinals was nevertheless "important," in manager Craig Counsell's estimation, for organizational mainstay Jonathan Lucroy, who was able to return from more than two weeks of being sidelined by a concussion to play the final two innings of Milwaukee's 13th defeat in its last 16 games.
"It's the type of injury where you want to feel like you're back to normal on," Counsell said. "So it was important to him, and for him I think it makes going into the offseason knowing you're back on the field."
Lucroy stepped to the plate leading off the eighth inning against Cardinals left-hander Randy Choate and smacked a single to left field, then remained in the game to man first base. It was Lucroy's first game action since Sept. 8, when a foul tip smacked Lucroy's jaw and produced days of frustrating concussion symptoms.
On Thursday, having cleared Major League Baseball's mandatory concussion protocol, Lucroy was formally cleared to resume playing. The Brewers have determined that catching presents an unnecessary risk, so Lucroy will mostly appear as a pinch-hitter, Counsell said. He could get a start at first base as soon as Saturday, when the Brewers are matched up against Cardinals left-hander Jaime Garcia.
"It felt good to get back out there," Lucroy said. "I was trying, really, to just have a good at-bat. ... That's hard. I haven't seen live pitching for more than two weeks, so any kind of quality AB you can have is a good thing."
How much does he want to play in the Brewers' remaining nine games?
"As much as I can," Lucroy said. "I want to contribute. The game goes by really, really slow when you're not playing. So it's fun to get out there and contribute as much as you can. Obviously, I can't catch, but I can go out there and pinch-hit and play first. It's nice to be on that side of it."
But it is not nice to be on the wrong end of so many final scores. Thursday's loss dropped the Brewers 25 games under .500, and they must win six of their remaining nine games to avoid falling short of 70 wins for the first time since 2004.
"It's been a tough year," Lucroy said. "It's been the toughest year, personally, of my career, and I know it's the same story for everyone else in here. It's very, very difficult to deal with, but it's years like this that help you to be thankful for what you have. It can help you in years after."
Adam McCalvy is a reporter for MLB.com. Follow him on Twitter @AdamMcCalvy, like him on Facebook and listen to his podcast. This story was not subject to the approval of Major League Baseball or its clubs.